BY LIZ HUNTER
Personalized service drives this family-run, Dublin-based business.

It's not by coincidence that the Gaelic phrase "Cead mile failte" or "a hundred thousand welcomes," is somewhat of a national slogan in Ireland. In fact, hospitality has been ingrained in Irish culture since the Medieval times when households were expected, by law, to welcome strangers into their homes. Those who didn't faced fines and embarrassment.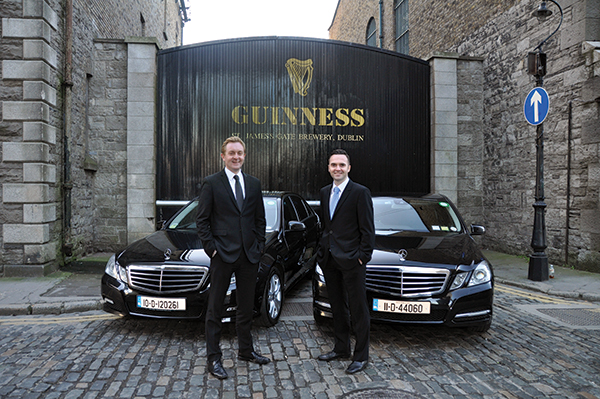 Company Director Shane Devine (left) and CEO Colin Devine
That tradition of hospitality has made Ireland one of the most attractive tourist destinations in the world. From the rolling green hills and the rocky coastal cliffs to the picturesque castles and the vibrant cities, the Emerald Isle welcomes upwards of six million people each year, which amounts to almost €2 billion.

Those in the hospitality industry are more than ready to welcome visitors, especially in the capital of Dublin, which is often the first stop for many international tourists. Dublin's vibe might be compared to that of New Orleans, where people are drawn to the bars and live music, and the narrow streets make it particularly pedestrian friendly. Originally one of the biggest trading ports in Europe, Dublin has a long history of trade and commerce, and might be most well known for its exports of Jameson and Guinness. But travel just 20 minutes outside of Dublin and you're surrounded by the lush green landscape that is synonymous with Ireland.

Just as Dublin has evolved from that trading post, so too have the people and businesses that call it home. One such company is also one of the largest in Dublin's chauffeured ground transportation industry: Devine's Worldwide Chauffeur Services. A company with humble roots, Devine's had its start in 1978 when founder Mick Devine, family patriarch, was working as a cab driver. As luck and the Irish go hand in hand, a chance pickup of a U.S. businessman turned into a two-day venture and then some. Recognizing in Mick a discreet professional quality, the businessman and his Irish business partner offered him a chance at driving for two upcoming entertainment events for The Beach Boys and Neil Diamond. That once-in-a-lifetime opportunity lead to the growth of a small but successful family business that today is one of the most diverse and recognized in Ireland.
As I got older, I was able to appreciate how my parents grew the business from nothing."
- Colin Devine, CEO of Devine's Worldwide Chauffeur Services
Devine's built its foundation on the entertainment industry, working closely with promoters on the biggest acts performing in Ireland, including Elton John and the Rolling Stones. Mick and his small staff earned a reputation for being discreet, and as word spread of Devine's reliability and personalized service, referrals increased.

Thirty-six years later, Devine's remains a family-run business. Colin Devine, one of Mick's sons, is CEO, and manages the company with his brother Shane. Mick is still involved as chairman, but Colin and Shane work daily in the business, empowered to make decisions. Colin Devine, who has a degree in marketing, was never really sure where he would fit into the business growing up, but after being involved for several years, he feels a sense of pride in his role.

"As I got older, I was able to appreciate how my parents grew the business from nothing," Colin Devine says, recalling the long hours worked by his father and mother, Rita, who kept the company running behind the scenes. "This has become a professional organization, and there's something to be said for running a business, employing local people, and continuing to take it to the next level. For me, I wanted to sink my teeth into a new challenge, and I saw that opportunity in the family business."

When he joined the company officially, Devine says 70 percent of its business was still in the entertainment realm. His goal was to get the company involved in other niches that would sustain it over time, which included corporate and government work, specializing in large-scale meetings and events. "Our history serving the music industry makes us accustomed to last-minute demands, and it prepared us well to handle corporate work," Devine says. Thanks to great relationships with hotels and DMCs, Devine's biggest growth has been in the corporate sector.

The company refocused its efforts and built resources to equip it to handle more customers, and set the bar high for providing premium service. "We are aiming toward people who want great service. We're not trying to be everything to everybody," he says.

In the early days, Devine's was operated inside an office in the backyard of the family's house. Today, it occupies a 3,500-square-foot space. "Expanding into a real office environment allowed us to take it to the next level," says Devine. And as many family-run businesses may know, having the business space so close to home can make it harder to separate the two. "Driving 10 minutes to the office in the morning makes a huge impact on how you approach it and separating the stresses of home versus the office," he adds. "It's also something we can be proud of, both in terms of inviting clients to our facility, but also for our employees. They spend a lot of time in the office and the environment is a reflection of the business we want to run."

That determination to expand has carried through to the fleet, which is up to 20 vehicles. Devine's fleet is comprised predominantly of Mercedes-Benz, including E- and S-Class, Vianos, and Sprinters, as well as Range Rover SUVs and a 30-passenger motorcoach. The vehicles blend with the mix of businesses served by the company, which is comprised of approximately 30 percent entertainment, 40 percent corporate, and 10 percent affiliate with airline and other work rounding it out.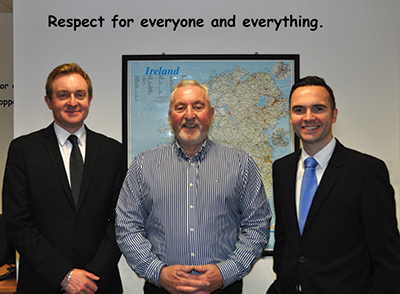 Devine's Founder Mick Devine (center) with sons Shane (left) and Colin
Ireland itself has become increasingly attractive to big industry, namely as a major link to U.S. businesses. This past December, Forbes ranked Ireland as the best country for business in 2013. Dublin serves as European headquarters for major U.S. companies like Microsoft, Amazon, Facebook, LinkedIn, Twitter, and Google, as well as JPMorgan Chase and Pfizer. Devine says Ireland's 12.5 percent corporate tax rate is one big draw for businesses and a boon to the economy. The quality educational institutions in and around Dublin also make graduates an ideal fit for the businesses headquartered there. Outside of technology and financial services, Devine says the tourism industry can't be ignored when it comes to providing chauffeured transportation. "So many people across the world trace their heritage to Ireland," he says. "My father met many people like that in the early years, especially Americans because there was a time in history when so many Irish immigrated to the U.S. In some way, the character of the people here help attract the decision makers, but also, those tracing their roots take a once-in-a-lifetime trip to Ireland, and they come to spend money and explore the country."

Dublin's airport is also appealing to those connecting to other major cities in Europe, which presents a prime opportunity for Devine's when it comes to transporting corporate travelers. In fact, the company recently secured a second-term contract with Emirates Airline. Devine's will continue to handle daily first and business-class travelers connecting to or from places like Dubai, North Africa, and Asia. In their first two years serving Emirates, Devine's completed close to 15,000 trips. "This has been a huge backbone for our growth," says Devine. "They've been fantastic to work with and extremely supportive. It's a great achievement to have signed another contract with them."

Probably an even greater achievement for Devine's is its service to government and royalty. When Queen Elizabeth II visited Ireland in 2011—the first visit from the British monarchy in 100 years—Devine's participated in the historic event, providing the motorcade for the royal family. "It was a huge undertaking, managing multiple vehicles and various locations," says Devine. "But the Irish gave such a warm reception to the Queen despite our troubled history, and it was a really proud moment for us to be involved in an extraordinary moment for our country."

It's likely that this experience heightened Devine's reputation, especially when it comes to handling dignitaries. The company was recently chosen as the official transport management service for the European Union presidency when Dublin was the host city (2013). "There is a great deal of security clearance and protocols to follow to do this type of work," says Devine. "Something like this makes us really proud to show how far we've come."

Even speaking of these accomplishments Devine shows a great deal of humility, not taking the credit for the company's fortune. "There's not one person who can say they are responsible for leading us to secure this type of business," he says. "Discretion is of utmost importance to us, it's in our training, and something every one of our chauffeurs exhibit. They are the ones in the cars with the clients, whether they are musicians or government officials."

Devine's uses a mix of employee chauffeurs and independent one-car operators, who are called in when demand is high. Employee chauffeurs give Devine's a sense of security since they are trained by the company and expected to present themselves a certain way. Devine feels this sets the company apart from others in the market. "We provide them with solid and ongoing training, and we trust them to protect the relationships we have built," he says. "Leadership is encouraged and we want them to develop and improve, which is a big part of what we stand for." Devine's holds monthly chauffeur meetings and conducts reviews to keep chauffeurs motivated and reward behavior. "Things like these and the time we invest in them only helps our company as a whole move forward and provide better service," Devine says.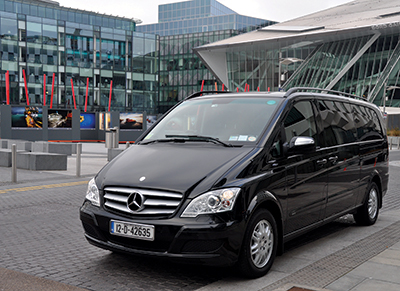 One of Devine's Mercedes-Benz Vianos
These high expectations carry over to Devine's affiliate work, something it is continuing to build. "We've been grateful to our affiliates who trust us to handle their clients and we understand that we're acting on their behalf," Devine says, adding that the relationships he has built with U.S. operators in particular has really inspired him. "I have met some fantastic people going to the trade shows, and it's so amazing that the brightest people in the industry let you pick their brains." Staying connected with the U.S. also helps Devine's stay ahead of industry trends. For instance, Uber recently started offering its service in Dublin, and because this is something that U.S. companies have been tackling for more than 18 months, Devine says he was prepared. "It helps to know what's happening in the U.S. so we don't panic. And on the other side, corporate travel trends over there trickle down to Ireland and the U.K."

One area where Europe may be ahead of the U.S. is in its vehicle efficiency. "Technology in vehicles in Europe is fantastic," says Devine, "and the Mercedes-Benz BlueTEC in particular is something we find phenomenal." He says that clients, both state and private commercial contracts, are looking for companies that have green policies built into their framework. "We're always looking to be more efficient, and we've joined Green Ride Global to find ways we can do more. Considering our future carbon footprint is important to us."

Devine believes that adapting to trends and customer requests is important to grow the company. "Challenges will arise, but we can move fast and make changes in the company, and it's coming up with those solutions that is a big reason I want to stay involved in the business," he says. "I love this business and I look forward to coming to work in the morning. But I also need to think of ways to keep the staff engaged."

Devine meets daily with his operations team, and weekly with the whole office, discussing targets and actions. "We like to get everyone involved so they can have their say," he says. "They may have an idea of a better way to provide service to the clients. We always want to think of ways to be better."

Devine's operates with a set of core values, some of which include being flexible, remembering that the customer comes first, and over-preparing. The values are posted around the office to remind employees how empowered they are and to stay focused on service to the customer. "We want our staff to have a leader mentality, where they find a solution to a problem without coming to us to ask permission," Devine says. "We want to build trust in them."

Of course, there is also some fun to be had. Devine makes sure to treat its employees well and thank them for their hard work. Annual awards are given out at the company holiday party, and while there are traditional categories like "Unsung Hero," there are also tongue-in-cheek awards such as "Most Likely to Appear in a Silent Movie" and "Ireland's Most Tweeted About Chauffeur." All told, they bring smiles to everyone's faces.

"When we have a chance, we like to show our personality and just unwind with our staff," says Devine.

It all comes back to moving this family business forward. As father Mick has been able to step away from the daily operations and take more time for himself—and grandchildren—sons Colin and Shane find inspiration in companies like Disney and The Ritz-Carlton. "They are the epitome of customer service," Devine says. "We look to them as models of understanding customers' needs and then personalizing those needs. That's what makes us stand out, and that's what excites me about this business every day." [CD03.14]