BY SUE JARVIS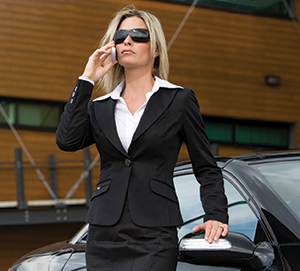 For THE WOMEN-OWNED companies in the chauffeured transportation industry, the concept of obtaining certification as a Women Business Enterprise (WBE) is not always the most popular topic of conversation. Not many female business owners are aware of the benefits, opportunities, and relationships that can arise from obtaining the certification.

There are two main organizations dedicated to helping a business become nationally certified, in addition to state and local agencies that can help if you're interested in becoming locally certified only. Both The National Women Business Owners Corporation (NWBCO) and The Women's Business Enterprise National Council (WBENC)—which helped me with my certification and which I reference throughout the article—have resources to guide your company through the process. I will discuss some of the benefits, as well as resources for application assistance and maximizing your certification.
⇗ Why It's Beneficial

Women tend to network differently from men, so one of its most important benefits is the opportunity for building relationships among fellow female business leaders. Much like the industry success groups have helped many operators increase their revenue or solve a problem in a non-competitive environment, attending networking events and conferences for WBENC and its corporate affiliates is a way for women business leaders to grow and find new ideas without competing.

If you are the face of your company, then you already know how important it is to network with your area corporations to grow your business. It is at these events and conferences that you can speak directly to representatives to discuss what their needs are and how your company can address those needs. People do business with other people with whom they have some sort of common connection. I have found that through our WBENC certification and by attending WBENC conferences, doors have opened for me and my business that would have taken years to open otherwise. It's a starting point that allows you to expand your network of professional contacts and get warm introductions to other business leaders—male and female—who need your service. It's no different than joining any other organization and building relationships, although this might be a place for budding women leaders to find their confidence. Remember: You don't need charisma to be a leader, but a leader often finds charisma once his or her leadership skills are honed.


In addition, many corporations have stipulations in their budget stating that they must have a varying percentage of their goods and/or services provided by a minority-, veteran-, or female-owned company. Certified companies also have access to a large corporate database of companies looking specifically to work with female-owned companies. The database includes these entities' contact information and can direct you to their supplier diversity page. This is where being a WBENC-certified company is a great advantage. Certified companies can register on corporate diversity portals by creating a company profile. This profile supplies general company information: contact information, services provided, company history, etc.
⇗ Getting Started

To qualify for a WBENC certification, the company must have at least 51 percent female ownership. There is a misconception that a company has to be solely owned by a woman or women in order to be certified, but as long as the majority partner is a female, you've cleared the first qualifying hurdle. The best place to get started is then with a visit to the WBENC website (­wbenc.org), where there are several tools to help you get organized. All of the certification qualifications and application fees are listed in that section, but one of the most helpful tools is the WBENC Certification Checklist. It breaks down exactly what is needed based on the type of company applying. Some of the items listed may not apply to you based on your company's structure. Create a file to gather your certification documents during the process, so that everything is conveniently in one place. Set a goal "send out" date to motivate yourself. The website also lists regional office contact information so you know where to go to get additional help.
⇗ What's Next?

Like any form of networking, you only get out of it what you put into it. If you get certified but don't bother attending events or taking advantage of education, then you're not getting the maximum benefit from your investment. In markets where competition is fierce, you want to use every tool available in your arsenal. It's as beneficial as chauffeured ground transportation industry-specific events and your local and national associations—you can't replace the camaraderie that comes from interacting with your ­colleagues.
Certification can provide different opportunities for each company. It may just be a chance meeting at a conference that creates a successful new partnership that propels your business to the next level. It's worth the effort to at least see where it can help your company, because it only takes one solid lead to create a domino effect. [CD02.14]