BY MADELEINE MACCAR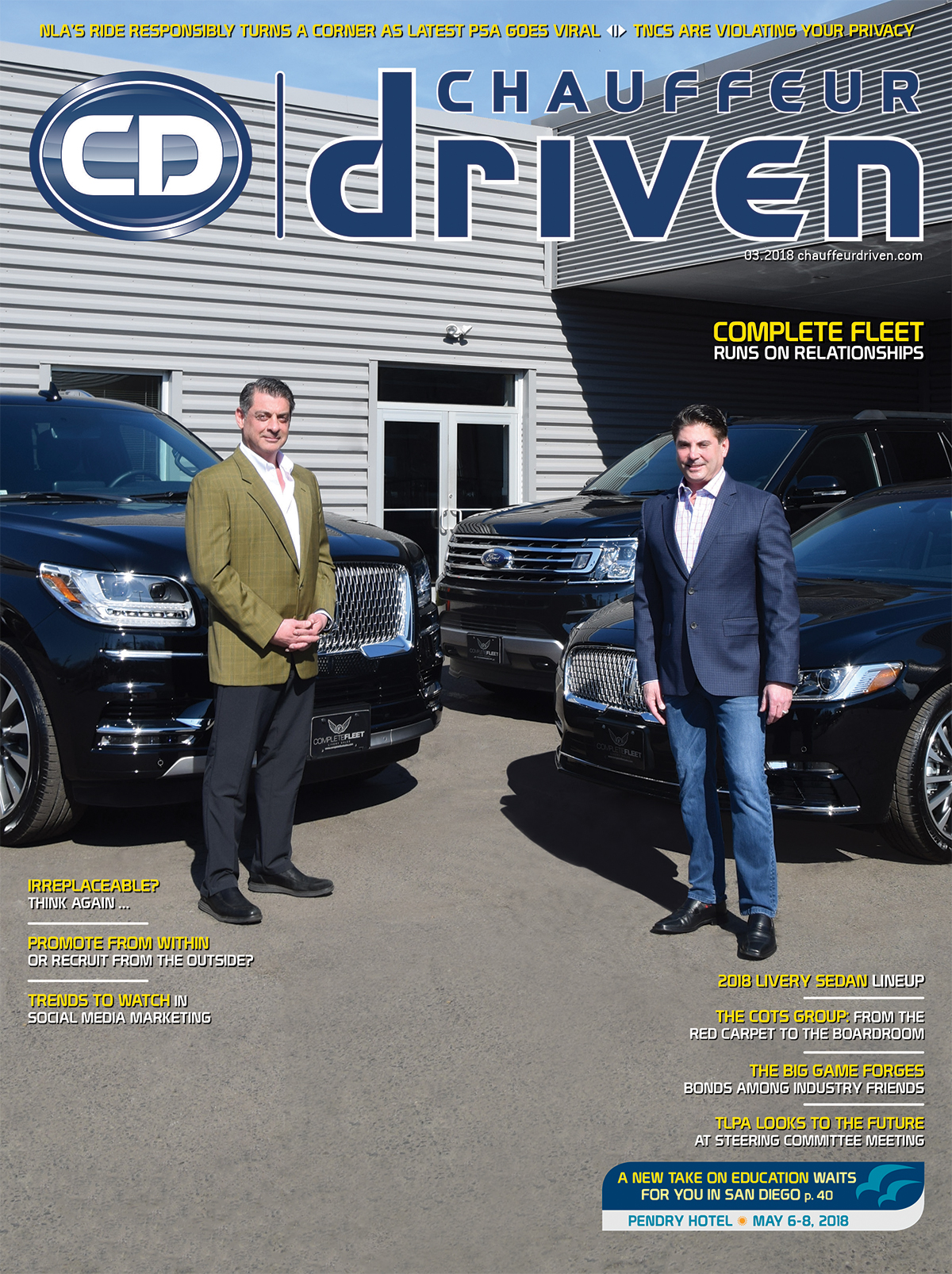 Cover Art: Stephen Giordano of Maplecrest Ford Lincoln (left) and Barry Trabb of Complete Fleet Livery Sales at the Maplecrest office in Union, N.J. Photography by Chris Weiss. Barry Trabb started out as the guy in the driver's seat, both literally and figuratively. His introduction to the luxury ground transportation industry came in 1986 when he began his career as a chauffeur; three years later, Trabb found himself buying the first car for his own limousine service at the age of 20.

Fast forward nearly three decades and Trabb is a familiar face as the president of Complete Fleet Livery Sales, the livery division of Maplecrest Ford Lincoln in Union, N.J. Combining his unique vantage point of the industry with the sales experience he's accumulated and relationships he's maintained over the years has helped him deliver the kind of service he feels operators deserve.

"When I was making the transition from limousine owner to limousine sales, I remembered how I was treated as an operator buying cars and how disappointed a lot of these salespeople would make you feel," Trabb says. "So what I wanted to do was just bring a whole other feeling to it, like you're buying a car from a friend you trust. I really just wanted to make the entire sales process so much easier."

Longtime client Howard Gogel of My Limo confirms that Trabb's approach is a consistent, reliable one that keeps him coming back to Complete Fleet: "Integrity, consistency, and loyal to my company. Barry Trabb says what he does and does what he says."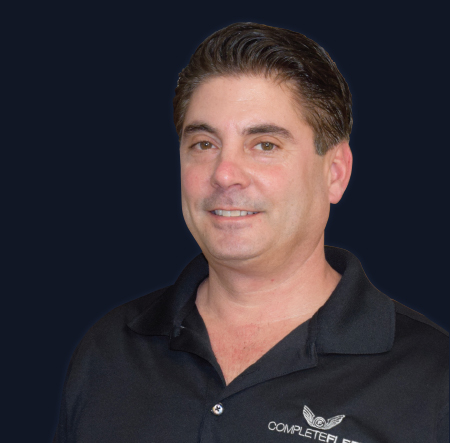 President Barry Trabb And if having a stable of repeat, loyal customers is any indication, Trabb and the Complete Fleet team have found their niche specializing in livery sales nationwide—and fostering a sense of camaraderie in the process, too. Because it's not just Trabb who keeps Complete Fleet going: Sales Expert Bruce Cirlin and Finance Specialist Dino Olivares also make up the three-pronged leadership team that ensures the company remains a well-oiled machine that's keenly in touch with customers' needs.

Between Cirlin's nearly 20 years with Complete Fleet (and more than 40 years of industry experience) and Olivares' 14 years, Trabb considers himself fortunate to have their "tremendous work" on his side.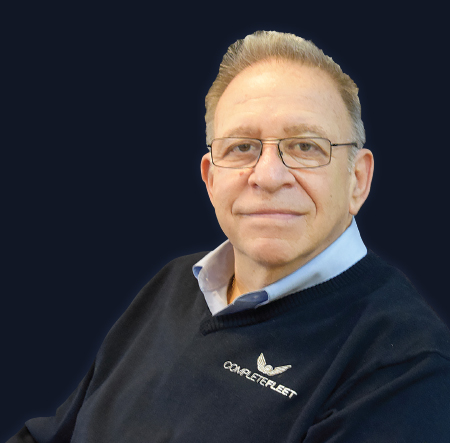 Sales Expert Bruce Cirlin "Bruce and Dino have been with me for a long time and are both great assets to the company," he says.

The Complete Fleet team has also found an invaluable partner in Maplecrest. Trabb praises them for easily adapting to livery customers' needs with extended service hours, three full-time livery mechanics, one dedicated service writer, and a fully stocked parts department.

"We could not have asked for a better dealership to have partnered with," Trabb says. "Dealer principal Stephen Giordano has put a lot of faith and trust into our department through the years, and he continues to show his commitment to everything from adopting a fast paperwork process to accommodating last-minute service appointments."

Complete Fleet's vehicle offerings also reflect a keen understanding of what operators need with its comprehensive inventory of both new and pre-owned vehicles. Lincoln's Continental, Navigator, and MKT as well as Ford's Transit and Expedition help ensure that clients of all sizes, needs, and services find whatever they're looking for.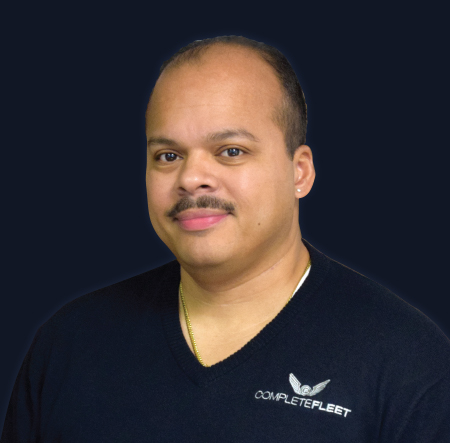 Finance Specialist Dino Olivares To make sure that Complete Fleet continues to be at the front of the herd, it all starts with knowing how to leverage his team's longevity and expertise. Trabb acts as a trustworthy liaison between the vehicle manufacturer and the customers, which keeps the former directly in touch with what the latter needs.

"As an industry veteran, I can share clients' feedback with the manufacturer," he says. "We can tell them what the trends are and what people are looking for. We were influential in getting Ford to add the 2018 Expedition to the livery lineup with its brand-new body style, pushing them to have something to go against the Suburban since the Suburban really has no competition."

The kind of panoramic insights Trabb is privy to are one of the myriad benefits of a business philosophy that is based on strengthening the industry through unity and education.

Being located in the "limousine capital of the world" means that ­Trabb is not only selling to some of the biggest operators in the U.S. but also speaking with them and getting a true insider's perspective on what they need. He embraces the opportunity to teach his clients about the products just as much as they keep him informed of the industry from their side.

"Education is a big thing for me. It's important to make sure my clients are educated on the vehicle they're buying," he explains, adding that newer technological tools have increased both dealers' and OEMs' ability to respond more immediately and effectively. "We've been doing a lot of social media outreach through livery Facebook groups, proactively steering clients and non-clients in the right direction to get answers, help, and solutions."

Trabb takes that dedication to education one step further by being a longstanding member and director of the Limousine Association of New Jersey (LANJ), one of the largest, most active associations in the country.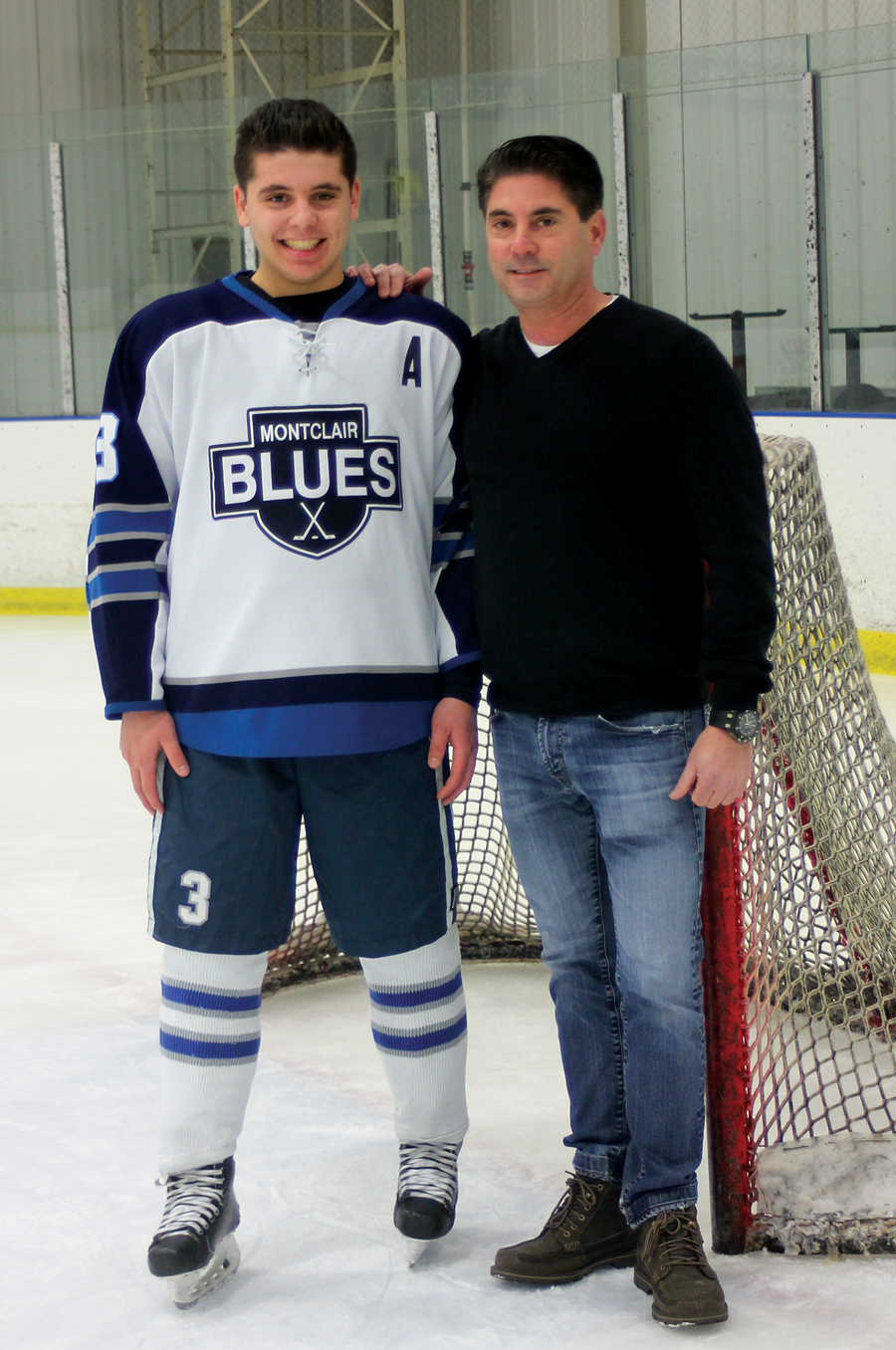 Barry Trabb with his son Nick
Nick Trabb scores a goal "I've been on the LANJ board for the past couple years, so we do work closely together," he says. One of the events that brings them together is the annual LANJ auction, the association's largest fundraiser of the year, which Complete Fleet has run "from soup to nuts" since the early 2000s. What Trabb describes as "starting out as a small little fundraiser for the association" is now a bona-fide industrywide event that attracts participants and attendees from all across the country.

"It has exploded year after year after year," Trabb says.

The Complete Fleet team handles everything from booking and paying for a venue, collecting and organizing auction donations, and making sure the yearly charity gala—which has become a dinner affair in recent years—goes off without a hitch. Trabb estimates that, in the nearly two-decade history of the fundraiser, the events have raised almost $300,000 cumulatively for LANJ, and he credits the cohesive nature of the teamwork behind it for such consistent success.

"The auction keeps bringing in more and more money," says Trabb, adding that LANJ Executive Director Patty Nelson deserves particular credit for her role in ensuring that the organizational element is streamlined. "When everybody steps up and comes together, it becomes tremendous, and it's a great feeling knowing that it's the whole industry pitching in. And it's a real feather in Patty's cap because it would not be nearly as successful—and much more stressful—without her."

And the long-serving Nelson appreciates how dedicated Trabb and his team are to making the auction—and LANJ itself—a success.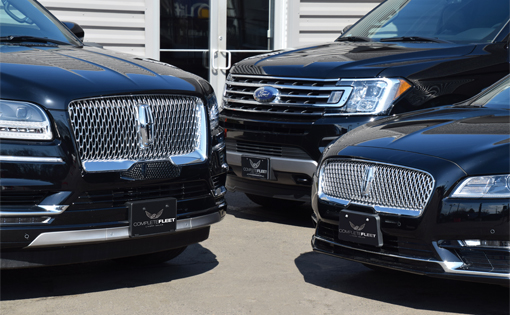 "Leadership, time, money: Barry Trabb gives it all," she says. "As co-chair of the LANJ Membership Committee, he takes a leadership role in all of the organization's member acquisition and retention initiatives. Complete Fleet helps subsidize several membership drives each year by paying a portion of new member dues so that attractive discounts can be offered while LANJ's revenue is kept whole. Barry and Bruce have organized and sponsored our major annual fundraiser for almost two decades—to LANJ's benefit."

When he's not running a fundraiser, building relationships, and equipping operators with the vehicles they need from Complete Fleet's Ford-Lincoln inventory, he's spending time with his family—which includes regularly revisiting those early chauffeuring days by transporting his 13-year-old son Nick to hockey games both throughout and beyond The Garden State. At the end of the day, Trabb's main philosophy is dedication. He's dedicated to making sure each vehicle sale and delivery is as painless and informative for his customers as possible, he's dedicated to the vehicles Complete Fleet sells, and he's dedicated to the industry he has called home for more than 30 years.

"It's about consistency," Trabb affirms. "We are super committed to educating our clients and making sure they're buying the right vehicles for their company. All cars ultimately have issues—there's no perfect machinery: But the difference is who's standing behind their equipment and their customers."   [CD0318]