BY LIZ HUNTER
Garkani with a sampling of his fleet at his office in Long Beach, Calif., located about 20 miles southwest of LA With Mo Garkani ­leading the way, this California operation handles a diverse mix of clients while he goes to bat for the industry.

It's the height of awards season and all eyes are on the red carpet where the biggest celebrities are stepping out of their chauffeured vehicles and into the flashing lights of the paparazzi. This is a familiar scene for Mo Garkani, president & CEO of The COTS Group, who has been one of the topflight providers of transportation for these events going on 30 years. However, things have changed since he first started, at least on the outside. "You used to see 600 stretch limousines, now it's sedans and SUVs, Ubers, and Lyfts, all going to the same place," Garkani says. "But inside the awards shows, it's the same."

Garkani prefers to be on-site, acting as the eyes and ears for his dispatchers who are busy communicating with 200-plus chauffeurs on any given awards night—and between January and February, there's one nearly every weekend. Preparation happens way in advance. Street maps are studied and memorized like equations. Cars are reserved, cleaned, and gassed up ready to go. Anything can happen—and it usually does. People might change their pickup address 10 minutes before the chauffeur was set to arrive at the original location. Or the line of cars waiting to unload onto the red carpet is so backed up that the client decides to get out and walk. Or one of your vehicles could get a flat tire.

"Nobody can tell you that their cars never break down, or that there won't be traffic," says Garkani. "If something goes wrong, we don't panic. We figure out how to solve it and we always come through with something to make sure everyone is happy. But this stress can break a person."

Garkani is seemingly unbreakable, though. While others might not have the constitution to deal with celebrity personalities, he finds it fun. It's part of what kept him in the business. While in college during the '80s, Garkani worked promoting a nightclub and soon became partners with the owner. After a couple of years, he had the idea of offering a white limousine to club patrons so they could get home safely after drinking. Friends would also call to rent the limo, and their interest prompted Garkani to buy a second. Then, in 1987, he opened Continental Limousines, a dedicated limousine company with five cars.

In those days, the more exotic the vehicle, the better. Garkani remembers the evolution of formals, from 45-inch to 50-inch, and then Ultra's 60-inch, and Krystal's 85-inch, and how they kept getting bigger and bigger over time, with each coachbuilder one-upping the next.

"I was dealing with a ton of celebrity clients who wanted crazy vehicles and they stayed with me. They had the money and wanted what was craziest," Garkani says. "I loved the whole business from the get-go; it was fun for me. My passion is still with the exotic end of this business. We had to evolve to do corporate work, but the exotic stuff is what wakes me up in the morning. When you see someone show up in a two-way Mini Cooper or Jacuzzi car, those things are always the most fun."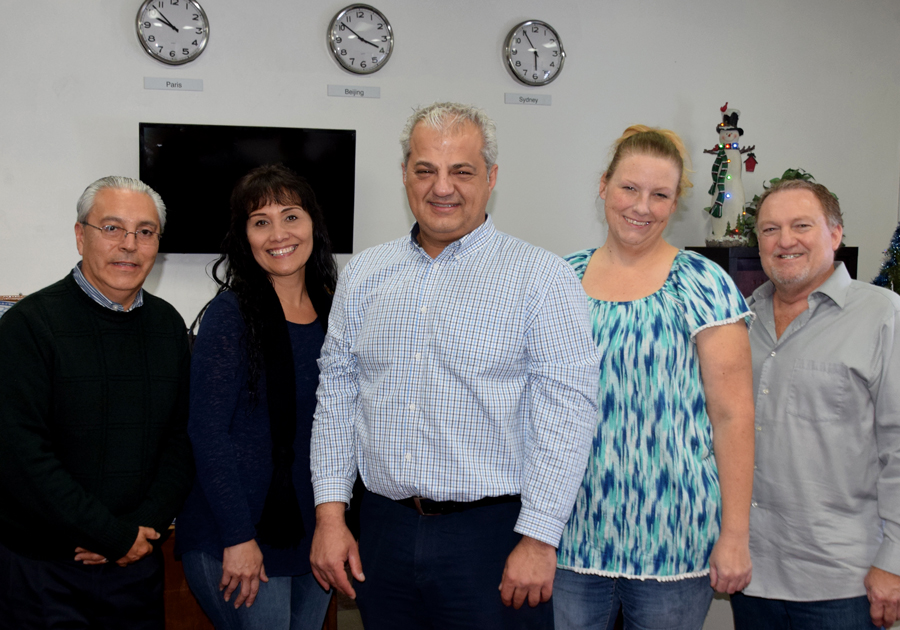 L to R: Driver Trainer Jack Olivares, General Manager Kine Creedon, Mo Garkani, Dispatcher Daniella Reed, and Reservations and Sales Manager Paul LeGrand For the most part, Garkani was a one-man show. "We didn't have apps or software programs. You had handwritten reservations pinned to the wall and you'd page drivers and wait until they could pull over to a pay phone to call you back. You didn't know if the client was picked up or if the car got there," he says. "And for payments, it was mostly cash, or if they had credit card, drivers needed to make an imprint."

It's almost comical now to think how far technology has come, and through the years Garkani says he's had to keep up with the Joneses. "Now we have tracking on everything. We have employees clocking in and out, health insurance, vision, dental, life insurance. We know where everything is at any given second and can do spur-of-the-moment pickups," he says.

Garkani grew the company through acquisitions, the first of which was in 1994. Throughout the '90s, he kept making purchases, expanding up to 20 cars, and then adding more sedans, SUVs, and vans. By 2000, Garkani says Continental had upward of 50 vehicles, and he was buying companies not for their equipment, but rather their existing clients. Like most in this industry, he hit a wall in 2007-08, but the acquisitions saw them through that phase, he says. In 2012, Garkani purchased a shuttle company, which opened up a new area of revenue. He also cites the decision to create an in-house service center as integral in keeping the company solvent during those difficult years.

With various companies operating under his guidance, and more than 100 sedans, limousines, vans, SUVs, buses, Sprinters, and mini-buses, Garkani incorporated them as The COTS Group in 2011. "We have seven different companies under one umbrella," he says. "Each side of the business is run separately, but there is crossover if one of them is ever stuck."

As the son of an ambassador, Garkani has traveled all over the world, but Orange County has been home for 42 years—he attended elementary and high school in Newport Beach.

His companies have found a home in Orange County as well, in addition to Los Angeles and San Diego. With this positioning, The COTS Group is equipped to handle clients across Southern California, whether they are in the entertainment industry, corporate travelers, or affiliate clients on a vacation with family. Southern California has a mix of everything.

Los Angeles, of course, has the glamour: the Hollywood vibe with a vibrant downtown, studios for filming TV shows and movies, a robust list of cultural attractions like the Getty Center or the Los Angeles County Museum of Art—the largest in the Western half of the U.S.—and reputable educational institutions. But it's also home to some of the worst traffic in the country, which presents a unique challenge.

Orange County is a little more laid back, with the quintessential West Coast vibe of soaking in the sun and riding the waves. Time slows down just a little here, thanks to the sprawling coastline, and it's home to Disneyland (Anaheim) and Knott's Berry Farm, which welcome millions of people annually.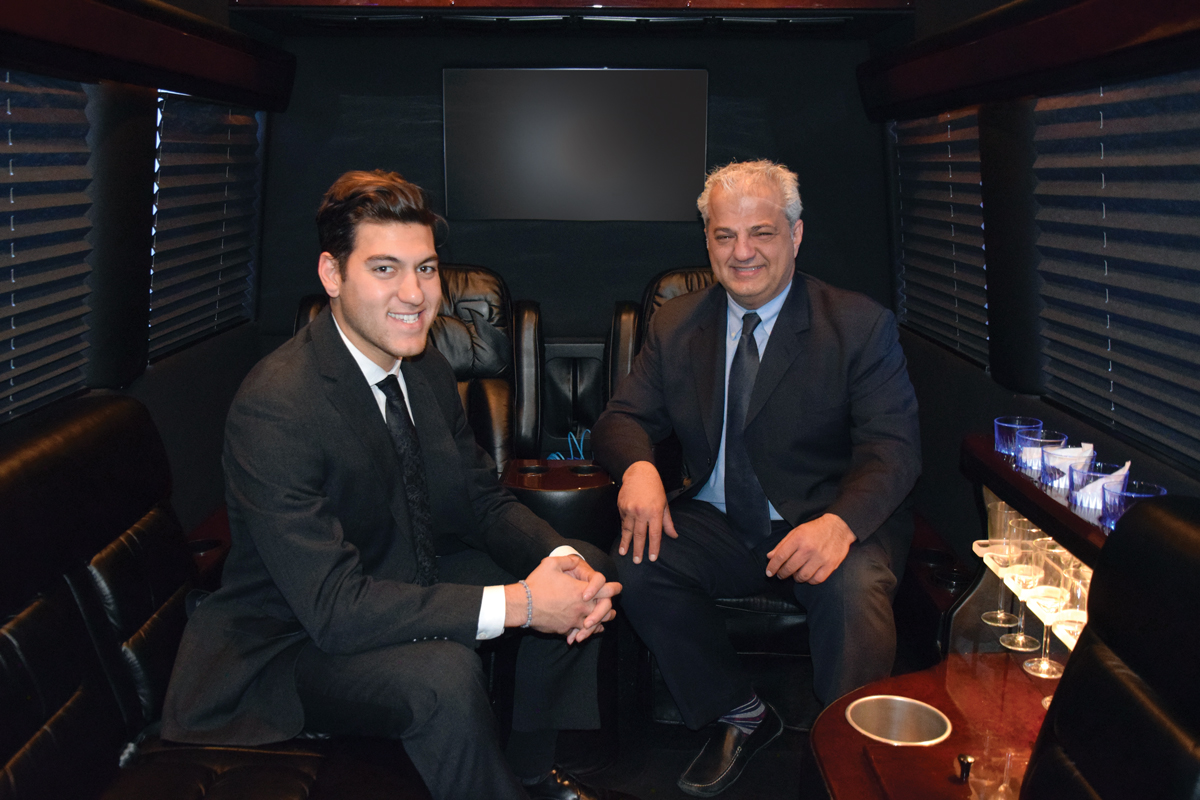 Mo and son Christian Garkani inside a Mercedes-Benz Sprinter Garkani extended his reach even farther, staking claim on San Diego, 120 miles south of LA. Here, the major drivers of the economy are defense/military, international trade, manufacturing, and tourism. Companies with headquarters here include Qualcomm and LG Electronics, and research institutions are spurring growth in biotechnology. All of this opens doors to a diverse clientele for COTS.

Having multiple office locations also gives Garkani a unique perspective, allowing him to see firsthand what operators go through to make a business work no matter the market. It's a perspective he is using in hopes of making things better for those in the industry statewide.

In the chauffeured transportation sector, Garkani has found a way to combine his love for his home state and his passion for helping others. Throughout his life, he has owned other businesses, including restaurants and bars, but no other industry has given him a real connection to people. "I love how everyone in this industry stands by each other," Garkani says. "It's a small industry where you can get to know everybody and fight battles together."
I love how everyone in this industry stands by each other. It's a small industry where you can get to know ­everybody and fight battles ­together. – Mo Garkani, President & CEO of The COTS Group
Perhaps this is why Garkani's new role as president of the Greater California Livery Association (GCLA) is such a perfect fit. "I've always been willing to help any company that needed it," he says, adding that 18 of his former drivers have even gone on to open their own companies with his assistance. "We started small so I remember needing help. Being a larger operator is not necessarily better—it just means more headaches. I don't know everything, but I will reach out to peers and find the answer." Garkani makes himself so accessible to fellow GCLA members that his cellphone number is right on the website so they can bring questions straight to him.

The GCLA's plate is full of issues right now, whether they pertain to the state, airports, or the potential for federal rules that will need to be followed.

Garkani says in just the first few weeks of the year, the association has been working on a solution to the airports transitioning to electronic payments and no longer accepting cash. "It's a big problem if you have a driver who doesn't have a credit card, and they also asked for operators to put as much as $25,000 down. Fortunately, we were able to convince LAX to lower the deposit to $3,000," Garkani says. "We have to inform our members and have them get their chauffeurs a card to use."


My passion is still with the exotic end of this business. We had to evolve to do corporate work, but the exotic stuff is what wakes me up in the morning. – Mo Garkani
Additionally at LAX, where local operators do most of their business, there is a major reconstruction project going on with a plan for a tramcar to take passengers from the parking lot into the terminal. "TNCs are trying to get permission to go into the terminal, but leave limousines outside," he says. "That would put us out of business. No client is going to drag their luggage onto the tram and then get into our vehicles; they'll walk out of baggage and get into a TNC and leave."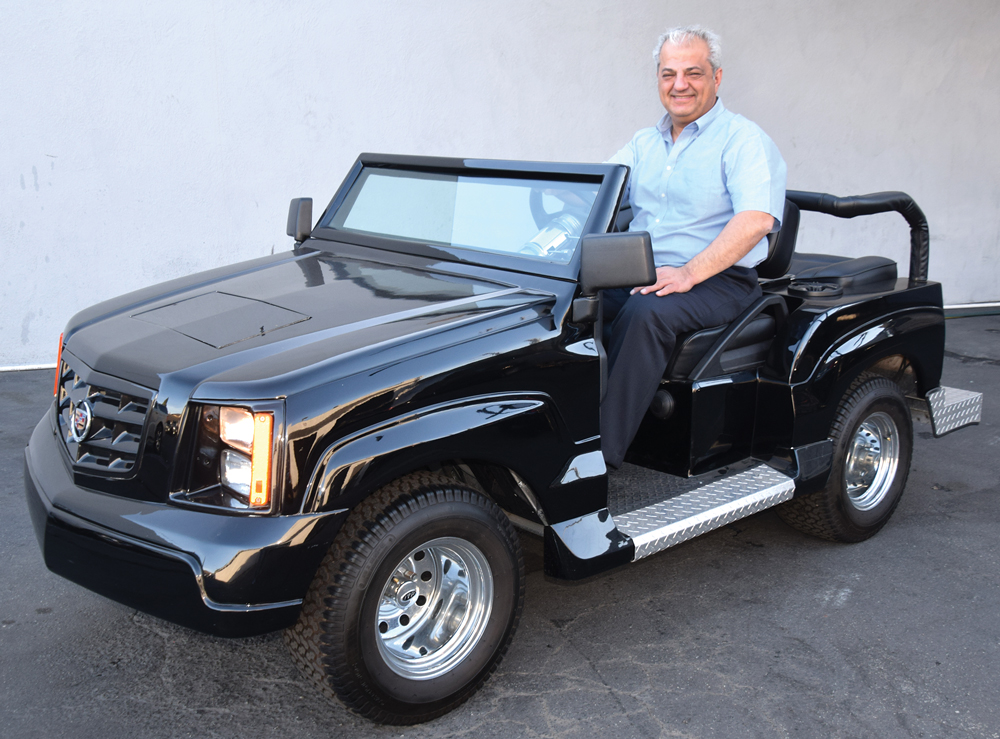 Garkani takes a spin in his two-cylinder ­Cadillac Escalade golf cart which he uses on the red carpet As if that isn't enough to keep Garkani busy, he has to watch for regulations from the state and county. He says the minimum wage in California will go from $10.50 to $11 in 2018, and increase by $1 each year until it reaches $15 in 2022. Meanwhile, individual cities in the state are increasing their own minimum wage as well, putting it above the state's.

For many operators, this presents logistical and financial difficulties. "Our business is like no other. No company is actually based in the city of Los Angeles, but we travel in and out of the city, so the city wants us to clock our drivers in when they are in LA and clock them out when they leave so they can earn those city wages," he says. "It's impossible. Plus, we factor gratuities into our drivers' pay, so if we were to pay the full amount, we'd go out of business."

Garkani would like to see the limousine industry exempt from these rules. "We might end up having to go to battle and have a lawsuit and that could take three to four years before we win, and by then the minimum wage would catch up," he says. "If we can get our industry exempt now, it will keep us in business. This is the goal of the GCLA this year."

While Garkani is at the forefront tackling these issues, The COTS Group still functions with the help of reliable management and employees who know the ins and outs of the business. "To be honest, I couldn't do it without them," he raves.

The general manager title belongs to Kine Creedon, but Garkani says she does several jobs a day. "She's the brain of the company," he says. Both she and Josie Reyes, accounting manager, came to COTS through an acquisition about three years ago. Michael Tafoya, affiliate and marketing manager, was another employee who joined from an acquisition five years prior. His role has grown from dispatch to managing the growth of COTS's inbound and outbound trips. Paul LeGrand manages reservations and sales and Debbie Eastman is dispatch manager. Driver trainers are Jack Olivares and Derek Griffin, who work alongside Major Cephas, who has been with the company an impressive 25 years.
The gregarious Garkani recently took on a new role as the elected president of the Greater California Livery Association, one of the largest in the nation.
With a solid team behind him, Garkani can focus on big-picture stuff. Granted he is busy with the GCLA, but that doesn't mean he isn't always thinking of what's next for his livelihood. He is currently working on a potential deal to do team transportation for the new LA Rams stadium, only two blocks away from Garkani's LA office. The COTS Group does not currently service any official teams or venues, but does work for individual players in the NBA as well as hockey players from the Anaheim Ducks and LA Kings.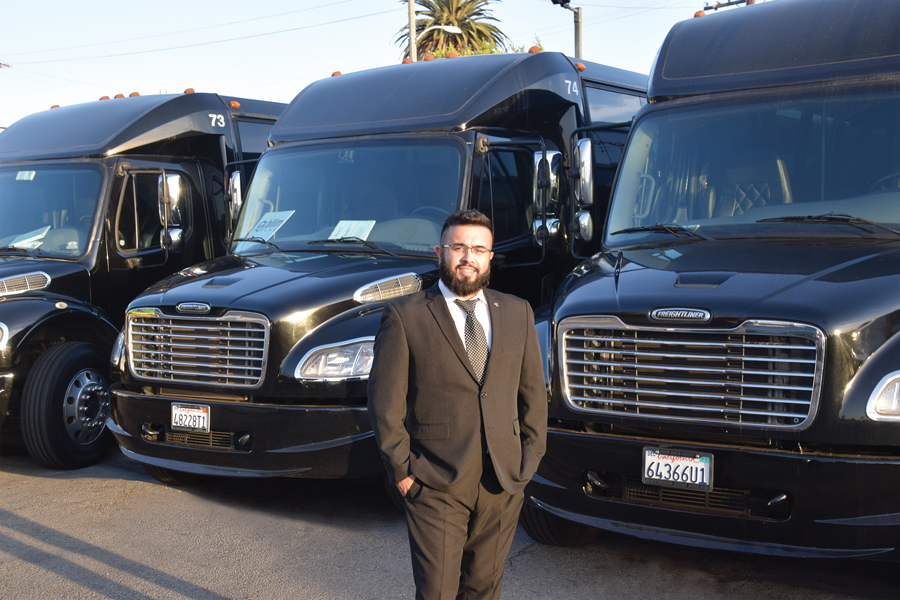 Affiliate and Marketing Manager Michael Tafoya with some of the company's Grech vehicles While The COTS Group has stayed away from motorcoaches, citing the regulations and insurance rates that come along with them, Garkani now says he sees them coming soon to his fleet—but he is dreaming even higher than this. "One thing I'm working on over the next couple of years is a helicopter-hopping program," he says. "They do it in New York, but it's not legal here ... yet. But with the traffic in our area and the demand for luxury transportation, sooner or later clients will start asking for it."

If you think Garkani's dreams are big, his heart is even bigger. His reputation as a fun-loving and good-hearted person is undisputed across the industry. He contributes time and funds to charitable causes, including VNS Therapy for Epilepsy, Galaxy Hope—an LA-based human rights organization—and The Pacific Marine Mammal Center.

Garkani has been married to his wife Anne for 24 years, and together they have two children, Christian, 23, and Courtney, 21. Both are now out of college but enjoyed years as athletes. Christian, who started swimming at age 2, broke records in college and competed in the Olympic trials. Courtney was also a swimmer before switching to crew.

As far as either of them becoming involved in the family business, Garkani says his son might have that itch. "He graduated with a business degree, but it's a lot of hard work—as he's finding out by helping in the office," he says. "I have some successful friends who all want him to work for them, and personally I would like to see him do something for himself. I'm a supportive parent, whichever way he wants to go."

Garkani has spent his life making sure others—his clients, family, and friends—are happy, and that's what feeds his soul at the end of the day. "I love spending as much time with my kids as possible, and I make sure to get a few hours with each one individually each week, and I like to entertain clients in my free time as well," he says.

"I personally make sure everyone I am around is having a good time. It's about working hard and enjoying life harder."   [CD0318]