By Madeleine Maccar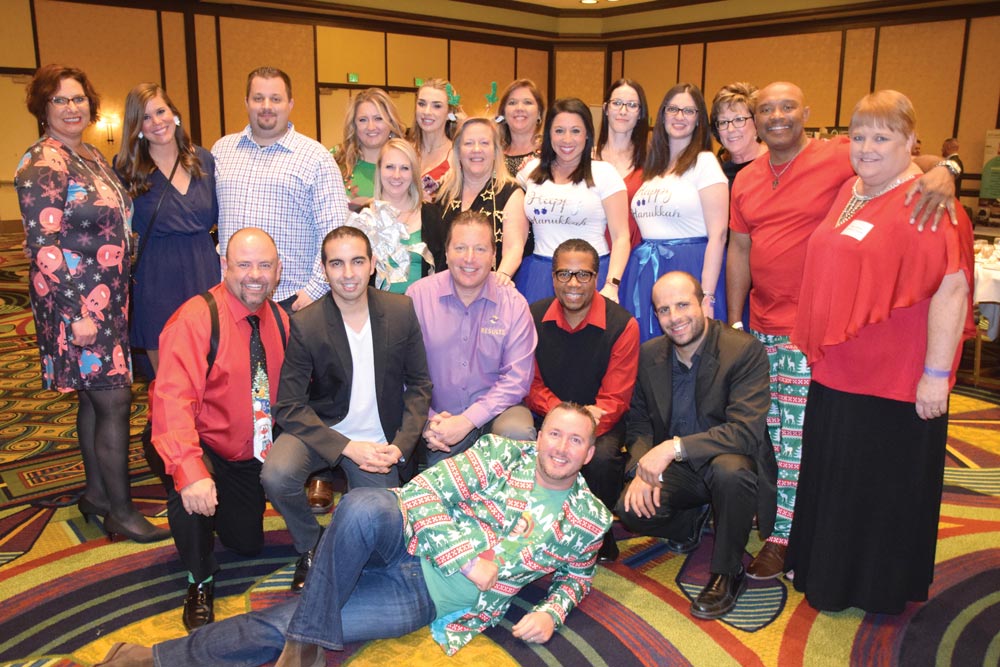 Going Global members at the GCLA holiday party. Back row (L to R): Allison Baumann of JED Transportation, Emme VandenHoek of MA Limousine, Kathy Messina of Driving Results, Maryam Genik of VR Worldwide, and Terrie Saunders Lane of Grand Avenue. Middle row (L to R): Maria McDowell of Total Luxury Limousine, Mallory Geary of Limo Livery, James Haiskey of Town & Country Limousine, Heather Allen of Network Transportation, Margaret Day of Reston Limousine, Jami Crouch of Premier Transportation of Dallas, Erica Shor of Windy City Limousine, Marvin Prince of LSA Worldwide, and Mary Johnson. Kneeling (L to R): Keith Soraci of A1A Airport & Limousine Service, Sami Elotmani of ­Destination MCO, Arthur Messina of Driving Results, Khary Fowler of Cooper-Global, and Umut Aslan of Men In Black Transportation. Front: T.J. Doyle of Gold Shield Transportation. The entertainment capital of the world played host to Going Global's final meeting of its 2017 schedule when Driving Results' affiliate manager peer group convened in Los Angeles from December 5-6.

The jam-packed two-day meeting was filled with industrywide solidarity, first-person insights from veterans of the affiliate manager world, and a whole lot of role-playing to fine-tune each members' elevator pitches—because what's a trip to Hollywood without a little bite from the acting bug?

"We worked a lot on their affiliate pitches," says Driving Results' Managing Director Arthur Messina. "We did some role-playing this time, based on Chauffeur Driven's Affiliate Central event in Orlando. They know they have 30 to 90 seconds to speak with somebody at a trade show, so they worked out the bullet points of what they wanted to say. It was very, very effective and offered good training for them."

Messina explained that both his and the members' experiences at the October affiliate networking event shaped the focal points of the hands-on Going Global exercise. Using photos to illustrate the differences that make a table presentation look too sparse, too busy, and just right—plus, considering what it looks like when a company representative is eating or sitting at their table instead of zeroing in on the work to be gained and partnerships to be made—gave everyone a primer on how to professionally present themselves while networking.

But what members found most helpful was the oppoturnity to hone their affiliate pitches in a setting that emulated real-life networking scenarios complete with crowded rooms, ambient noise, and tons of interruptions from potential affiliates vying for their time, attention, and future business with pitches of their own.
They build these friendships, and these relationships are what it's all about. That's how they find longevity and build their personal brands. – Arthur Messina, Managing Director of Driving Results
"While people were making their pitches, we had people come up to them to recreate the disruptions that happen at the events," he says. "When that started, some of the members started laughing and joking, like 'Oh, I can't do it now.' But they're under pressure when they make their pitches and they can't control who interrupts them, so we made them continue. Some of them saw that they weren't as prepared as they should have been, and several members have already said that they went back and started working more on their pitches."

For a more traditional approach to affiliate education, Billy Placier of Music Express spoke to the group on the first day to discuss what he's learned in his 15 years as the company's affiliate manager. One of the benefits of a group like Going Global is its mix of long-time mainstays and relatively newer industry entrants, and hearing from Placier underscored how adaptable they all need to be in order to find success in their roles—the relationships and reputations that can make or break them.

Making the most of their meeting locale and with the importance of fostering relationships on their minds, Going Global's far-flung membership headed to the Greater California Livery Association's (GCLA's) annual meeting and holiday party at the nearby LAX Marriott the cap off their first night in town. There, members were among the 200 attendees who mixed and mingled in the festive environment of one of the industry's biggest year-end bashes—exposure that benefited everyone, according to Messina.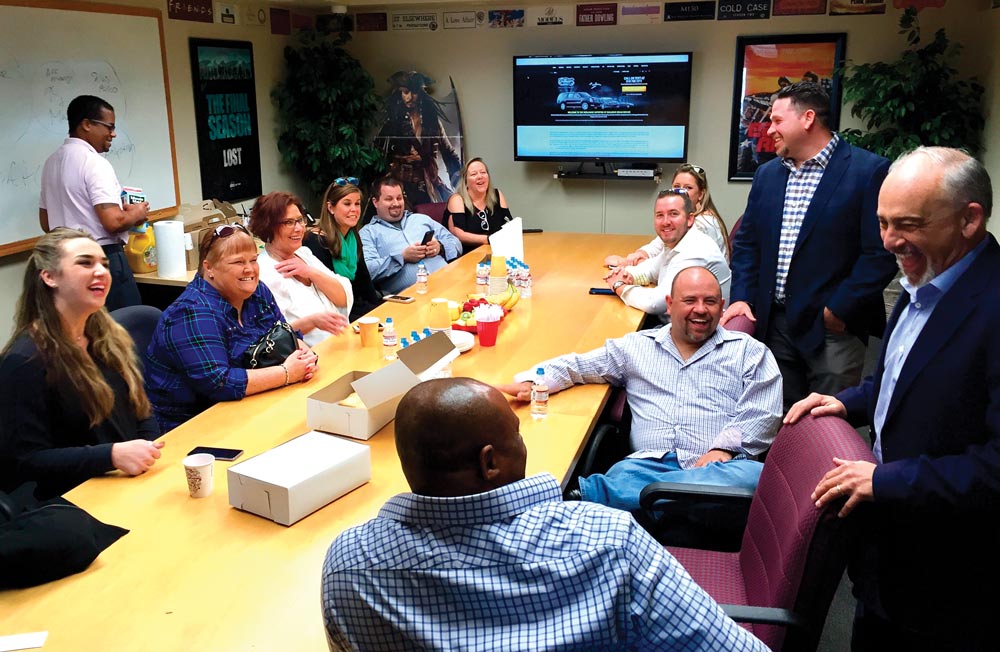 Ron Stein (standing far right) and his son Brandan welcomed Going Global members to Exclusive Sedan Service's North Hollywood HQ for breakfast and a facility tour "We tied our meeting to the GCLA event to support the industry, which is certainly beneficial," Messina says. "And, especially since this is the affiliate group, I find it's very advantageous for them to see what goes on at other association meetings while giving them an opportunity to meet the people who can help them. We ended up bringing more than 25 people to this event, which helped the GCLA, and it gave the Going Global members an opportunity for exposure."

On the second day, the group paid a visit to industry veteran Ron Stein's operation at Exclusive Sedan Service's North Hollywood headquarters. There, Stein and his son Brandan treated the affiliate group to coffee, biscuits, and a tour while Stein discussed the industry and the ins and outs of maintaining a family-run business.

Going on facility tours, attending industry events, and even sharing a classroom environment are all part of the mantra Messina swears by for his five peer groups: Relationships, trust, business.

"If you build a relationship with someone and you earn their trust, eventually you'll end up doing business together," Messina explains. "I tell everyone to never come in the reverse way: You don't come looking to do business. If you're looking to do business right away, they'll never trust you and you'll never get to build a relationship."

Since the industry—expecially the affiliate aspect—thrives on personal connections, it's no surprise that the agendas outlining Driving Results meetings only tell half the story. Friendships are made and strengthened all throughout the meetings, from bus rides between locales to casual drinks and gatherings at the end of the day—and social media and frequent contact only reinforce those bonds first forged at thrice-yearly meetings.

"You leave your ego at the door when you go into the room so everyone can work together, which gives them the ability to get to know everybody," Messina says, describing the professional/casual balance of his groups. "Business today is about the company culture, the communications, the longevity. Once you feel relaxed with somebody because you've seen them a few times and spent some time together, you tend to open up more. They build these friendships, and these relationships are what it's all about. That's how they find longevity and build their personal brands."

The 2018 schedule will be bringing the Going Global peer group to St. Louis, Mo., and the JED Transportation facility April 12-13, then to the Chicago Windy City office in August before heading to Delray Beach, Fla., and the A1A Airport & Limousine Service HQ in December.

Visit drivingresults.org for more information. [CD0218]