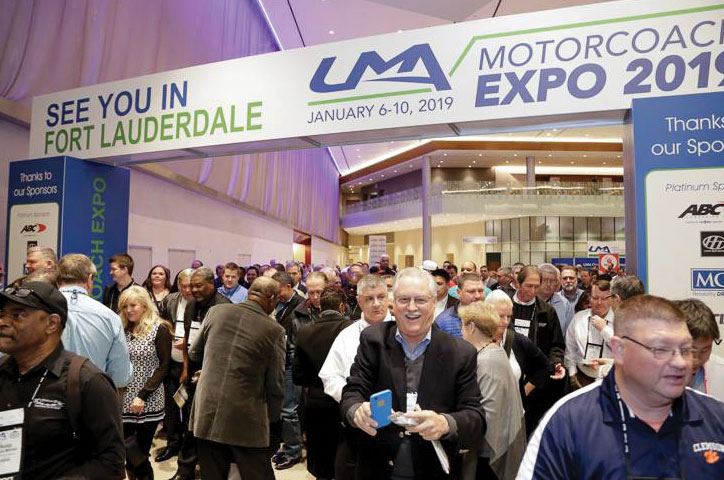 Attendees pour into the show floor on its opening day The 2018 UMA Motorcoach Expo called San Antonio, Texas, home from January 6-10, where CD's Business Development Manager Rickie Roberts was among the nearly 2,000 industry professionals and vendors on hand for the United Motorcoach Association's (UMA) annual multi-day event.

Other familiar faces in attendance included ABC Companies, Access Commercial Capital, Advantage Funding, Bitimec Wash-Bots, Blue Bird Body Company, Executive Coach Builders, Lancer Insurance Company, MCI, Prevost, Protective Insurance Company, and REV. In fact, Prevost raffled a guitar autographed by Bruce Springsteen, which was won by Tom Taylor of Lakeland Bus Lines.

A few companies embraced the opportunities of being in a close-knit environment to make some announcements. ABC Companies and Van Hool held press events highlighting a collaborative effort to refresh their CX45 and CX35 models, which they invited show-goers to explore on the showroom floor. The companies also explained how they're marketing directly to the U.S. market by building an American-compliant production facility.


George Altevogt (left) and Eugene Hotard of Alliance Bus Sales "We are focused on offering a proven product that can enable rapid market expansion into broader, more diverse service sectors," said ABC President & CEO Dane Cornell.

The EXPO consistently offers a confluence of educational sessions, networking opportunities, and a show floor featuring an array of services, technologies, and vehicles available to those in luxury ground transportation. This year was no different, with the Henry B. Gonzalez Convention Center hosting not only the expansive exhibit hall but also the majority of the expo's events, from receptions to sessions.

Appealing to a wide range of attendees is always a top priority, and UMA reflected that in its five-pronged concurrent "Solutions Seminars," where sessions focused on financials, marketing, operations, technology, and the specific needs of small operators. Topics ranged from trends to regulatory mandates, from hiring practices to looking toward the future.

There was education of another kind when author and entrepreneur Les McKeown took the stage as UMA's keynote speaker on the expo's second day, when he spoke to attendees about his work as a consultant to everything from small companies to Fortune 500 powerhouses, as well as his experiences with identifying business lifecycles and adopting practices to grow and prosper at those stages.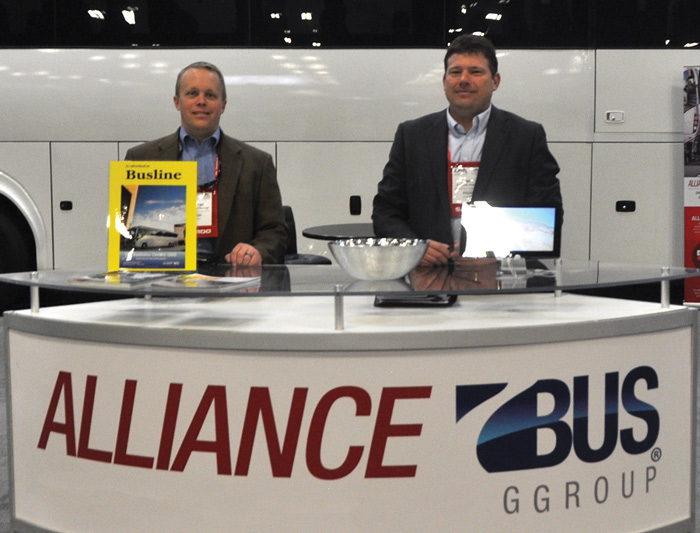 Frank Deutsch of Charabanc Financial "UMA chose Les McKeown to keynote because his theme of predictable success aligns perfectly with UMA's continuing focus on supporting our members to achieve prosperity and growth," said UMA President and CEO Stacy Tetschner. The following day, McKeown offered a 90-minute session on the show floor to help company decision-makers not only identify their own challenges but also outline their next steps to meet those challenges head-on.

This was Tetschner's first UMA EXPO in his position, as longtime association President/CEO Vic Parra retired last year. And a number of new officers were named to the 2018-2019 UMA Board of Directors January 9, including Gladys Gillis of Starline Luxury Coaches in Seattle, Wash., who is the first woman to be Chairman of the Board.

Also elected to officer positions were Vice Chairman Jeff Polzien of Red Carpet Charters in Oklahoma City, Okla., Treasurer David Moody of Holiday Companies in Randleman, N.C., and Secretary Alan Thrasher of Thrasher Brothers Trailways in Birmingham, Ala.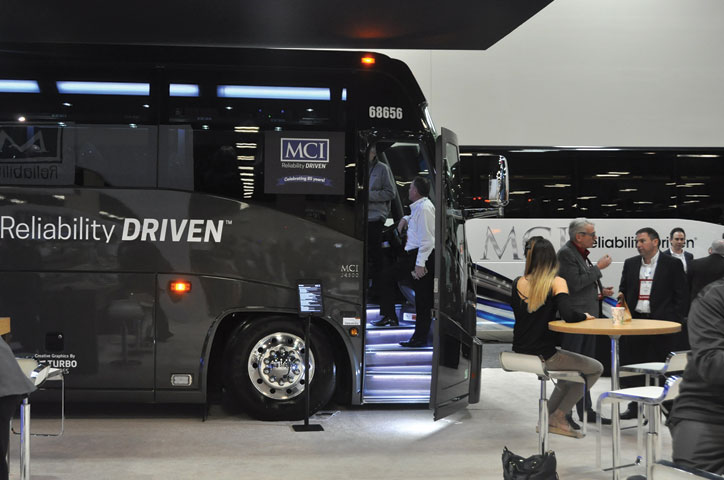 MCI's booth featured its newest buses The EXPO featured an array of light-hearted events, like the driving competition that put buses and their drivers to the test on an obstacle course that challenged their vehicle-handling prowess. It also recognized the best of the best with its Leadership Awards Celebration and a maintenance competition.

Other 2018 events for UMA include its Capitol Hill Days in Washington, D.C., from April 10-11, where the association will focus on supporting HR-2120 (the Buses United for Safety, Regulatory Reform, and Enhanced Growth for the 21st Century Act) and ways to successfully grow the industry. Its annual Safety Management Seminar will be in Ashburn, Va., December 5-6.

The 2019 EXPO will be in Ft. Lauderdale, Fla., from January 6-10.

Visit uma.org or motorcoachexpo.com for more information.

[CD0218]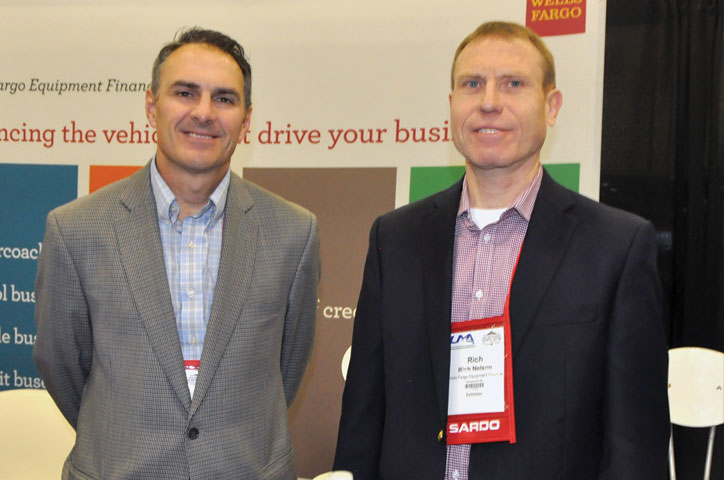 Jeff Johnson (left) and Rich Nelson of Wells Fargo ­Equipment Financing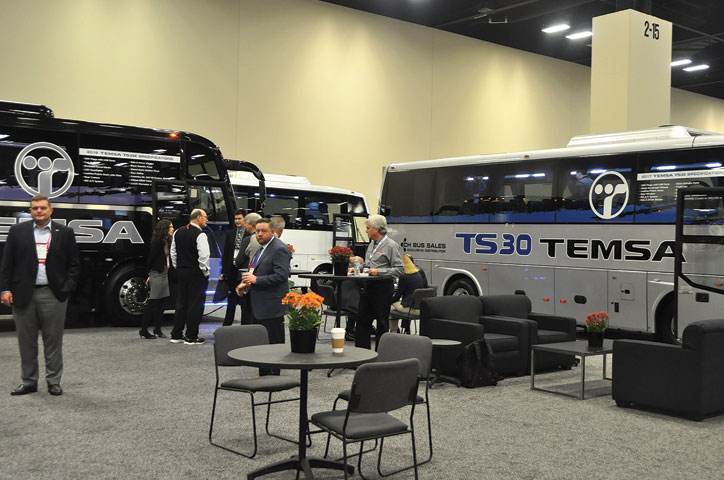 The Temsa booth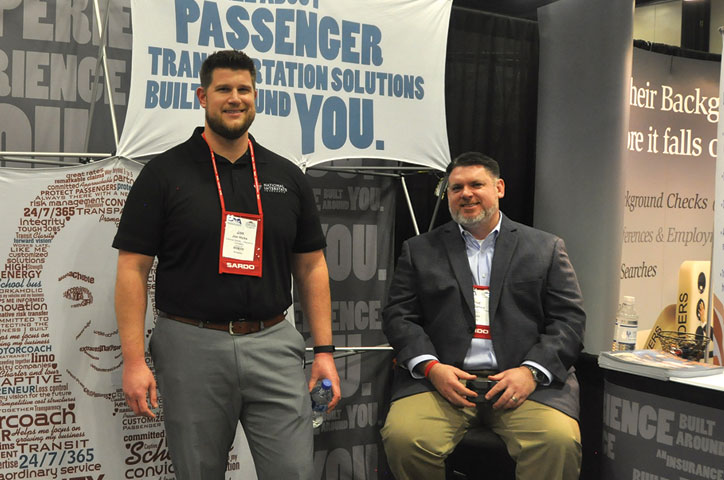 Jon Hicks (left) and Tod ­Carney of National Interstate Insurance Company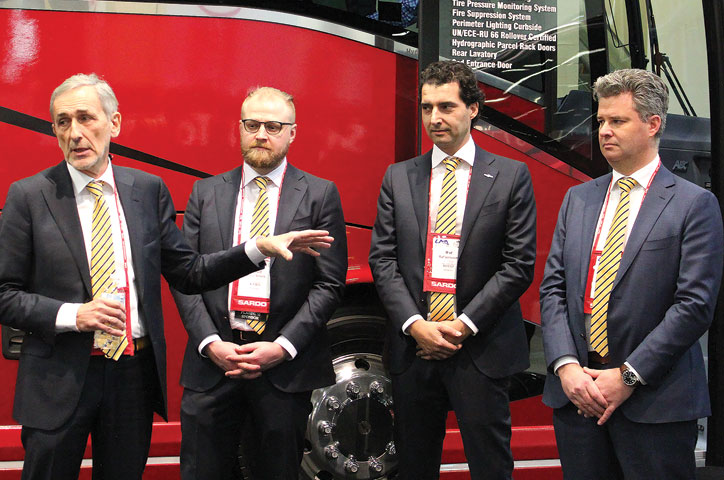 L to R: Hugo De Roo, Ruud Smets, Raf Vervoort, and Geert Bauwens of Van Hool
Nathan Jones, Delt Clark, Tim Culhane, and Ivy Gamboa of AmeriFuel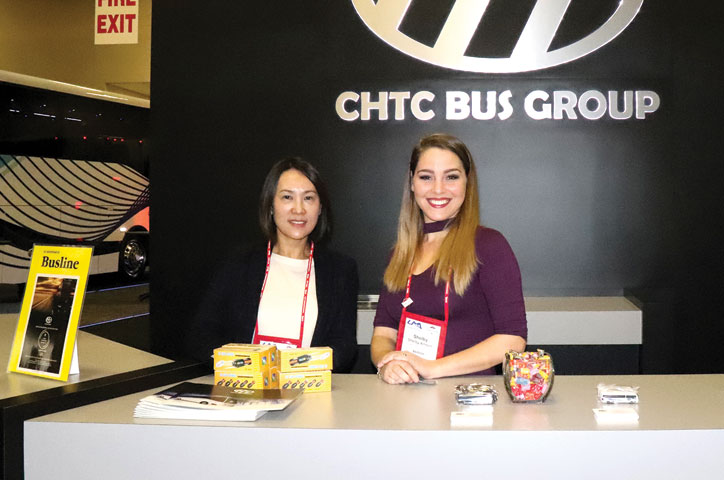 Flora Zheng (left) and Shelby Allison of CHTC Bus Group