By Matt Daus

Editor's note: Matt Daus is deeply involved in autonomous and connected vehicle (AV/CV) transportation technology and policies. He has: co-chaired an emerging technology forum at the 56th Annual Transportation Law Workshop organized by the Transportation Research Board (TRB) of the National Academy of the Sciences; facilitated annual AV/CV symposia organized by the U.S. Department of Transportation's Research Center at the City University of New York and moderated policy discussions with transportation officials to identify principles for testing in urban centers; partnered with the International Association of Public Transit to train Roads and Transport Authority employees in Dubai about AV/CVs; organized sessions with experts at International Association of Transportation Regulators conferences since 2015; been designated a U.S. delegate/planning committee member of the U.S./European Union's Summit on the Socio-Economic Impacts of Automated and Connected Vehicles; and is a member of the TRB's automated and shared-use vehicle forum.

There has been a tremendous amount of attention and hype involving "driverless cars" (or vehicles in which internal vehicle systems operate all driving functions without human input) and autonomous vehicles (AVs) over the past few years. That attention has been generating excitement, concern, and misunderstanding as to how, what, and when such technology will become common on our roads.

Much like AVs, connected vehicles (CVs) are able to communicate with other "smart" vehicles on the road but they are not necessarily fully autonomous. CVs use wireless communication supported by dedicated short-range communications (DSRC): By gathering data from other vehicles, CVs anonymously transmit traffic and road-condition information to other CVs and connected transportation networks, with applications that include crash warnings or avoidance functions.

There are three major approaches to CV communication: vehicle to vehicle, such as when one vehicle warns the driver to stop or slow down after communicating with a decelerating vehicle ahead of it; vehicle to infrastructure, like a vehicle responding to a traffic signal; and vehicle to pedestrian, where, for example, a car avoids hitting a pedestrian crossing the street in an unsafe, unexpected way.

While these Intelligent Transportation Systems involving CVs would serve as crash avoidance systems—and potentially provide both the government and private entities data that could be used for myriad public and private purposes—some contend that the rapidly developing automated vehicle technology incorporates these features (without the need for external connectivity) to not only warn drivers in the same manner but to also, at various levels of automation, remove control from the driver to proactively avoid crashes.

Nevada became the first state to authorize the operation of AVs in 2011 and since then, 19 other states and the District of Columbia have passed related legislation.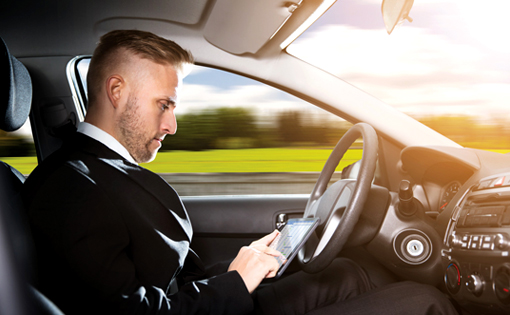 Google first began testing self-driving car technology in 2009; in 2016, that project became Waymo. Tesla first tested four self-driving cars on California's public roads in October 2016, a month after Uber began testing self-driving cars in Pittsburgh. Uber then expanded to Arizona after it was banned from operating AVs in San Francisco in December 2016. By January 2017, driverless cars or buses were being tested on public roads in Las Vegas, Boston, and Chandler, Ariz. That same month, the U.S. Department of Transportation designated 10 proving-ground pilot sites to encourage AV technologies. In June 2017, it was announced that Audi would be the first to test AVs in New York.

As the auto industry prepares for fewer car owners and more shared rides, TNCs, vehicle manufacturers, and technology companies are partnering to create new for-hire vehicle (FHV) fleets. Uber has partnered with Volvo, Daimler, and Didi Chuxing, while Lyft is working with General Motors, Jaguar Land Rover, and Waymo to develop its own fully autonomous vehicle. Baidu announced in July 2017 that more than 50 companies—including Ford, Daimler, Nvidia, Intel, and Microsoft—have joined its Apollo self-driving car platform. Other examples of reported partnerships include: Toyota working with Microsoft and Nvidia; Waymo partnering with Lyft, Avis, and Fiat Chrysler Automobiles; Hertz collaborating with Apple; RideScout and GlobeSherpa working together; and Volkswagon, Gett, and Bosh creating an alliance with Nvidia, Daimler, and Baidu. Sharing data, integrating hardware and software, and collaborating on open-source platforms are all partnership incentives.

Meanwhile, numerous legal, regulatory, and policy concerns will need to be addressed before AVs become part of both our and the industry's daily lives:

• Regulation and Governance: Many regulations must be changed that apply to traditional automobiles and vehicle/traffic laws (e.g., involving steering wheels), and it is unknown whether it will be federal, state, and/or local. Federal, state transportation, and local traffic agencies render the path for governance unclear. Jurisdictional turf wars are likely to impede everything from policy to progress. NHTSA is currently preparing for this transition on a federal level that includes state and municipal cooperation.

• Safety: In a potential crash, does a car ethically "decide" to avoid hitting another person, or does it default to keeping its passenger(s) safe? There is also an issue surrounding the split second when a driver reassumes control of the vehicle from the computer, creating a new risk.

• Privacy and Cybersecurity: AVs generate massive amounts of personal data. The immediate concern involving the privacy of and third parties' access to this data pairs with cybersecurity concerns on the ability to hack into an AV to remotely control the vehicle.

• Insurance: As collisions are expected to decrease, the legal responsibility for accidents may shift to manufacturers. Cyber insurance policies might also cover the risks associated with AVs' cyber interferences.

• Impact on Labor: In 2016, it was reported that 5 million people drive for a living—or 3 percent of the overall workforce in the United States. There is likely to be a long period of time before full automation where drivers will serve other roles and continue to be employed. Their roles may also change: They may serve as navigators or customer service providers (e.g., helping with luggage, assisting passengers with wheelchairs, monitoring the vehicle systems like an airplane pilot would for an autopilot aircraft).

• Sustainability: The impact of AVs on environmental resources and transportation infrastructure still needs to be determined, and will partly depend on their regulation. While AVs are expected to help reduce air pollution, it is not certain how they will affect overall vehicle roadway use.

• Equity and Accessibility: AVs can offer mobility to people who either cannot drive or do not have reliable vehicle access. However, fully autonomous vehicles may be inaccessible for wheelchair passengers: Once you remove the driver, who is there to assist the passenger?

What does it all mean for the ground transportation industry? Probably not much right now in terms of labor displacement or other major changes; however, the business relationships and underlying economics, financing, and lawsuits involving AV players could have a profound impact on the viability of the market's app transportation companies.

The immediate future's race to develop and patent AV designs/inventions has more to do with securing intellectual property rights than with either mass manufacturing or using AVs right away. For example, if last year's Waymo lawsuit against Uber halts their AV program, it could be a blow to Uber's ability to compete against incumbent and new transportation players alike. Uber is likely counting on increasing or justifying its company valuation by landing the patent rights to its prototype vehicle (as well as ensuing business deals). This would help Uber raise more private capital or pave the way to an IPO by subsidizing driver earnings and fares to increase market share. The failure to do so, with billions in losses mounting, may fuel the rise of other TNCs—or even a resurgence of incumbent ground transportation industries.

Between 3 to 5 years from now, further AV testing may lead to partnerships where certain select players begin deploying AVs before their widespread sale of personal cars. However, that AV deployment would probably be limited to restricted lanes or certain geographic areas, and not likely in dense urban environments where taxis and FHVs thrive. It is more probable that the first major implementation will involve AV buses and freight vehicles on special highway lanes and in confined areas such as airports, amusement parks, and universities. AV technology will be here very quickly with safe vehicles that work well, but the ability for the multitude of federal, state, and local agencies to deploy them right away will be challenging.


Levels of Automation
There are various degrees of vehicle automation, ranging from light automation (i.e., "cruise control") to full automation, which is where the vehicle is in complete control of all driving functions at all times. In 2013, the National Highway Traffic Safety Administration (NHTSA) announced a policy concerning vehicle automation wherein the agency defined automation levels, which was amended and adopted in September 2016.
Level
0:
Completely
driver-dependent.
The driver ­controls steering, brakes, throttle, and power.
Level
1:
Most functions are still controlled by the driver, but specific functions (like
steering or accelerating
) can be
done by the car
.
Level
2:
At least one driver assistance system (such as cruise control) is automated.
The driver's hands are off the steering wheel
and foot is off the pedal.
Level
3:
Drivers are still necessary but
safety-critical ­functions are shifted to the vehicle
under certain traffic or environmental conditions. The driver is still available to intervene if necessary.
Level
4:
This is where a vehicle reaches the
"fully ­autonomous"
category, designed to perform all safety-critical driving functions and monitor roadway conditions for the duration of a trip. However, they are limited to the operational design domain of the vehicle—and not all driving scenarios.
Level
5:
The
fully autonomous vehicle meets the performance of a human driver
in every scenario. This includes being able to navigate difficult terrain, such as dirt roads.
Getting to levels 3 or 4 in less than 10 years for all vehicles on the road is possible; getting to that last level of removing the driver may be a long stretch, indeed—possibly 10-15 years. During this long transition, the safety challenge of vehicles with various levels of automation and those entirely without automation sharing the road is nearly as daunting as the governance and political issues that will surely develop. This means that taxi, TNC, and for-hire drivers will not be losing their jobs any time soon.

When AVs finally hit the road at level 5, many existing services may cease as we know them. Removing the need for a driver blurs (if not eliminates) the differences between TNCs, taxicabs, FHVs, leasing companies, and car-sharing companies.

There is a real possibility that big technology companies and automobile manufacturers will entirely control the mobility market. Without drivers, manufacturers may not find it economically advantageous to sell their cars anymore, and instead focus on the development of mobility platforms for different plans and routes where they can allow the use or sharing of these automobiles. The data that Big Tech and Big Auto will collect on passengers is game-changing and renders the data-mining functions of TNCs, car-sharing companies, and related operations obsolete. Reasonable minds may differ as to whether car ownership of level 5 vehicles will even continue to exist, but most agree it is not a coincidence that through Waymo, Google is gearing up to become an auto manufacturer while automakers are entering the for-hire space through joint ventures (i.e., investing in and/or controlling smartphone app mobility providers). The future may be that mobility companies, controlled by Big Tech and Big Auto, will offer a variety of options to passengers to rent or lease the vehicles (on demand, via monthly subscription, and so on). A more radical solution might be for tech and auto companies to convince smart cities to ban cars from their roads, allowing automakers to sell automated vehicles to municipalities as a form of public or mass transit—and thus eliminating private vehicles from central business districts to calm traffic and reduce congestion.

For the short-term, there will be many benefits to FHV companies and providers. Regarding insurance, CVs and higher levels of automation are likely to prompt significant reduction in insurance premiums and new insurance products that may benefit the independent contractor driver (or employee/driver livery company) up to level 4 of autonomy. The costs of operation may be significantly reduced on the insurance side but vehicle operation training will become an investment. There will be many years of cost savings and safety enhancements that may sunset as Big Tech and Big Auto invade the space and either buy out mobility companies or place them out of business as full level 5 implementation approaches. Once level 5 is reached, commercial automobile liability policies and insurance may cease to exist: Tech and auto manufacturers will instead purchase insurance to guard against liability for either AV defects or vehicle-design flaws leading to crashes and injuries. But when this happens, the increased cost of both manufacturing and insuring such vehicles may be passed onto consumers who buy, lease, or rent AVs. The good news for FHV, car-sharing, auto-leasing, and taxi companies and their drivers is that there will be a finite period of time when increased safety options will minimize risks and lead to benefits for insurance, reduced costs for passengers, and possibly even higher profit margins.

Only time will tell when, where, and how AV technology will be implemented, but these are exciting times, indeed. AV/CV technology issues will eventually work themselves out—just not as quickly as the media and private tech companies say or would like. Everywhere need not worry about driving with "no hands" anytime soon, and for-hire drivers and companies can relax knowing that their jobs and companies will be there for a long time, provided they can survive the unrelated interim period of predatory TNC market takeover.   [CD0418]