By Rob Smentek

As Driving Results enters its sixth year of hosting affiliate manager groups, the global transportation peer group administrator has shifted its focus a bit to address the changing nature of the luxury transportation industry. While previous meetings would focus on sharing best practices and education, Managing Director Arthur Messina has adjusted the emphasis of his sessions to strengthen the connections among his membership, which is certainly vital when dealing with affiliates.

"This year, more than ever, we've been talking about relationship-building," Messina says. "As everyone knows, the industry has changed, and an ever-increasing part of the business is affiliate work. Operators want to show they're bigger and better and can deliver service to their clients everywhere. The best way to accomplish this is for the people who both handle the booking and administer affiliate work to build relationships among each other."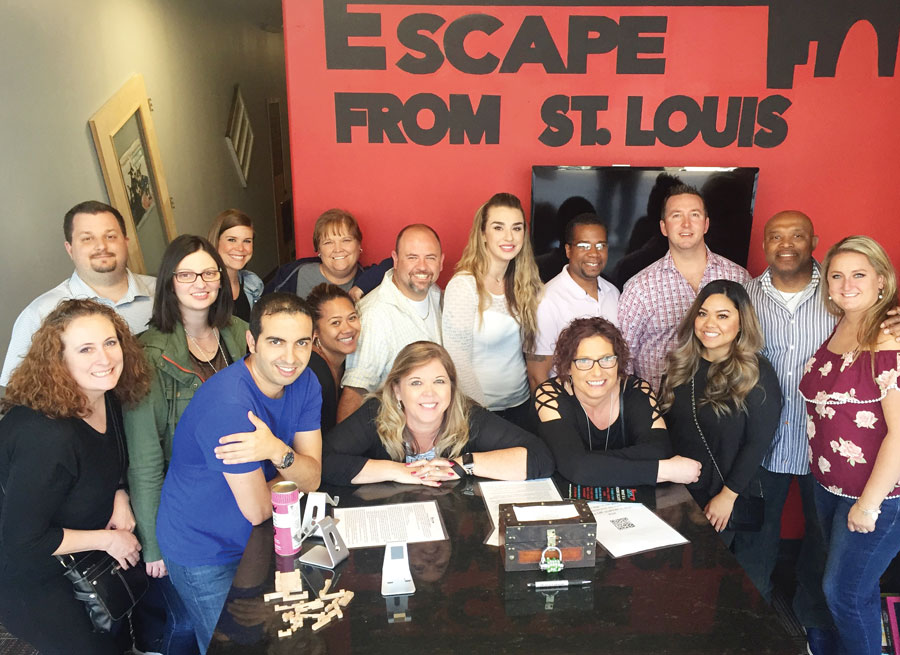 The Going Global group visits the Escape From St. Louis amusement center. Back (L to R): James Haiskey of Town & Country Limousine, Erica Shor of Windy City Limousine, Mallory Geary of Limo Livery, Mary Johnson of Alliance Limousine, Keith Soraci of A1A Airport Limousine, Emme VandenHoek of MA Limousine, Khary Fowler, T.J. Doyle of Gold Shield Transportation, Marvin Prince of LSA Worldwide, and Allison Baumann of JED ­Transportation. Front (L to R): Jennifer Wong of American Executive Transportation, Sami Elotmani of Destination MCO, Stephanie McKeon of Joshua's Limousine, Kathy Messina of Driving Results, Maria Schoenrock of Total Luxury Limousine, and Tina Nguyen of Concierge Limousine. So when Messina hosted a pair of meetings for the Going Global and Global Partners affiliate manager groups this spring, he crafted the agendas so that the membership could gain immediate takeaway from this more personal interaction.

"I've found that people within the groups learn more from each other in smaller environments than they will anywhere else. Trade shows and retreats are certainly important for expanding your business and know-how, but you can't overlook the value of a small environment for getting to know the people who do what you do—and learning and sharing with each other. I can't stress that enough."

On April 12-13, Going Global—Driving Result's inaugural affiliate manager group—headed to the Drury Plaza Hotel in St. Louis, Mo., for its first meeting of the year. The event kicked off with basic housekeeping, and then a meet-and-greet with new members.

In past meetings, the group had discussed the benefit of accurate information sharing between affiliates. To continue that tract, Jaime McLaren from DriveProfit spoke to the members about the advantages of using GRiDD/GNet in their operations. McLaren presented the software platform in a workshop environment to help the affiliate managers understand how and why to use GRiDD, and to demonstrate the value of using communication networks to ensure error-free transfers when sending affiliate business back and forth.

As this was the first Going Global meeting of 2018, Messina tasked the members to detail their future goals in a schoolwork-type assignment. Each attendee was given a 10-question goal sheet, which had them considering their professional, personal, and even physical/healthy living goals over a 30-day, 1-year, and 5-year schedule. After the worksheet was completed, the members discussed their plans in an open forum.

"We had them open their eyes," Messina says. "If they said they wanted to increase business by 10 percent, we broke it down to see how they could accomplish that. It's very important for them to have a road map, rather than no plan at all. I always try to get the message across: 'You take charge of Monday; don't let Monday take charge of you.' In the transportation biz, if you don't set goals, things tend to blow by you and you never get them done. I want to make our membership aware of what they need to accomplish and what they have to do to get things done, and to have a healthy work/life balance."


Global Partners at the K1 Speed indoor racetrack in Ft. Lauderdale, Fla. Back (L to R): Darren Croasdale of La Costa Limousine, Lohan Caetano of UCS Limo, Rocio Sanchez of Hermes Worldwide, Kristie Carter of ­Aadvanced ­Limousine, Renee Ferraro of ZBest Worldwide, Tariq Channell of Divine Chariots Limousine, and Lynn Allen of James Limousine. Front (L to R): Kathy Messina of Driving Results, T.J. Kao of Asia Limo, Arthur Messina of Driving Results, Cory Zucker of RAA Luxury Services, Natasha Anderson of Windy City Limousine, Christine Grassham of BEST Transportation, and Tony Grigorian of Advance Global. One of things Driving Results has become known for is its engaging team-building activities, which give members an opportunity to get to know each other, take part in some friendly competition, and have a whole lot of fun. This time, members solved a murder ... at the Escape from St. Louis amusement center. The groups were separated into two teams, each given the same mystery to solve with a ticking stopwatch. No one could argue that the teams were unevenly paired, as there was only a two-minute difference that determined the victor.

Day two of the meeting was highlighted by a series of discussions designed to increase the profile and brand of the members of the group. First, they were asked to define their value as an affiliate manager. Messina says that operators often rate affiliate managers in the same way team owners evaluate athletes (i.e., with +1, -1 ratings), and it's important for them to realize that hopping from company to company dilutes their rating, and their behavior both in and out of the office is equally important.

The Going Global meeting concluded with a site visit to JED Transportation in Hazelwood, Mo. The Midwest operator's fleet includes everything from a stretch Camaro to motorcoaches—allowing the members to see the diverse markets served by the various companies under the JED "umbrella." Ultimately, the meeting was met with rave reviews from the group's members, particularly among those who have been there from the beginning.

"As a founding member of this group, I have seen Driving Results put together some wonderful events over the years. From the site visit, the GriDD informational session and the team-building activity to the affiliate-manager-centric discussions, it was one of the best group meetings yet," says Sami Elotmani of Destination MCO.

A little more than a week later, on April 23-24, Messina brought his Global Partners group to Ft. Lauderdale for their initial 2018 meeting. It wasn't exactly a typical Spring Break getaway, but the event did offer members a great deal of fun while they continued their focus on relationship-building and improving their roles. Instead of following the previous meeting's focus on setting goals, the Global Partners took a hard look at mistakes and troubleshooting. The day kicked off with a dialogue itemizing the common mistakes made day-in and day-out, and how they can be fixed—if not avoided altogether. This was followed by a discussion of the struggles each of the members faces in their roles.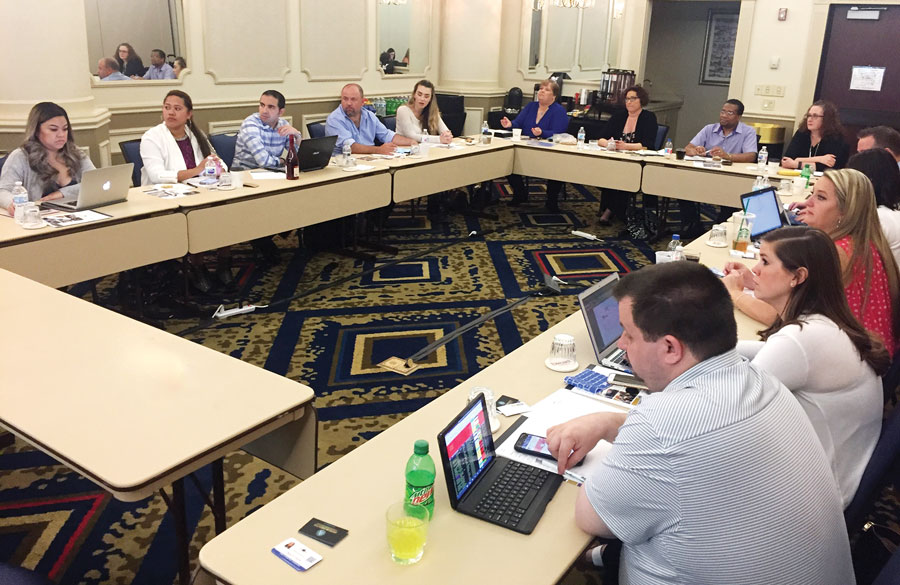 Going Global members discuss goal planning in a roundtable forum Next, Messina introduced a "board of directors" workshop to the Global Partners group, which had members split into three small groups and develop an approach to solving a single problem. Their solution was then presented to the room. Messina says that this has been one of the most popular activities in Driving Results' owners groups, and was equally successful here.

As evening arrived, the group headed to the always-popular team-building event. This time, Messina arranged an event that would determine the fastest affiliate manager in the industry ... quite literally. K1 Speed hosted the group, where they engaged in go-kart races around the venue's indoor tracks. These were no typical backyard karts, however; the electric cars approached speeds of 40 mph, which gave the group a sampling of the intensity (and heat) faced by NASCAR drivers. Winners of the evening's races got to bring home trophies, along with those invaluable bragging rights.

After another day of professional analysis, the meeting closed with a site visit to American Transportation's new facility in Miami. Their affiliate manager, Adriana Noches, is a member of Global Partners and was pleased to share the new operation with her fellow members.

"We were honored to host Global Partner's first meeting this year in the city of Fort Lauderdale. Everybody in the group loved visiting our facility and seeing how we operate. The dynamic of the meetings was changed this year and we discussed some important topics that are relevant to our companies. This group has given me the chance to make friends along with strong business relationships," says Noches.

Going Global's next meeting is scheduled for August 27-28 in St. Paul, Minn., followed by a December 13-14 meeting in Delray Beach, Fla. Global Partners will next meet August 9-10 in Chicago, Ill., and then December 10-11 in Las Vegas, Nev.

[CD0618]