By Liz Hunter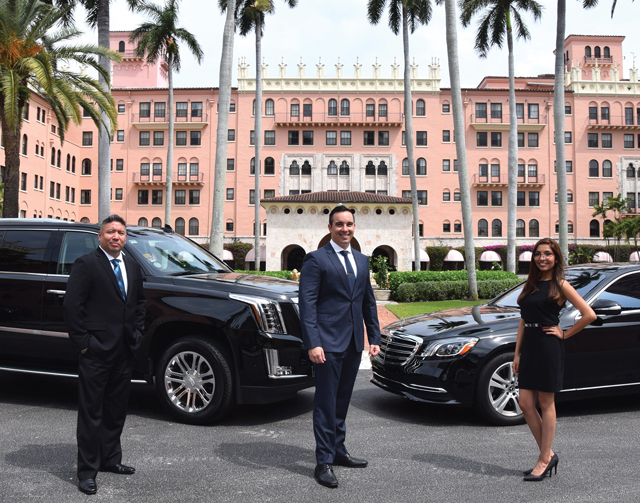 L to R: Director of Sales & Business Development Russ Winters, Owner & CEO Fernando Carlison Jr., and Vice President of Operations & Affiliate ­Manager Ariadna Noches at Boca Raton Resort and Club in Boca Raton, Fla. The phrase "the third time's the charm" may be apropos for Fernando Carlison Jr. and his relationship with the chauffeured transportation industry.

Carlison and his family are natives of Brazil who came to South Florida in 2006 looking for American opportunities. In 2007, Carlison's father saw an advertisement in a Brazilian newspaper from a man selling his BMW 7 Series and a list of clients, so Fernando Sr. struck a deal and became an operator practically overnight. Seeing as the younger Carlison was still attending university for a degree in finance back in Brazil, Fernando Sr. tasked his son-in-law with driving the clients.

Once he graduated and moved to the U.S. in 2008, Carlison got his feet wet with another limousine service nearby; after three months, he realized it wasn't the right company for him. It was a learning experience that would shape his owner mentality for the future.

His next career move was to import/export airplane parts in and out of Brazil. Carlison says business was profitable at the time, but sadly, two years later his main buyer died in an unfortunate accident, leading to a loss in revenue. To make up the difference in income, he purchased a 2009 Chevrolet Suburban and founded Carlison Transportation, which he operated part-time while still working for the airplane parts company.

"Slowly I felt I was getting very engaged in the limousine business and soon I completely stopped running the two businesses and focused 100 percent on transportation," he says. "Within one year, I had grown to five cars, including brand-new SUVs and sedans."

In those early days, the car was Carlison's office since he was doing the driving and also taking reservations at the same time; however, that practice was causing him to lose out on leads and his driveway was getting pretty full with vehicles.
"Here, you need to do things very differently and tailor everything specifically to the client, otherwise you can't succeed." – Fernando Carlison Jr., CEO of Mundi Limousine
"That was the point when I realized that I was heading in the right direction, but I needed to be more professional about it and get an office. I needed to be in a more business-like environment to keep me from getting distracted like I was when I was working from a home office. Also, I needed to hire someone to help me with the overflow of work," he says.

His first two employees, Luiz and Kissyla Pimenta, are still working within the company. "They helped us to build what Mundi is today. I feel proud that they are still part of my team and have witnessed the growth of the company," Carlison says.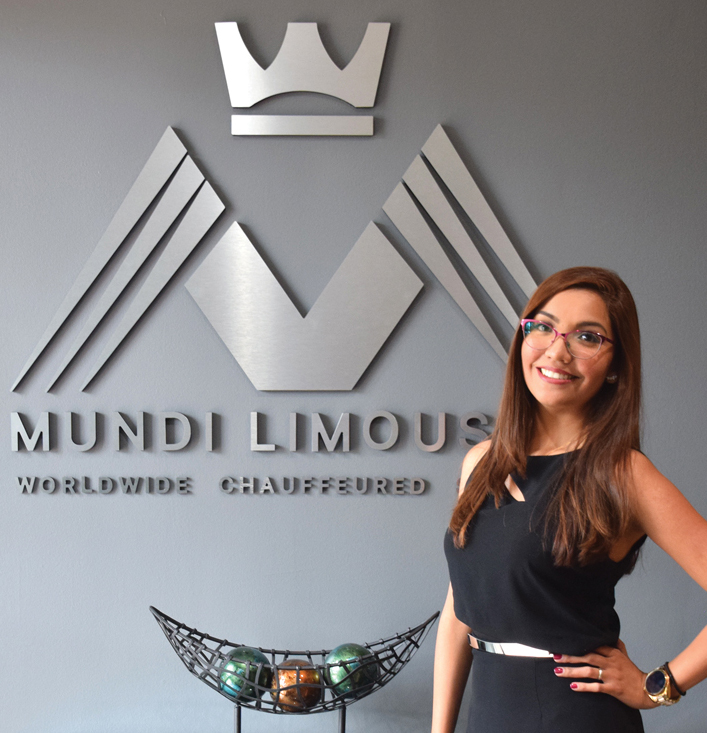 Ariadna Noches at the Mundi headquarters Carlison Transportation reinvented itself in 2014. "At a trade show, after some good conversation, I decided to merge with my brother-in-law, Bernardo Botelho, and Mundi Limousine was born. The name means 'world' in Latin, and it's commonly used in Brazil, so it was a great fit for us."

In 2018, Carlison took ownership of 100 percent of the company, after an amicable break with Botelho.

Since the December buyout, Carlison has been empowered with freedom to make his own decisions and change the direction of the company. "At the beginning, I was taking a lot of risks and trusting my gut instincts. Now that I have more people who depend on me and my business decisions, I started to work on the numbers and matrix. I regularly analyze how we are doing to make the best possible decisions that benefit me and everyone in the company," he says.

Mundi Limousine deals nearly exclusively with high-end clientele. "We are mainly corporate and along with that comes high-end clientele like celebrities, CEOs, and executives. These types of customers are very demanding, and time- and taste-sensitive people," Carlison says.

This level of service requires impeccable employees, and in this area, Carlison says he is a perfectionist. "In order to gain business, we focused on delivering the best experience possible, respecting boundaries, and delivering professionalism; we make sure the company culture is reflected starting from the moment that our clients book a reservation to the moment they receive the service performed by our chauffeur," Carlison says.

Chauffeurs are at the core of Mundi's service model. "I have been developing several different strategies for improvements, from making simple office procedures well documented, to stronger chauffeur training," he says.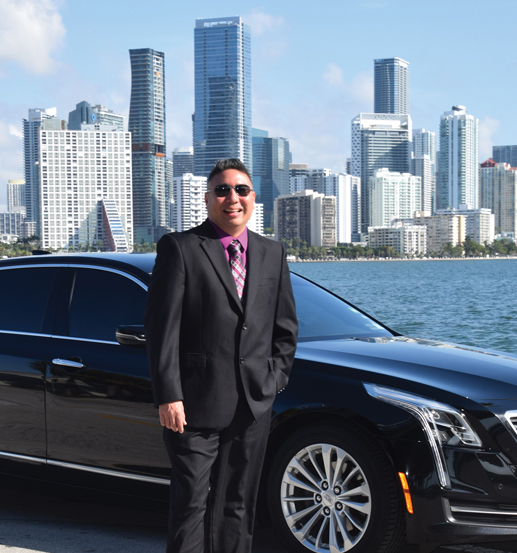 Russ Winters on the Miami waterfront For example, chauffeurs have ratings based on key performance indicators (KPIs), and their ratings are noted on Mundi's daily schedule. Chauffeurs with A+ rating will always have the best clients and the best rides. C-rated chauffeurs may be newer to the industry, and will be started off slowly while they build feedback and get evaluated. D-rated chauffeurs are in what Carlison calls the termination zone: "This is someone who is getting too close to the spot time, taking too many risks on a daily basis, or not wearing their uniform accordingly," he says.

"This system allows us to reduce mistakes to near zero because we will always have the best people performing the most amount of rides in the company," Carlison continues. "Whether the chauffeur has three months in the business or five years, they need to retain a high performance rating regardless if they are friends of the owner or a dispatcher. That motivates new people and encourages senior chauffeurs to not get too comfortable in their position."

He believes in hiring slowly and firing quickly. "People need to understand the culture and also be proud to work at Mundi. We want to have an even stronger foundation that will support and finance all of us and our families for several generations," Carlison says.

Mundi serves all of South Florida (Miami, Broward, and Palm Beach counties). Based on that 80-mile range, two offices are necessary, one of which is in Deerfield Beach and another satellite location in Miami close to the airport.

Carlison says South Florida is an admittedly "weird" market—hard to define. "Here, you need to do things very differently and tailor everything specifically to the client, otherwise you can't succeed," he says.

The counties comprising the Miami metro area are home to more than 6 million people. The South Florida area is currently becoming a hotbed for technology, having garnered more than $1B in investments in 2018, outpacing Atlanta and Durham, N.C.

Miami-Dade may be most recognizable for its South Beach "see-and-be-seen" atmosphere, but it also includes both the Everglades and Biscayne Bay National Parks. Companies with headquarters here include Brightstar Corporation, Burger King, and Norwegian Cruise Line. The Port of Miami is the world's busiest cruise port, and is joined by three other seaports in the metro area: Port Everglades, Port of Palm Beach, and Miami River Port. Miami's airport serves more than 35 million passengers annually.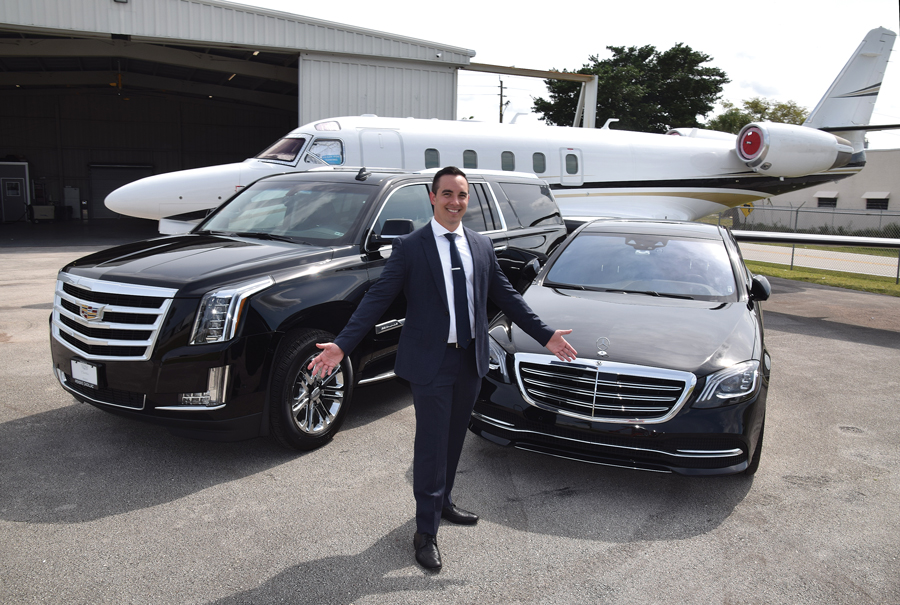 Fernando Carlison Jr. at a local FBO, where Mundi caters to many private aviation clients Broward is home to Greater Fort Lauderdale, a destination for luxury hotels, boutique shopping, championship golf courses, and world-class dining, all of which draw in more than 12 million visitors a year. Popular with wealthy tourists, Fort Lauderdale is a center for yacht manufacturing and maintenance, making it a common stop for those traveling to the nearby Bahamas or Caribbean privately.

Palm Beach County is Florida's wealthiest, where real estate development and agriculture are the leading industries. Headquarters for Office Depot, ADT Corporation, and G4S Secure Solutions are located in the county, while aerospace firms like Lockheed Martin and United Technologies also have outposts.

Currently, Mundi Limousine operates a fleet of 23 vehicles, including Cadillac and Mercedes-Benz sedans, Escalades SUVs, minibuses, Sprinters, and coaches, all suited for high-end hotel, FBO, DMC, and C-level corporate clients, and even the tourism/leisure travelers coming for vacations or leaving from the cruise ports. Road shows are particularly beneficial to Mundi, giving the company a boost of income to get through the summer down season.

Carlison's goal is to double the fleet size by the end of 2020, and the only way to do that is to keep evolving. "Even though we are proud to have the best possible fleet in town, we are constantly upgrading our vehicles and technology," he says. "Technology is very important, and I would say it's a deal breaker. How would we perform today without 'simple' things like a mobile app that automatically emails and texts, GPS tracking, or even software to handle our reservations? We are always paying attention to new technology and we are never afraid to try them. If they provide solutions, we are flexible when it comes to changing SOPs based on the improvements."

And just because he is a Millennial doesn't mean Carlison can't admit when technology might not be the right fit for Mundi. "I trust technology to the point that we can still control our decisions. Autonomous vehicles for example would be something that I perhaps would never trust. The future will show," he says.

Carlison's age is something that can work for and against him at times. At 34, he says it helps him from an energy perspective, and because he does not yet have kids, he can focus more on the business. "Being 34 years old, I believe I am not that young anymore. Especially because I have a lot of diversified business experience. Since I was 13 years old in Brazil, I used to follow my father on important meetings from real estate to banking or from local to international business deals," he says. "That's definitely leveraged my skills and experience to put toward the limousine business."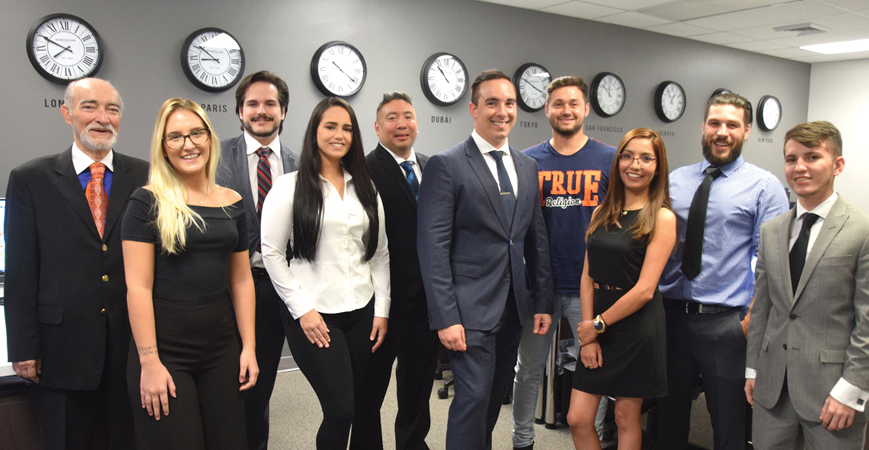 L to R: Chairman Fernando Carlison Sr., Reservations Specialist & Dispatcher Mayara Cardoso, Marketing Coordinator Luiz Pimenta, Dispatcher Kissyla Pimenta, Russ Winters, Fernando Carlison Jr., Dispatcher Felipe Opazo, Ariadna Noches, Fleet Manager Matheus Simermann, and Dispatcher Sebastian Serrano (Not pictured: Executive Assistant Bruna Mouco and Dispatchers Reza Bahadori and Milan Arsenov) On the other side, his age can present a challenge for those who may not see him as experienced enough to be in charge. "We learn things on daily basis. Once my schoolteacher in Brazil said: 'Fernando, being a teacher is a blessing because we learn new things from students every single day.' He was right. Your experience doesn't matter. People's opinions always matter."

As CEO, Carlison does a mix of everything at Mundi. "From operations to sales, I am always 100 percent engaged in the company. In the past year, I have focused my attention on company growth, relying more on the Mundi team to take control of the daily operation so I can focus fully on business development, which is where I feel I can bring more to the table," he says.

And it's Mundi's people who make the real difference in his eyes—not the technology or the vehicles, because as Carlison says, anyone can offer that.

"What really sets us apart is our people. Our chauffeurs and employees are very committed to delivering the experience that we promise to our clients. They really care about our business, and whoever understands our culture sticks with us and we grow together," he says. "We take business very seriously here and we understand that everyone is a very important part of our operation."

Mundi's office staff consists of 16 people among dispatch/reservations, accounting, sales, and operations. "In the past couple years, we had the fortunate opportunity to bring on board some old friends with years of experience in the industry who perfectly fit our company culture and standards," Carlison says. "Everyone is super engaged and connected with the company."

As previously mentioned, Carlison's first two employees, Kissyla and Luiz Pimenta, are still with Mundi. Kissyla works in the dispatch/reservations department. Luiz is Mundi's marketing director who, according to Carlison, has probably handled just about any position in the company as it has grown.

In operations, Carlison relies on Russ Winters and Reza Bahadori to keep things moving. Winters, who has more than 12 years of experience in the industry, serves as the company's director of sales & business development and is responsible for strengthening existing client relationships and forging new ones. Bahadori, who splits his time between reservations and dispatch, has been with the company since 2015.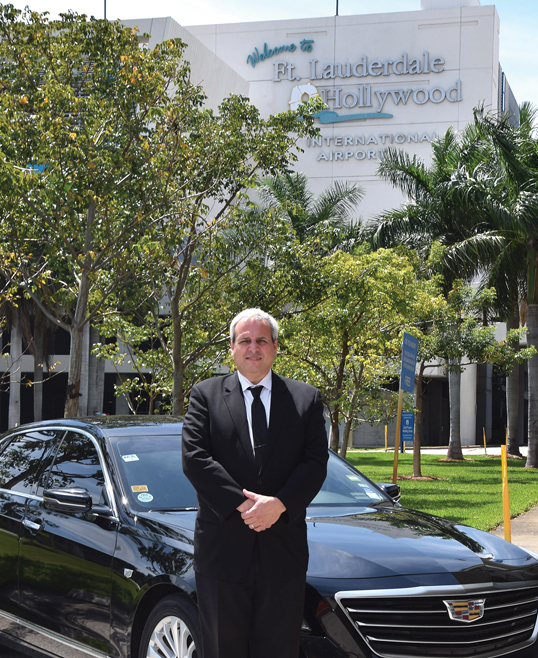 Chauffeur Flavio De Antoni at Fort Lauderdale Hollywood International Airport About one year ago, Carlison was able to pass on some of Mundi's affiliate management duties—which he was handling full-time—to Ariadna Noches. "I have known her since she started in the business. I always had a great connection with her, and when she became available we did not hesitate to offer her a job opportunity," he says.

Noches has embraced the position, which also includes coordinating meetings and events. Affiliate management requires networking and giving respect to clients. "A good affiliate manager must be on top of everything, be engaged, and whether you send us one ride per day or 50, every client should be treated equally," Carlison says.

More recent additions to the company include Dispatcher Milan Arsenov, whom Carlison has known for five years; Mayara Cardoso is in reservations/dispatch; and Sebastian Serrano is a student who is slowly becoming one of Mundi's top dispatchers and shows great potential. Matheus Simermann, Mundi's new fleet manager, met Carlison back in 2013 while working for a tour company, where he specialized in Brazilian tourism. After a temporary leave of the industry, Simermann reconnected with Carlison this year and he became part of the team soon thereafter. Another rising star, according to Carlison, is Bruna Mouco, his executive assistant, who joined Mundi four years ago at age 17.
"What really sets us apart is our people. Our chauffeurs and employees are very committed to delivering the experience that we promise to our clients. They really care about our business, and who­ever understands our culture sticks with us and we grow together." - Fernando Carlison Jr.
But there is one person on the Mundi team who is really special to Carlison: his father. Fernando Sr. is the company chairman, helping to interview chauffeurs and refer clients. But he is so much more than that, says Carlison.

"My father is my idol and mentor. He has always supported me on my entrepreneurial ideas and also guided me when I was lacking experience and knowledge," he says. "He always motivated me to make my dreams become reality."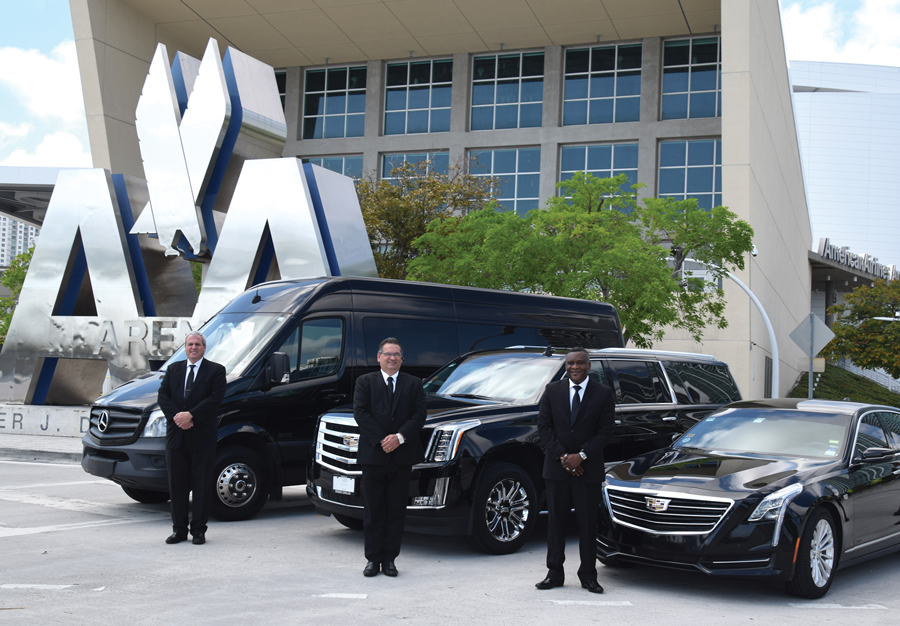 Chauffeurs Flavio De Antoni, Samuel Sangiorgi, and Ulrick Edison at American Airlines Arena in Miami, Fla. Carlison describes the office atmosphere as both fun, yet serious. He says he is a perfectionist and expects a lot from his staff. "We have a lot fun and do a lot of celebrations as long as the things are on point. ... If there is bad news, I want to turn it around and learn from it. For instance, we had a client who left their phone in our vehicle, so now we have a policy of checking the vehicle immediately after the client is dropped off to prevent this from happening," he says. But, if an employee cannot change their behavior or continues to let mistakes happen, then they don't belong at Mundi.

"I believe I am a very good boss. I like to hear their feedback, and suggestions for improvements. That brings a lot of trust to the employees because they know they are part of something big and the sky is the limit. If they are willing to put in that effort, the opportunities are always available for career growth," Carlison says.

Integrity is at the core of Carlison's owner mentality, and it's what will help launch Mundi into the next phase of growth. "That includes getting into the motorcoach business," he says. "Even though sedans and minibuses are very profitable, if you work the right way, we've done several analyses that prove the success of adding buses to the portfolio.

"I believe we will see more mergers and acquisitions in the industry, in part due to a mix of business development strategies in order to save costs and increase revenue, and also on the other hand as a result of companies losing faith in the industry. There are many operators who want to run a good quality company, but are losing clients on a daily basis to the TNCs. They are choosing to minimize the stress by partnering with other companies or just leaving the industry altogether," Carlison says.

These plans keep him busy and feed into his workaholic lifestyle. But he does make time for staying healthy by going to the gym and playing soccer with friends, in addition to cooking Brazilian barbecue, seeing movies, and traveling whether for work or leisure.    [CD0519]