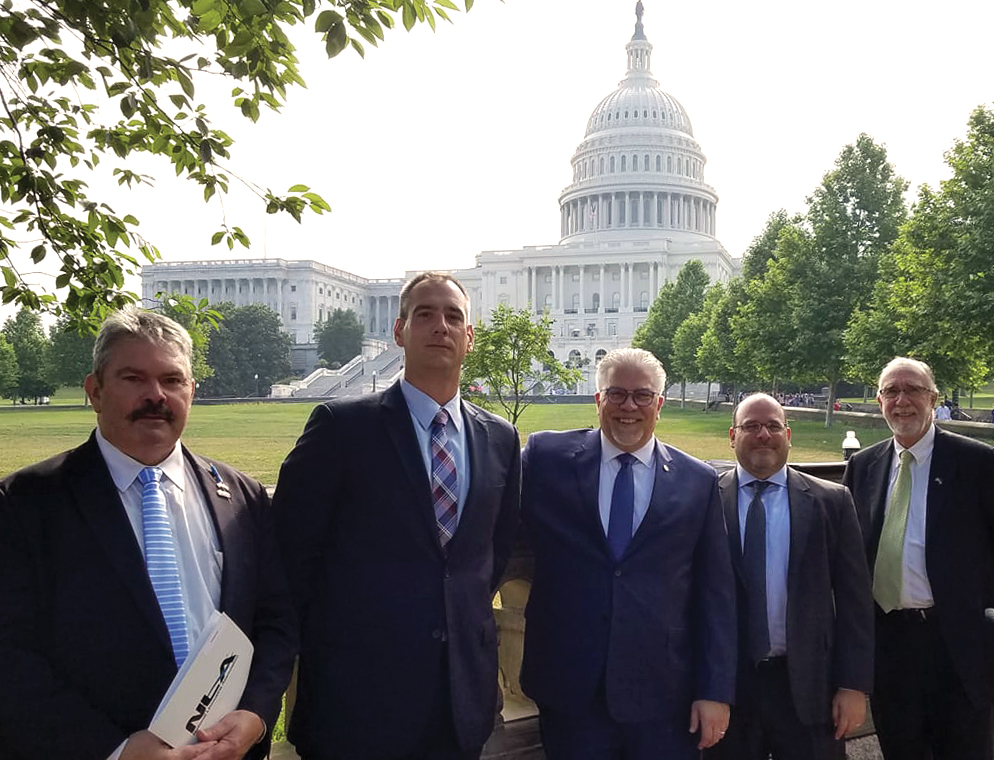 The Virginia coalition (L to R): Paul Walsh of Superior Executive Transportation, Anton Dagner, Dave Morell of U.S. Sedan Service, Tony Simon, and Glenn Stafford of Love Limousine The National Limousine Association (NLA) headed to the nation's capital June 5-6 for its annual lobbying event, Day on the Hill, with a strategically intimate group of operators and vendors in tow. CD's Publisher Chris Weiss and Editor Madeleine Maccar were among those who came from all across the country to meet with legislators and their staff to act as one voice speaking of the industry's concerns.

The two-day event kicked off with an afternoon of education before attendees took to the Capitol June 6. Louie Perry and Todd Webster from Cornerstone Government Affairs, NLA's longtime lobbying firm, provided government updates to contextualize the environment in which operators and vendors alike would be presenting their asks to legislators and their staff, especially in terms of how a deregulatory atmosphere has been punctuating the past year—as well as how Uber's disappointing public performance continues to work in our industry's favor.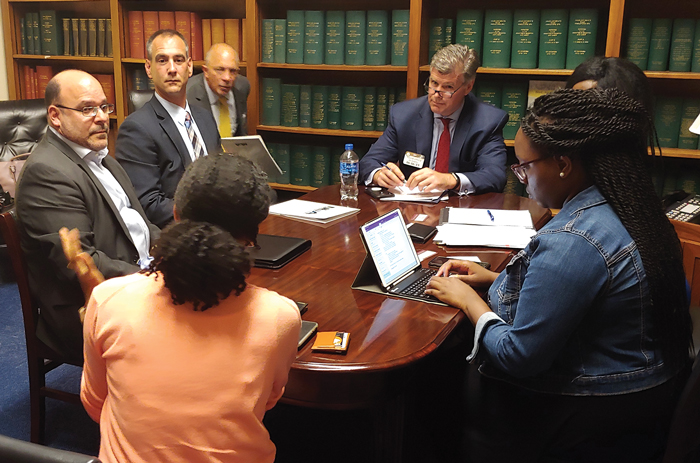 Clockwise from bottom left: Tony Simon of Reston Limousine, Anton Dagner of Ambassador Limousine, NLA Treasurer Robert Alexander of RMA Worldwide, and Todd Webster of ­Cornerstone Government Affairs speak with members of the Education & Labor Committee "Uber's low IPO has generated tons of negative press for them," Perry explained during his portion of the presentation. "Uber going public has highlighted a lot of the problems we've been talking about for years: I haven't heard anything positive about them as a business since they went public, so we're shoveling coal on that fire to keep our message going and reinforce what we've been saying."

TNCs remained at the forefront of this year's top two issues as the NLA implored congressional representatives to both stand with the American worker and support transportation safety measures.

The decision by both the Department of Labor and National Labor Relations Board that TNC drivers are independent contractors (ICs) rather than employees is a ruling with which the NLA takes issue, especially since this denies them the stability and protection granted to employees. The association took a page from the California Supreme Court's book to make its case, citing the state's three-part test it adopted in April 2018 to determine the proper classification of an IC. Seeing as the criteria demands that drivers are free from the control and direction of their hirer in regard to the work they perform, perform work outside the usual course of their hiring entity's business, and are customarily engaged in an independently established trade or business of the same nature as their hirer, the NLA feels these metrics prove that TNC drivers are, indeed, employees. This dovetails into the ongoing pursuit of a level playing field, as misclassifying drivers as ICs continues to line TNCs' deep pockets by sidestepping the fees that traditional transportation companies pay to ensure they remain in regulatory compliance on all fronts.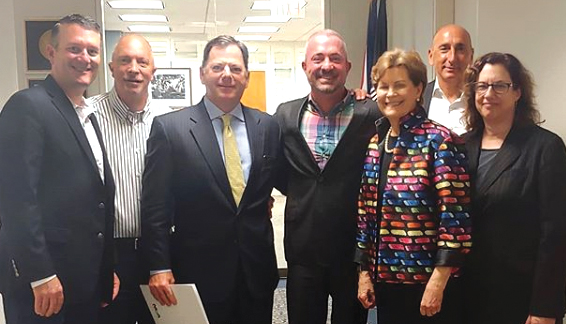 L to R: NLA President Gary Buffo of Pure Luxury Transportation, Robert Alexander, Louie Perry of Cornerstone Government Affairs, NLA Director Mike Campbell of Grace Limousine, Senator Jeanne Shaheen, NLA Secretary Brett Barenholtz of Boston Car Service/Above All Transportation, and Rosina Rubin of Attitude New YorkOf course, the riding public's safety is always the NLA's top concern, and industry advocates continued to pound the drum of how lax TNCs' background checks are, as illustrated by the horrifying number of unsafe drivers and criminal activity TNCs invite. They were armed with CNN-provided facts that ranged from how at least 103 Uber drivers have been accused of sexually assaulting passengers in just four years to how easily a former Somali military commander and alleged war criminal was able to get on the platform—and has been accepting passengers in the Northern Virginia market for the past year and a half.

Attendees took their messages, talking points, articles, and personal experiences to dozens of meetings with legislative representatives from both parties, including Congressman Chris Smith (R-NJ), who personally met with NLA President Gary Buffo of Pure Luxury Transportation and NLA Treasurer Robert Alexander of RMA Worldwide to discuss his role in crafting Sami's Law in honor of the University of South Carolina senior who was allegedly murdered by a man impersonating a TNC driver. The proposed legislation would require additional safety measures to improve TNC vehicle identification, including mandatory front and rear license plates, a QR code on passenger windows, and illuminated windshield signs visible in the day and at night from a distance of 50 feet.


L to R: Rosina Rubin, David Kinney of API Global, CD Publisher Chris Weiss, and NLA Director Kevin Illingworth of Classique Worldwide during a conversation with Trevor Smith and Emma Rindels, two representatives of Congressman Kevin McCarthy (R-CA)NLA members also met with Senator Jeanne Shaheen (D-NH); the offices of legislators such as Ro Khanna (D-CA), Kevin McCarthy (R-CA), Kirsten Gillibrand (D-NY), and Sherrod Brown (D-OH); and met with representatives from the Education & Labor Committee. Senator Brown's office is hard at work crafting legislature that would incorporate elements of NLA's ask, with a particular focus on protecting small-business interests, establish standards that demonstrate how TNCs shortchange their own drivers for the sake of profit, and target the most egregious offenders of misclassification.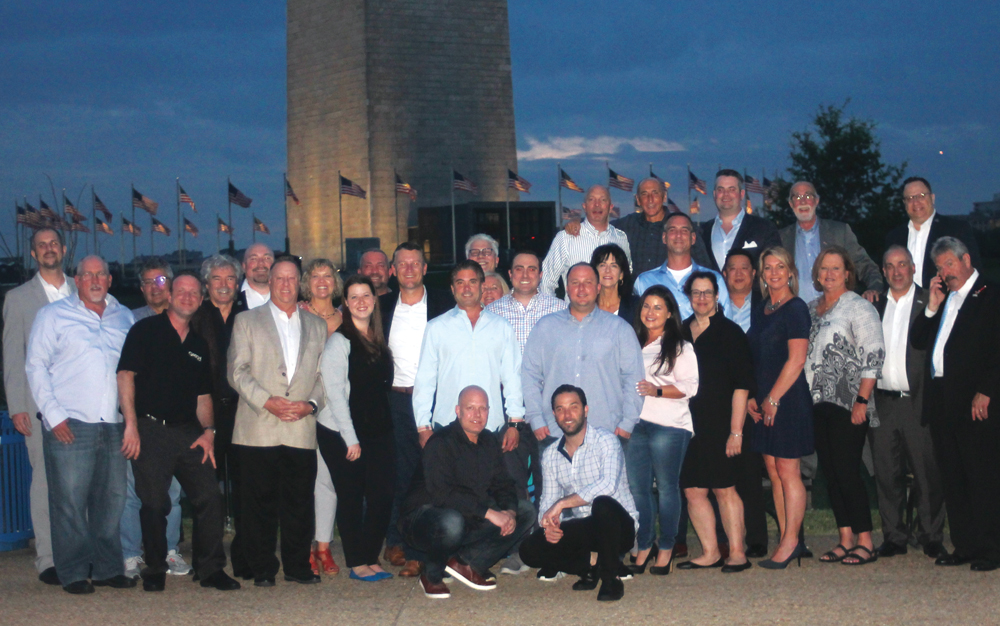 A visit to the Washington Monument capped off the first night in town The event also gave attendees two opportunities to reconnect over dinner. On the first night of Day on the Hill, industry advocates convened at The Occidental for a fundraiser to benefit the NLA's Political Action Committee (PAC) fund, wherein more than $22,000 was raised to keep the fight going. The concluding dinner at Lupo Marina gave everyone a chance to share their stories, insights, and highlights from the lobbying event.

Buffo credits the event's success to the hard work of a unified front, which includes the Cornerstone team, the NLA staff of Kyle Hammerschmidt and Sarah Mercer, NLA Board members like Legislative Co-Chairs Alexander and Brett Barenholtz of Boston Car Service/Above All Transportation—and the industry advocates who show up.

"It's a tremendous opportunity for operators from across the country to bring our concerns directly to the people who make the federal laws and regulations that impact our businesses," said Rosina Rubin of Attitude New York. "Showing up year after year allows us to build relationships with key committee members and their staff."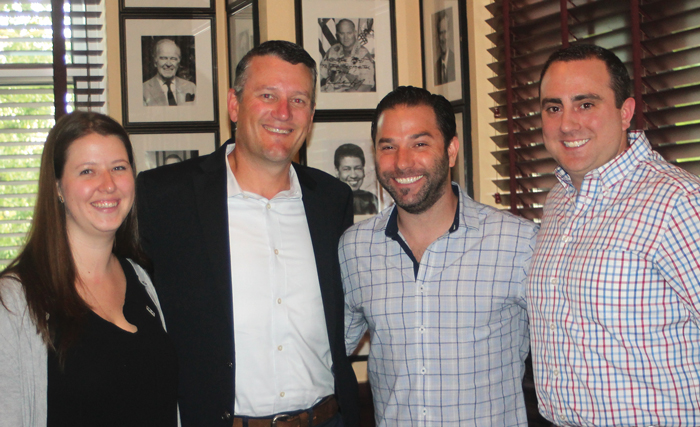 L to R: NLA Associate Executive Director Sarah Mercer, Gary Buffo, Jeff Brodsly of Chosen Payments, and NLA Executive Director Kyle Hammerschmidt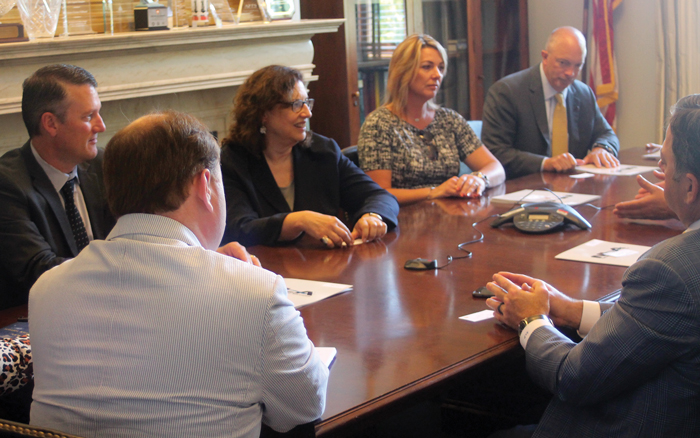 A contingency of operators met with the office of Senator Kirsten Gillibrand (D-NY), including (L to R) Gary Buffo, Rosina Rubin, NLA Director Tracy Raimer of Windy City Limousine & Bus, and Robert Alexander "I think this year was the best Day on the Hill that I have ever been involved in: It seems as if the tides are truly changing, and both parties in the Senate and House realize something has to change regarding the double standards in our industry—and we were represented by experienced and knowledgeable members who helped to support our industry's voice," Buffo added. "We are looking forward to refreshing our strategic plan for next year's event to assure that we have professional and experienced attendees representing as many states as possible."

Visit limo.org for more information.    [CD0719]