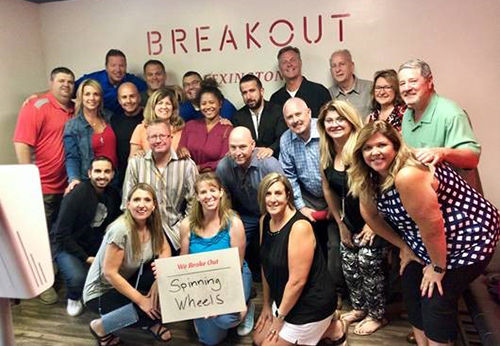 The Spinning Wheels peer group took part in a 4-month weight loss challenge Charlotte, N.C. — Industry peer group facilitator Driving Results has announced that their Spinning Wheels group has taken part in a weight loss challenge. This is the second time that the owner's/general manager group has taken part in this type of contest.
Driving Results Managing Director Arthur Messina revealed that the group decided to take part in the challenge after their last meeting in Puerto Rico.
"I don't want to say that the members ate so well—or so much—while in Puerto Rico, but there was a challenge presented to the group to lose weight before the next meeting in Lexington, Kentucky," jokes Messina.
For the challenge, the Spinning Wheels members broke into two teams: a women's division of nine, and a men's division of 11. With a four-month gap between the two meetings, Messina says there was a lot of time for the participants to go for broke and heat up the competition.
"While the purpose of this challenge was, of course, to lose weight, I really wanted to stress setting goals and working towards accomplishing them," says Messina. "The Spinning Wheels members worked together to hold each other accountable during the challenge. The last time we did this challenge was back in 2015. Back then, Renzo Ormsbee of Elite Worldwide was the overall winner, losing more than 25 pounds."
At the group's July meeting in Lexington, the participants took part in a final weigh-in, which revealed a total loss of 208 pounds, with the women's group losing 85 pounds, while the men lost 123 pounds. The leaders in the women's division were Michelle Miller of Elite Coach Transportation, Tracy Raimer of Windy City Limousine & Coach, and Becky Laramee of All Points Transportation. The top leaders in the men's division were John Raftery of ELC Chauffeured Services, Joey Mills of Gold Shield Transportation, and Rick Hutson of JED/Country Club Limousine.
In addition to the ever-valuable bragging rights that the victors received, the winning members also received a cash prize, which Messina says they can use to buy some new clothes.
Visit drivingresults.org for more information.
[CD0819]