BY KRISTEN CARROLL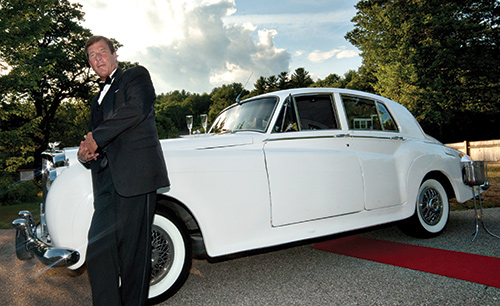 If you're like most employers' you (or your management team) probably spend an inordinate amount of time on your employees who either don't make you as much money or are a problem in some way. Optimistically' that employee turns it around and becomes one of your top performers' but sometimes it ends up being a losing proposition that took time and effort away from endeavors. You and your staff are busy with so many things that sadly' you often overlook your top performers because you just have to say the word and you know that it will be done well. You count on them to do it right.

Top performers are our go-to people' but we never think of them as needy employees. It's very easy to take your top talent for granted' whatever the excuse may be' but they' too' need your appreciation from time to time to keep them highly motivated. Before I get to some examples of how we motivate and retain our chauffeurs' let me tell you about one of our top performers for the last two and a half decades.
Our Very Own "007"
Meet Myron Greene' affectionately known to our clients as "007." We aren't sure if he earned that moniker because of his devilishly handsome good looks' smooth-as-silk service' or it could even be the fact that he bears more than a passing resemblance to the third actor to play the iconic British secret agent' Roger Moore. Myron has been a chauffeur "rock star" since the 1980s. He himself is his own brand' and when we track referral sources for new clients' we actually have a special category for our James Bond facsimile' along with Facebook' Yelp' magazine advertisements' and the like.

What sets Myron apart from other chauffeurs is that he tailors his exemplary service as a custom fit for each and every one of our clients. He doesn't view it as just another run or booking; he sees each service opportunity as the beginning of a relationship. That is why his schedule is filled with requests from clients who are all too eager to reward him for his outstanding service.


1990 was the year Grace Limousine was founded in the great state of New Hampshire. In the early days' the founder of Grace Limousine' Ian Campbell' wore many hats: chauffeur' dispatcher' office manager' and fleet manager. Ian' however' had a vision that was unlike most of the other chauffeured ground transportation companies of the day. He believed that if you provided the best service' in the best vehicles' for every single run' you could sell your services at a premium. He also believed that by selling a premium service' he could afford to pay his chauffeurs a living wage' along with a full suite of benefits' including vacation time' 401(k)' medical' dental' and annual bonuses. That kind of comprehensive compensation and total rewards program was unheard of in 1990.

By the time Grace was founded' 007 had already made quite a name for himself in the greater Boston area' and there were many companies lined up around the block to lobby for his services. He was more than a chauffeur; he was a brand. Ian Campbell recognized superior talent when he saw it. And much like the other companies in the area' he desperately wanted to recruit 007 to be a part of his small' but growing' team.

Myron Greene knew that Ian Campbell was new to the limousine business' but he was very impressed with his work ethic and integrity' as well as the pride and care he took ensuring his vehicles always presented well. He would insist that his chauffeurs be constantly washing the windows of the vehicle' clean or not' so that if anyone saw a Grace chauffeur' they would see that commitment to quality and perfection.

One day' during the inevitable waiting game at Boston's Logan Airport' Ian took the opportunity to approach Myron about coming to work for Grace. Myron's instincts were to be loyal to his current employer' even though he was impressed by Grace. As Ian explained his vision and passion' he reeled Myron in. Not only was Myron excited by the company' but Grace was also offering benefits' vacation time' and so many other incentives that most others didn't provide at the time. Nearly 25 years later' Myron "007" Greene is still a thriving member of the team.
MOTIVATION:
Here are a few low-cost waysto show employeesthey are highly valued:
Fully stocked kitchen

— Provide free coffee, soft drinks, and snacks for employees during work hours. Want to bump this up a notch? Keep organic milk in stock and add fresh fruit and healthy options to the shopping list.

Wellness benefits

— Employees can receive reimbursement for purchases related to fitness (up to $300/year). Typical items reimbursed include gym memberships, running shoes, yoga mats, bicycles, and so on.

Free lunch

— Order in for all your employees once a week to foster community and give employees a break from packing or buying their lunches.

Canine colleagues

— Got an office full of dog lovers? Then invite house-trained visitors to join the team.
Suggestions on Retaining Talent
In the past few years' we have doubled our chauffeur staff' but our average length of service is just shy of 10 years. In a service industry' numbers like those are almost unheard of' so let's outline some of the strategies that we have used over the years to ensure we are retaining and engaging our top talent.
1. Competitive Pay and Benefits

We operate within the bounds of a very low margin business. That is only compounded by newer and smaller operators' often utilizing an owner/operator model' and cutting costs and reducing employee expenses by not taking a paycheck' receiving benefits' etc. It is almost impossible to have competitive pricing and make a profit' if you are compensating your employees legally and fairly.

However' our philosophy is to ensure that our employees make a living wage. We want them to be able to not only survive' but to thrive' through working one job with us. We believe that the up-front cost of paying higher pay rates and offering better benefits than our competitors is actually something that increases our revenue when all is said and done.

2. Rewards and Recognition

You may have heard the pithy' old adage: "Your paycheck is your thank you." Nothing could be farther from the truth. If you want to get the bare minimum effort from your employees' that should be your company mantra. If you want your employees to treat your company as if it is their own' constantly offering a great face for the company whether they are on or off the clock' and generating rave reviews from your clients' you have to know how to make them feel valued. A simple "thank you" is an essential component to motivating and also inspiring your team.

We have sponsored several "Rewards and Recognition" programs over the years' and each year we honor one or two employees with an "Employee of the Year" award for excellent service throughout that year. We have also recently implemented an incentive program called "Grace Bucks." Every manager' supervisor' and lead in the organization has the authority to issue "Grace Bucks" to any employee they witness going above and beyond to help us deliver best-in-class service. They come in $10 and $25 denominations' and they can be used for our own car service' gift certificates' and promotional products.

Each week' we send out an email listing the names of the recipients from the previous week' so that every member of the team can congratulate those who were recognized. This program has proven itself to be a great motivator to the staff.

Lastly' in our chauffeur lounge' we have a "Wall of Fame'" filled with accolades from clients' thanking our chauffeurs for the great work they do. It is encouraging and motivating to read the constant influx of praise our employees receive.
3. Manage Out Low Performers

There is little more demotivating for your top performers than to have to work alongside of a low performer. That sends the silent message to the team that it is OK to do less than what is expected of you' that we do not care about quality and service' and that if you are working hard' you are spinning your wheels.

It is extremely important to address all performance issues immediately and professionally' so that your low performers can either be managed up ... or managed out.
4. Feedback On Performance

If you think about it for a moment' who do you spend more time having performance discussions with: your high performers or your low performers? I think if we are honest' we will all admit to spending more time with our low performers than our high performers' and that is quite unfortunate. Just like our low performers need to hear what they aren't doing well and what areas they need to work on' our high performers need to hear what they are doing well' and what behavior they should continue doing.

I have worked with some organizations where some of the top performers admitted to me that they came to work each day in fear of losing their job. They had no idea that they were among the best members of the team! If another employer witnessed this employee doing great work and tried to recruit him or her' they would be highly inclined to consider the offer.

It is best to provide regular and consistent feedback on performance to all members of staff' and summarize these discussions annually through a written review process. Each employee should be given goals for the year' to engage them and inspire them to dig even deeper in this next year.
5. Opportunities for Advancement

If you have a completely flat organizational structure' and you are a small/midsize operator or larger' it will not only be difficult to supervise your team without managers' but it will also rob them of growth opportunities within the company. Even the smallest of operators can create lead positions' or safety/quality officer designations to give your motivated employees a career ladder to work toward. If you want them to stay with you for a long time' and believe me' if they are good' you do; you must give them an opportunity to grow with you.

As your business grows' promote from within' whenever possible. Offer cross-training opportunities for different members of the team to learn different roles. Create cross-functional committees to accomplish business objectives while creating learning opportunities for the staff. Most motivated' high-performing employees will want the opportunity to take on more at some point' so find a way to let them' while tying it back to your overall business needs.
Make no mistake' your chauffeurs talk with chauffeurs from other companies on a daily basis. While you may encourage them not to talk about company specifics' we all know that human nature takes over' and plenty of them still do. You want to make sure that when chauffeurs are comparing notes' your company is getting the best report. Your employees should feel proud to work for you' and assured in the knowledge that they have accessed a great opportunity with your company. This will keep them engaged' and performing well beyond expectations for many years to come. [CD0514]