BY JOHN GREENE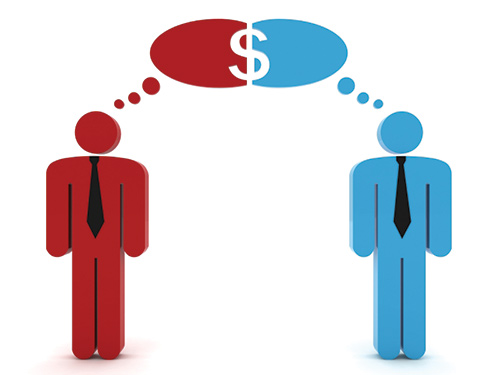 MANAGING AFFILIATES
You already know how to find new affiliates—meet them at the shows, through referrals, CD's Affiliate Central, and word of mouth—but how do you manage them?
" Get off on the right foot. Affiliate work is meant to represent how you treat your clients, so it's imperative to communicate this to the companies that are working for you. If you use a certain type of greeting, make sure that the affiliate also greets the customer that way. If there are standard items that should (or should not!) be in the vehicle, make sure this is also communicated clearly. If your clients expect a 5-minute confirmation prior to the pickup, the company needs to have that technology available. Your affiliate probably does work for other companies, so a written manual for their review is also very helpful. Like was said in the article, you're trusting your affiliate—essentially a potential competitor—to babysit your best clients. That's a lot of trust, so take the time to ensure it's done right from the beginning.
" Agree on payment terms before any work is done. You like to bill within 24 hours, but the mom-and-pop affiliate company that is doing work for you doesn't ­reconcile paperwork for 48-72 hours. You have a ­problem. Many clients need to have invoices as soon as possible after the trip because of reimbursement purposes, so you need to come to terms with the affiliate company before sending work their way to avoid embarrassing and frustrating situations like this. There are a million things and add-ons that could happen during a trip, so this needs to be handled quickly. Likewise, if you agree to pay the affiliate within a certain timeframe, make sure you honor your commitment. This is especially true if you are working with smaller companies that don't have as much capital. This should all be part of your written agreement.
" Take nothing for granted. Yes, you may have been working with an affiliate for years and things may be going well, but quality control should still be on your to-do list. Don't be afraid to mystery shop the company from time to time to make sure their chauffeurs are still hitting all the marks, and also expect that the same will be done to your chauffeurs. As always, ask for feedback from your clients. Many will be happy to let you know if something didn't go quite as well—or maybe they are doing even better than you hoped.
" It shouldn't be one-sided. Working with affiliates is building a relationship, one that needs time and energy to grow. Don't overlook the importance of having a one-on-one conversation every month or so to ensure that the relationship is still working out for both of you. Don't be a bully. While all business owners should stand up for their companies, smaller operators might be reluctant to speak out in fear of being blacklisted. Listen objectively. Happy affiliates provide the best service. These conversations can also help to showcase something new that the affiliate might be able to offer—such as a fleet addition or concierge service—so don't overlook the power of that discussion.
" Review terms each year. Just like insurance certificates need to be updated, so do your affiliate contracts from time to time. This applies whether you're using affiliates or if you're the affiliate. Be fair.
" Try the competition. If you did your due diligence from the beginning, you are already working with the best or one of the top companies in that area, one that also fits the needs of your customers. Don't be afraid to book a ride with a competitor to reinforce your choice, or to possibly target another company for an affiliate partnership. Which leads me to…
" End relationships with maturity. It may be tempting to badmouth the company that burned you or caused you to almost lose a client, but it's best to sever ties quickly and professionally. It's always good to have a personal conversation with the owner before sending a letter that officially terminates the partnership.
" Do what's best for your company. Everyone will try and give you suggestions (much like you are reading now), but do what works for your operation. Whether you prefer to use one company exclusively or many different companies in one city, do what makes the most sense for you. Only you know how much you are willing to compromise.
It's relatively easy to understand why working with affiliates can be a key to a company's success.
By connecting with other limousine companies across the United States and around the world' your client base expands as your customer exits your car at the airport and is met in another city by a ground transportation company you've aligned yourself with. And if you did your homework in choosing this other company to be your partner' your client will be met by a professional-looking chauffeur' effectively extending your customer service' whether it's 250 miles or an entire continent away.
This is what's known as outbound affiliate sales. It's all about creating a network of companies that fortifies and increases your business. But this network can be only as effective as the time you take to build it. So how do you find the right companies to work with' those that mirror your philosophy?
Scott Mezzetti' who handles outbound affiliate sales for our company' says' "One of the first things we check is how cutting edge they are with today's reservation technology." And this is a topic worthy of discussion.
Taking reservations accurately is at the core of any successful chauffeured ground transportation company. But the challenge for most owners is that as much as we need technology—and most companies have some type of reservation technology in place when you work with affiliates—they often don't speak the same language. Think back to the day when Apple and Microsoft operating platforms might as well have been from different planets. Today' I can compose this article on my PC' email it to you' and you'll have no problem opening it on your iMac. Unfortunately' when it comes to reservation technology for our industry' this can still be a barrier.
You could work with five or six different affiliates only to find out they all use a different reservation system (e.g.' Livery Coach' FASTTRAK' GroundWidgets' Limo Anywhere' etc.)' and at this point in time' they don't all talk to each other. But it's a speed bump we' as a company' need to overcome' particularly when inbound affiliate sales constitute close to 50 percent of our overall revenue.
ETS' like many companies' uses a service called Affiliate Connect' which serves as a bridge between varying reservation technologies' a cyber-translator' if you will' to process each other's information (other options include Rate Butler' to name one). Unfortunately' not every affiliate uses it' whether due to personal preference or the decision not to make the monetary investment' even though overall it's been widely accepted. One affiliate we work with—Sunny's Worldwide Chauffeured Transportation in Washington' D.C.—has come up with other alternatives.
"We positioned ourselves with a software company that will provide our operation not only with Affiliate Connect' but also a broad range of technology tools for now and into the next decade'" says Terry Cox' VP of worldwide services for Sunny's Worldwide. "In a market where our industry is being challenged with increased taxes' regulations' insurance cost' health care' and overall operational costs' one must explore the [price] of every item and the practicality of the tools being offered' well into the future. Cost of a software system is only part of the puzzle. The cost of actually using those tools on a day-to-day basis' along with transaction cost' is the key to any system one chooses."
Getting the job done isn't something to be taken lightly when you make the commitment to work with affiliates. For many' it's a major revenue stream that is keeping their companies alive while the economy continues to work through the kinks. For us' 6 out of our top 10 clients are other limousine companies referring us their inbound work. More than $4 million of our annual revenue is a direct result of inbound affiliate sales.
The key is not to dwell on the small things (you likely will get the figures you are waiting for if you're patient)' but the larger picture when it comes to working with affiliates' since these companies essentially represent your company regardless of where your customer is traveling. A lot of it is perception. You don't want your best client stepping off a plane in Chicago only to be greeted by a chauffeur who doesn't take as much time to look and act professionally. This is what will happen if you don't do your due diligence; you'll be saying goodbye to both the affiliate and your client.
The flipside to all this is inbound affiliate sales. Makes sense; if people are flying out of your city' then most assuredly they are also flying in' and you also want that business' too. You can get it by making sure you come across as the height of professionalism. You need to think of yourself as a mirror when you are being considered for an affiliate relationship. That company decision-maker wants to look at you across his desk and see himself.
"In major cities we partner with one affiliate'" says Cox. "This provides consistency in operations and marketing. It allows the passenger to become familiar with the chauffeurs and protocols of each market. We need to think of it as a partnership and choose companies that know their market inside and out' who we can trust to provide the service seamlessly. Trust is the glue that makes a team."
This teamwork in some ways makes the ground transportation industry unique' even as we fight tooth-and-nail to carve out a small piece of turf' only to be rewarded with a very small profit margin. But what other industry would have their "competitors" babysit their best clients?
Creating an affiliate network is all about trust' even as we battle reservation technologies that don't speak to each other. But in the end' that trust can translate into hundreds of thousands' and in some cases millions of dollars in added revenue.
The affiliate business both inbound and outbound has grown tremendously over the last 10-15 years with most companies billing themselves as worldwide. Just understand you need to do the proper checks and balances ahead of time to ensure your clients get the same service they are used to receiving from your own company.
[CD0514]