BY JERRY BONNER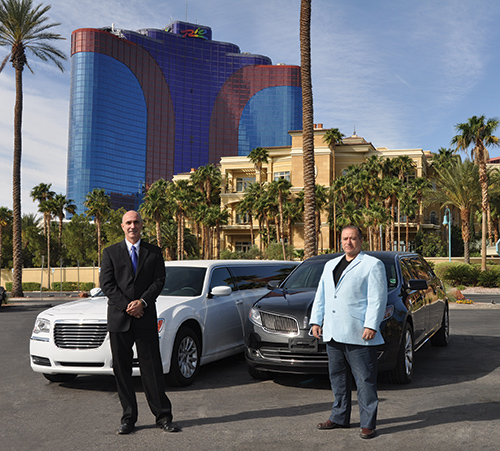 Signature Limousine Manufacturers Executive Vice President Thomas Walker (left) and President Ron Steinberg Ron Steinberg is man of keen artistic vision ... a vision he brought to the science of building singular' luxury limousines. His father was both an aircraft engineer and artist' and this intriguing hybrid of occupations instilled in young Ron an appreciation of both form and function. He also encouraged little Ron to constantly invent' re-imagine' and create solutions to existing challenges. All of the influential lessons that he gleaned from his father at a tender age are now the cornerstones of his company' Signature Limousine Manufacturers' which has clients in the Middle East' Asia' and Europe on top of its domestic clientele.

Signature (signaturelimobuilders.com) began in 2009 with Steinberg at the helm and partners' Thomas Walker and wife Allegra Steinberg' by his side. But the company's genesis was truly borne out of two things. The first was a fortuitous childhood encounter' as Steinberg explains: "Growing up as a kid in Las Vegas' one of our neighbors was a limousine driver to a high-profile individual. Occasionally' he would bring the limousine home and let us look inside. For me' it was love at first sight! I immediately developed a fascination and a passion for limousines."

The second thing was a general frustration with several vehicles that Steinberg purchased as a chauffeured ground transportation operator. "We bought vehicles from other limousine manufacturers. Unfortunately' we noticed some flaws. Some would surface sooner than others' and some were more dramatic than others'" says Steinberg. "Most of the time dealers were great at servicing the factory portion of the limousine' but none of them had the extensive knowledge necessary to repair and service the stretch portion of the vehicle. Let's just say that the downtime because of that was frustrating and costly. So' approximately four years ago' my wife' Allegra' and I said: 'There has got to be a better way'' which led us to research and develop a plan to build better limousines."

In that R&D phase' a top-notch team took shape; a team that coalesed into a talented' choesive whole. He recruited each member because he recognized not just their skill levels' but that they also had an obsessive devotion to the craft. "We do not have a production line generating dozens of vehicles. I personally oversee each detail' and assign the construction work to the individuals best suited'" Steinberg clarifies. "My wife has an art degree and handles the interior design of the vehicles. Thomas Walker' who has been with us since day one' is our operations manager and is in charge of quality control as well. He was a professional chauffeur to numerous high-profile individuals and celebrities for over a decade' so he really 'understands' what is important to the client. He has an eye for perfection that rivals my own' and he pushes everyone to excel. We always encourage our personnel to innovate and try new ideas."

Walker and Steinberg inspect each element both during construction and upon completion of a new vehicle. The team shares their aspirations to create vehicles that are of the highest quality in terms of design' function' and safety. "We all take tremendous pride when the final product is unveiled and are honored to sign our names. Hence' the name of our company: 'Signature.' Each craftsman signs his work as an artist would'" Steinberg says proudly.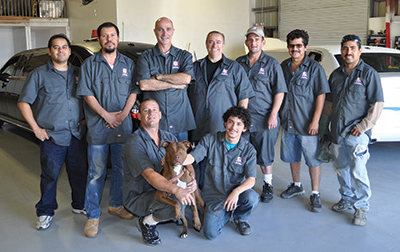 Walker and Steinberg (third from left and fourth from right) surrounded by their team of fabricators
One of the first new ideas and/or challenges that Steinberg and Walker were faced with right out of the gate was to engineer an air conditioning and insulation system that would keep any vehicle cool in even the hottest climates. Since Signature builds and services limousines for many of the major properties in Las Vegas' dealing with the extreme Sin City heat was of foremost concern. Their process begins with what they call the "Extreme Vegas Package'" which is a high-end steel construction and insulation package that can withstand the intense Las Vegas summer temperatures without overheating. "If a vehicle can make it through our climate here' it can make it anywhere'" jokes Steinberg. "We're sure to use high-quality U.S. steel in this package' and we try to incorporate environmentally friendly' American-made products whenever possible."

Heat concerns aside' having the right perspective in terms of the build process is an important component of what Signature Limousine Manufacturers does. The experience Steinberg gained by running a chauffeured ground transportation company has given him an intimate understanding of the needs of the vehicle owners' customers' and drivers' so that comfort and safety become driving forces of the overall vehicle design. Steinberg and his team believe that their drafting process is unique to the extent that they incorporate research and invention to create the best quality product available' but collaboration is another key element. Steinberg elaborates: "My team and I are constantly brainstorming on how to improve the existing technology' and are looking for ways to invent new industry concepts. Challenges encourage creativity and innovation ... and there is an atmosphere of innovation and creativity at Signature that you won't find in too many other places in this industry."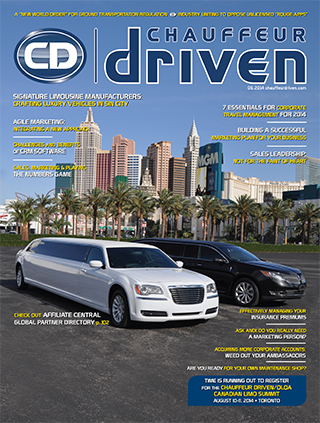 A Chrysler 300 Stretch and a Lincoln MKT stretch, both modified by Signature Limousine Manufacturers of Las Vegas, Nevada
One of those aptly named challenges was a conversion of a Dodge Challenger into a rather stylish and exciting stretch limousine. It was an extremely complicated build because the Challenger is a two-door vehicle' meaning everything had to be fabricated from scratch ... from the two rear gullwing doors to the functional rear windows. The Signature team also wanted to ensure that the vehicle was structurally sound' so they made several modifications to the body and frame. "As I mentioned' we are constantly looking for a challenge. It is extremely important and rewarding to take a project or vehicle and turn it into not just a limousine' but a work of art that an operator can be proud to own' run' and generate income with ... and we did just that with the Dodge Challenger build'" pronounces Steinberg.

On the production line... I personally oversee each detail, and assign the construction work to the individuals best suited." – Ron Steinberg, President of Signature Limousine Manufacturers
Of course' all of the building' artistic' and technical acumen in the world means nothing without a rock solid warranty and service to back that up. Signature delivers on that end with a service and warranty department that is open six days a week. Even after hours' clients have access to their service manager' Russell Ellison' who is something of a wizard at walking customers through most simple repairs in order to minimize their downtime. Signature works on building relationships with all the major vehicle manufacturers so the factory warranty remains intact' but they also offer a complete warranty on the conversion for up to four years. According to Steinberg: "We have built strategic partnerships with knowledgeable technicians across the globe' we extend that training to their clients' and offer them uncompromised support. If all else fails' techs can be sent out to resolve any issues on-site that couldn't be handled by any other means."
As Steinberg looks to the future for himself and his company' he readily admits that he is looking toward the clouds. "I want to take Signature to new levels. As the economy in Las Vegas and around the world continues to improve' the demand for high quality vehicles will certainly increase. Also' Vegas will be adding more extravagant and elegant resorts' so the demand for impeccable products and services will continue to rise ... and Signature will be right there to meet those needs!"
[CD0614]