BY SUSAN ROSE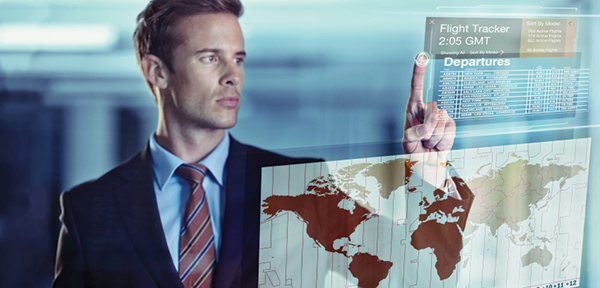 This year looks to be another steadily growing year when it comes to corporate travel. By all accounts' Europe and the United States are stabilizing' prices are heating up in Asia and South America' and the Middle East and Africa are still struggling. Despite their best efforts at video conferencing—which has improved vastly in scope—CEOs still realize the benefits of face-to-face meetings. According to the Global Business Travel Association (GBTA)' its 2014 forecast for business travel expected to beat last year' thanks in part to outbound international travel. A U.S. Travel Association report conducted by Oxford Economics in 2013 found that every dollar invested in business travel generated $9.50 in increased revenue and $2.90 in new profits. Further' companies that used corporate travel strategically and consistently during the recession grew faster and benefited more than those that cut back. Businesses are finally getting the message.

"As the spring thaw gets into full swing' businesses are feeling more confident' with pent-up demand to get their employees back on the road'" Michael McCormick' GBTA executive director and COO' said about the recent revised forecast for 2014 this April. "Business travel growth is a leading indicator of job growth' and we've seen this play out in previous quarters as the private sector has finally regained all of the jobs lost during the recession. Today's forecast suggests that this measured but steady improvement should continue."

Things are looking better and better' so what can you expect from corporate travel managers (CTMs) through the end of the year and beyond? What are the biggest problem areas' and what do you need to be aware of as you complete that RFP or expand your relationships with your current CTMs? Here are some of the hottest issues in corporate travel management this year.
1} Price
Bet you didn't see that coming' right? Sure' it's been a trend for' well ... forever' but companies are getting smarter about how they treat travel. They are planning trips longer in advance to maximize savings. They are limiting the number of trips to a specific region per month' unless necessary. It's best to think of this as expense management (rather than price cutting) and target the areas where you could potentially help CTMs realize a cost savings. According to Global Travel Industry News' air travel is expected to have the largest impact on travel budgets moving forward in 2014' so other areas will be examined for savings.
Takeaway:
Some companies and/or CTMs will be more price sensitive than others' but who doesn't like to save money? The costs that really add up are those incurred by other vertical industries' like flight change or baggage fees. Add to that all kinds of hidden fees at hotels and you have one frustrated CTM. Even if you can't budge with your prices' or need to go up a bit' explain the benefits of what you can offer for the cost. Negotiate' compromise' and actively listen. You never know what you can offer that will trump a rock-bottom price.
2} Technology
If you take nothing else from this article' understand the importance of technology in our industry. If it sounds like we beat this drum a lot in the pages of Chauffeur Driven' it's because it is vital to the long-term health of your company and survival in a competitive corporate market. During our recent editorial advisory board call' it was clear that corporate travelers want more seamless travel experiences that include email and/or text alerts' at the very least' to ensure that your chauffeur is en route. Find the balance between too many alerts and just enough.
It's hard to believe that anyone still uses the telephone today to book travel' but that's just what CTMs have to do if you don't have an online reservations system. Even emailing the information is tedious' but it's better than having to phone in several reservations at a time. The trend is still toward travelers booking their own service (through preferred providers)' within certain criteria set forth by the travel management department. Technology means more control for the end-user. Entering their own data means less chance that the itinerary is incorrect or misspelled (but don't take it for granted). Allowing them access to their own itineraries' within reason' also means they can make changes as needed without the necessity of a phone call or an email. Don't forget to include the entire price in the online booking' including taxes and added fees. They don't want surprises.
Takeaway:
In the case of technology' you have to be forward-thinking. You have to understand what your clients want and need' and implement it as soon as possible. It's not just about online booking anymore' but doing it on their smartphones with an app—and that goes for CTMs and business travelers alike. According to a Travelport study called "Perspectives on Corporate Travel Trends and Challenges'" a mere two percent of CTMs are using apps' overwhelmingly preferring to use email. So why do we push toward an app? Simple: it's a cost savings for all involved. In a perfect world' booking travel would be integrated in one place' but as you'll read on page 80 in Dan Sutich's article' "The Challenges and Benefits of CRM Software'" just how disconnected the technology in our industry can be. For now' you have to do all you can to make it easy' painless' and convenient any time of the day. One caveat: Don't discount the power of the phone. Some CTMs prefer to speak to a reservationist. Be flexible. Know your market. Challenge your corporate customers to think digitally if they don't.
It's a complex job that relies on many vertical industries—including chauffeured ground transportation —to really be an ally.
3} Sustainable practices
Maybe you're not being asked about your green policies in RFPs or by business travelers' but it doesn't mean that the shelf life on sustainability has expired. In fact' it seems that businesses around the world are merely getting started with their "greening." There are a few good reasons why it's not dead and buried' but one of the most important is the changing face of the traveler. Simply put' they're getting younger and many in their generation feel a true obligation toward sustainability in their corporate travels as well as their lives. It even has a fancy new moniker in the business world—corporate responsibility. Hotels were one of the first travel sectors to really latch on to this concept. According to an article in Global Business Travel: "Every major hotelier—Starwood' Marriott' Hilton' Hyatt' IHC' and the rest—has invested in energy and water efficiency' reported its carbon footprint online' reduced waste' organized 'green teams' of engaged employees' and embraced social programs ranging from recycling soap and toiletries to teaching employees to recognize and report human sex trafficking." In other words' hotels worldwide would not have gone through the trouble of becoming sustainable unless there was a positive ROI. "We have seen a significant push from our customers' demanding sustainability information from us in a variety of ways'" Denise Naguib' vice president of sustainability and supplier diversity at Marriott' says in the same article. It may be on the very bottom of the priority list for CTMs' but it still opens doors.
Takeaway:
Others aren't really talking about it' so dazzle your potential customer in an RFP by detailing your green plan. Electric-powered vehicles are becoming more affordable and infinitely more luxurious (just think about Teslas). Recycling is nice' but CTMs and business travelers want more. Give it to them' using other industries as your lead.
4} It's no longer just air travel
This past winter was the worst on record for cancellation of flights due to the extraordinary amount of weather events most of the United States experienced. It was no doubt challenging to keep track of your traveling passenger and when he would arrive. Perhaps the only happy people during the first few months of the year were snow plow drivers' but we're sure even they are delighted about spring as well.
Everyone is vying for a piece of the corporate pie it seems' and while air travel still dominates for long-haul trips' executives are trying their hand at other modes of transportation including trains and high-end buses (forget Greyhound). This is especially true in the Northeast between Washington' D.C.' and Boston' where a flight is around an hour (plus waiting at the airport' plus the hassle of security checks' plus the time for delays) of wasted time. A hop on the Acela' Amtrak's fastest express train' and it's a working trip for about the same cost as a last-minute airline ticket' more space' and accessibility to WiFi.
Takeaway:
Have you talked to your corporate clients who use train service? Do they understand that you can offer transportation at their origin and destination? Train travel is much more common overseas in Asian countries where there is an investment in so-called "bullet train" technology' but don't discount it as more corporations consider the smaller jaunts to be train-worthy.
5} Policies are changing
According to travel group Carlson Wagonlit's annual white paper about issues that are impacting corporate travel managers' 42 percent of those surveyed CTMs are planning to redesign their travel policies this year. This includes reporting expenses and enforcing the use of approved travel sites to book travel (if the executive is booking for himself). CTMs are also using surveys to get feedback from their travelers about their favorite vendors' which influences the decision of whether or not to keep a supplier (you) on the preferred list.
Takeaway:
If you're providing invoicing and/or reporting the way you've always done it' take a minute to talk to both CTMs and traveling executives to see if you can't deliver the final expense report in a more concise way that fits their new procedures. Save them time and you've saved them money. Nobody likes extra paperwork.
6} Risk management
Policy changes are happening for more than just money savings and consistency. They're also being implemented to ensure that CTMs can easily and swiftly track where their travelers are at any given time. Consider this past winter as a tiny snapshot. Millions of travelers' including business travelers' were stuck due to cancelled or delayed flights to' from' and within the U.S. This meant immediately reverting to plan B in many cases to ensure that the corporate executive was not only safe' but able to make the next available flight. With a major weather event happening' local hotels were swelling over capacity and travelers were frustrated. In this case' you could help both the CTM and traveler by cashing in on favors with hotels that have extra capacity (maybe if even a little outside of town) and facilitating the transportation for the next day after the weather has cleared. Make it easy for them.
In more extreme cases' perhaps where an executive is traveling in a dangerous area or was caught in a disaster (think: Japan's devastating earthquake and tsunami a few years ago)' an emergency plan is definitely in order. In that case' hundreds of miles were devastated and had to be evacuated after the nuclear power plant began its meltdown. September 11' 2001' was one of the first moments that permanently altered corporate travel management. The result: CTMs are now responsible for what is called "duty of care'" or the well-being of their travelers. Risk managers/CTMs are required to have emergency plans' but they can use all the help they can get when it comes to widespread devastation.
Takeaway:
In any case' your company is the expert on the ground and has resources to ensure the safety of the traveling executive. Think creatively and work all of your contacts. The risk manager/CTM will have these resources as well' but even best-laid plans go awry in all kinds of circumstances. Working with the company to come up with alternatives will go a long way in calming an overtaxed corporate travel management department while your chauffeur handles the well-being of his passenger. If you're not familiar with risk management and all that it entails' consider engaging with the CTM before a crisis so you can better understand what will be expected of you. Always think about plans B' C' and D. Be a partner' not a hindrance.
Bonus takeaway:
Our editorial advisory board reports that corporate travel managers (CTMs) are now warning their traveling executives against using services like Uber' if only because of the liability concerns they have with these types of companies. It seems that security really does matter.
7} Ask me what I want
As transportation providers for business travelers' we're likely so caught up in ensuring that the traveler has a good experience that we forget that there are others involved: namely' the person booking the travel. In many cases' it's still the CTM (although more and more professionals are managing their own travel). We spoke with a handful of CTMs who work with transportation providers and the one thing they all agreed upon—after reminding us about meager transportation budgets—was having someone listen to them. While the sample size was incredibly small' it still shows how lost we' as operators' can get in the sales process. Instead of just demonstrating what you have to offer' make it a two-way conversation and candidly ask the CTM what she wants and needs from your service. While she won't be shy in telling you what she needs' it's amazing how just asking' "What can I do for you?" can change your relationship for the better' or even close the sale. This is especially true of CTMs with whom you have already won business from. As one CTM said' "The only thing constant about corporate travel management is change."
Takeaway:
Isn't it obvious? Why aren't you on the phone yet?
CTMs' like many professionals' have seen increased pressure to keep prices low' profits high' and business travelers happy. It's a complex job that relies on many vertical industries—including chauffeured ground transportation—to really be an ally. Despite an increasing trend on lowering costs' there is money to be made in corporate travel' as long as you are willing to be a partner in corporate travel management.
[CD0614]