BY JERRY BONNER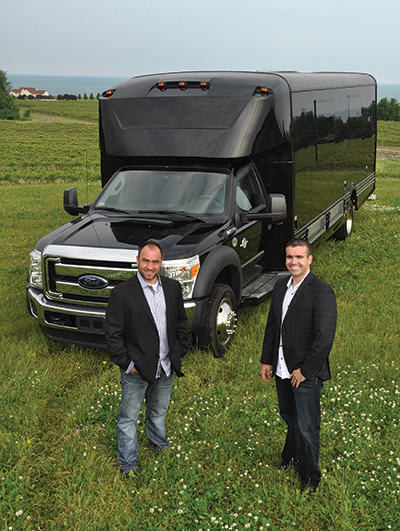 Sacco (left) and Galbreath in front
of one of their customized party buses "There's a lot more business out there in small town America than I ever dreamed of" was a rather famous quote of the late Sam Walton' founder of a little company you may have heard of called Wal-Mart. That kind of small town business' which laid the foundation for Walton to essentially conquer retail America' is just the kind of business that suits Randy Galbreath and Dave Sacco's company' LGE Coachworks' just fine.

Galbreath was born and raised in a small town along the Pennsylvania shoreline of Lake Erie called North East. He still resides there' and it is where the company is based as well. In 1999' when he was just a lad of 17' Galbreath's journey in the chauffeured ground transportation industry began as an operator with a company he founded called LaGrand Elite Limousine. After a few years of being an operator he switched gears and began buying' modifying' and then re-selling vehicles as more of a business than the actual transportation of passengers. By 2005' it seemed logical to re-brand as LGE Coachworks (­lgecoachworks.com)' and it became a company that primarily focuses on building vehicles' rather than driving them. Things have been rolling along ever since.

"I had a guy down the road who for years had worked on my limousines' Dave Sacco' who is my partner now. He thought we could make a go of this (coachbuilding) as a viable business'" Galbreath recalls. "So' we went to the Atlantic City limousine show together' came back with a Hummer' and cut it in half. It's been more of the same ever since!" Of course it was a bit more complicated with engineering and design' but they were hooked after their first cut.

Sacco and Galbreath have a "tag team" approach to running their business' with Sacco handling the production end while Galbreath runs the front-end operations and sales aspect of the business. But Galbreath found that handing the sales side was getting too time-consuming and his full attention was needed elsewhere in the company' so the decision was made to bring on their first' full-time salesperson this past February' Dan Rocky. "He's doing a great job and we couldn't be happier'" says Galbreath' proudly.

But pride is something that Galbreath exudes for all 24 of his employees and isn't reserved for the upper echelon of the staff. "All of our people are hardworking' loyal' and love what they do. Who could ask for more from an employee' really'" marvels Galbreath.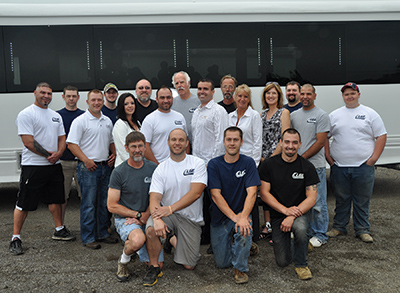 Back row (L to R): Jason Hammer, Kevin Newell, Derek Bidwell, Bill Hewitt, William "Sonny" Gibbs, David Flick, Randy Davis, and Cole Davis. Middle row (L to R): Dan Rocky, Alexa Sacco, Dave Sacco, Randy Galbreath, Christine Hillhouse, Sharon Wagner, and Damien Blair. Front row (L to R): Dewayne Ferrara, Mike Shellito, Mike Cochrane, and Lucas Bryson. (Not pictured: Brad Smith and Trisha VanHooser) The main focus for LGE as of late has been limobuses' executive shuttles' regular shuttles' and party buses. "We've partnered with both Forest River and Glaval Bus in Elkhart' Indiana. Forest River gives us the shells; Glaval gives us the chassis and then we do all the custom interior work'" says Galbreath. "We do everything in-house. We don't sub-contract anything out. Everything is made in the USA' right here in our facility."

In the coming months' Galbreath and his team will also being expanding their current facility rather significantly. "Right now' we can produce five buses per month. After the expansion' we'll be able to ramp up to eight per month with the four new bays we are adding'" explains Galbreath. "Also with this expansion' we'll be able to build anything from a 14-passenger limobus or shuttle all the way up to a 43-passenger bus. But' ultimately' the fit and finish is what we pride ourselves on ... not the size of the vehicle."

Another big event that's in the works for LGE is a collaboration with ­ElDorado National/Krystal in Salina' Kansas. The two companies are in the process of developing something innovative and appealing for the minicoach/limobus marketplace. "John MacKinney and Jeff Montgomery from ElDorado National/Krystal contacted us last year to create a new style limo interior for them. They are good at building buses and LGE is good at perfecting the limousine interiors. With those combined 'goods' we were able to create a brand new ­limobus that was unveiled last February'" states Galbreath. "We currently build limobuses through Krystal on Ford F-650' F-550' and F-450 chassis. These coaches area available exclusively through Krystal's dealer network. The interior design is a very classy' elegant setup which allows for a crossover of corporate work as well as retail limobus service."

As always' safety is a great concern for any coachbuilder' and all of LGE vehicles meet or exceed federal DOT standards with their vehicles being used in 32 states across the nation. "On the larger buses we added more emergency escape windows than are required. We also put in an extra roof hatch in those vehicles and went over and above on emergency doors and hand rails'" says Galbreath' emphatically. Driver safety is also concern' of course' and all LGE vehicles come standard with every resource a driver would need to operate safely: interior' front' and rear cameras (to be fully aware of what passengers are up to) and reverse' backup cameras (to assist in parking and other' close-quarter maneuvering).

All of our people are hardworking, loyal, and love what they do. Who could ask for more from an employee, really?
– Randy Galbreath, Co-owner of LGE Coachworks
But LGE isn't just stopping there when it comes to overall safety' as the team is thinking ahead of the curve on party bus safety—which has been a hot-button issue in the chauffeured ground transportation industry as of late. Galbreath elaborates: "Within 60 days' all of our party buses will have seat belts in them because we think that those types of regulations are something that are definitely coming down the pike ... so we just went ahead and jumped the gun on that."
In terms of warranty and maintenance' LGE does its best to keep it simple and straightforward. They are authorized by Ford and Freightliner' so if a customer has an issue that's covered under warranty' he can take his vehicle to any Ford or Freightliner dealership for chassis repairs. But Galbreath takes matters into his own hands when it comes to interior issues: "We gotta get it done and get it done fast. This industry is go' go' go ... so' I tell everyone right off the bat to call me first. If I can walk people through whatever problem they are having that usually works best. If it's something that I can't personally resolve' then I'll tell the customer to take it in to a shop that they are comfortable with and I'll call over there to go give the owner of the shop a head's up as best I can."
But it's not just all nuts and bolts at LGE as it has also built some rather cool custom vehicles; one being a custom coach on an F-550 for the owner of Bowflex' Bruce Cazenave. "He wanted me to mock it off of his private jet' so when you walked into it' it would look just like the jet. I must say that it turned out beautifully'" says Galbreath. Another specialty vehicle of note is every sports fan and/or tailgater's dream' being plastered wall-to-wall with Pittsburgh Steelers' Penn State Nittany Lions' and Pittsburgh Penguins memorabilia' colors' and logos.
In today's jaded day and age' it's refreshing to come across people like Randy Galbreath and companies like LGE Coachworks. They are an inspirational slice of old-school Americana: gritty' industrious' and reliable.
Right now' Galbreath is concentrating on the future and moving LGE forward to bigger and better things' but he does take a moment to contemplate some of the worthwhile professional (and personal) lessons he's taken away from manufacturing for close to a decade now. "Grateful doesn't begin to describe how Dave and I feel towards all of the customers who have supported LGE. Without them' this company wouldn't be where it is today ... that's for sure. And I would be remiss if I didn't mention our dedicated employees as well. 'Team' is a term that's thrown around a lot' but not many places really have a true team. LGE has a true team' and we've built vehicles that we're all extremely proud of."
[CD0714]