BY MICHAEL FOGARTY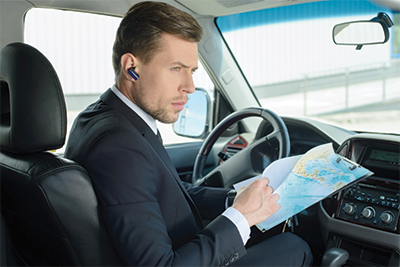 Meetings and events are big money for many companies today as the corporate sector continues to gain strength and many meetings and conventions return to ­pre-recession levels. If you're not already acting as the lead company on the day of the event' you've likely been asked to participate as an affiliate or for additional vehicles.

Managing events in your local area can be a multifaceted task for sure' but at least there you have the home court advantage of knowing the city and any backups should you need an extra vehicle or chauffeur in a pinch. I am going to assume that the majority of you don't have additional offices overseas. Taking the show globally is an entirely different animal' but one that can be handled like a professional with some extra due diligence and contingency planning. Part of our expansion plan has been to continue to handle events anywhere in the world' so even we have to manage events from areas where we have to learn on the fly.

Here's your first secret: Even U.S. conferences and meetings most often have international delegates flying in' so you always need a global approach. Whenever you add the wrinkle of clients flying in from other countries' the event becomes international in nature because there are so many new things to consider' a few of which I will discuss in this article.

Below are some of the tricks I've learned when the show is quite literally taken on the road and you have to pull off miracles when the best-laid plans go awry.
1. Become an events magician by expecting the worst

Chauffeuring events is all about contingency planning. You need additional cars' backup plans' and alternative routes in the mix from the outset. Clients want a streamlined service that runs to schedule even if something totally unexpected happens. We're not magicians' but to keep large and complex event transportation running smoothly' you sort of have to be.

This is where the pre-planning comes in. You have to invest a lot of time at the beginning of each project working with the client to carry out a considered risk analysis that includes a margin for all the strange and unexpected events that chauffeurs encounter every day. It's not surprising how easily a small detail or slip-up can throw a schedule off track because a live event is always affected by what's going on in the background. Minor issues like the weather' traffic' or a last-minute change to the itinerary can cause considerable disruption.

A few years ago' a seemingly small incident threatened to derail one of our VIP clients. During the Manhattan-based meeting' the event coordinators suddenly realized that they'd left the tent cards for the tables at their hotel. They were essential for the event' but city traffic was so heavy that turning back would have meant the coordinators wouldn't have arrived in time to greet their VIP guests.

That's exactly the type of scenario when contingency planning can be your best friend. In this case' it wasn't something that went wrong with our equipment or personnel' but it was something we never could have anticipated. The vehicle that we had on stand-by saved the day by couriering the forgotten items to the venue shortly after the coordinators arrived. For the clients' it was as if the setback had never happened. Solving the client's hiccup helped the rest of event go as planned so they could focus on what they needed to do.

Other incidents can be just as unpredictable' but thinking ahead and almost getting into the mind of the event planner can save frustration later. For example' we were booked to pick up an international client on a 5 a.m. flight. Unfortunately' the client's private flight was untrackable' so we only had the anticipated time of arrival' not a roundabout one that you can expect with commercial flights. We planned to be at the airport an hour early ... that really paid off when the clients called at 3 a.m. to say they had landed and were ready for their car. Even though they were two hours early' our chauffeur was already en route and we got to them a few minutes after they arrived. Making the passenger wait any longer than that would have surely cost us the job and any future jobs with that client' despite it not being our error.

My rule of thumb is' even if we're lucky enough to encounter the perfect event where everything runs to schedule' we can always make use of an extra vehicle or chauffeur to deliver an enhanced service for our client.
Whether your passengers are flying into the U.S. or out into the wider world, having local knowledge of their destinations and an awareness of cultural nuances is critical."
2. Get to know the world

With more and more clients traveling to events around the globe every year' securing a network of worldwide services and affiliates in the most popular event destinations is crucial. Although travel in the U.S. is sometimes complex' getting clients to international events can be much more difficult and' for clients with a higher profile' the chances of encountering a problem are greater still because of safety concerns.

First things first: Whether your passengers are flying into the U.S. or out into the wider world' having local knowledge of their destinations and an awareness of cultural nuances is critical. The larger the event' the more time you are going to need on the ground beforehand in planning' scouting' and recruiting local companies to assist with the transportation. Do your clients need English-speaking chauffeurs? How do the local customs vary from what your clients are accustomed to' and what should they avoid? You may have to coach chauffeurs on how to dress and act with your VIP clients. What about security? Are bullet-resistant vehicles necessary? When you're chauffeuring international clients' cultural knowledge is key.

For example' when a global financial institution asked us to plan transportation for a 10-day meeting in India' our events team flew over to the venue. Altogether' we were on the ground for nine months before the event' meeting affiliates and putting together a fail-safe plan. While this was a large' multiday event' smaller events may require as much time with pre-planning if the venue is in an unstable area or presents a security risk to clients. These risks can pop up unexpectedly after a major incident threatens the local area' so staying sharp and being vigilant is essential because the plan still could change late in the game.

In this case' the itinerary spanned four cities' so our biggest hurdle by far was security. Clients flew between cities and the advance team's role was really to "catch" passengers as they arrived and make sure details were set for onward journeys. We had to overschedule staff to be on the ground in the various cities.
3. Forget the car' focus on the client

It may sound radical' but in my experience the vehicle type only matters if it's important to the client. For some customers' event transportation is all about the vehicle. When you're talking to those clients' you should absolutely focus 100 percent of your efforts on explaining the benefits of your cars' but for a good portion of event coordinators' the vehicle itself is a minor consideration. This is something you should know well in advance so that you can handle the acquisition of vehicles accordingly. If you don't know its level of essentialness' ask.

So' before you begin pitching your services' try to figure out the individual client's mindset. Is the car their top priority? If it's not' then it shouldn't be your top priority' within reason of course. You want quality vehicles' but if the nameplate doesn't matter to the client' then your decisions are easier. Remember the example about the event coordinators who forgot their tent cards at the hotel? To them' it was much more important that we could solve their crisis. A good ground transportation service should save the client time and money' understand the needs of the executives/VIPs' and—most importantly—provide a safe' secure' and enjoyable experience.

For many of our clients' it is far more important to talk about good communication' how we handle security' and the high level of training our chauffeurs receive. Even invoicing can be major pain points for event planners' so make sure you're thinking about the bigger picture: your client's needs.

Finally' listen to what the client is saying and remember it's not always about this vehicle or that vehicle—mostly it's about creating an experience that meets your client's expectations.
4. Get on the scene and join the team

To deliver great event transportation' you really do have to be part of your client's team. If it's a conference or congress' event coordinators are not just looking for cars and chauffeurs; they want a vendor who will take total responsibility for making sure that their event transportation runs smoothly. You become part of their team.

There's a reason why coordinators take months to plan an event; they are very complex and require time and clear thinking so it's flawlessly executed. Our service begins when we get the brief and it ramps up from there. Becoming an extension of the client's team' getting your staff on-site and taking the burden away from event coordinators is key.

There are times' however' when you will be asked to step up and put together an entire program with just weeks instead of months. In those cases' last-minute organization will be stressful for all involved' so working with the event coordinator as much as possible to ensure that she is comfortable with how it's progressing will go a long way in keeping her calm on the day of. Ask her what she wants from your team and do it. Trust me' she will remember how you assisted her during crunch time and will likely upgrade your status as a service provider from useful to essential.
5. Communicate all day long

If international passengers are flying in for an event' they may not know what to expect from a U.S. chauffeur service. For one thing' meeting points can vary from airport to airport and you should always clearly explain where your greeters will meet arriving guests. This is especially true if the event takes places in multiple cities. Text messages with detailed instructions become especially handy in these cases so that the VIPs don't have to waste time guessing if the procedure is the same as before when they landed in the last city.

For all of your clients' it is absolutely required that you do a good job of communicating. Make sure everyone—your coordinators' chauffeurs' and client—has the information they need on how the event is progressing and you'll always be an events service that people will recommend. Having a written dossier' especially one on an electronic tablet (with files that are able to be updated seamlessly from the office) for on-the-ground personnel to follow' is invaluable. The worst things you can do are show weakness in handling in a situation or say "I don't know" without immediately following it up with' "But I'm going to find out for you and get you an answer ASAP."

Further' make sure you are listening to your clients and/or the event coordinators. If they want you to stop doing something or do less of it' even if you think it's helpful' abide by their wishes. You are there to serve them and their clients during the event.
The summer months' especially July and August' will be busy months for the events industry. The summer is a popular time for conferences in the U.S. and Europe and there are always a wealth of sporting tournaments coming up around the world. It is entirely possible that you may handle the transportation for one of these events.

In the long term' my outlook on the future of event transportation is cautiously optimistic. The last few years may have been difficult for our industry' but as international business travel picks up' more people than ever before are crossing continents to meet new partners and explore new trade opportunities. Ultimately that gives us all an opportunity to pick up new customers; we just have to give them perfect journeys. [CD0714]