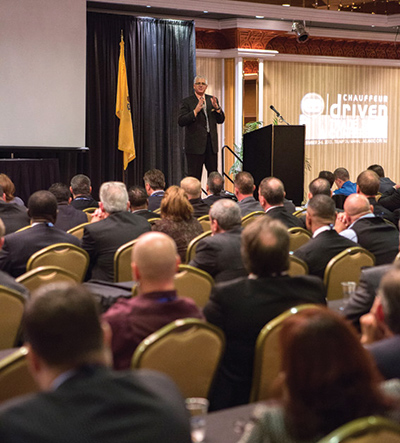 While we're all broiling in the hot July sun' it's hard to believe that the biggest event of the fall is just four months away! Where will you be this November 2-5? If you care about the health and vigor of your business' meeting new operators (who just might become an affiliate' a mentor' or both)' and learning about all of the newest products and services for our industry' you'll be in Atlantic City at the 2014 Chauffeur Driven Show.

Going into our first show in 2013' we weren't really sure what to expect. Yes' there was a lot of buzz and our show floor sold out pretty quickly' but even we were overwhelmed by the reception. So imagine our surprise when earlier this spring the entire show floor space sold out in a matter of weeks!

We're definitely keeping this party going. We've kept some of the old' spiced up your favorites' and will entice you with the new ideas we have in store. Best of all' we once again return to the Trump Taj Mahal' where the entire show will take place under one roof. No leaving the hotel to catch a bus to a seminar in a different location or wearing out your tired feet just to join us for one of our evening parties. You know the drill; all of your colleagues under the same roof means more time networking' getting down to business' and making those valuable connections. Not only have we ramped up our reach to vertical industries' but we've also increased our international presence' so you can be sure to see a lot of new faces (new business opportunities!) amongst the familiar. This year we thank Title Sponsors The Lincoln Motor ­Company and Don Brown Bus Sales and for their support!

By now you've probably met our new show manager' Lauren D'Ambra' at one of your local association meetings. She is working closely with Chris Weiss to really push the show even further than we did last year. They have a lot of fresh' bold ideas and some minor tweaks to some of our most popular events that we think you're going to love.
RETURNING FAVORITES
You know what you like' and you definitely told us what you want to see more of in 2014. Here's a rundown of the events you said were most beneficial to your time at the show.
Extraordinary Education
We experimented with a little different format last year for our education program' which included a mix of the traditional-style seminars—big groups' PowerPoint slides' and not much audience participation other than Q&A—and hands-on workshops—which featured smaller groups' more intensive sessions' and exercises that the entire group completed. You told us you wanted more concentrated education' and we're here to deliver. We've stepped up the number of hands-on sessions to challenge you' push you out of your comfort zone' and get you thinking about your business in a whole new way. Prefer the lecture-style seminars? We'll have those' too. Chris Weiss is currently working with our show education committee' spearheaded by Education Committee Chairman Jason Sharenow of Broadway Elite Chauffeured Services Worldwide' to finalize the perfect topics for today's industry. For those looking for targeted education' note that Tuesday' November 4' is our Affiliate Day' and seminar topics will be geared toward that theme. The entire day will be devoted to the affiliate side of the business. Education and coffee is sponsored by FASTTRAK Cloud Technologies.
Something we debuted in 2013 that was never tried before in the history of industry shows will also return for another year running: our Micro-sessions on the show floor. At Chauffeur Driven' our motto is education can happen anywhere' so why leave all the learning to the classroom? These short' topical' and tip-oriented sessions are the perfect anecdote when you just want some great advice without the time commitment of a seminar. Hand-pick the ones you want to join or sit in on all of them' these quick lectures are meant to produce immediate takeaway and lasting inspiration. No handouts' no exercises; just good information presented by experts in their fields. The sessions will once again take place in our Association Pavilion (sponsored by Chosen Payments) on the show floor' so be sure to stop by and say hello to the representatives of your local and international associations after taking in a lecture.
Meet Your Next Farm-Out Partners
Speaking of Affiliate Tuesday' our Affiliate Central Global Partner Forum will also return for a second year. Where else can you mingle with hundreds of operators from all over the world who are looking to meet you and hand over their most precious commodities: their clients! Our Affiliate Central Forum is the perfect place to meet international and local operators and get to know their companies. The event' sponsored by A1A Airport & Limousine Service' will be casual so you can set the pace and decide what you're looking for. Don't forget to bring your business cards and take advantage of our Chauffeur Driven Show app' which makes it easy to exchange information with others who are also using the app. Music Express Worldwide and EmpireCLS Worldwide Chauffeured Services will also hold their annual affiliate meetings at the show on Tuesday.
Incredible Keynote
We're thrilled to announce that Jim Donald' former CEO of Starbucks and Pathmark Supermarkets will deliver our 2014 Keynote Address. He may not be a household name' but you've definitely heard of his work and you won't soon forget his powerful message. He's known best as a CEO who helps floundering companies either become profitable or streamline so that they can operate in the black. He's currently the CEO of Extended Stay Hotels' which emerged from bankruptcy just a year after he took over the reins. Being in hospitality' he also knows a thing or two about competition from well-funded' highly popular apps: Airbnb' a direct threat to hotels worldwide' has some ringing similarities to Uber and other TNCs.
Donald spent four decades watching' listening' learning' and executing valuable lessons from the most successful figures in the world of retail. During his time' though' he also listened to' and learned from' the employees who were on the front-line helping customers' doing the maintenance' and performing the face-to-face marketing that moves product and keeps customers happy. His lessons come from the widest possible range of personalities in the retail sphere: He has sat across from Sam Walton while the Wal-Mart founder explained how front-line employees can be the most valuable market researchers. He has also talked to the clerks selling seafood or the evening maintenance workers to get their perspectives from the ground floor. In his witty and wise lessons from retail—lessons they don't teach in business school—Donald distills the wisdom he's gained from working with employees in some of the most successful' iconic companies in the world. Sponsored by Grech Motors.
Hot Nightlife
After long days packed with education' networking' and finding amazing deals on the show floor' our parties are a great place to let loose and hang out with industry friends. Just because you changed out of your suit doesn't mean that networking ends. Live music' tons of light fare and libations' and fun activities are all yours for the taking. We have two incredible parties lined up for you this year.
On Sunday' just two days after your kids cruised the neighborhood for candy in their Halloween digs' you get a chance to hang out with the adults for some spooky fun of your own. We'll have a DJ (Thriller' anyone?)' yummy...um...finger foods' and lots of creepy surprises. Wear your costume and take home scary souvenir pics from our photo booth. The event is sponsored by Battisti Customs. After chillin' with the undead' grab your favorite cowboy boots and American flag bandana for some downhome country fun on Monday night. There will be a live band playing all your rockabilly favorites' line dancing' and bull riding for the brave. Save room for some tasty BBQ and tons of brews. Kick back' relax' and rock your country side.
Attention night owls: Save some of that energy for Tuesday night when we take over the suites on the 14th floor of the Taj for our infamous suite parties. Think you have what it takes to last all night? Prove it. Join all five hosted by Blue Diamond Worldwide Transportation' ETS International' Flyte Tyme Worldwide Transportation' MLOA' and ZBest Executive Global Transportation Services.
Fun Freebies
Take advantage of our completely free shuttle that runs from Philadelphia International Airport to the Taj Mahal on Sunday and Monday' with return trips available on Wednesday. More information about how to register for the shuttle will be available later this summer. Thank you to transportation providers A-1 Limousine' Albert's Transportation' and Park Avenue Limousine. We also know you have to eat' so enjoy our lunches on Monday and Tuesday afternoons. Last year we served hundreds of lunches to our attendees' so come with a healthy appetite and fuel up for the rest of your day.
SPICING IT UP
Of course we have a few surprises in store for you. We've tweaked some our most popular events and opened up extra seats to ensure that you have a chance to participate.
Mentoring Program
By far' our most talked-about event was our Mentoring Program' which included over a dozen of our industry's greatest minds and leaders working with small groups to inspire' answer questions' and just generously share their knowledge. If you want to improve your business and learn from the best' this is the one event you simply must attend. This year due to the increased demand' we've expanded the program to include additional time and mentors. More information will be released over the coming months' including how to register. You definitely don't want to miss this! Sponsored by Grech Motors and Don Brown Bus Sales.
Charity Auction
Last year's Charity Auction—our first—honored two industry legends who were beloved by the Chauffeur Driven staff' Dean Schuler and Tom Mazza. Donating over $31'000 in their names to the ALS Foundation will always be special part of our history' personally and professionally. This year' we introduce a new charity that will benefit from our live' chance' and silent auction: The Ryan Seacrest Foundation. If you have the pleasure of children in your life' the one thing you know that all kids love to do is sing and act silly in front of a camera. The Ryan Seacrest Foundation raises money to build broadcast media centers within pediatric care facilities' which provides a unique environment to promote health and healing for the entire family unit. At a time when the family is most stressed during a pediatric illness' there is nothing more uplifting or optimistic than a child's smile during play. The foundation also works with local journalism schools as well as a long line of celebrities who make special appearances at the centers nationwide. A list of the auction items will be available before the show' so check our show website frequently for updates. Sponsored by EmpireCLS.
A New Show App
Last' but definitely not least' we're working with an app company for a more robust show experience. If you liked last year's' you'll love what we're putting together this year. We have a lot in the works' so be sure to check back for updates and when it's ready for download to your phone' tablet' or smart device. Sponsored by North Point Transportation Group.
This is just a quick sample of what we have planned for the 2014 Chauffeur Driven Show. As the summer unfolds' be sure to check out our early-bird rate specials and all of the latest breaking news and information. We'll see you this November in Atlantic City.
[CD0714]