BY SIMON CURTIS
In the past few years, if you wanted to target someone with a niche interest, you did not just do it based off what pages they liked or engaged with, but through data collected by Facebook (via Pixel or SDK) to track websites and apps used outside of the social media platform. With Facebook tracking users' activity, we suddenly had an audience of more than a billion people worldwide to advertise to, which did not rely just on search intent. Perhaps best of all, we could target anyone with an interest in whatever we wanted at a fraction of the cost.

However, the full release of Apple's iOS 14 update might bring a halt to the full targeting capabilities we have grown accustomed to, and changes will affect how marketers receive and process conversion events from tools like Facebook Pixel.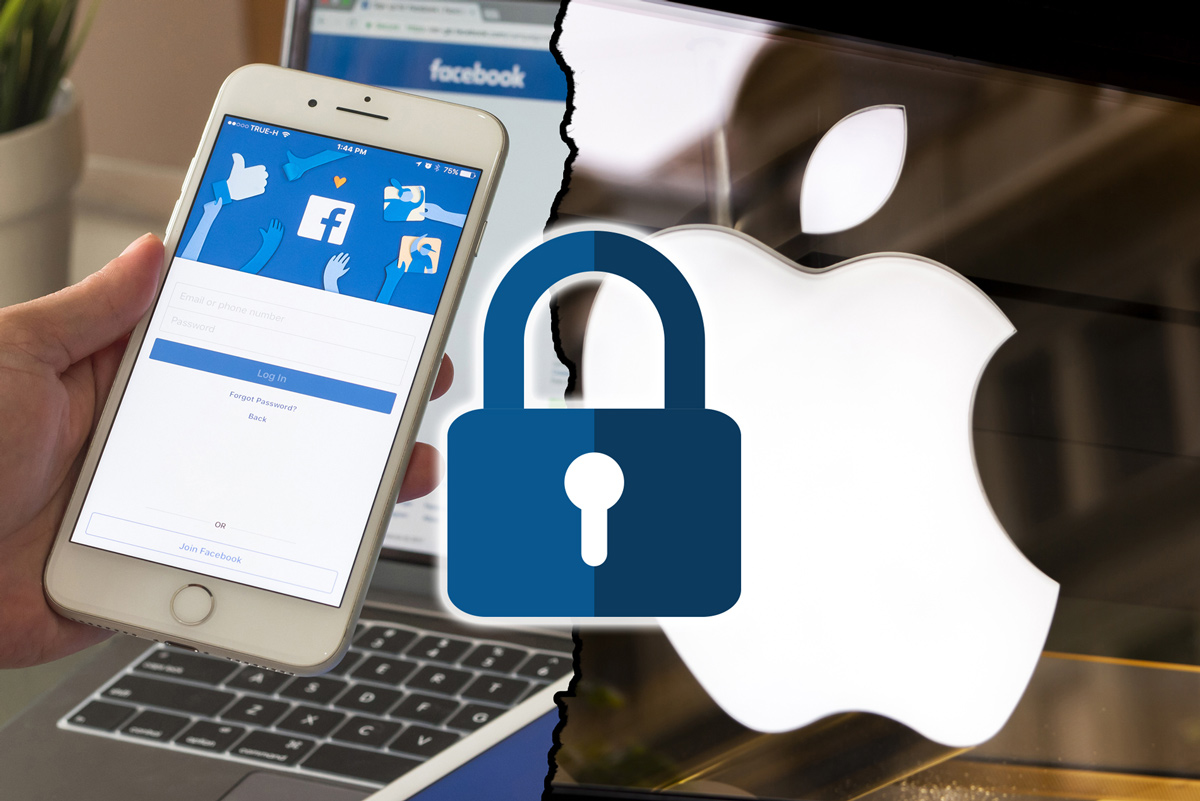 Good news for privacy, but less so for targeted advertising.

Backstory
When Apple officially launched iOS 14 in late 2020, user privacy was among its chief concerns. The "agreement" between apps and its users is that the app is generally free and the platform makes its profits from selling customer data. As part of the development policy, Apple introduced the requirement that all users must give permission to be tracked outside of the app they are using, as well as the option of opting out of this tracking. However, because the backlash from the ad industry was so severe, Apple delayed the opt-in requirement until this year. Among those companies upset with the new requirement was Facebook, which was very vocal (more on that in a minute).
"Users should know when their data is being collected and shared across other apps and websites—and they should have the choice to allow that or not." – Statement from Apple
The vast majority of people access Facebook through their phone, and although the platform offers the ability to not be tracked, these settings are buried deep inside the privacy options that people are not aware of or require digging to find. Because of this, Apple is enforcing a pop-up to make users aware that they can "opt out."
Now, we do not know how many people will opt out of being tracked; however, as of December 2020, the 80 percent of iPhones and iPads that were running iOS 14 noticeably shook Facebook. So much so the social media platform ran several full-page ads in the U.S. media attacking Apple and setting up a site where they are "speaking up for small businesses"
(click here)
... but probably more for its own profits (we won't judge).
Apple also fired back: "We believe that this is a simple matter of standing up for our users. Users should know when their data is being collected and shared across other apps and websites—and they should have the choice to allow that or not," read a statement from Apple. "App Tracking Transparency in iOS 14 does not require Facebook to change its approach to tracking users and creating targeted advertising, it simply requires they give users a choice."
Users upgrading to the new iOS will receive a prompt on their devices if they opt out of certain data collection and sharing will be prohibited. As more people opt out of tracking on iOS 14 devices, ad personalization and performance reporting will be limited for both app and web conversion events.
Curtis Gabriel's Senior Digital and Design Officer Stuart Taylor shares his thoughts on the new privacy update: "Facebook will likely be making changes to how we advertise and receive results, so it's good to understand what these changes may be and how they may affect marketing campaigns. It is important to add, at this point, that this is not just about Facebook. The same message will appear on any app that has the ability to track user's digital footprint outside of the respected app." This includes popular apps such as LinkedIn, YouTube, Pinterest, and everything else that people access on their phones.
"... businesses that rely on this kind of targeting to market their products online need not worry as the 'untracking' is in the early stages ..." – Simon Curtis, Founder & Business Development Director for Curtis Gabriel
So what will this mean for those of us who rely on these data for target marketing?
Audience
We are not going to lose the ability to create an audience during the Ad Set phase; however, the potential numbers of the metrics we choose to target are going to be smaller when we drill down into more detailed targeting (i.e., people who have an interest in ...).
It is these data that are gathered by tracking.
Think about a time you have been browsing vacation ideas, for example, and suddenly your Facebook timeline is flooded with tour operators advertising great deals to Cabo. The ability of users to opt out is not going to affect the overall number of people we are able to advertise to, but there is the potential that we will now target people with no interest in holidays.
Optimization
Without data being recorded, Facebook Ad Manager will not be able to effectively optimize to people who take action.
Results
Results we receive from Ad Manager are going to be delayed and based on an aggregate. Events received from Pixel and SDK are going to be delayed for up to three days as these figures are calculated. With this, the conversion window is narrowing to seven days click and one day view, meaning we will no longer be able to record a conversion up to 28 days after a user has clicked on an ad.
Retargeting
One of the most powerful aspects of any marketing funnel is the re-targeting phase. Without the ability to track a user we are unable to re-target them.
App Installs
For those who have the SDK implemented in an app, the ability to record app downloads and app usage is going to take a hit. Apple may have taken this approach as people are often weary and uncomfortable that their online movements are so widely tracked, and thus, monetized by these apps that are selling this valuable information. However, smaller businesses that rely on this kind of targeting to market their products online need not worry as the "untracking" is in the early stages and there is plenty of time to adapt.
We do not know how many people will "opt out" of being tracked. As time goes on, apps like Facebook will adjust, based on their analytics, to best serve advertisers. We're sure we'll be talking about this again as Apple rolls out its opt-out option fully this year.
  [CD0221]
---
Simon Curtis is the founder & business development director for Digital Marketing Firm Curtis Gabriel. He may be reached at simon@curtisgabriel.com.