Last year was certainly a year of change in so many ways. But while we were adapting and making plans for the future, OEMs like Ford-Lincoln were also moving ahead with a refreshed and revamped product lineup, one which you may have noticed has a stunning new look.

For the first time in Ford-Lincoln's history, SUVs dominate the landscape in the U.S. market, signaling a new standard for the automaker that had produced some of our industry's most iconic sedan nameplates over the years. The MKT Town Car and Continental, both part of the Livery lineup, ended production in 2019 and 2020, respectively—however, some Lincoln dealers have a few left in stock. Reflecting the need for vehicles with luxurious materials and attention to detail, as well as thoughtful, intuitive technologies and additional cargo room, these vehicles in the new Livery lineup definitely live up to those expectations.

You may have also noticed something else about our cover: the powerhouse team of women behind the vehicles. Kimberly Johnston, Limousine & Livery Fleet Marketing Manager, has been an indefatigable advocate for our industry for two decades, and now working with Aviator Brand Manager Jennifer Engel and Transit Assistant Brand Manager Jennifer Mitchell, under the guiding hand and vision on the Lincoln side of the business of Lincoln Motor Company President Joy Falotico, the newest lineup is as dynamic as the men and women on the teams that helped it come to fruition.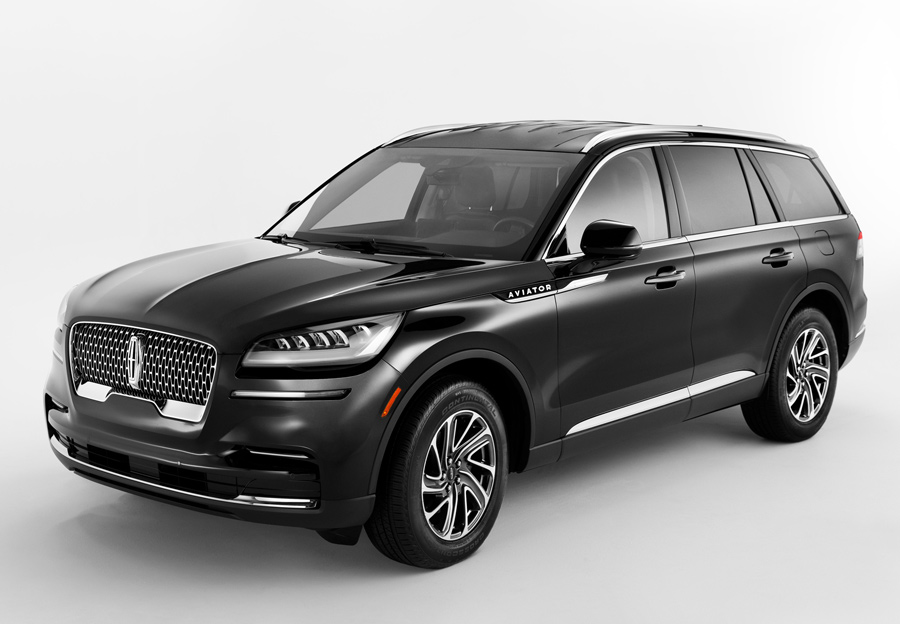 2021 Lincoln Aviator 2021 Lincoln Aviator

On the Lincoln side, the Navigator L and the Aviator are leading the pack of livery vehicles. The Navigator L, which continues to be among the best-selling SUVs in our industry, is the larger of the two with three rows of seating and all the standard equipment that your passengers crave. Second-row bench seating and a power-fold third row means there's plenty of space for your passengers and all of their accompanying gear. Each of the three rows has fast-charging USB and 12V ports as well as climate controls, so power and comfort are never an issue no matter where your passengers are sitting.

The Aviator, which made its debut in December for Livery MY21, is just slightly smaller than the Navigator L and shares many of its luxurious and refined touches. The third-row power-folds to create an even more spacious cargo area that can handle four full-size golf bags. The Aviator premium midsize SUV has softer lines, car-like drivetrain, and lower roof—and almost appears ready for takeoff with its streamlined and contoured body. The automotive press has called the Aviator "the most innovative Lincoln ever." In fact, the research and design behind the built-from-the-ground-up nameplate is one that our industry can appreciate: "quiet flight." Comfort, second-row amenities, luxury, and peace of mind is everything that chauffeured transportation represents.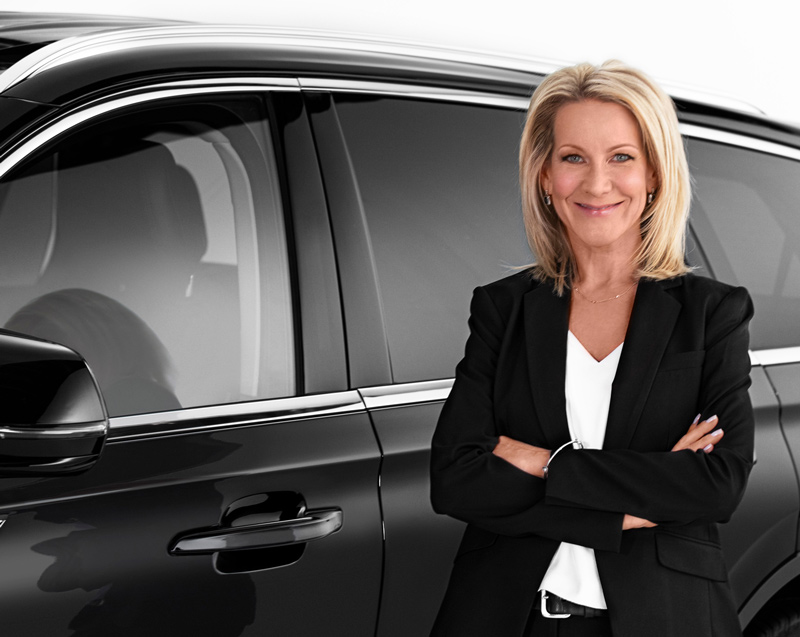 Ford-Lincoln Limousine & Livery Fleet Marketing Manager Kimberly Johnston "At Lincoln, we are all about creating these experiences and journeys that are inviting and personally crafted. We want the ride to be quiet and comfortable, the technology to be intuitive, and for the vehicle to be a sanctuary and enveloped in this luxury," says Engel. "Livery is definitely an important part of that strategy."

Engel says that a nod to aviation is woven into the Aviator's DNA, which includes its fender badge along the side of the vehicle that resembles a contrail, imprints on the door panels that look like an airplane wing, a roof that appears to be floating due to the blacked-out door panels, and, of course, its name.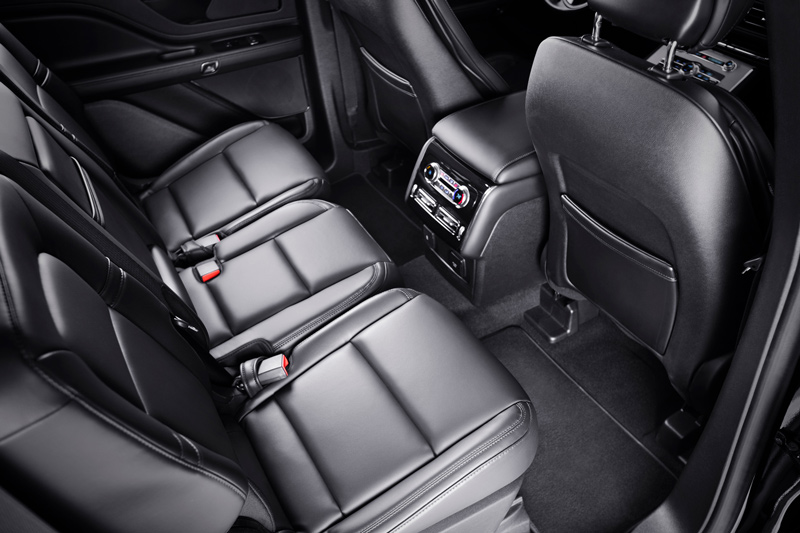 2021 Aviator interior As a special touch of distinction in a sea of luxury offerings, Lincoln partnered with the Detroit Symphony Orchestra to produce one-of-a-kind sounds for its warning chimes. Instead of jarring buzzers, melodic and harmonious tones alert the driver that a door is ajar, or seat belts aren't fastened, for example.

"Another feature that is really unique to Lincoln products is Lincoln Embrace, which is almost like an intelligent greeting by the vehicle. When you approach with the key fob, the Aviator will light up: the headlights will turn on and a welcome mat with the Lincoln logo is projected on the ground so you can avoid any debris or puddles around the vehicle," says Engel.

While passengers may not be fully aware of the careful thought that went into every aspect of the Aviator's design, they will no doubt appreciate the quiet and comfortable ride and unique exterior that resulted from it. The Livery Package also comes with the 4-year/150,000-mile PremiumCare ESP that covers 1,000+ components as well.

2021 Ford Transit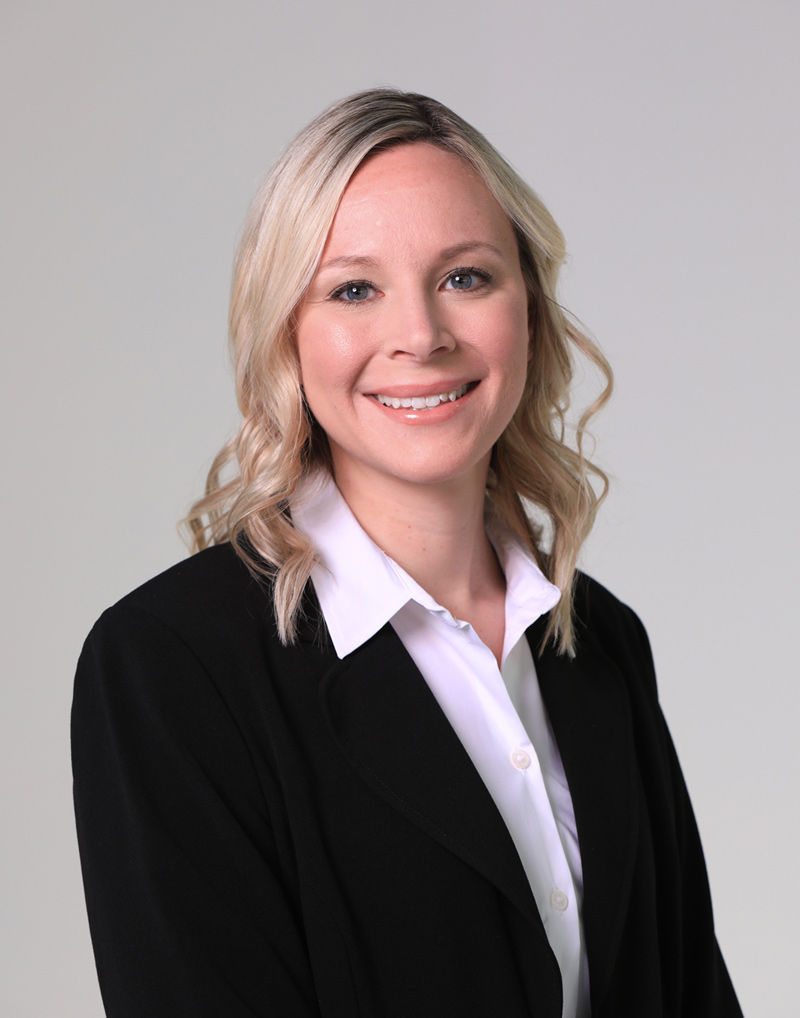 Transit Assistant Brand Manager Jennifer Mitchell If Lincoln vehicles represent all-inclusive luxury, the Ford Transit is defined by its endless customizable possibilities—especially as applications within a number of market niches is critical for your business' "new normal." Since the Transit debuted in 2015, it has quickly become one of the industry's favorite passenger vans and was one of the top 25 best-selling vehicles in 2020. The Transit XLT with long or extended length chassis is specifically targeted for livery customers, and the passenger van comes with a medium or high roof for easy mobility within the vehicle. Seating is available for up to 15 passengers, with cargo space to spare.

The Livery Package, which is new for 2021 and is a direct collaboration between Mitchell and Johnston, comes with dual AGM batteries, an auxiliary fuse panel, and a modified vehicle wiring system to make it that much easier for qualified upfitters to create one-of-a-kind works of art. Like the Aviator and Navigator, the Livery-spec Transit also comes with a 4-year/150,000-mile PremiumCARE Livery ESP that covers 1,000+ components.

"We focus on a range of options we have available so you can make it your own," says Mitchell. "Our direct relationship with the industry really helps us to understand what they need and want in the Transit and then seamlessly make those upgrades or enhancements that they are looking for."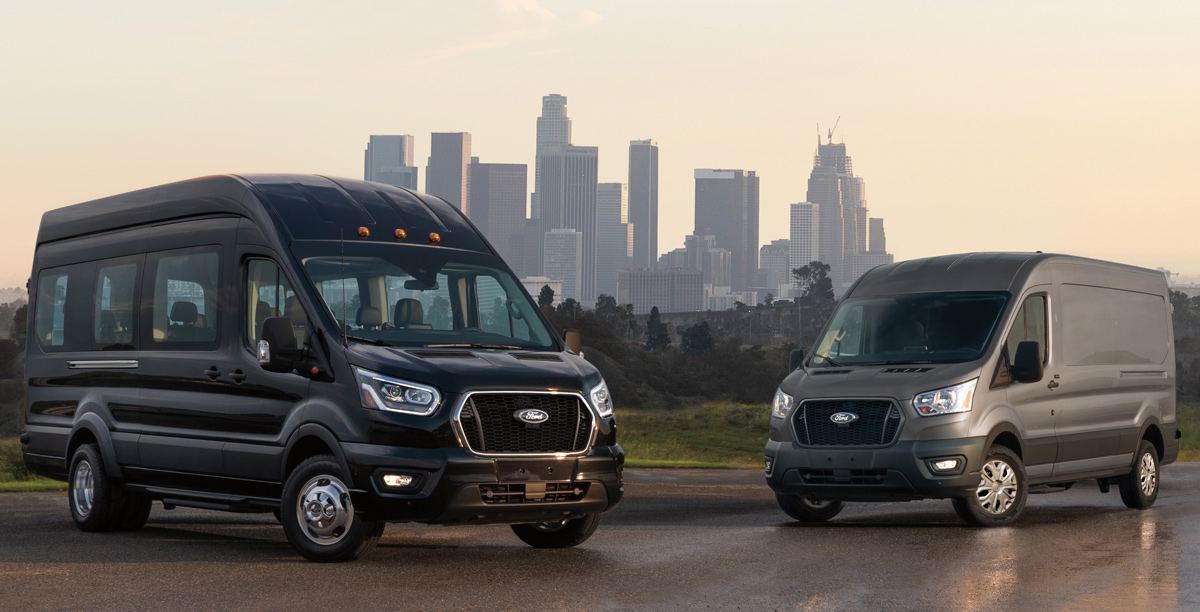 The Ford Transit has an available Livery Package for 2021 For example, based on feedback from the industry and governmental requirements, the '22 Livery Package will include the all-important egress window as a standard option. "We worked with operators and dealers to create a Livery Package specific for the industry and their transportation needs," says Johnston.

While a bevy of options and configurations are the driving forces behind the popularity of the Transit, its standard features align well with the rest of the Livery products. Mitchell notes that the Transit comes with leather seating for both the driver's and passengers' comfort as well as USB ports in every row.

"One of the features that was new for the 20MY was a power sliding door," says Mitchell. "Transit has a large door, which we know can be difficult to handle, especially in different types of weather, so this just makes it more convenient [for a chauffeur] to open and close."


Aviator Livery
Package Highlights:
• Heated seats (front and rear)
• Rear climate controls
• Rear-door sunshades for added privacy
• 2 USB ports in rear
• Ample leg and shoulder room
• Voice-activated touchscreen navigation ­system (available)
• Reclining rear seats
• Available in AWD or RWD
• PremiumCARE livery ESP of 4 years/150,000 miles with 1,000+ covered components
Ford also installed its Co-Pilot driver system in the Transit, which includes the Blind Spot Information System (BLIS), Lane-Keeping System, auto high-beams, and Pre-Collision Assist to help avoid and prevent a rear-end accident.
Looking Ahead: Diversity in Vehicles and Leadership
Chauffeured transportation operators are weighing different options available to them today. More than ever, added space and social distancing are as important to passengers as style and luxury, and larger vehicles will continue to play a role in filling that need. For Ford-Lincoln, that range is represented in its Livery lineup: 20MY Continental, 21MY Navigator L, 21MY Aviator Livery (new), 21MY Expedition MAX, and the 21MY Transit Livery (new).
Joy Falotico was Lincoln's newly installed president when she introduced the all-new Aviator to the automotive world—with plenty of praise and admiration—at the Los Angeles Auto Show in late 2018. She has called the premium midsize SUV the "perfect fusion of elegance and power," making it an obvious choice for our industry.
Transit Livery Prep Package
Highlights:
• Available in medium or high roof XLT models
• Ebony leather for both drivers and ­passengers
• Power sliding door
• Privacy glass
• Dual AGM batteries
• Modified vehicle wiring system
• Seating for up to 15
• PremiumCARE livery ESP of 4 years/ 150,000 miles with 1,000+ covered ­components
Falotico is already making her mark on Lincoln with her strategic vision to shift away from sedans to luxury (yet functional) SUVs for the American market, especially as SUV sales continue to outpace sedans. But she's also charting a new path for those under her leadership by continuing a culture of diversity within the ranks. As she told the Robb Report in 2018: "I always had the approach that as long as I paid attention to moving the business forward and didn't pay attention to the dynamics in the room, I was going to be more successful."
"I'm so proud that our president [of Lincoln] is a woman. I'm proud to be under Joy's leadership; she's very well respected at Lincoln as well as across the auto industry. It's empowering to see so many women at the helm in my vicinity. There's still more work to be done, but it's something that I'm very encouraged by," says Engel. "I really love having the opportunity to work for a global company. I interface with people all over the world, and I would say that at Lincoln diversity is a very important part of our culture."
Our industry is fortunate that Johnston has always been a valuable and accessible leader for the Limousine & Livery segment of Ford-Lincoln. She's had to balance the needs of our unique industry with the demands of products that were largely designed for a commercial and retail application—but has always managed to create purpose-built packages relevant to the industry for our customers to enjoy the experience as much as the destination.
"We have an amazing team and we always have the customer in mind (internal and external). Our common goal is to exceed our customer's expectations," says Johnston. "To celebrate International Women's Day in March, this month's cover could not be more fitting. It is an honor to be in such great company. I have witnessed first-hand how this industry has grown with female leaders nationwide and I am excited about the future."
Mitchell agrees: "I've worked in automotive for a long time and it's nice to see that's where our industry is heading and opening up doors for many different people."
[CD0321]