BY SUSAN ROSE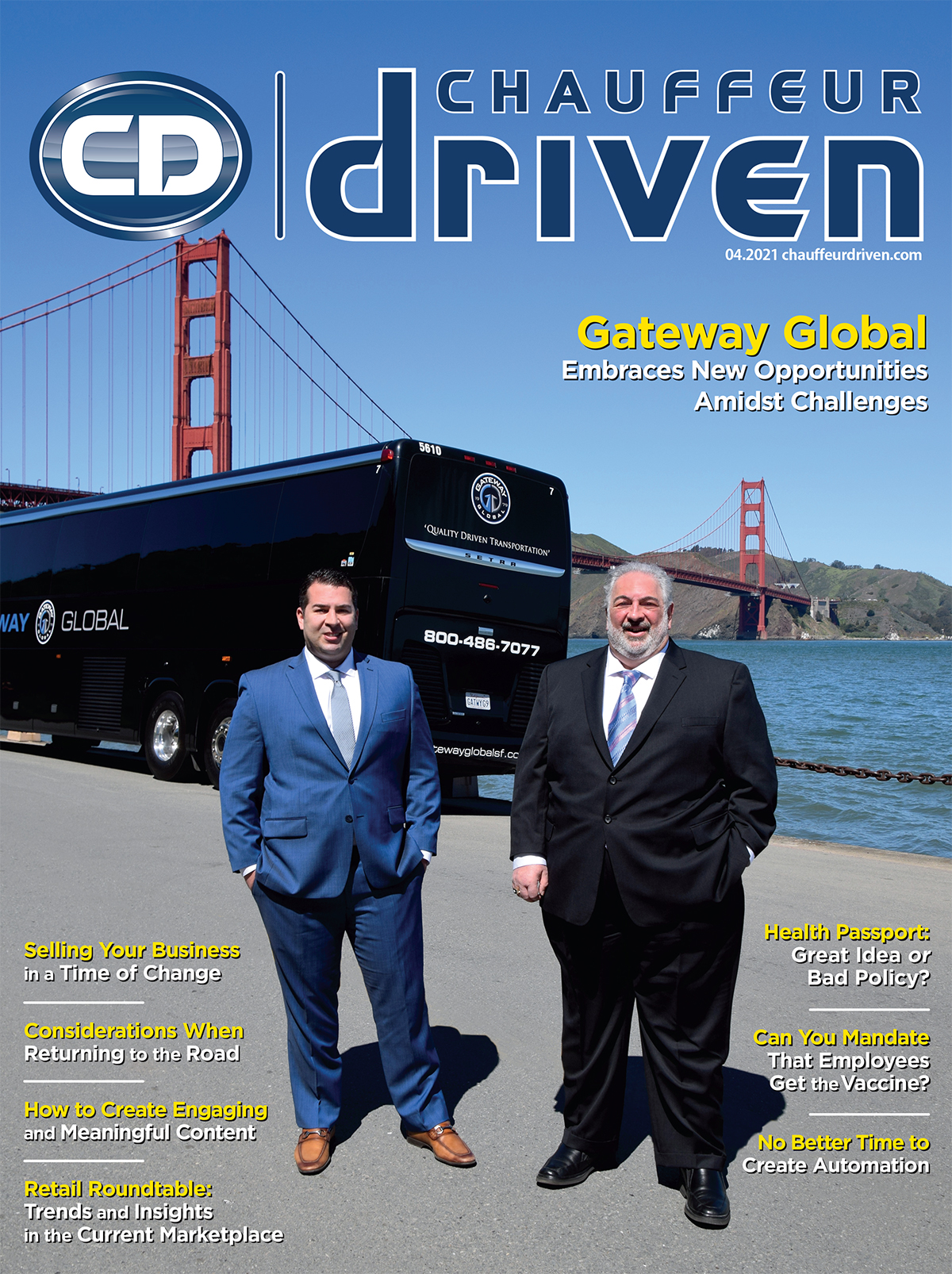 Cover Art: Gateway Global COO Joel Amato and President Sam Amato by San Francisco's most iconic landmark, the Golden Gate Bridge. Photography by Chris Weiss.

San Francisco has always been resilient: an area representing new opportunities, a birthplace of longshot concepts, a place to be your authentic self, and a portal to some of the most stunning natural resources the U.S. has to offer. Starting way back in the late 1840s with the gold rush that established it as an important city to today as the economic, tourism, and technology hub of Northern California, the region has been veritable lost and found of second chances and novel thinking. When San Francisco emerges from the pandemic, there will be noticeable changes.

Sam and Joel Amato, president and COO of Gateway Global, respectively, are ready for it. In the past year, the father-son team have been diligently reimagining what the future of Gateway will look like, and where they want and need to focus their efforts moving forward. While Sam was busy maintaining the relationships he's built over four decades and keeping a close check on financials, Joel has been trying new ideas, right-sizing the fleet and office, and watching what's happening in the region.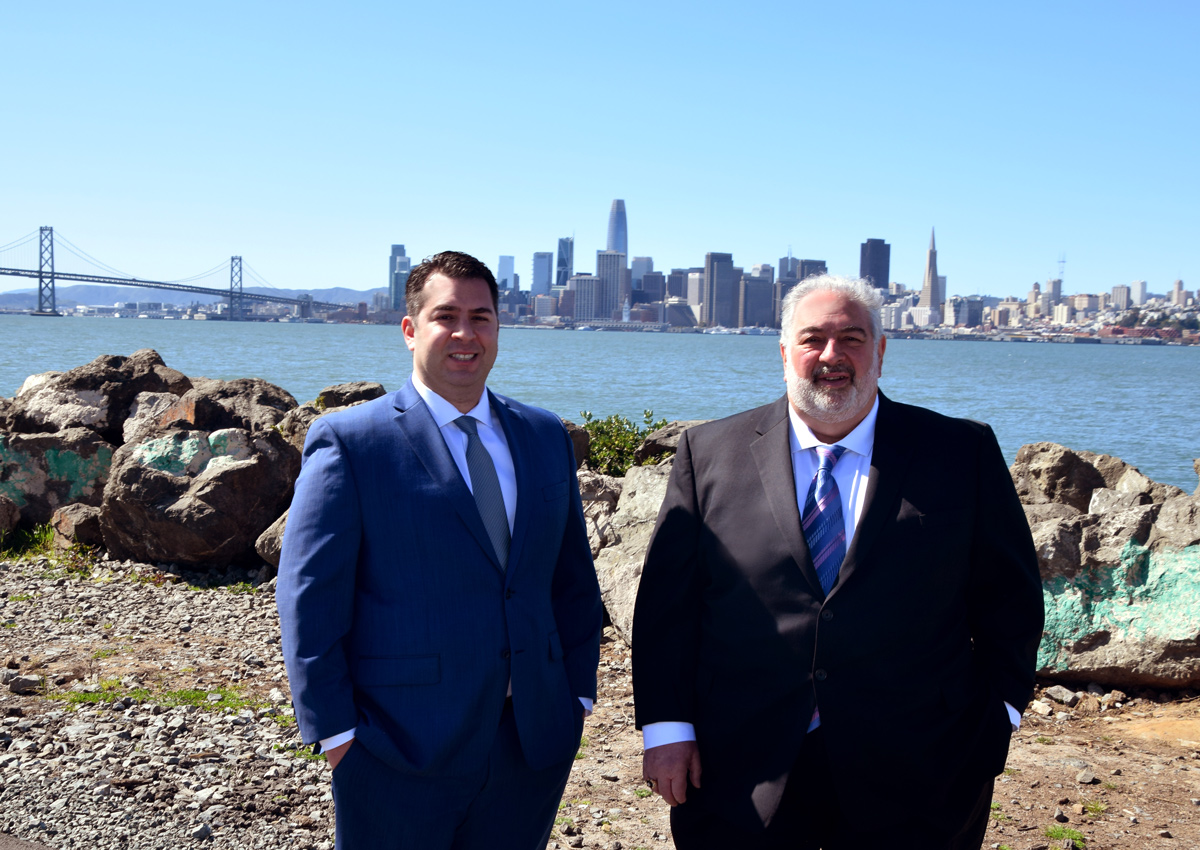 COO Joel Amato (left) and President and Founder Sam Amato on Treasure Island overlooking San Francisco "That was the good part of all of this—we were able to sit down and reevaluate what we were doing and what we'd pursue in the future, which is something we've wanted to do for many years," says Sam.

California was among the first states to issue its stay-at-home order, and far too many companies went from warp speed to full stop overnight. Gateway's book of business early last year was a healthy mix: events and group moves, wine tours, weddings, airport and hotel transfers, employee shuttles, DMCs, partnering with affiliates. While much of that has been slow to come back, other avenues have emerged: affiliate runs (including some FEMA work to staff vaccination sites), retail, and even a few new ideas that they're kicking around. Some concepts, such as their long-distance transportation initiative called Global Connect, didn't quite take off as they hoped, but spurred other revenue streams like private aviation clients, transportation for active seniors, and non-emergency medical transportation (NEMT).

"I sum up the past year as nothing happened but somehow it flew by," says Joel, a sentiment echoed by so many operators.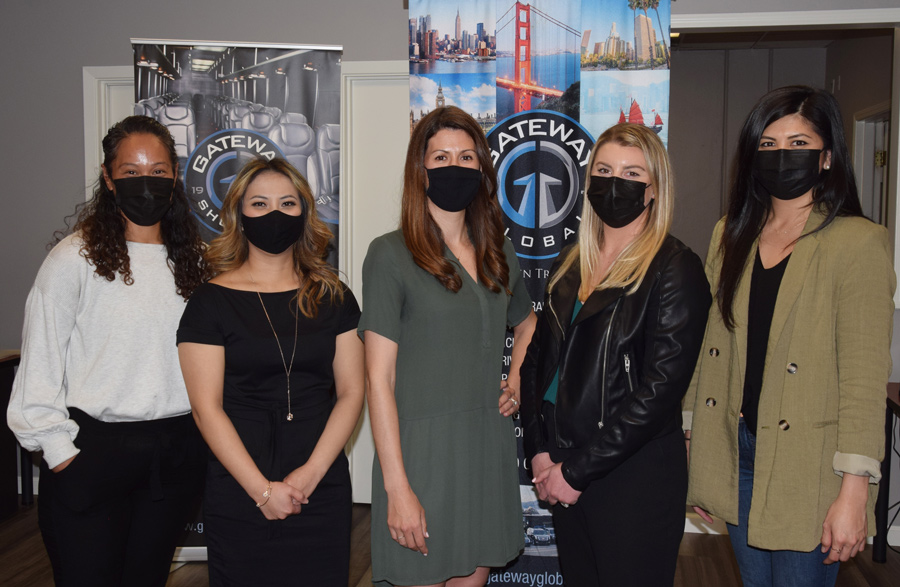 The management team (L to R): Tina Mano, Cherry Flores, Gina Amato-Bonelli, Melissa Amato, and Catalina Gomez Since joining Gateway on a full-time basis in 2007, Joel has taken a more comprehensive role in the company and was promoted to COO in early 2020. Gateway's seemingly unstoppable growth streak had lasted more than 12 years, fueled by Joel's big-picture thinking, Sam's pragmatism and cautious optimism, and the company's excellent reputation throughout and beyond the region. While they had lived through the last recession in 2008, that downturn was short-lived for Gateway as it recovered rapidly and even thrived.

"I've been in the business since 1979 and my experience is that every 6-8 years there has been an adjustment that took six months to two years to get through. We were on an upslope for about 12 years, but I knew that this had to end," says Sam, who fought his way through the previous slowdowns, including in the late '90s and 2001. "What the dot-com bust and 9/11 taught me was that vehicles are the killers [when it comes to expenses], so I always made sure that more than 50 percent of the fleet was paid for."

Quickly and early, they sold about 30 percent of their fleet, including many vehicles that were slated for turnover anyway, which also helped to cut costs and free up some cash. Sam worked with their insurance companies on flexible coverage that would keep them moving when needed but not saddle them with payments when they weren't.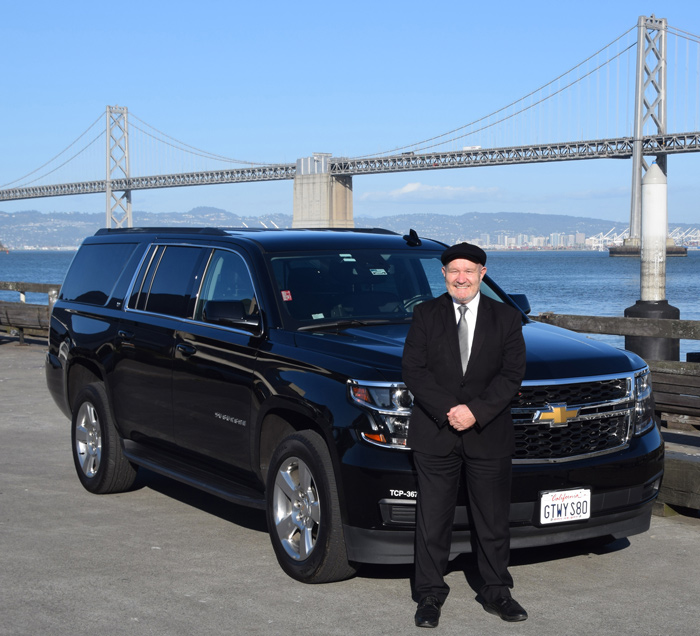 Director of Chauffeur Development James Lilley "Lancer Insurance and Rick Kline [of Hub International/Kline Insurance] have been real partners to us, especially in the past year," says Sam, adding that they were always willing to work with him on creative solutions during an unimaginable situation. The roller coaster of imposing and relaxing state and local restrictions made it almost impossible to plan at times.

"Sam's experience has really helped me better understand what to do," says Joel. "Before this, we were in growth mode, and I was all about adding this vehicle or doing this type of work. But he's always kept me grounded, making sure that we got our other vehicles paid down first before trying something else, and it was that that gave us the ability to cut costs quickly."

While there wasn't necessarily a ton of "traditional" work early on, there was no shortage of projects to do. Their mechanic, Mario Hernandez, was tasked with a regular schedule of moving and driving their idled buses, sedans, SUVs, vans, and other vehicles so that they were ready to go with very little notice when they got a call. Four decades of paperwork and clutter around the office and garage was conquered and tamed. The phone system was upgraded so that calls could be forwarded overnight. It was also (finally) the right time for an office remodel, which had been on the wish list for more than a few years. And Joel, who continues to work at the company headquarters in Burlingame, may or may not have officially taken over Sam's office, who has been working primarily from home since last spring.
"What the dot-com bust and 9/11 taught me was that vehicles are the killers [when it comes to expenses], so I always made sure that more than 50 percent of the fleet was paid for." – Sam Amato, President of Gateway Global"
"We were always moving so fast [before the pandemic] that we could never take the operation down to be able to do some things on the list," says Joel. "This was an opportunity to take the office apart and set it up for distancing so it's not as crowded when the team returns. We hit the reset button."
The hardest thing Joel says he had to do was send his team home through no fault of their own, a visceral experience that is all too familiar for many of his peers.
"We've been trying to bring team members back. Most people have been available to come back—we can't expect anyone to wait a year, and some have found other jobs or even moved out of the area—but we've retained the core group," says Joel. "I feel like with this recent influx of work that we've been able to shake a bit of the rust off and get back to somewhat normal, which has allowed us to bring more people on."
At their leanest, about five members of the office team in key departments (accounting, operations, maintenance) continued to work for Gateway during the pandemic. Joel says that his sister and director of finance, Gina Amato-Bonelli, also remains a part of the core team, although her schedule is "all over the place" since she also has to juggle two young kids at home.
"I can't say this enough, but we have a great team here," says Sam. "For sure, we wouldn't be here without those who stayed on."
"Even people who didn't stay on have been very good about checking in—really showing that they care about the success of this company," adds Joel. "We all had to put on a bunch of different hats and jump in where needed—I was out there washing cars again—whatever it took to get the job done. They really did. Everyone is really pitching in to help out wherever they can."
Since day one, hotel work has been one of the most important segments of Gateway's clientele. When the company was first getting off the ground, it was a contract with the Sheraton Hotel San Francisco that opened the door to other properties, and made Gateway Sam's full-time venture. Gateway continues to hold numerous multi-year contracts with many of the major hospitality spots in the area.
Travel and tourism is vital to California, contributing more than $11 billion and 86,000 jobs to the local economy. After a slight uptick of tourism last summer, the numbers plunged again with the NorCal wildfires and additional lockdowns, resulting in a staggering 67 percent drop in revenue.
But this most recent upswing feels different, better, hopeful. Joel says that dates for weddings and other events are being set for the summer and fall. The vast majority of the population, including counties in the San Francisco area, are in the "moderate" risk category, one step above the lowest and two below the highest (only two counties were in the top "widespread" level with the most restrictions). As of early April, about 38 percent of Californians had received at least one dose of the vaccine, and cases, although trending upward in some pockets, weren't overwhelming hospitals. Governor Gavin Newsom even announced that if the numbers hold for cases and vaccinations that many restrictions would be lifted statewide by June 15.
"Retail business is coming back first, and we're in a good area for that with popular city tours and Wine Country. We just need to get more people traveling to San Francisco and staying at hotels. We've been working on strengthening our relationships with those properties, which is full circle for us because that's how this company started 40 years ago," says Sam.
San Francisco represents a balanced slice of the American economy—from pharmaceuticals to financial institutions to numerous retail brands, all of which Gateway services—but the region is best known, of course, for technology. Gateway relied on many of those companies pre-COVID for corporate events and shuttle work, but with much of the workforce working remotely, indefinitely, no one knows what it will look like in the near future as some tire of being isolated from colleagues. A few notable corporations have relocated entirely to other states like Texas or Florida, and having remote employees reflects less need for office space, but hey, this is San Francisco, where a slew of venture capital firms and angel investors are looking to fund the next Postmates or Slack. Plus, the hysterically high rents in the city have dropped by about 30 percent since last year, making the city a wee bit more affordable in the process.
Joel has been devoting much of his time to exploring new sectors that he sees as promising. He says that while many are still reluctant to travel or go beyond their bubbles, at least until vaccinations are widespread, they have been handling more transportation to doctor's appointments or second homes for seniors.
"We know we have the drivers and the infrastructure to move into this work, but before we do, we want to be thorough with our due diligence and training," he says. They are slated for a soft launch of what they are calling Gateway Assist later this spring or early summer. Joel thinks the natural progression is into NEMT.
Joel says that their affiliate network, locally and nationally, remains among their most vital relationships, and Sam says they've gotten even tighter with their California competitors. For many, the Gateway affiliate party during the 2020 CD/NLA Show in Las Vegas was the last large-scale industry event that they attended—and goodness knows that Sam Amato can throw one heck of a party.
"I instantly felt welcome in this industry. I had to earn my stripes, and I feel I've worked hard over the years to do that and have great relationships," says Joel. "We have a number of affiliates who have had clients traveling in addition to our regular business that has helped to keep the wheels moving. We really do value the partnerships that we have with our affiliate network."
Looking back, tackling a wish list and finding a better pace of business have been among the benefits of last year's unexpected and frustrating circumstances, all of which have led to the Amatos building a stronger, more adaptable company that can withstand the rapid changes happening within the transportation space.
Outside of his company, Sam has been devoting more of his time to The Transportation Alliance (formerly the Taxicab, Limousine & Paratransit Association), of which he is a vice president and on its Luxury & Charter Advisory Board. Joel, on the other hand, is involved with local chambers and travel and business associations. They also get together as a family more frequently, but they do look forward to when they can meet with their industry peers again in person.
"I've been able to better balance my day by taking care of myself personally and also taking care of the business. I've been better about turning things off when I get home, which is one of the reasons I continued coming into the office. I knew if I stayed home and worked then I would always work," says Joel.
For Sam, his routine of working in the office was a little harder to break, even with the best intentions and leaving the bulk of the heavy lifting to Joel, Gina, and the team. After all, the CD Hall of Fame inductee (Boston, 2019) has been leading his company for 42 years. But the idea is growing on him.
"I've been saying for years that maybe I could scale back to a three- or four-day workweek, and I never did it, but I'm thinking maybe I can do it now," he says.
[CD0421]