BY LIZ HUNTER AND SUSAN ROSE
Right before the world shut down in 2020, Chauffeur Driven had several profiles in the pipeline awaiting publication, among them was a feature on BLS. Looking back at what was written in early 2020, we thought for sure we'd have to scrap the draft to match the latest episode in our industry's history.

But the truth is, we really didn't have to for BLS. Life and business has, of course, changed every facet of this industry, but the company foundation that was laid by Phyllis and David Okon, which later grew to include sons Michael and Eric, among other family members, remains fundamental at its core: move with change. This year was extraordinary for all of us—and full of extraordinary challenges—but the Okons were built for grit.

If BLS had to sum up its operation in one word, it would likely be "adaptable." You don't grow into a 45-year company with nearly a dozen locations, hundreds of cars, and countless affiliates across the U.S. without being flexible and agile along the way.

"Part of BLS' strength is the fact that we pivot quickly. My husband would always talk things over as a group, including our long-term employees in the discussion, and start looking for solutions. We don't procrastinate, we hop on things," says BLS Chairperson & CEO (and Okon family matriarch) Phyllis.

Life has certainly thrown its fair share of tests at the Okons—and arguably 2020 was among the toughest yet. During the years they were building BLS, the couple persevered, toiled, and sank their money into tangible assets like real estate. Although Phyllis' lifelong partner and company founder David passed away in 2018, she and her two adult sons, Michael and Eric, are capably steering BLS through the headwinds that every decade brings.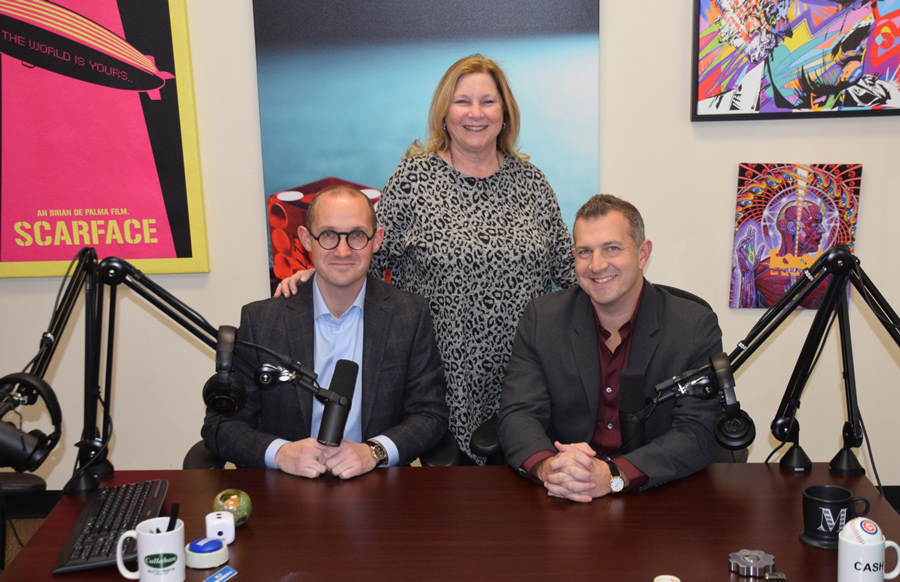 The Okons in their podcast studio in N.Y. "A company is a living, breathing enterprise," says Phyllis. "Business owners think that if they do something well that it's going to stay that way forever. What I've learned is what worked in the '80s isn't going to work in the '90s, and what worked in the '90s isn't going to work in the 2000s. It changes with the political climate, it changes with what's happening in the country. We've grown and become a part of the fabric of society. When you hold tight, or you're afraid of change or the exchange of information, you start to stagnate—and stagnation is death for a company."

BLS did contract during the past year, going from 11 locations in eight states down to 10, with a reduction of fleet and staff. At the same time, however, there were also surprises: In addition to its anchor locations in New York and Southern California, the Atlanta and Las Vegas offices increased their footprint. Eric says that BLS is operating at about 60-65 percent of its 2019 business, while more than 50 percent of its once 750-member team has returned. New York is starting to reopen; people are traveling; and Hollywood is again hosting live premieres and award events, including the recent Grammys and Oscars.

BLS was born Four Star Limousine in New York in the mid-'70s, a decade punctuated by several energy crises. David, a Polish immigrant, learned to work the business circuit in New York, attracting Manhattan businessmen with his unique ability to anticipate his clients' needs. One client became a regular and took David under his wing, and he was hungry to learn. By the time David and Phyllis married in 1977, the Okons were running three cars.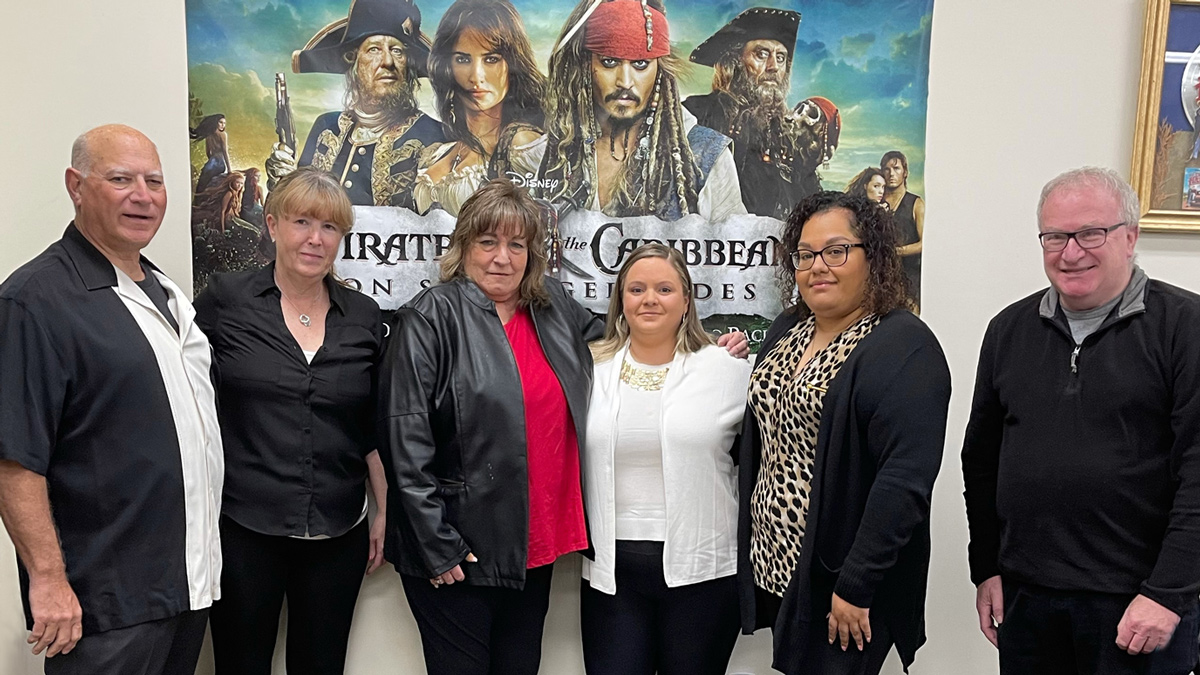 L to R: CFO Kevin Hornik; Affiliate Reconciliation Manager Patricia Pflaumer; Senior Vice President of Global Accounts Marilyn Hornik; Vice President, Global Reservations Odette Lorenzo; Vice President, Billing Chrystal Colon; and Vice President, Administration Neal Sultzer in the N.Y. office Things really took off when the Okons were approached by West Coast-based BLS Limousine to handle its film industry clients in New York. The Okons accepted the work and Four Star Limousine became BLS of New York. Within time, BLS of LA went out of business and the Okons suddenly had among the most desirable chauffeured transportation models in Hollywood.

Several years had passed since the Okons started servicing Los Angeles clients in New York and the studios wanted their cars in LA. "We were well-loved and embraced by the studios, and three came to me and said they needed me out there," says Phyllis. But the young family was growing in New York—Michael and Eric were toddlers—so the Okons found a company in LA that would become the next BLS of LA. They infused that operator's fleet with vehicles and grew exponentially. Eventually in 1997, they bought him out and cemented their legacy—and reputation—in the entertainment industry.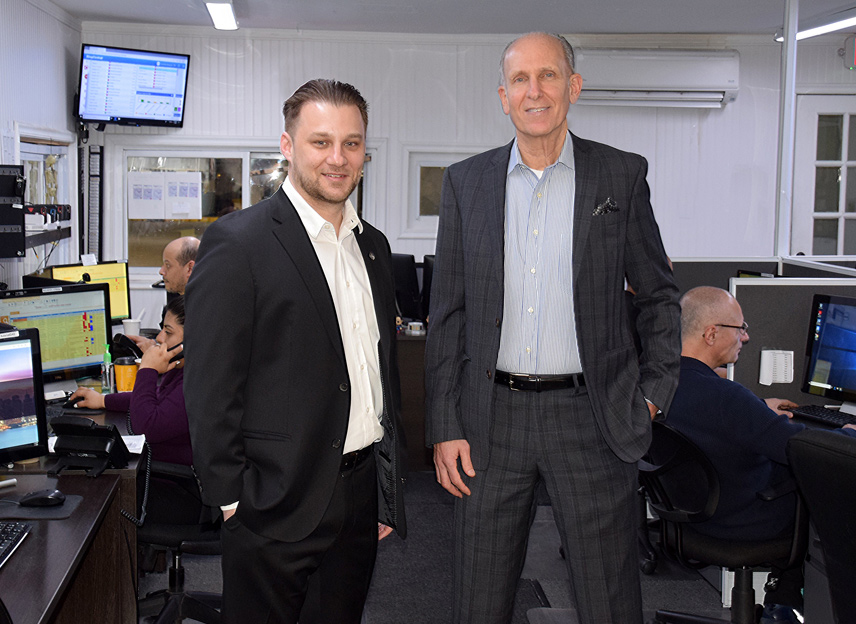 General Manager of Network Operations Anthony Loprete (left) and Executive Vice President, N.Y. Operations Vincent Aquino From day one, BLS was a family affair. Everyone found an official role within the company too, from Phyllis' mom doing payroll to her brother Kevin Hornik becoming CFO and Marilyn Hornik, (Phyllis & Kevin's sister-in-law, and Michael & Eric's Aunt) who is the senior VP of global accounts.

The involvement continued as Michael (President) and Eric (COO) got older and learned the business from the ground up doing every job. Summers in the '80s were spent in LA observing their parents earn business. Between sales they'd fit in quick visits to the zoo or other landmarks, and then it was on the road again to see the next prospective client.

On these trips, the Okon brothers became sponges for the family business. "We got a complete education from our parents. We couldn't learn these skills from school, or from our friends—our parents were the epitome of street smarts," says Michael.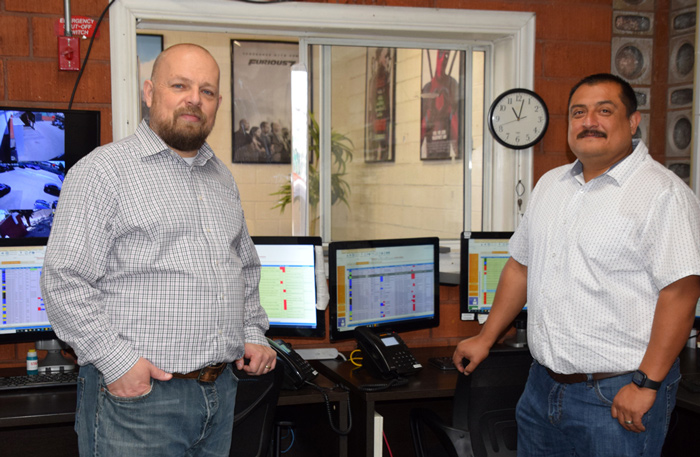 Senior Vice President, BLS LA Travis Swanson (left) and General Manager, BLS LA William Sanchez at the Los Angeles office Both sons have found their niche in the company. Michael, who naturally loves talking to people, knew he wanted to work in sales. "Everything I am today in sales is from watching my mother. I remember a meeting with the owner of a major Las Vegas hotel. She sat down with him, asked about his wife, his daughter, and how his life was going—everything but business. After we landed the account, we were in the elevator leaving, I asked my mother how long she had known him. I was shocked when she said she had never met him before. At that moment, I learned how to sell. In order to sell, you can't be selling."

Eric spearheads BLS' worldwide operations and oversees its technology initiatives, including an impressive social media presence and co-produces a podcast with Michael (more on that later).

"There was never a question we would join the company," says Eric. "BLS was our first job and it's our last job. We have a huge passion for this business like our parents." This passion extends to their wives now too: Eric's wife Jennifer handles the internal travel management for the company and Sharon, Michael's wife, manages company events and dinners, and played a big role in planning the BLS party at the last CD/NLA Show in Vegas in 2020.


Chauffeurs masked and ready for the road with a diverse fleet that includes Teslas and Escalades (Los Angeles) California was the first state to issue a stay-at-home order (March 19); the next day, New York ordered all non-essential retailers and businesses to close. Other states soon followed, and with offices and affiliates throughout the nation, they were juggling numerous local and state mandates all at once—not that much was moving.

Immediately, they put their plans to open an additional office in London on hold and rallied the troops, even though that now included a mere 5 percent of the original team.

"We were just in shock. The company that took 50 years to build, which was my parents' legacy, took about two weeks to dismantle," says Eric about the early weeks of the pandemic. After rapidly building up an infrastructure to take the company remote in a matter of days, the team regrouped. "We held all-hands-on-deck calls every single day where the team said 'we're going to have to innovate our way out of this' and brainstormed how to make people feel comfortable to travel again," he says.

Despite the initial shock followed by moments of doubt and the fleeting thought of selling it all, the family—blood and company alike—leaned in. They were on the phones and Zoom calls constantly with their clients and affiliates. The ideas flowed from every direction: a suggestion here, inspiration there, great concepts there. Despite being down from their 2019 numbers, they were growing and trying new things.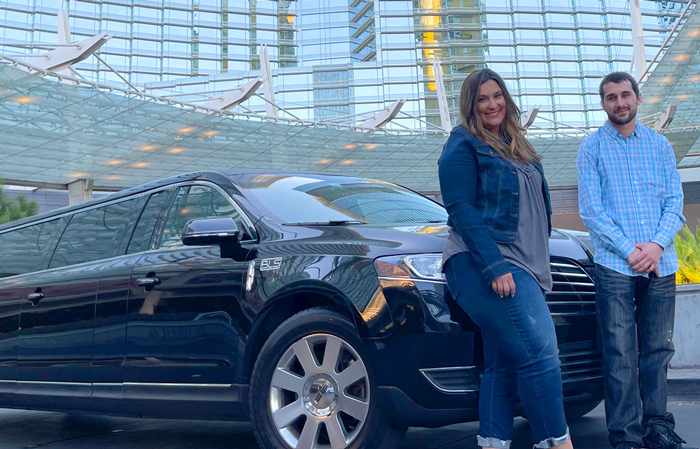 Crissy Rogers and William Schork, co-general managers, BLS Las Vegas, at Aria Las Vegas In addition to PPP money, the Okons sold some personal real estate and used other properties as collateral. "If there's one piece of advice that I implore every operator to consider—something that has gotten us through this, as well as other disasters in the past. This is our core business plan wherever we operate—own the real estate. That has single-handedly gotten us through this because we actually had assets to borrow against. It could have been really hard, especially when banks were gun-shy to finance new vehicles. We were able to leverage that and fund us through this pandemic," says Eric.

They initially liquidated a sizable portion of their fleet, but since have added new 2021 Cadillac Escalades in all of their markets. They add vehicles as needed and currently offer Tesla, Jaguar XF, and Mercedes E-Class sedans, while Chevy Suburbans and the new Escalades round out their SUVs. When larger vehicles are needed, they contract that work within their affiliate network.

But safety continued to be on the minds of their clients, affiliates, and staff. After 9/11, the whole Okon family got on planes and visited their offices and clients throughout the country to show that travel was safe. They knew they were going to have to do something similar in 2020 to reassure their nervous customers and team.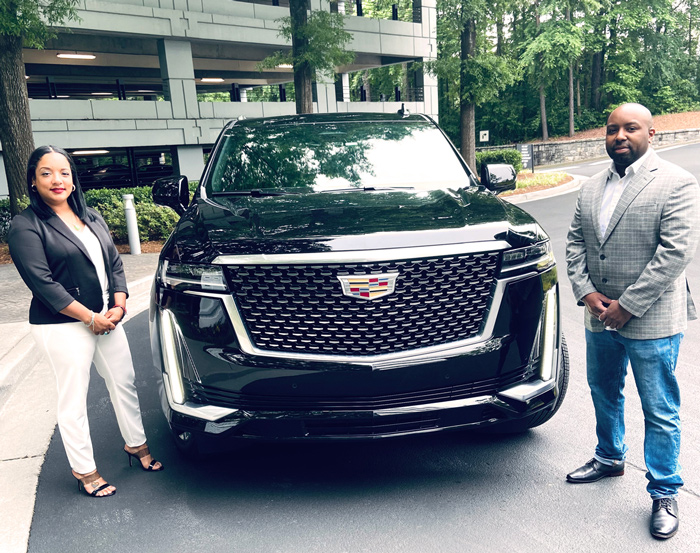 Office Manager, BLS Atlanta Priscilla Bustos and Senior Vice President, BLS Atlanta Carl Carter at the Georgia office Beyond masks, gloves, and electrostatic cleaning of vehicles (not to mention wiping down vital touch points between passengers), the Okons—led by Eric—worked with infectious disease epidemiologist Dr. Ravi Kamepalli to develop and continuously update their safety program. Information was changing rapidly during the pandemic, and Dr. Kamepalli would advise the BLS team on the latest CDC guidance and make recommendations for new protocols (remember washing your groceries?). Because they had chauffeurs who were nervous about carrying the virus on their clothing, the Okons installed a decontamination booth that used ionized salt water to kill COVID but otherwise wasn't harmful to human skin. BLS vehicles, which included their affiliates, were fitted with dividers and HEPA filters (asking affiliates to spend money during a crisis wasn't always an easy feat, according to Phyllis). The program eventually included rapid COVID testing for chauffeurs, and when the vaccines became available, they strongly encouraged their team across the board to do it, which they say has been widely embraced.

When BLS succeeds, it is shared in the entire company. "When people use us for service, our people stay employed, families are fed, kids can go to college. We sent business to a small Pennsylvania company to build our dividers, which kept maybe eight or nine families working. I'm really proud of how the entire team stepped up, even our affiliates. This isn't just a job, it's a functioning society," Phyllis continues.

Among the management team are Kevin Hornik, and sister-in-law Marilyn Hornik, who have been at BLS since the '90s. Vincent Aquino, who began as a chauffeur more than 30 years ago, is now the Executive VP of Operations based in N.Y. During the pandemic, Senior VP of Operations Carl Carter actually relocated to Atlanta to manage the growth of that office, which has tripled its fleet since last year. On the opposite coast, Senior VP Travis Swanson continued to lead the LA operation through several shutdowns and local restrictions, aided by General Manager William Sanchez, and Lead Dispatcher Mark Sanchez, while Co-GMs Crissy Rogers and William Schork are spearheading a rapid ramp-up of operations in Las Vegas—another bright spot in BLS' portfolio. Additional managers include VP of Special Events Angie Ardizzone, VP of Administration Neal Sultzer, VP of Billing Chrystal Colon, VP of Global Reservations Odette Lorenzo, General Manager of Network Operations Anthony Loprete, Director of Human Resources William Liggan, as well as Manager of Dispatch and Events for the N.Y. office Jonathan Acosta.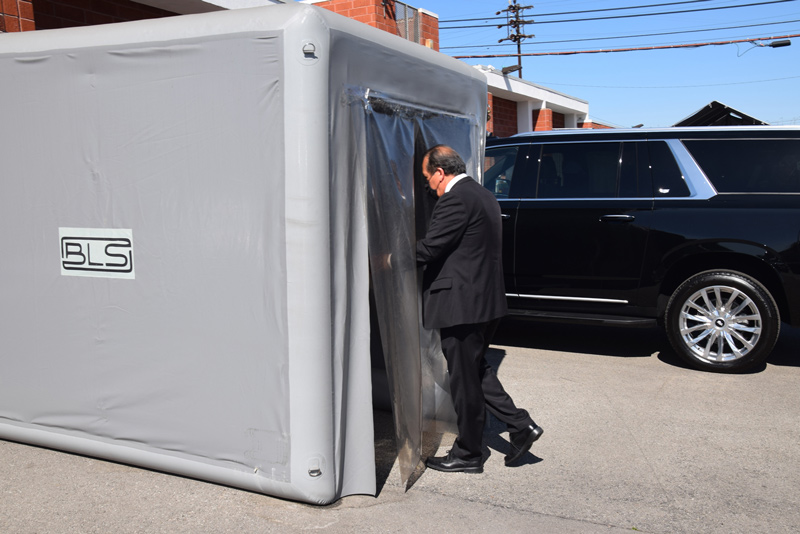 BLS installed decontamination booths to help protect its team from COVID The Okons would call out all of their team members by name if they could—from the reservations agents working from home and the team members in all the BLS satellite offices (Washington D.C., Connecticut, Chicago, San Francisco, and New Mexico) to the dispatchers who make sure that clean cars are sent to clients to the chauffeurs who are literally on the front lines of the pandemic to every other key position that makes BLS run smoothly.

"Our staff are all superstars. You're nothing without your employees, without your support staff, and we have the best people working for this company. I love each of them individually," says Phyllis.

"I have to give a shout-out to Kevin Hornik, our CFO and my mom's brother," says Michael. "He is absolutely brilliant, and was able to put things in layman's terms. He was so integral to helping us navigate this crisis."

Michael says that while other companies were cutting their sales team, they bolstered theirs. "Our sales team of James Buschle, Scott Bupp, Jim Wilkins, and Anne Bastos Diaz (among other sales contractors) have been the biggest support team we could have ever asked for," says Michael, adding that they had the unenviable task of selling safe travel during a global pandemic.

For as much time and energy as the Okons dedicate to their company, they are actually accomplished in many other ways as well. Both Phyllis and Michael are published authors, while Eric has bloomed as a social media enthusiast, which includes the Okon Bros podcast. Phyllis has dedicated most of her writing skills to children's books under the award-winning pen name Carol P. Roman, although her romance-themed novels are credited under Brit Lunden. Among Michael's biggest literary moments was his self-published Just Ask the Universe, which he penned under Michael Samuels and still ranks in Amazon's 100 most-read books after 10 years. He has written over 20 books under the name Michael Phillip Cash and now publishes under the name Michael Okon. Book one of his series Monsterland has been adapted into a feature-film screenplay—a dream come true for the wordsmith.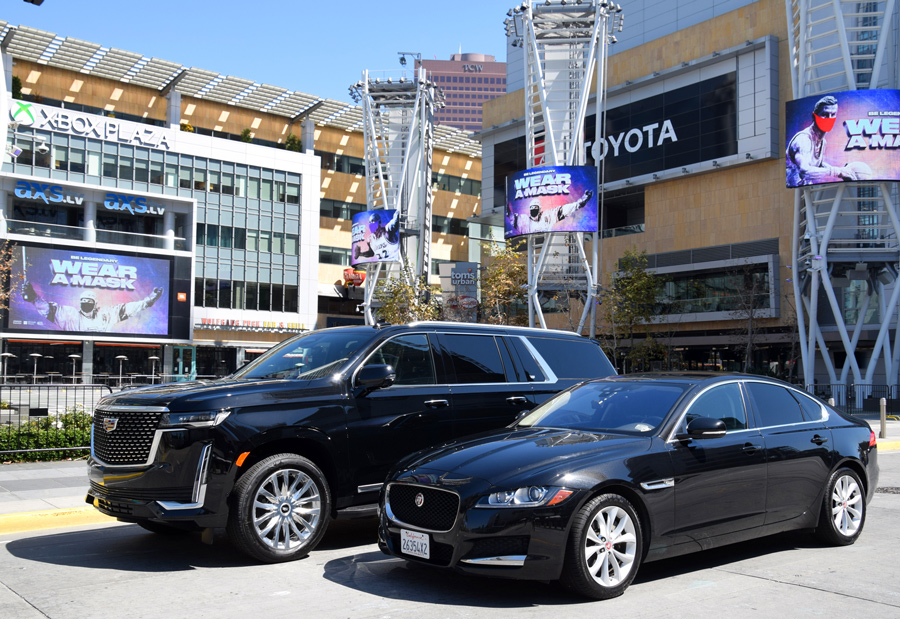 BLS fleet on the streets of Los Angeles Podcasting and dedicating much of his talents to social media has helped Eric in numerous ways as well. What started as selfies with BLS vehicles, vendors, and employees has become a full-fledged campaign.
"While rebuilding BLS, we felt that the glory days were still ahead of us. The past is just prologue to what we're going to accomplish with this company." – Michael Okon, President of BLS
While rebuilding BLS, we felt that the glory days were still ahead of us. The past is just prologue to what we're going to accomplish with this company. – Michael Okon, President of BLS "If social media is done properly, it's not advertising—it's giving value to your audience and the return on investment is second to none. I can go to a sales pitch and reach five to 10 people, or I can create a podcast and reach 10,000 people," says Eric.
"Eric was and still is the shyest person," says Michael. "I can't tell you how proud I am of my brother to come from behind the scenes and become the face of BLS on social media. He's pulling back the curtain and showing who we are as a family-owned and-operated service."
The Okon Bros podcast runs the gamut from interviews with leading health and wellness authors to positivity and spirituality gurus to business owners and family advice. You may even recognize Lady Phyllis, aka their mom, who has made several appearances as she offers medium readings for live viewers. CD President Chris Weiss has also been a featured guest.
But more than that, the Okon Bros podcast has been a therapeutic lifeline for the family, especially during the darkest days of the pandemic. Over the course of a year, the siblings chronicled all of their personal and business fears, successes, thoughts, and feelings in real time.
"We were open and honest and wore our emotions on our sleeves," says Michael. "Our grandchildren, our great grandchildren are going to be able to see their grandfathers living through the great pandemic of 2020 and all of the political strife last year. Creating the podcast and enjoying the feedback was one of the most rewarding experiences of our lives."
Now that the Okons are stepping more into the spotlight, eyes will be watching their activity in the industry. "We're just going to keep doing what we do best," says Eric.
The industry should look out though, because the next generation of BLS is already learning the ropes: Michael's children, Alexander, 13, and Cayla, 9, along with Eric's daughter Hallie, 11, and son Zachary, 7, are already showing interest. "Our children are very much following in our footsteps," says Michael. "The succession plan is already in place, in age order, and it's not even a question that these four are going to run the business one day."
"It might seem like we're starting them young, but we want it to be second nature to them," Eric says, "and we owe a lot to our wives who understand what it means to be involved in a family business."
BLS is a modified version of what it was in 2019, and that's OK with the Okons, because it's what the company needs to be at this time. After all, it's built on the bedrock level of service that was molded by David and Phyllis all those years ago when they were hustling for business. The combination of Michael's optimism, Eric's pragmatism, and Phyllis' ability to connect with people while leading a team of committed employees has helped to move the company forward.
"While rebuilding BLS, we felt that the glory days were still ahead of us. The past is just prologue to what we're going to accomplish with this company," says Michael. "Eric and I looked at this not as a sad thing—although it was very sad—but as an opportunity to reinvent our family business, to become a leader in this industry, to honor what our parents built, and I think we've succeeded."
  [CD0521]