BY BOB CRESCENZO
Editor's note: We continue our series on readying your company, team, and fleet to get back to business. Last month we tackled how to prepare your drivers to return to the road, and now we look at your vehicles.

After spending much of the past year sitting idle, passenger transportation companies are eager to capitalize on America's renewed interest in travel as vaccinations against the virus become more widely available. While booking reservations is certainly a top priority these days, making sure that your fleet vehicles are fit to do their job is also of extreme importance. After all, the last thing you want to worry about after just getting back to business is vehicles breaking down—or worse, being involved in an accident due to a mechanical failure—while en route to a customer or on a trip.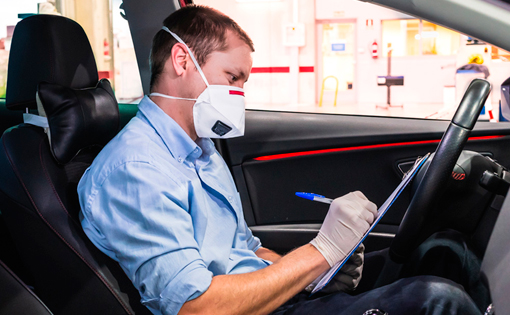 The following considerations will assist in ensuring that your ­vehicles are returned to the roads in a roadworthy condition:
Perform a detailed inspection of vehicles and complete/update all preventive maintenance and service intervals.

This is critical to your business success. If you have not conducted regular maintenance intervals or run vehicles regularly, they may not be roadworthy. It's important to note that preventive maintenance will be, in the long run, substantially less costly than unplanned repairs. Preventive maintenance also increases the reliability of the vehicle, translating to greater efficiencies in operations, fewer on-the-road breakdowns, and greater customer satisfaction—keys to creating confidence and repeat (and referral) business. Refer to the owner's manual for the vehicle manufacturer's recommended guidelines or contact the manufacturer for an inspection and preventive maintenance schedule, which includes recommended intervals and components that should be checked. Taking a trip based simply on a request and fulfilling it with a poorly maintained vehicle is a recipe for a customer service disaster.

Review your tire and tire maintenance program.

Tires that sit too long in a variety of weather conditions may begin to degrade. The age of the tire may contribute to this deterioration, although newer tires may also develop issues and problems from lack of use or rotation.

Review and update all maintenance files, consulting 49 CFR §396.3 for details.

While this may sound like "paperwork," you are ensuring regulatory compliance and actually preparing for your next Department of Transportation, state, or local audit.

Conduct a parts inventory and reorder, and update company records accordingly.

You may have sold, retired, added, or exchanged vehicles during the pandemic shutdown. Besides, reviewing your inventory and selling what you no longer need will add efficiency in the garage or perhaps raise some revenue.

Confirm all state, federal, local, and Commercial Vehicle Safety Alliance (CVSA) inspections, as well as all registrations and permits, are up to date.

This is especially important should you have a crash and a claim has to be defended. Cutting corners in this area is a serious issue that may have a big financial impact on your business.

Verify all electronic logging devices (ELDs), telematics, and cameras are working properly, and software is up to date.

If you suspended or cancelled your vendor contract, this is the time to renew it, review it, and update all hardware and software. Confirm that ELD instructions are onboard each vehicle. Also ensure that every vehicle is equipped with a graph-grid paper log as a backup in the event of an ELD malfunction.

Contact all manufacturers, dealerships, and service vendors to determine whether your vehicles have any outstanding recalls.

Review vendor websites for suggestions on how to get your vehicles back on the road. Have your maintenance staff participate in all virtual and training sessions offered. Importantly, when completing repairs, use manufacturer recommended replacement parts.

Test drive your vehicles, especially if they have been idle for some time.

Doing so can help identify potential problems.

Make certain all vehicles are properly covered on your insurance policy.

Contact your insurance broker and confirm that you have the necessary coverage for every vehicle before you put it back on the road. Also, be sure all current policy period insurance and necessary paperwork is available on each and every vehicle.
Lastly, so much has changed during this last year, and so has the value of your vehicles. As such, it's wise to speak to your insurance broker about how to adjust the physical damage/collision coverage to reflect the current value of your fleet. Refer to a used vehicle valuation guide, and recognize that the value may be less than what you actually owe on the vehicle. Generally speaking, physical damage/collision coverage will be paid on the book value, not the amount of the loan.
As a passenger transportation operator, you have a lot to think about as you reopen your business. This is a time of opportunity to reorganize and run your business successfully by systematically assessing and managing each area of your company. Maintenance is one of the most vital areas because without reliable vehicles, you simply cannot meet your customer's requests or needs.
[CD0521]
---
Bob Crescenzo is the Vice President for safety & loss control of Lancer Insurance Company in Long Beach, N.Y. He can be reached at bcrescenzo@lancerinsurance.com.