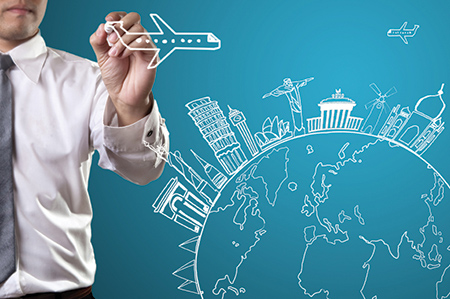 There's no going back now; we are all part of a global economy. With so many corporations continuing to expand their offices outside their home countries' traveling executives are a natural consequence of operating in the 21st century. Although 2010 was the worst year for business travel in the past decade' it has now exceeded pre-2008 levels and forecasts look increasingly strong through 2016.

Don't dismiss leisure travel; it's even increasing rapidly for non-business travelers. According to a recent report from the U.S. Department of Commerce' more than 1 billion tourists from all over the globe visited the States' with the biggest spenders coming from Germany and China. For our industry friends worldwide' U.S. corporate and leisure travelers are second only to Chinese travelers in dollars spent.

As global expansion continues' so does our understanding of what international travelers need. Executives for a company like Tristar Worldwide' which started in London back in 1978 and has since opened offices in Boston' New York' Hong Kong' and Paris' can provide a unique glimpse into what it's like to handle transportation for many different cultures and languages. Three of its executives offer advice on what they've learned about handling international travelers.
European Prospective

Just a hop away from London Heathrow Airport' Dean De Beer' Global CEO of Tristar Worldwide' oversees global operations at the company's headquarters. He manages 550 staff members and a fleet of 450 cars to deliver chauffeur services across Europe' the Middle East' and India. Since joining the company in 1997' De Beer has led its international expansion' forging a worldwide network of affiliates and opening offices in several hot markets.
Q: How has Tristar's international business developed?

"Back when I joined Tristar in 1997' we were a U.K.-only company that mainly provided ground transportation for first-class and business-class airline passengers. We were confident that we were delivering an excellent domestic service' but knew from our clients that there was also a demand for a connected transatlantic service. Almost immediately after I joined' we took our first steps into international waters and began building a network of global affiliates.

"Our international business grew rapidly and' when Mike Fogarty joined the company in 2005' we knew we had someone on-board who understood the global picture from a U.S. perspective. Mike' with years of U.S. ground transportation experience under his belt' brought invaluable expertise to the table. Over many bottles of red wine and a lot of late nights spent figuring out how to turn Tristar into a global business' we launched our first U.S. office in Boston in early 2006.

"Despite the global slowdown in travel in 2008' we still saw an opportunity to grow our customer base and' in 2009' we opened an Asia-Pacific headquarters in Hong Kong. Today' with three teams on three continents' we transport more than half a million passengers in over 80 countries each year."
Q: What's been the one biggest change in international business over that time?

"Transatlantic travel remains our key market but we have definitely seen a trend in people traveling far more widely. This is reflected in our international network that has grown from 20 countries when we started to over 80 currently. We will continue to develop our network' whether it's by acquisition' franchising' or simply working more closely with our appointed partners to ensure a seamless service for our customers."
Q: How has technology affected how you operate?

"Technology is playing an ever-increasing role in how we do business. Our customers progressively want to manage their travel via their smartphones or tablets and want information at their fingertips. In response' we recently released our first booking app in the U.K.—we're planning to roll that out in other territories in the not too distant future.

"From an operational standpoint' we've installed in-car Wi-Fi across our Platinum vehicles so that international travelers have reliable Internet access as soon as they step out of the airport' and we've taken advantage of developments in road-safety technology. We keep in touch with our followers over Twitter' Facebook' and LinkedIn and post every day to keep business travelers updated on potential service disruptions and transport issues. It's useful for clients to know about global events and weather alerts as soon as possible and social media lets us share information very quickly."


Opening a U.S Office

As De Beer mentioned' he tasked Mike Fogarty' CEO Americas' with developing the foundation for the London-based company's first American office. This location delivers services in North' Central' and South America' with clients coming from all around the world.
Q: How are the markets you serve different from Europe?

"For one thing' the cars are different. Over in Europe' the majority of the fleet is Mercedes-Benz S-Class or E-Class whereas American passengers still prefer Lincolns or Cadillac sedans. Our typical client is slightly different' too; we focus more on business travelers and specialize in meeting and event logistics whereas the London office handles a mix of corporate clients and luxury travelers. A typical example of our American business would be the New York conference we just handled. Over three days' we supplied chauffeured transportation for 150 senior executives from the financial sector."
IT'S EVOLVING:
Group business travel' especially in the form of road shows' has outpaced the growth of individual travelers.
Global Business Travel Association' 2014
Q: What do international travelers think of American chauffeurs?

"The majority of our international clients are business travelers from the U.K. and Middle East. Most are frequent fliers' so they know that a Boston or New York chauffeur will provide them with a really high level of customer service. If a client flies from Heathrow to JFK' we want their chauffeur service to be consistently good at both ends of their journey' so we work closely with the London team to make sure we meet a passenger's language and cultural requirements. That's even more important when we're providing cross-continental services for clients from Asia where gaps in culture and language are more pronounced. We've seen a big lift in the number of clients from Hong Kong' China' and Japan over the last few years' so we've had to adapt our services accordingly."
Q: What's different about travelers from Asia?

"I find it fascinating how much client expectations vary depending on whether they're coming from the U.S.' Europe' or Asia. While there may not be vast differences between a British traveler coming to the U.S. or an American flying over to London—both regions are English-speaking and they're not culturally dissimilar—there's a much larger difference when East meets West.
"With clients from Asia' the obvious major difference is the language. More and more business travelers are coming to America from China' so our chauffeurs who speak Cantonese and Mandarin are in demand. Some executive travelers from Hong Kong and Singapore may also expect an exceptionally high standard of customer service and might be unaware that U.S. chauffeur services operate under different working time restrictions. For those passengers' making sure that they know exactly what service to expect and finding a way to make them comfortable is critical.

"On the other hand' clients from Asian countries who are not as familiar with international travel will sometimes request more detailed information about the service. They might not know what to expect from an American chauffeur and may query the route or ask to see a photo of their car. Ensuring they have a good travel experience comes down to good' consistent customer service on both ends."
Riding High in Asia

One of the most recent offices Tristar opened was its Hong Kong location. By all accounts' Asia travel continues to outpace the rest of the world' including from up-and-coming India. Singapore' Japan' and Hong Kong continue to be hot destinations as well as places of origin. Gary Au' general manager Greater China' leads the charge at the office since launching in 2009' delivering services across the Asia-Pacific region.
Q: What were the challenges of launching a Western-style chauffeur service in Asia?

"Our three major challenges were sourcing suitable service partners' navigating operational restrictions' and dealing with diverse language requirements. All Tristar employees in Hong Kong are trilingual' speaking English' Mandarin' and Cantonese as a minimum. Building a network of partners across Asia who had English-speaking control centers and chauffeurs also took considerable time. Convincing chauffeurs in other countries to adopt your standards of service' check and double-check passenger details' track live travel information' and wear your company suit and tie in hot climates isn't easy. Operating in Hong Kong can also be particularly difficult for chauffeurs; city regulations only allow you to stop for two minutes at a time' which makes synchronizing your arrival with your client's pickup time an art."
Q: How has business changed since your launch?

"Our standard of service and range of operation grows every day. When we opened our Hong Kong office' we catered mainly to inbound business from abroad. Now the majority of our business comes from our clients based in the region."
Q: What are the most popular destinations for your clients?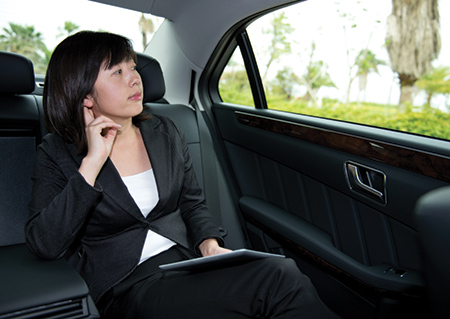 "Mainland China' Singapore' the U.K.' and the United States are the most popular destinations for clients flying out of Hong Kong. Most of our clients who travel within Hong Kong request a chauffeur to travel between business meetings. Even since 2009' we've seen an increase in the number of outbound travelers leaving Asia to explore the rest of the world. Our plan is to be able to support that increase."
Q: How are Asian clients different from travelers in London or New York?

"It's not a one-size-fits-all situation. Clients from different countries in Asia are almost as different to each other as they are to their European business partners. Travelers from Hong Kong and Singapore are used to receiving very high levels of customer service in their own markets' and they expect the same standard wherever they travel. If we're meeting a passenger at the airport in Hong Kong' we will provide a meet-and-greet service to escort the client from the arrivals gate to the limousine lounge and make sure that his car is waiting right outside. Hong Kong clients may not be willing to walk even a small distance to get to their car' so service has to be first-class.

"Each nationality also has its own cultural expectations. Clients from mainland China' for example' would prefer not to travel in a car with a registration plate that includes the number 4 because that number symbolizes misfortune—a bit like the numbers 13 or 666 in the West. In general' Chinese travelers will be much happier with a registration plate that features a 3' which promises life' or the number 8' which symbolizes wealth."
The world is getting smaller' and all the data indicate that international travel—despite all of our technology like Skype and video conferencing—shows no signs of slowing down. There's still value in face-to-face interactions' especially in corporate travel. Worldwide business travel is a $1 trillion industry' according to the Global Business Travel Association' a number it met and surpassed in 2013. Have you grabbed your piece of the pie? [CD0814]
We asked some operators what advice they would offer for handling international travelers.

Here's what they had to say:
"As far as international travelers' it comes down to really understanding the cultural differences and having a clear understanding of expectations' which can vary from culture to culture. For example' our Asian clients expect a longer spot time—even 30 minutes—while our usual spot time is 15 minutes. On the other hand' most of our clients from South America hardly ever make the pickup times. The expectations of punctuality across the globe will differ from one area to another.

"Cultural differences are also pronounced. One that stands out is the handling of business cards when you're dealing generally with Far East business travelers' but specifically with those from Japan. Asian culture believes strongly in protocol' so it would be disrespectful to hand a card to him with one hand. Always hold it in both hands so he can study it before taking it' side up of his language (if card is printed in both languages). It's a faux pas that you don't think could make or break a business deal' but it does.

"We try to go over these cultural differences with our management and sales teams. I recommend reading books on business etiquette in other countries so that you understand what they expect and can better close the deal. For example' for our European customers' their expectation of a vehicle is a Mercedes because that's what's most common in their area; we're delivering them a Lincoln Town Car or MKT or even a Cadillac XTS. Understanding this expectation over the phone prior to confirming a reservation is crucial so you can either explain what you offer or secure what they want. It can save you time and money down the road if you end up having an incident with that. Booking travel for an international client requires more diligence on the part of our reservationists.

"I've also found that whether they're a business or leisure traveler' an international client is more likely to ask concierge-style questions of his chauffeur than a U.S.-based traveler. While the customer should always dictate the level of conversation' I always prepare my chauffeurs for the questions they will probably be asked by international clients."

– Sami Elotmani of Destination MCO in Orlando' Fla.
"If you're aware of what country or region someone is coming from' certainly you could prepare a couple of phrases to make him feel comfortable. It's always dicey when dealing with international customers because certain gestures' expressions' or colloquial sayings could be very offensive. For example' for Japanese travelers' you want to avoid pointing with your finger. That's considered rude. You use your whole hand or arm. If you're referring to yourself' you don't point to yourself' you touch your nose. It's virtually impossible to become a master of all the subtleties among the cultures' but it helps to at least know some of the more important ones. You don't want to reach for someone's bag because that may be offensive. Try gesturing to some extent or draw a picture if need be.

"The general rule for all international travelers is to make sure you spell the name correctly and that you're positioned properly when picking them up. Communication is essential prior to the pickup. You want to ensure that you have your locations and routing locked in because you may not be able to communicate effectively. If someone doesn't understand you' speaking louder is not going to help. In fact' it's going to exacerbate the situation. I advise that chauffeurs have some means of writing' like a notepad and pen' because sometimes you may have to draw a picture or gesture. If you have a smartphone or an iPad' you may want to try a translation program' but patience is always imperative. If you have the ability to have someone who speaks that language from your staff participate' that's great. For example' we got a last-minute call for a group' and by good fortune' we had an Arabic-speaking CDL driver who was able to pick them up. They liked him so much that they requested him for the return. That was ideal. If you're in a city which has high international travel' that's something that you may want to advertise in terms of chauffeurs' dispatchers' and/or customer service reps.

"The most important thing: Smile. A smile translates into every language and puts people at ease. At least you can make them feel welcome even if you can't understand each other. Just go slowly and have patience in communication."

– Barry Gross of Reston Limousine in Dulles' Va.
"Being based in the New York metro market' this is something we deal with frequently. Our clientele come in from all over the world so our staff is well-versed in handling the international marketplace. From a customer-service perspective' we make sure that our phones and email are monitored 24 hours a day' as clients can have a significant time difference. Making sure the customers have access to information that they need in order to book or confirm their information is always important. We have a wide variety of different languages that we represent and have available to clients on a ­per-request basis. Recently we had a group from Portugal that requested a chauffeur who was able to work with them for a few days in Manhattan doing site tours' which we were able to provide. As for expectations' most of our international customers have a European mentality when it comes to travel—they expect a different level of service than our local clients. It's something you have to understand. For example' I've found that our German passengers are a lot less flexible' so we make sure everything is perfect. It can be challenging for any client' but we do what is necessary."

– Jason Sharenow of Broadway Elite Chauffeured ­Services Worldwide in East Hanover' N.J.
"When dealing with international travelers' I can offer three pieces of advice. First' make sure you can dial internationally from all phones handling dispatch issues. Second' always have the passenger's cell phone number or an alternative way to reach him while he is here. Finally' communicate very clearly what your pickup procedures are for any airport arrival' including where the passenger should meet the chauffeur. Don't assume they know."

– Randy Allen of James Limousine in Richmond' Va.
"Being from an international market that is a melting pot for all nationalities already probably makes us suited for an easier transition due to the multitude of ethnicities that work for us already. Our staff has become accustomed to inquiring about all queries a client will have from what they need when they arrive to whether they require a chauffeur who speaks their language. Surprisingly' in a lot of instances our clients prefer chauffeurs who do not speak their language as a matter of confidentiality so they can't understand the business conversations in the back of the vehicle."

– Andy Poulos of Montreal Limousine Worldwide in Montreal' Quebec
Also mentioned by Ron Stein of Exclusive Sedan Service in North Hollywood' Calif.:

"We always ask our clients if they prefer a chauffeur who speaks their language or one who does not. We had an international client who wanted to talk about business in the back of the vehicle and wouldn't because he was afraid our chauffeur would learn inside information about the company he was visiting with. Always ask!"