By Susan Rose
If you ever find yourself losing the spark for your business or the industry, go have a seat next to Adam and Jay Erlich of Europe Limousine Service. But, be prepared to stay awhile because if either of these young, ambitious, and indefatigable brothers can't reignite that fire, then you might just be ready for that career change.

The brothers are eager to share the passion they have for all things chauffeur driven, especially now that they have more than a decade of leadership experience under their belts and hold seats on association and vendor boards. Younger brother and CEO Jay always showed an interest in the family-owned business, but Adam, COO, carefully considered another path before ultimately deciding that this was his right move. With the full confidence of their parents and Europe founders, Eli and Dorlee Cook, the duo became the second generation at the reins and they were ready to shake things up—just in time for the first major economic downturn in 2008, the epicenter of which was their home market of New York City. It was a defining moment for a service that largely transported the corporate movers and shakers in the Big Apple.

But it was also a defining moment for Jay and Adam, who strategically used the time not only to grow into their own roles but to challenge themselves and their team to dig into every policy and procedure at Europe Limousine while respecting the bedrock that their parents had lovingly and successfully built just over the bridge in Paramus, New Jersey, since 1992. It wasn't about tearing down what their parents had nurtured, but modernizing the service to meet the ever-changing needs of their travelers while improving operations and in-house functions with the latest cloud-based technology (an auspicious move that was quite beneficial in 2020 when they had to limit in-office interactions and needed uninterrupted connectivity). The devastating impact of Hurricane Sandy in 2012 accelerated the transition from mostly paper to fully automated, and they continue to tweak and refine those procedures as they grow. It was upgrading software, moving to VoIP, and embracing new solutions including two of their favorites: Limo Anywhere and, more recently, GNet, which Adam calls a game-changer (Jay is also on the Presidents Council for Limo Anywhere and co-chair of the NLA's Tech/Social Media Committee).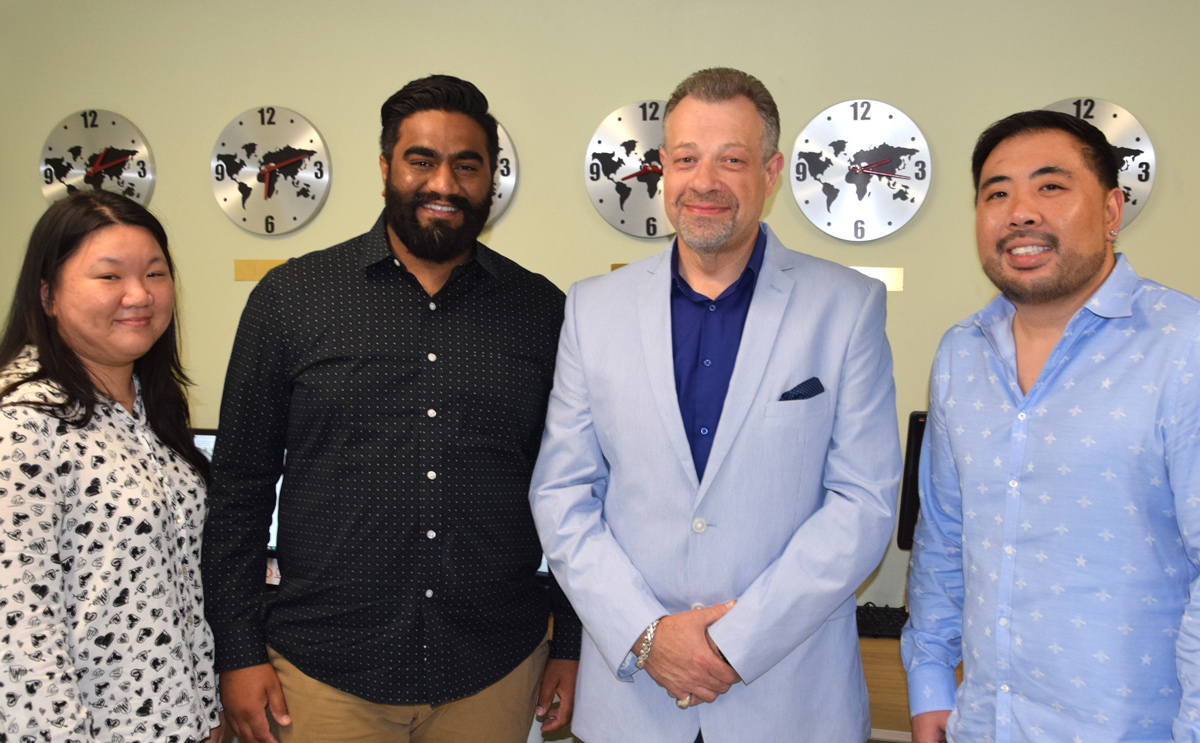 L to R: Director of Accounting Winnie Yam, Dispatch Manager Humad Basharat, Director of Compliance and Chauffeurs Sam Drobachesky, and Lead Dispatch Manager Chris Kulanusorstit "Of course the company took a hit. But, you know, the business was due for reorganization at that point, and I was ready to see what we could do with it," says Adam about the 2008 recession. "Our father is very old school, sometimes to a fault, but that led to his reputation for great customer service. He took a chance on us and trusted us to get another level and we delivered. Eli and my mom had the guts to hand over the reins us, to see what we could do, and they were rewarded for it because we grew the business."
"Adam and I are very hands-on owners, from A to Z, and our employees appreciate that they're not doing all the work while we're out on the golf course—Adam and I are humming along with them. We push each other and we push them to do their best ..." – Jay Erlich, Europe Limousine CEO
Jay says that it took 10 years but they were able to grow the company fivefold, a very big move for a business that relied on its word-of-mouth reputation. An aggressive growth strategy has been a part of their overall plan—with the blessing of their parents—but it's measured as they never want to lose what makes Europe so beloved by their clients.
Eli started as an IO himself and built a following for his white-glove, European-style service. When the brothers joined the company almost two decades later, they tested the limits of growth by turning the well-established boutique service into a major player in the market. That hard work was recognized when Eli and Dorlee offered their sons ownership stake in the operation in early 2020, which began as their best year on record.
"We're what you call the American Dream," says Jay. "Our father came here with nothing and built a business with one car while my mom answered the phones and was taking care of two really small kids. We learned from them, and it's why we care about this industry so much and always give back."
It's a rare find when siblings work well together in business without ego getting in the way, all while remaining good friends outside the office. There are exceptions, of course, but it's been a recipe for success for Adam and Jay. The competition between them is encouraging and mutually beneficial: Naturally gregarious Jay looks to introspective Adam for his thoughtful and persuasive writing style, for example, while Adam says that Jay has helped him become more confident and take a lead in client meetings and pitches. There's a yin and yang quality to their relationship that strengthens their bond and their company.
Work and home life is seamless as the brothers and their wives, Kristin and Dana, as well as their growing families are frequently together. (Adam is dad to Karlie and was expecting a new baby girl any day now, while Jay became a first-time dad to Kendall during COVID last year.) They say that arguments are uncommon, and that they share the same vision and drive for Europe, which extends to their team.
Jay and Adam, like most second-generation leaders, have a different management style than their parents, which they said was a difficult adjustment for some longtime employees as the company culture adapted to their ideals. And while they certainly made their mistakes along the way, they eventually earned the respect of many of the core members who are still a part of the business today.
"For us it's about attention to detail and we're proactive," says Jay. "We don't let things sit for 24 to 48 hours. We have an excellent customer service team. We have excellent chauffeurs. Adam and I are very hands-on owners, from A to Z, and our employees appreciate that they're not doing all the work while we're out on the golf course—Adam and I are humming along with them. We push each other and we push them to do their best, but I think we have a great work environment."
"Europe has not sat idly during the pandemic awaiting a return to normalcy; two new service divisions were added ... The first, Blink, its near-demand division, allows clients to get a vehicle via text without a pre-arranged reservation."
"This is a high-pressure job with lots of stress, especially in New York where so much can wrong with traffic, weather, and delays, but I think this a relaxed office. The team is so on top of their game, even in this tough market, which is how we're able to be successful," adds Adam.
No company was spared in the last year, but Europe fared relatively well. Thanks to a few larger accounts, they kept moving. By operating with an IO model—the predominant and stress-tested model in NYC that is heavily regulated by the New York City Taxi & Limousine Commission—they didn't have to worry about costly payments on idled vehicles, so cuts came in other areas like staff and their own salaries. They retained about 10 of their 30 team members at the height of the pandemic.
"We kept our star employees. It was with them as well as the guidance and strength of our family, our industry friends, and the NLA that we preserved. And here we are today coming out hopefully even stronger than we were going into it," says Jay.
"We knew coming out of it we wouldn't be able to do it alone. We needed our best employees to take us into the future and that was a wise decision," says Adam.
Jay says that the "magic happens" in the dispatch office, which is led by Dispatch Managers Chris Kulanusorstit, Jim Benevenga, and Humad Basharat and their support team of Joe Kovacs and Ariadna Garcia. Director of Accounting Winnie Yam and Accounting Manager Edwin Zorilla handle the company's finances—with Eli and Dorlee. Director of Compliance and Chauffeurs Sam Drobachesky handles their IOs and ensures that their clients are receiving consistent quality service on top of the many additional hats he wears at Europe. Just recently, Jay's wife Dana joined as director of client relations and HR—making shoptalk unavoidable in both Erlich households.
Chauffeured transportation's grueling hours are best suited for the young and hungry, which Jay and Adam are as executives in their 30s, so even when they leave the office they never really leave. Adam runs the behind-the-scenes operations and all that it encompasses, while Jay is face of the company and directly involved in sales and with affiliates, although both interact with clients regularly. They've had to sharpen their on-the-fly problem-solving skills, whether it's jury-rigging a way for their clients to watch the World Cup in their vehicle back when the tech wasn't what it is today, or securing a vehicle at 3:00 a.m. after lengthy flight delays and runarounds from other companies. The business is in their DNA, and it's what they've always known. Besides, what parent of an infant or toddler is getting a good night's sleep anyway?
The team never stopped despite the world shutting down overnight. Adam says that they closed three major accounts during the pandemic that actually put them in a very solid position coming out of the lockdowns. The past four months have been the busiest since 2020, and while some of their competitors are struggling to hire, using IOs has prevented them from turning away business.
"The team is so on top of their game, even in this tough market, which is how we're able to be successful." – Adam Erlich, Europe Limousine COO
Europe has not sat idly during the pandemic awaiting a return to normalcy; two new service divisions were added under the Europe umbrella. The first, which they already provided under Europe, now operates on its own platform with the introduction of Blink. This stand-alone product caters to an ever-growing part of Europe's business (especially in NYC) that requires a near-demand service offering. Blink allows clients to get a car via text without a pre-arranged reservation. The brothers say that it boasts unparalleled delivery times due to their large NYC fleet of IOs getting clients cars in minutes.
Europe has also launched Europe Electric, which connects clients with, you guessed it, electric vehicles (EVs). Right now availability is somewhat limited by geographic region (NYC, Miami, and LA) and manufacturer (primarily Teslas), but they hope to expand as OEMs begin to offer more EVs and the infrastructure ramps up for wider adoption.
"We're very excited to launch this division for clients who want or need electric cars. We have seen demand increasing, and we're actively trying to push it to other markets. Jay and I are constantly researching and looking into affiliates and vendors that have that have EVs in their fleet to meet this demand. One day we know electric cars will be the standard in the industry, but for now we're at the mercy of the manufacturers and infrastructure," says Adam.
Even before 2020, there was a robust roster of up-and-comers among the Adam and Jay Erlich's peer group, many of whom are the children or grandchildren of our industry's most revered leaders. The NextGens will be influential in how and where the industry goes in the coming era of chauffeured transportation.
While Adam has been diligently bringing Europe into the 21st century, Jay has been active on the boards of both the NLA and the Limousine Association of New Jersey. He was initially hesitant due to the time commitment, but it's a net positive as he can offer his perspective while also honoring and learning from those before him who built this transportation sector.
"It was actually Jon Epstein [formerly of Royal Coachman, who coincidentally also grew up in the industry and led the company with his sister] who inspired me to run for the open Northeast board seat after being approached about the vacancy. He said, 'You're young, you run a successful company, and it's important for you to give back to the industry.' He was right, and that's why I'm doing it. I make the time for it, because I feel like we have to give back to the great industry that's given us so much," says Jay. He won the seat for the '20-'21 term and was reelected again for the '21-'24 term.
Jay was also a speaker at the CD/NLA Show and was part of the NextGen mentors during the Mentoring Program.
Adam is equally inspired by his peers and how cutting-edge his affiliates have become. "We just want to reach out to young, energetic, forward-thinking people in the industry. We want to offer our clients the best in ground transportation in every single city that they book with us with the most available technological offerings we can provide, and we're going to continue to do that. Right now we're really excited about the momentum we have."
  [CD0721]