Summer's here. And while much of the country is thinking about BBQs, fireworks, and hitting the road for some much-needed R&R, here at Chauffeur Driven, our thoughts have turned to the fall, more specifically the 2021 CD/NLA Show in the Dallas area scheduled for October 10-13. We're looking forward to bringing our annual event to the Gaylord Texan Hotel & Convention Center for what may be our most monumental show yet—and we know you can't wait either! As hard as it is to believe, it's been more than 16 months since our last in-person event, so we're overdue for some quality time with our friends and colleagues again. Many thanks to our Title Sponsor Ford-Lincoln Limousine & Livery for their part in making this special event possible.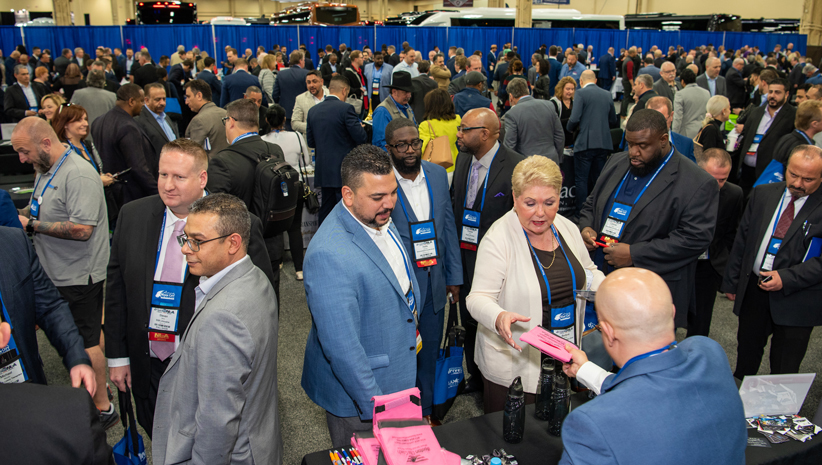 Always Popular Affiliate Forum It goes without saying that we're thrilled to have the opportunity to bring you our fall show after a very, very long year and a half. But, making it even more special is the fact that we're bringing our trade show to Texas for the first time. As always, you'll enjoy days of networking opportunities with operators from all around the globe, world-class educational programs and seminars, and a jam-packed floor, which will—once again—be in one location. This means that everything from your accommodations, to our Affiliate Central Global Partner Forum and seminars, to our nightlife and Hall of Fame and Charity Dinner will be contained under one roof. That said, now is the time to take advantage of our incredible early-bird rate of $399 for a full-show pass. What's more, NLA members can save $75 on top of that incredible rate. Early-bird pricing is good until August 13, so you don't want to miss out. To make things even more enticing, the Gaylord Texan is offering an exclusive room rate of $219 per night for all CD/NLA Show attendees—an unbelievable price for this luxurious all-under-one-roof venue. You currently can't book a standard room for less than $315 per day. Both of these money-saving offers will be gone before you know it, so now is the time to register and save some green! To register, click here.
"Dallas is going to sizzle! We've all learned so much about ourselves and our businesses over the past months that the educational program will overflow with great content.." – Co-chair Jason Sharenow of Broadway Elite Worldwide
Since our Vegas show in February 2020, the landscape of the luxury ground transportation industry has completely changed. While we've faced—and survived—global recessions before, we never anticipated the flick of the switch that shut down our industry in the way that COVID did. However, reservations are way up, and the metal is moving again. As such, the CD/NLA Show Education Committee—spearheaded by Co-chairs Tracy Raimer of Windy City Limousine & Bus and Jason Sharenow of Broadway Elite Worldwide—is working hard to create a slate of sessions and programming to address the new challenges we face moving forward.
While we're still finalizing our educational docket, you can anticipate sessions that cover hot-button topics like hiring and retaining employees, mergers and acquisitions, increasing profitability, and financing and rebuilding credit. We'll also be headed to the metaphorical garage for seminars on vehicle maintenance, safety issues, and FMCSA compliance. We're going to take a deep dive into the waters of social media and public relations, leadership and culture, and lessons learned from the pandemic. While the announcement of our full educational schedule and speakers is imminent, you can bet that we've got our finger on the pulse of the industry.
"Dallas is going to sizzle!" says Sharenow. "We've all learned so much about ourselves and our businesses over the past months that the educational program will overflow with great content. So many operators have suffered unimaginable losses, some have not survived, and all have had to reinvent themselves in some respect. The sessions we have planned are geared toward lessons learned in preparedness, survival, recovery, strategy, and much more. Many of our sessions will be interactive, so operators will be able to share some of the successes with their fellow attendees. It will probably be one of the best opportunities as we all have something to share and learn right now."
We've heard from many operators that their affiliate network—and more importantly, relationships—have changed dramatically. Some companies have had to shuffle rolls or hire new talent, others may not have the manpower or metal to accommodate the request, or your go-to trusted partner might not even be in business anymore. There's no better way to reignite your network than to attend our always-popular Affiliate Central Global Partner Forum. Year after year, this is among the most popular and well-received events at the show, and we're thrilled to be bringing it to Texas.
Operators from around the globe literally line up to be the first to have valuable one-on-one time with owners, affiliate managers, and key decision-makers from all major markets, both in the US and internationally. Not only is the face time offered during Affiliate Central beneficial in meeting new associates, but this event gives you a rare opportunity to reinforce existing relationships or get to know the new people who may have assumed these critical roles. Business may have changed in the past year, but having a strong network of affiliates will continue to be your best line of defense for your return to profitability.
Scheduled for Tuesday, October 12, this year's Affiliate Central may be the most important yet for your business recovery. As such, we've dedicated an area on the show floor to accommodate the traffic that this event generates each year. You'll have plenty of room to table-hop and mingle with friends and new partners alike. Don't forget to bring those business cards and a killer elevator pitch. Looking to showcase your company? Consider purchasing a table and let the affiliates come to you! Contact Jess Pavlow at
jess@chauffeurdriven.com
. First come, first served. A limited number of tables are available.
And speaking of returning favorites, we're pleased to bring the Operator Mentoring Program to the Lone Star State. This annual event gives you the chance to directly speak with some of the biggest, most recognizable names in the industry in an intimate roundtable discussion where everyone has a chance to impart just as much wisdom as they gain. They will also be joined again this year by up-and-coming NextGen leaders who will have plenty to contribute to the conversation. Learn from your industry peers and some of the most successful operators in the business while sharing your own experiences and lessons with others who might be struggling with the obstacles you've faced—and overcome—in the past year.
Stay tuned for a full list of mentors and registration info.
Vendors and suppliers take note: Exhibiting opportunities on our always-busy show floor are now available. Anticipation for this show is at an all-time high, so you can bet that prime spots will move quickly. If you're interested in exhibiting on our show floor or sponsoring an event, contact Chris Weiss at
chris@chauffeurdriven.com
for more information.
We're all in for helping our industry to rebound stronger and thrive with the plentiful new economic opportunities we are all experiencing. Now is the time to rebuild your business on a solid foundation and make it bulletproof so you can survive anything that the future holds. And man, are we ready to see our friends and colleagues again—will we see you in Texas?
Visit
cdnlashow.com
for updates, registration information, and a schedule of events.
  [CD0721]