BY ROB SMENTEK
Elite Coach Transportation Vice President Michelle Miller remembers everything about the day the company first expanded into buses. It was 2003 and the limousine company was taking a bold new step in their Pittsburgh market.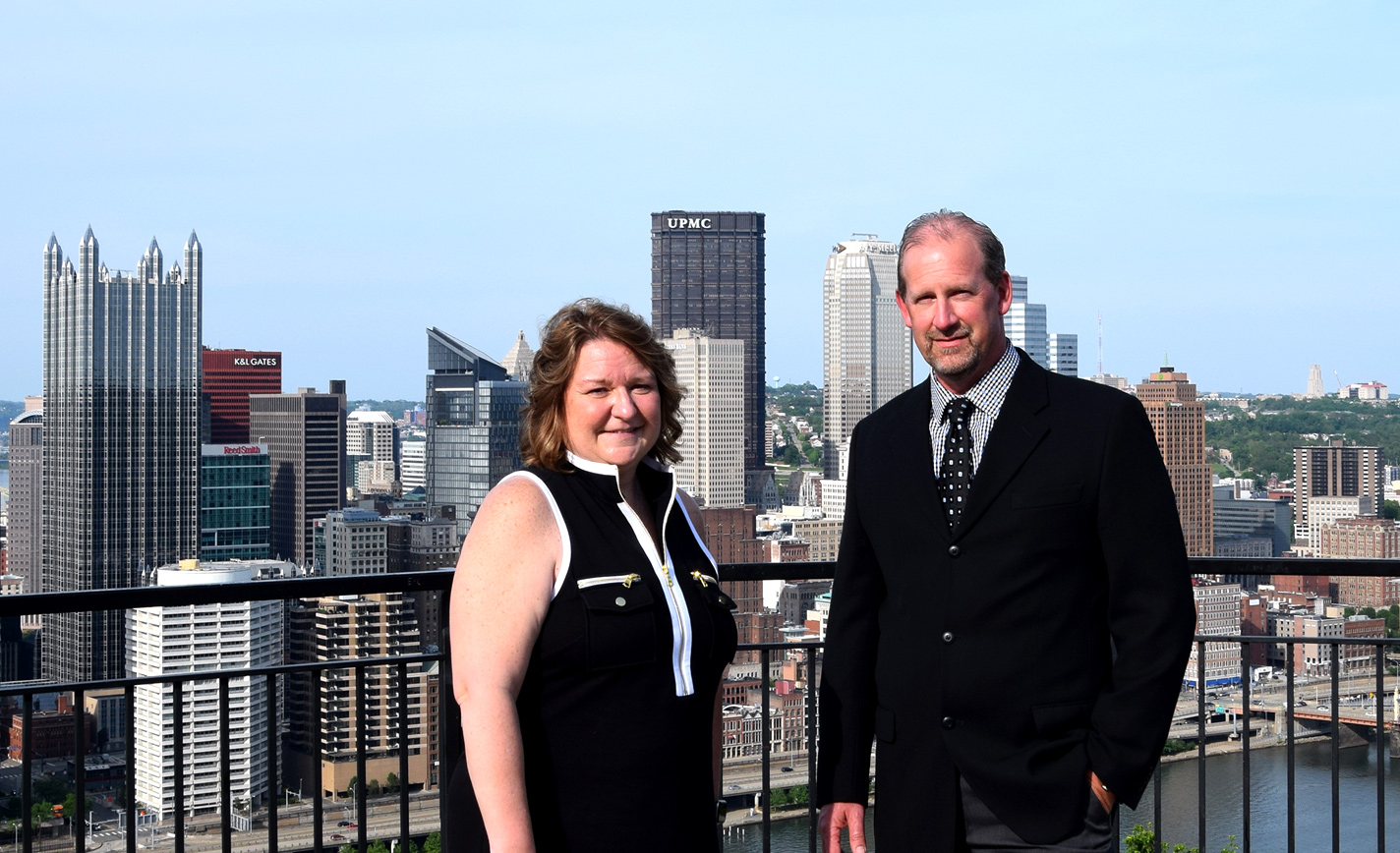 Elite Coach Transportation Vice President Michelle Miller and President Greg Feorene at Mt. Washington in Pittsburgh "I remember the day well. I can even remember what I was wearing when the truck came in from California and pulled up to our facility at 11:30 at night with our Grech coach. Elite President Greg Feorene turned to me and said, 'I sure hope that you can rent that thing.' I said, 'Absolutely,' and never looked back. It has worked out very well for us, to put it mildly.

Having that new piece of equipment propelled the company into a different class, according to Feorene.

"It really put us ahead of the curve," he says. "If you look at the dates, when we made our move to diversify into midsize/full-size coaches as a 'limousine' company, we were definitely ahead of the industry. When we went to the industry shows and heard everyone talking about adding coaches, we saw that we were ahead of the trend. We started thinking that we must be doing something right because we added buses long before people were talking about it in the limousine industry."

Miller credits their clients for pushing them into vehicle diversification.

"Our customers requested specific vehicles all along the way. We started with airport services, and then got into shuttle work. Then we got our next bus in 2005. Once we started hitting our stride with buses, it catapulted us into more and more opportunities and more business."

Fleet Diversification
Diversification is a common thread throughout Elite Coach Transportation's history. When the company was founded in 1991, it was a companion business to Feorene's truck accessory company. A self-described car enthusiast since high school, starting a transportation company checked a lot of boxes for him as a burgeoning entrepreneur looking to branch out beyond muscle cars and trucks.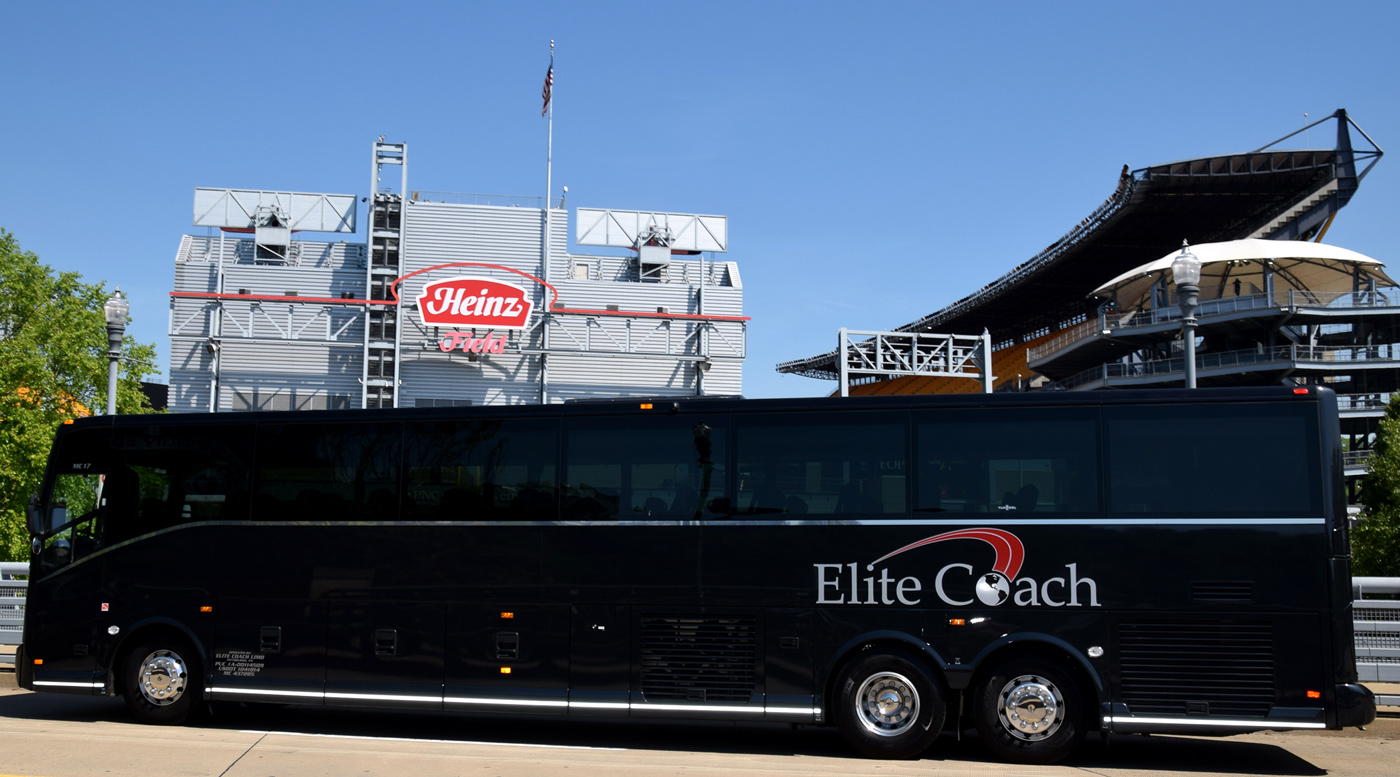 Elite branded motorcoach at Heinz Field "We were looking to diversify into something that fit our mold. We already had the detailers, the electronics guys, and the mechanics. Starting a transportation company was a natural extension of what we were already doing. We were looking for something that accompanied our aftermarket truck accessory and auto appearance center. There's a lot of crossover that happens between the two companies."

Like many in our industry, Elite was founded as a one-car company but quickly expanded as the demand for their service grew. Never willing to say no to an opportunity, Feorene and his team took on a wide spectrum of work, ranging from airport transfers, weddings, corporate work, and more. Today, Miller says the company operates a 64-vehicle fleet that's "very diversified" (there's that word again).

"We have everything from sedans and Sprinters to shuttles and motorcoaches," she says. We've gone from just being a weekend warrior with a couple of limousines and being a wedding vendor to an operation fully diversified into corporate travel, school travel, all kinds of travel. Some companies are pigeonholed into one direction. We're very diversified so if you need a vehicle to take grandma to the doctor, we can do that. If you need a vehicle to go to Florida, we can do that. If you have a school trip, we can do that too. We never have to turn away any work."

And whether that work comes from a bridal party or affiliate network, Elite is able to deliver.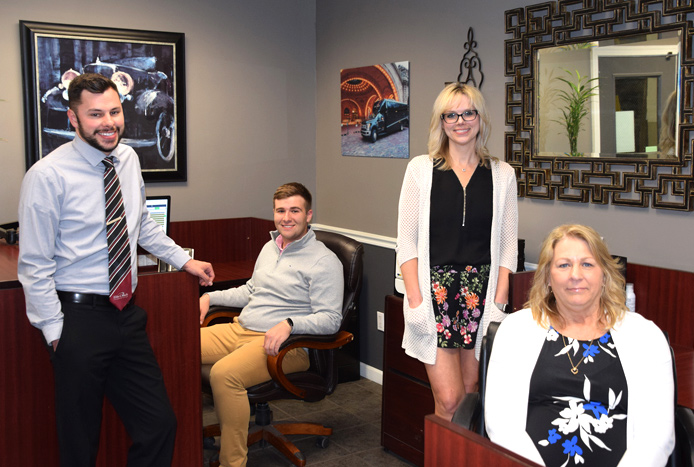 L to R: Mike Gibbon, Marketing Intern David Hanno, Reservation/Wedding Specialist Lori Feorene, and Reservationist Karen Gray "I can tell you what helped us," says Feorene. "We're behind the scenes a lot with companies. As we grew, and kept changing what was available to our clients, it also made a fleet available to other transportation companies in Pittsburgh. Not only did it help us grow on the affiliate side, it also helped grow our retail market. It helped us build faster."

Serving the Steel City
Home to roughly 303,000 residents (2.3 million in the metro area), Pittsburgh is the second most populous city in Pennsylvania. Over the decades, the city has been named "Steel City" for its 300 steel-related businesses, but through the years it's also earned the nickname "the City of Bridges" for its staggering 446 bridges—it's the convergence of three rivers after all. The city's unusual topography (rivers and mountains) combined with a beautiful, modern skyline has made it attractive to Hollywood productions. For instance, you can see Pittsburgh double as Gotham City in the epic The Dark Knight Rises.

But, despite its reputation as large industrial hub, Pittsburgh has a vibe of its own. Bookending the western part of the state, it's a completely different experience from its oft-compared counterpart Philadelphia, which is more than 300 miles away. Pittsburgh is more Midwest and laid back, while Philly is entrenched in the bustling (and greater populated) Northeast corridor.

Miller, who originally hailed from a small Michigan suburb, compares the Pittsburgh market to a small town, not in size or available opportunities, but in terms of loyalty.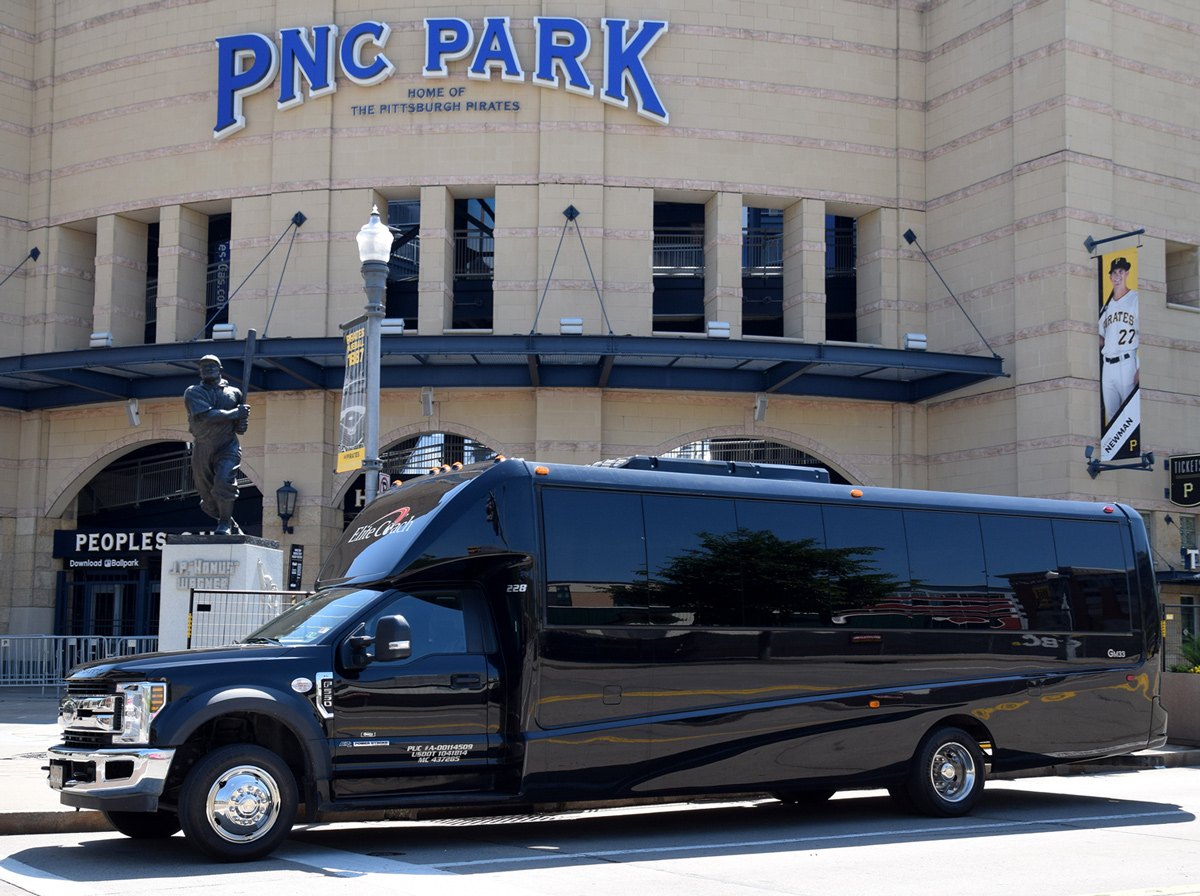 Grech 40-passenger coach at PNC Park "The Pittsburgh market is corporate driven. We have a lot of universities and hospitals in our area, and we also have some technology. It's not just the old steel city that we're known for. That said though, the city is very loyal. For instance, we see a lot of weddings where people who have left the area come back to Pittsburgh to get married. We have many repeat clients, whether they're in town for a day on business or they're here to see their parents. This is one of those places that people always call home. I came from a small town, and Pittsburgh just has a similar feel."

Pittsburgh is also a sports powerhouse, whether it's the Steelers, the Pirates, the Penguins, or even the Pitt Panthers. It's not unusual to find an Elite-branded vehicle at Heinz Field or PNC Park.

"We're also very loyal sports town as far as all of our sports ... that's why you hear that there's a Steelers bar in every major American city," laughs Miller.

And it looks like enthusiasm is returning for many Steelers fans as the 2021 season kicked off this August: Heinz Field had near full capacity for its pre-season win against the Detroit Lions, a welcomed contrast to 2020 where attendance was down 97 percent due to restrictions and limitations.

Surviving COVID: Strong Team and Healthy Reserves
No parts of the country were spared from the pandemic, but tough times make smarter leaders and Elite's leadership team was ready to get to work. Already running a tight ship with an office staff of six—including Logistics Manager Mike Gibbon, Reservation/Wedding Specialist Lori Feorene, and Reservationist Karen Gray—COVID was an opportunity to do some housekeeping.

"Those first two weeks were surreal," says Miller. "We went from having 60 trips on a Saturday down to zero. It's very humbling. It tests your will. It tests your faith in yourself and your people to make sure you can get through and weather the storm. It also tests your business profile."

Miller says that failure wasn't in the cards, no matter how difficult things became. They saw the challenge as an opportunity to come out on the other side as a better company, with better policies, and better procedures—a better, stronger business.

"It was never an option to NOT be here. We used the time to restructure things in-house. When people called, we told them that we were going to be here. And we believed it: it wasn't lip service."

"Because we have a very small group, everything's discussed openly in the office. Everybody toes their own line—which is great. We work very closely, again because there's only six of us in the back office, everyone does what they need to do. We did a lot of brainstorming during the pandemic."

Being prudent with their finances and resources has been a lifesaver for the company.

"You ask: did I have savings for a rainy day? Did I have procedures in place to survive an emergency? They say that three months savings is for an emergency, well, our emergency was more than 12 months. In one respect, it was nice because we always made sure we had savings for a rainy day, but we never counted on it raining this much."

For better or worse, Elite wasn't alone when it came to the difficulties presented by the pandemic. When things were really dicey, Miller says that she relied on her peers in industry associations to keep her informed and positive.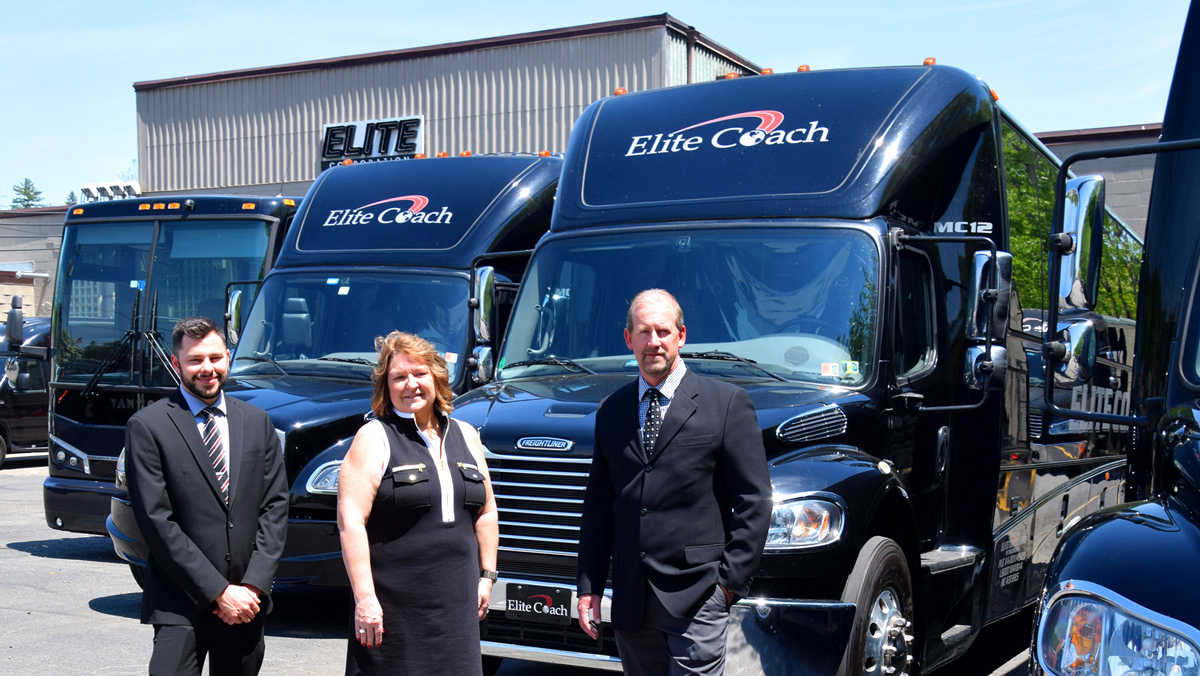 L to R: Logistics Manager Mike Gibbon, Michelle Miller, and Greg Feorene "We're part of the National Limousine Association, United Motorcoach Association, the Pennsylvania Bus Association, the Limousine Association of New Jersey, and the Spinning Wheels peer group. It's invaluable right now to be part of these organizations with all the information that's coming out with the ever-changing tax credits and with everything that's out there right now on different ways to get funding. Just as resources that we might not have had access to or to find out about. I also think it's important to be relevant in the market and show that we're active in the market," she says.

Elite also used its own tools to help it retrofit and safeguard its vehicles, thanks to its sister aftermarket parts company and its team of skilled craftsmen.

"One of the first things we did was bought a heavy film at a fabric shop and made our own dividers between the chauffeur and the clients in the back," says Feorene. "We also had cleaning kits, made masks available ... We went through every precaution we could. What work we did have, we stayed proactive on the curve so that we could say we did everything we could to keep clients safe. We've continued to do what we've done in the past to make sure vehicles are prepped."

Embracing the Post-COVID Bump
Mirroring their hometown's spirit and resiliency, Elite was able to parlay their relationships with local partner companies to keep working during the slower periods. Even if things were sluggish, there was always work to be done.

"We did some shuttling work for the local hospitals. We partnered with another local company who needed more resources than they could provide for their contract. We were able to work with them and get some constant work. It was very helpful to keep things moving, as well as giving people a purpose to get up in the morning. We brought drivers in to help paint, run errands—just to keep people moving and engaged."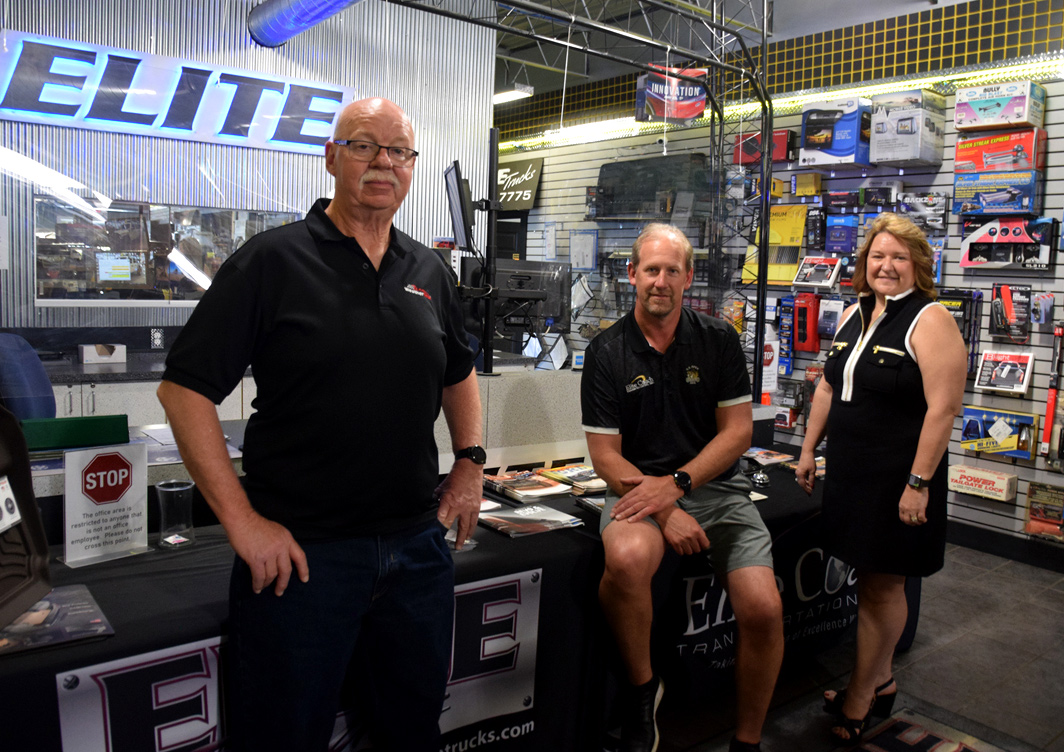 L to R: Accessories Specialist Gordon Slagle, Greg Feorene, and Michelle Miller at Elite Custom Trucks' accessories showroom Lately, the phones have been ringing with wedding work, a service they have always embraced.

"It's funny: we've gone to all the industry shows, and no one seemed interested in hearing how we, as a small company in a small market, have been able to put ourselves in position to be busy when things are slow," says Feorene. "For instance, 9/11; when we weren't moving people to the airport, we were still doing weddings. For years, I've listened to black car companies say, 'I don't do weddings.' I don't know whether I'm supposed to be impressed by that or think that it's bad business. Right now, we can't do weddings fast enough as our corporate work has started to come back. It's the good decisions we've made that have kept us in a position where if something wasn't, something was."

"Another thing to consider, just because someone says 'the wedding business is not where you're going to make your money,' you really need to look at your own market. One bucket isn't going to fit all companies. They need to take information and really disseminate it into your business. You need to tailor your business to where you're going to make money," adds Miller.

As Elite celebrates more than 30 years of business, Feorene's maxim remains simple.

"Our motto is 'one day at a time.' I was just thinking the other day, it hasn't gotten any easier. You'd think that as you get older that things would be easier, but it hasn't. Fortunately, we've always steered the ship in the right direction. The older we've gotten, we've gotten wiser and make good choices."   [CD1021]