BY MADELEINE MACCAR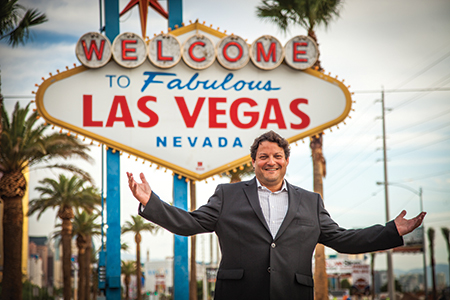 Meridian Specialty Vehicles CEO David RonsenDavid Ronsen didn't spend his childhood imagining that he'd carve out a niche for himself in the custom auto industry. The founder' president' and CEO of Meridian Specialty Vehicles did' however' begin his professional life by fulfilling one half of his when-I-grow-up fantasy by becoming a firefighter—a profession from which he has since retired' just as Meridian has retired from building the custom fire trucks it first made after opening in 1995.

So what were Ronsen's boyhood aspirations?

"I just kind of had and lived out two childhood dreams: One was becoming a firefighter and the other was playing with Tonka trucks when I got big'" he says.

The difference now' though' is that Ronsen and Meridian's 38-member staff spend their days customizing and upfitting not Tonka trucks' but rather Mercedes-Benz Sprinters.

Meridian's focus on Sprinter upfitting was a progressive shift' as the company phased out fire trucks and transitioned into building mobile health clinics' blood-donation vehicles' and dental vans. About five years ago' it built its first vehicles on the Sprinter platform—which were mostly mobile command centers and bookmobiles—before committing to its current focus of providing upfit vans to its core client base of operators' hotels' and resort properties.

"Limo companies are now really bringing on Meridian Sprinter products at a much faster pace than two years ago' or even a year ago'" Ronsen says.

But once the industry recognized the value of the Mercedes-Benz Sprinter van—namely' the way that more seats in a vehicle means more seats to sell—and Ronsen was satisfied with his network of sellers' it was time for Meridian to make its move on the Sprinter platform.

"We really paced ourselves'" Ronsen says. "I think we could have sold many' many more units in the first two years if we chose to. Could we have built the exact same quality? I don't know. Could we have supported the product as well as I think we have? I don't think we could have. And all of those were very important factors in our progressive business growth. We're just as focused on after-sale support as we are on the sale itself."

Ronsen and his team not only are increasing the public appeal of Sprinters with their meticulous work but also have impressed the vehicle's manufacturer so much that Meridian is among an elite group of builders who can call themselves a Sprinter Preferred Upfitter of Mercedes-Benz' which means that Mercedes-Benz has endorsed Meridian to do upfits of its vehicles.
The Forward Plug Door—a compact' outward-opening entry—is the successful result of working with Spanish engineers for a year..."

If that weren't enough' Meridian is one of only six North American upfitters certified for custom conversions' and' according to Ronsen' is the only one with a pool of Mercedes-Benz chassis in stock that it can draw from immediately once an order comes through' rather than waiting the usual 100 days for a chassis to be sent from Germany. This' along with the company's assembly line and staff of skilled workers' is why Meridian can usually take an order and have a vehicle ready for delivery in six to eight weeks.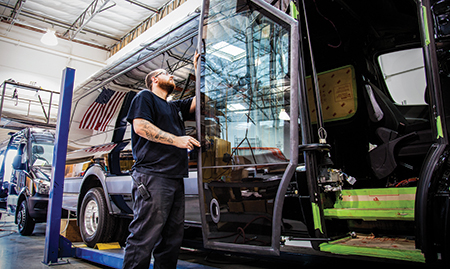 Production Foreman Cody Holmes inpsects a Forward Plug DoorMeridian is also the only preferred upfitter that can boast not one but two redesigned door systems. In addition to the Meridian Dual-Panel Bus Door' which is a traditional bi-fold door' the Forward Plug Door—a compact' outward-opening entry—is the successful result of working with Spanish engineers for a year to modify the original European design for an American market. The final product is just one more way that Meridian has shattered popular misconceptions about the Sprinter.

"When people hear us say that we can put 20 passengers in a Sprinter' they kind of chuckle. But it's for real. One of the ways we're able to achieve that is with the Forward Plug Door' which buys us at least two extra seats in virtually every floor plan'" Ronsen says. "When most people who aren't familiar with Sprinters get inside one of these vehicles for the first time' they're absolutely blown away by how cavernous it is because outwardly they look really narrow compared to other cutaway buses."

Another bonus of utilizing the Forward Plug Door is that it minimizes noise through its tightly sealed design' which' according to Ronsen' yields consistently positive feedback.

"The one thing we hear on a very regular basis' from both our dealers and end users' is that the first time they ride in our vehicles' they're astounded at how quiet it is'" he says. "We have developed one of the best insulation packages in the industry. It helps regulate the climate control and it really reduces road noise."

Being a certified Sprinter upfitter means that everything the team at Meridian does to its vehicles has to meet Mercedes-Benz standards and the company's engineering data must be approved. On a project like the Forward Plug Door' Ronsen says that both companies worked hand in hand so that the Mercedes engineers both understood and approved every step along the way to a final design.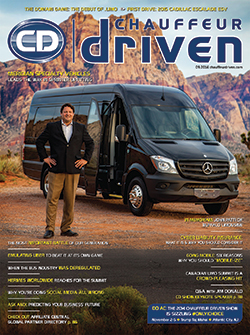 David Ronsen, CEO of Meridian Specialty Vehicles, with one of his Mercedes-Benz Sprinters. (Photography by Yarrow Kraner)Recently' the company has been authorized by Mercedes-Benz Canada to begin selling its Sprinters north of the border; while Meridian has shipped vehicles as far as Iraq' it has seen a decline in international orders since it gravitated away from specialty vehicles. And back in the states' Meridian will add to its Las Vegas and Bozeman' Mont.' locations by establishing an East Coast presence that is practically a stone's throw from Mercedes' own Sprinter factory' demonstrating the "absolutely stellar" mutually beneficial relationship Ronsen says that Meridian and the auto manufacturer enjoy.

"We were invited by Mercedes-Benz to open a ship-through facility in South Carolina' so we're setting up production across the street from the Sprinter factory'" says Ronsen. "That will enable us to get chassis directly from the factory' upfit them' and then ship them back to Mercedes-Benz' where they re-enter the Mercedes-Benz logistics system. This results in expedited shipping anywhere in the United States."

Ronsen is not content to let Meridian rest on its success with the Sprinter platform: In the coming months' the company will start working on full-size Ford Transits' which is a move Ronsen has anticipated for more than two years.

"Our relationship with Ford goes back quite a ways. We are QVM certified so we've really been waiting for Ford to come out with a product'" he says.

It's not just external relationships that Ronsen has nurtured' but internal ones' too. He has worked hard to maintain a family mentality within Meridian' and he is quick to attribute his company's continued success and high-quality products to the people who don't get enough credit—especially COO Vern Kaufman and Chief Product Designer Del Littrell.

"Our warranty-claim percentage is extraordinarily low and we owe a lot of that to both Vern and Del'" Ronsen says. "We try to take care of our own and they take care of us—that's the way things are done here."

Wherever the roads take Meridian' one thing is clear: Safety and quality may be the company's priority of focus' but Ronsen will never stop making sure that he and his team are at the forefront of the latest and greatest innovations in the upfitter world.

"The reason that we got out of fire trucks is because so many people copied what we did that it became a commodity. We said' 'You know what? Let's find something else to innovate''" Ronsen says. "At the end of the day' Meridian really is about transportation innovation. We pride ourselves on the philosophy that if we're not improving something or if we're not offering a better value' then it's probably not worth doing." [CD0914]