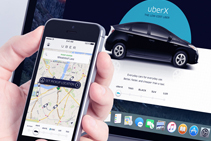 The Despicable "Uber Files"
At long last, chauffeured transportation has the opportunity to let out a collective and resounding "we told you so." In late July, a whistleblower from Uber leaked more than 124,000 documents to the Guardian—now known as the Uber files—that reveal the ethically questionable practices that fueled the company's rise around the world.

For the better part of a decade, our industry has worked hard to spread the word about the TNC's less-than-stellar safety practices and dodging of local and state regulations (the very ones that YOU had to follow). Now, with the release of the Uber files, the company's $90 million-a-year lobbying and public relations campaigns to gain the support of world leaders, billionaires, oligarchs, and media barons—and other shady dealings—have become public.

The leak comes courtesy of Mark MacGann, Uber's former chief lobbyist for Europe, the Middle East, and Africa, who recently came forward to identify himself as the source of the files. "It is my duty to speak up and help governments and parliamentarians right some fundamental wrongs," he said, citing a moral obligation.

So, what's in the leak? Major bombshells include texts from former Uber CEO Travis Kalanick and French President Emmanuel Macron, who secretly helped the company in France when he was then Minister of Economics and Industry by allowing Uber frequent and direct access to him and his staff. Also contained in the files is evidence that Uber undercut established taxi markets and put pressure on governments to rewrite laws to advantageously pave the way for the app-based, gig economy we've seen blossom around the world.

Most disturbingly, perhaps, is a series of communications that reveal that Kalanick suggested that the violent backlash between protesting cab drivers and TNC workers would be "worth it" and would "guarantee success" for the company. This is particularly true for the violent uprisings we saw in Paris: While Uber drivers were being attacked during these fraught protests, the company used the incidents to gain sympathy and even aided by leaking the information to media outlets while paying academics to push "research" disparaging the taxi industry.

The Guardian also reported that Uber used a "kill switch" to prevent company data from falling into the hands of law enforcement during numerous police raids in various countries. The kill switch, which severed connections between Uber's cloud network, was apparently deployed in six countries, including France, the Netherlands, Belgium, India, Hungary, and Romania.

In a recent statement, Uber admitted to "mistakes and missteps," (how's that for an understatement) but said there have been significant changes in culture since 2017 under its current chief executive, Dara Khosrowshahi. Lest you forget, however, Kalanick's ouster from Uber for bad behavior still netted him a cool $2.5 billion, and whatever culture Khosrowshahi is trying to wrangle is built on driving competitors of out of business while flouting the laws.
Sources: The Guardian, TechCrunch


---
Relief From Gas Pains?
After topping $5 a gallon earlier this summer, the national average for a gallon of gas has fallen for more than a month. At press time, Americans are paying an average of $4.35 for a gallon—down 66 cents from highest recorded average in June, according to AAA. So, what's behind the much-needed price break?
David Fiorenza, an economics professor at Villanova University, theorized that a decrease in demand is driving the falling prices. "Demand has fallen off since we have had two major holiday weekends pass Memorial Day and July 4," he told Newsweek.
Perhaps not surprisingly, the White House has been quick to take credit for the decline in gas prices. In a statement, the Treasury Department reckons that releases from strategic petroleum reserves by President Joe Biden and international partners have ended up making the price at the pump for Americans "up to about 40 cents per gallon lower than it otherwise would have been." The price drop in a barrel of oil, which fluctuates daily, also likely helped the complex list of factors that make up the price at the pump.
Will the downward trajectory continue? It's tough to say. Fiorenza suspects that we'll be paying more again once the Labor Day long weekend rolls around. Holly Dalby of AAA further offers that gas prices are impacted by a global market, not just what's happening here in the United States. "Things are just very volatile right now," she says. "There's so many things that go into impacting these prices in the world market that it's just impossible to say if we're going to keep falling or go back up."
Sources: AAA, Newsweek
---
Airlines Facing Congressional Scrutiny After Bumpy Return
The demand for air travel has been very strong in 2022, despite rising ticket prices, but the rash of repeated cancelations has caught the ire of at least two Senators—and they are demanding action. Senators Elizabeth Warren (D-Mass.) and Alex Padilla (D-Calif.) are telling federal regulators that they need to do more to crack down on the airlines overselling (then canceling) flights, especially since the industry received record relief to the tune of $50 billion in loans and grants to keep their staff during the pandemic. Airlines laid off workers anyway. Now the blame game has begun: airlines blame staff shortages in their own ranks as well as the FAA for air traffic control staff shortfalls. One thing is for certain, the consumer is definitely the loser while these entities duke it out.
Source: CNN
[CD0822]
---
Did something newsworthy happen at your company? Share it with us!
We'll help you get the word out to our international audience about your new staff hire, addition to your fleet, acquisition or merger, move to a new location, or a recent award won by your company. We'll publish it on our website, social media, and in our weekly E-NEWS ON THE GO.

Email your press releases (photos highly encouraged) to: susan@chauffeurdriven.com.