BY SUSAN ROSE
Michael Campbell knew it was a long shot, but the Grace Limousine/Black Tie Limousine CEO applied anyway. After all, what did he have to lose? Business at Grace (and Black Tie Limousine, which is under the Grace umbrella) had slowed from 100-150 trips a day to a handful of shuttle runs, and his cost-cutting measures were all but exhausted. Pushing aside the odds of a mere one-percent acceptance rate, a glimmer of optimism helped him drive forward.

The call came in January 2021 while on his Mexican anniversary trip with his wife, Jenna: He had been accepted into Amazon's competitive Delivery Service Partner (DSP) program. About nine months later, his newly organized company—JEI Logistics Corp—was delivering packages for the nation's largest online retailer in the Haverhill, Mass. area.

"I had heard the idea from other operators like Becky Laramee [of All Points Limousine] and Dave Uziel [of Urban Worldwide] who also applied for the program," says Campbell. "I thought it was a slim chance, but there was hope."

Amazon outsources package delivery through its DSP network. Program partners like Campbell are offered stations—or territories—that they are responsible for managing. It took a bunch of months, but he was delighted to secure the Haverhill station, which was also the location of his 2019 acquisition Black Tie Limousine, located about 40 miles southeast of Grace's headquarters in Manchester, N.H. The new venture required an entirely fresh fleet of vehicles—delivery vans—and a place to park them overnight.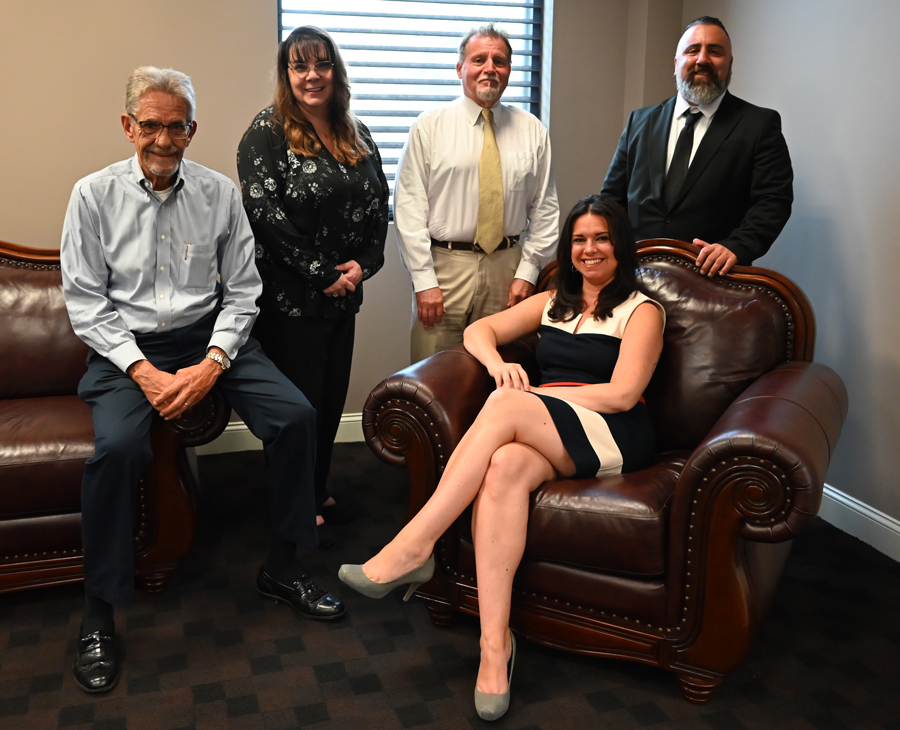 L to R: John Sotiriou, Dawn Tipton, Earl Kneeland, Jessica Boulerice, and Dennis Hajjar Partners do it all: hire and train drivers, secure leases on vans, maintain vehicles, manage dispatching, handle payroll and HR. While package delivery and chauffeured transportation logistics have some intersectionality, the industries couldn't be more different when it comes to hiring drivers. Campbell says that ideal candidates for JEI tend to be younger and more active to handle the grueling, quick-paced, and physically demanding job, while chauffeurs are built on high-quality customer service, safe driving, and peak professionalism.

"I even tried it for a few months, but my back wasn't having it," he says. "These drivers are jumping in and out of their vehicle 200 times a day, carrying 50-pound packages—it's a grind, and you basically have to be an athlete to handle it." Not to mention being able to slog through unplowed driveways during the New England winter and even outrun dogs: Campbell confirms that the old trope about deliveries and dog attacks is very real, and a handful of his drivers have been bitten.

As the sole owner of both Grace Limousine/Black Tie Limousine and JEI Logistics, his plate was starting to overflow.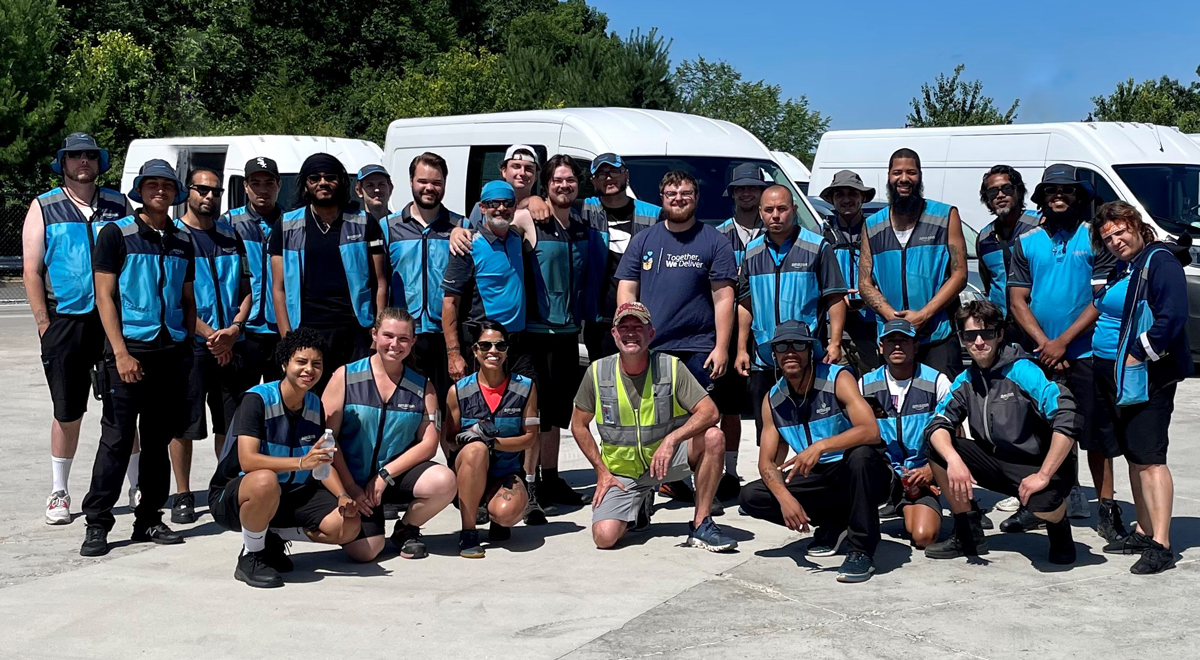 JEI's roster of drivers continues to grow since its 2021 launch In a rather ironic twist of fate, the spigot for limousine reservations went from a slow trickle to gushing around the same time that JEI was taking off, and it was clear he wasn't going to be able to manage both. JEI, Campbell says, was demanding more than 100 hours a week of his time, and it definitely needed his full attention. DSP policies are stringent, and deliveries are made seven days a week—which doesn't leave much time for running two 24/7 businesses, especially in a tough job market for employers.

"We were definitely on the brink during the pandemic. It was an ugly and scary time, I'm sure for everyone, so I was more than ready to give everything I had to get this off the ground," he says about JEI. The federal stimulus, once all the kinks were ironed out, decidedly helped Campbell fight on.

Luckily, he had a plan for his companies. His part-time finance Jill-of-all-trades Jessica Boulerice had been working with Grace since 2014 while also leading her own consulting firm. Boulerice's client list included other companies in transportation but had also recently taken on restaurants and real estate firms as well. Revenues may have been crawling for most during 2020, but the paperwork from the federal, state, and local pandemic relief programs was a beast to wrangle, and kept Boulerice in demand. Campbell's call, however, was a welcomed opportunity.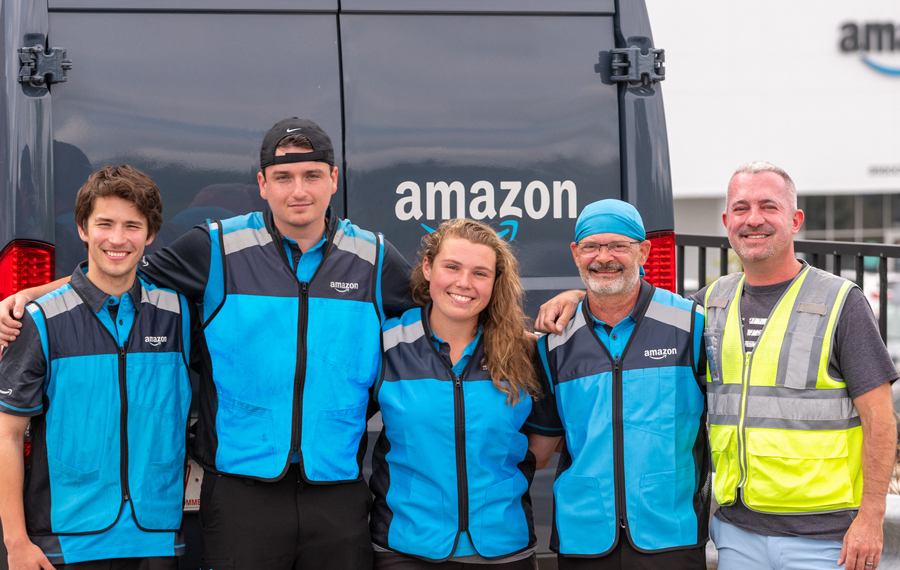 Campbell (far right) with his team of lead drivers for his Amazon delivery company JEI Logistics (L to R): Billy Sinibaldi, James Driscoll, Kristen Perry, and Brian Woodworth "When Mike came to me and said that he needed me full time, I was very open to the idea. I was juggling many clients who were all in crisis mode at the same time, and it was hard to prioritize one over another. I was only one person, and that paperwork for each took a lot of time. The timing worked out well," says Boulerice.

The initial plan was to have Boulerice come on board full time as CFO, but in short order she was tackling the operational duties of the company and the role expanded to include operations as COO.

"Jess had already been with the company for about seven years, so she knew our finances and had the respect of the team when I asked if she would jump in. She did—all in all, I wouldn't say that either of us is living our best lives when it comes to hours, but it's working," says Campbell.

Grace is known as a family company. It was founded in 1990 by Campbell's late father, Ian, who poured his heart and soul into the transportation business for nearly two decades before asking Campbell to step up to the CEO role in 2009. Several of his siblings and other family members followed, some part time, some full time, and Campbell became sole owner in 2015. Four years later, he acquired competitor Black Tie, formerly owned by founder Mark Mollica—a calculated move at the time, but one that left him carrying a heavy load when the 2020 shutdowns rolled around.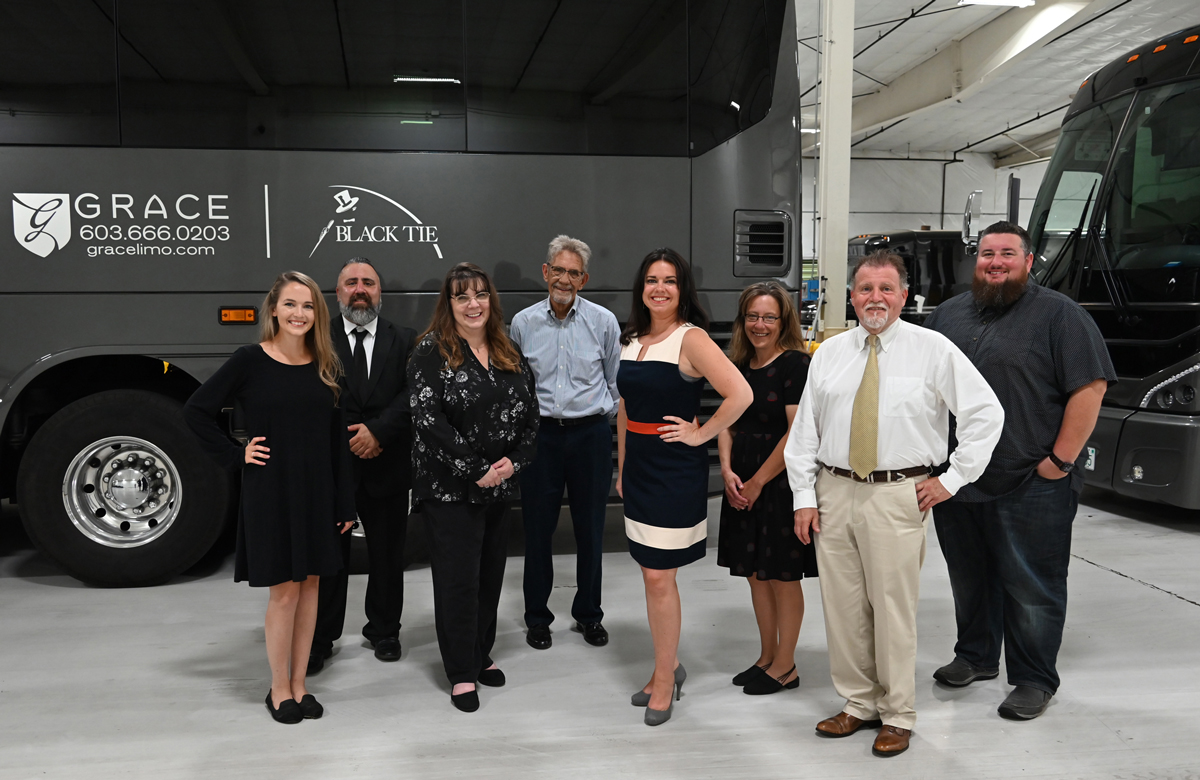 L to R: Wedding Coordinator Nikki Mollica, Lead Chauffeur Dennis Hajjar, Reservations & Accounting Manager Dawn Tipton, ­Chauffeur Manager John Sotiriou, CFO/COO Jessica Boulerice, Operations & HR Assistant Julie Vasquez, Fleet/Facilities Manager Earl Kneeland, and Dispatcher James Carter The layoffs that followed were particularly poignant for Campbell because it meant his brothers Geoff, Isaac, and Joe would be included in those job losses. But there was a silver lining.

"My brother and fleet manager Geoff was really loyal to Grace, but during the pandemic he got into hardwood flooring and started his own flooring company, making way more than I ever could have paid him," says Campbell. "Isaac is a skilled artist and got into tattooing during the pandemic, while Joe went into construction and is doing his own thing now. The fact that they all landed on their feet and are doing better than they would have here helped the situation make sense to me."

For his part, Campbell says that package delivery has been quite lucrative for him and his family. His wife Jenna and sons Evan and Ian—or JEI—were even the inspiration behind the new company's moniker. He retains ownership of Grace/Black Tie and his role of CEO, but he's been able to rely on Boulerice for the bulk of the day-to-day heavy lifting—that is, after learning how to wind down his involvement and not step on her toes as she grew into her position.

Moreover, the company leadership has stayed in the family because Boulerice just happens to be Campbell's cousin.

"Jessica really took this on and has done a great job in restructuring so that it's more manageable for her. I was more of a sales-driven guy, and she's driven by numbers, so she's taking the company to levels I wouldn't have alone. Grace doesn't need me most days, which is a good thing because I'm not able to be available," he says. "Yes, she calls me when needed, but she wanted to take those reins, and she's doing it well."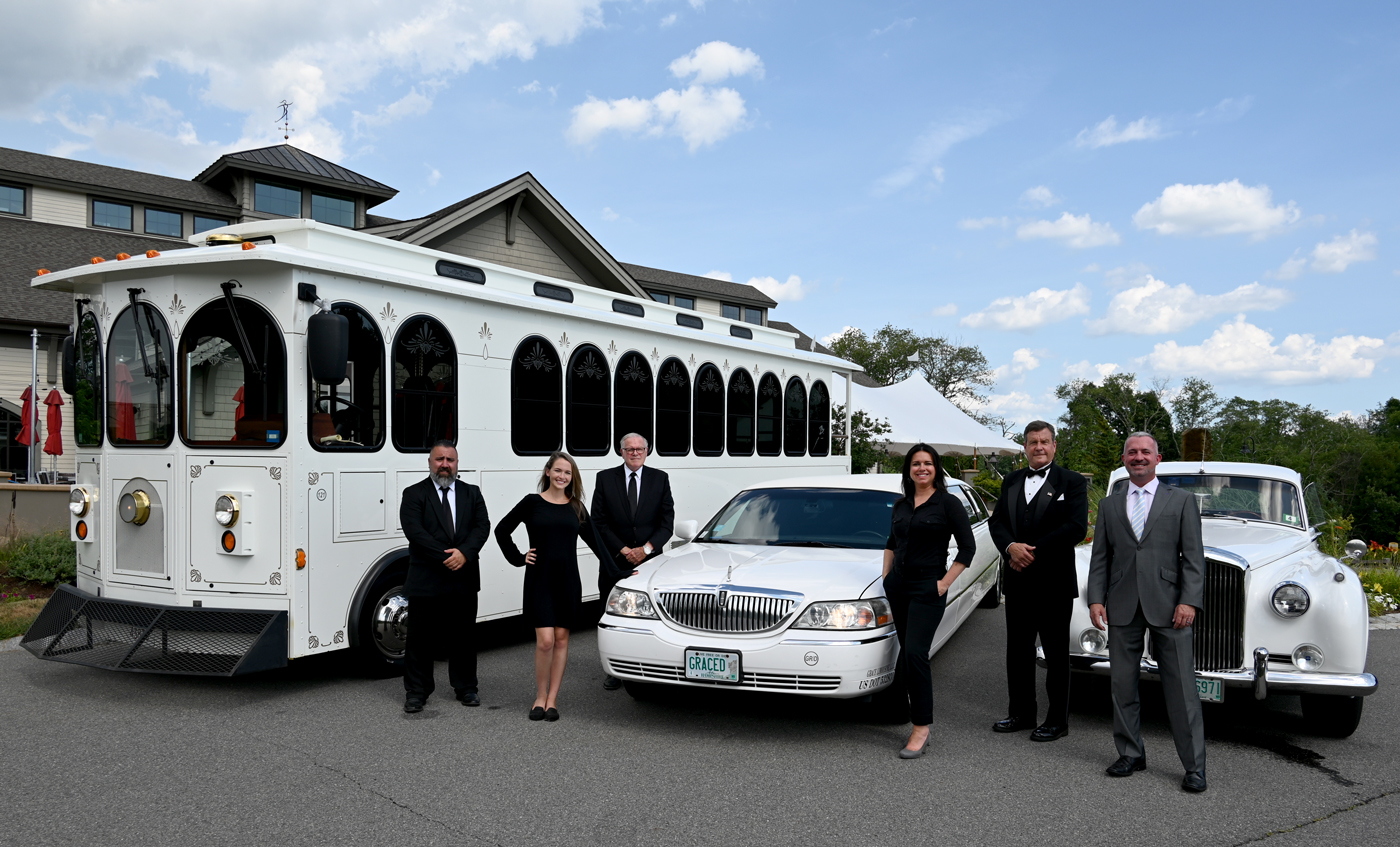 The team that helped the company win Best of Boston Weddings 2022 (L to R): Dennis Hajjar, Nikki Mollica, Jimmy Stewart, Boulerice, Myron Greene, and Campbell Boulerice has since put her consulting firm on ice and is 100 percent committed to the renaissance of Grace/Black Tie. She's been dealing with the typical headaches that most businesses throughout the country are facing—staff and vehicle availability—but she says she's enjoying the role.

"It's been rewarding and frustrating at the same time," she says. "I was forced, out of necessity, into daily operational tasks that I probably wouldn't have been otherwise if we were fully staffed. We have an amazing core team of people who have either worked for Grace or Black Tie for a long time, but it's only in the past month that I consider us to be 'fully staffed' in the office. It was hard to stay on top of strategy when we didn't have enough people. It was literally, is someone answering the phone today? That's how it was eight months ago, because our demand had outweighed our supply for quite some time now while hiring was still challenging. I know from talking to other people in the industry that they could be well over their pre-pandemic revenue if they could support that level of business."

"Now we're trying to figure out where to get new vehicles," Campbell says. The company retained most of its 55+-vehicle fleet, thanks in part to favorable negotiations with their lenders.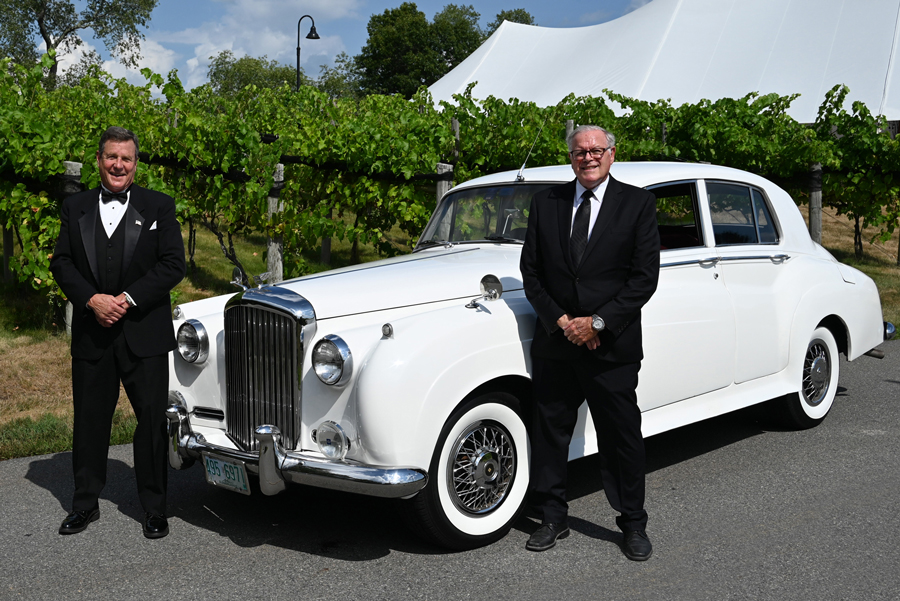 Chauffeurs Myron "007" Greene (left) and Jimmy Stewart, who have a combined 62 years of service with the company "I always had the feeling that it was going to be no work, no work, too much work, which is why we kept most of our fleet," she says. While a handful of vehicles are used less frequently, the vast majority is regularly booked and actively in service. "We've been rotating them to keep the mileage low and in good working order, but I am coordinating with my fleet manager to see what vehicles we may sell and add in the next few months."

Boulerice also says that they thankfully didn't lose any major corporate clients and have been bidding for new ones with some success. "We even won Best of Boston Weddings for 2022, which is huge," she says, noting that nuptials have been a steady and increasing business for the company. "We have wins to go along with the challenges."

Grace/Black Tie had secured contracts using their motorcoaches with local schools for sports transportation, and while 2020 was a wash, Boulerice says that work is back in a big way.

"One of my most important tasks during the pandemic was calling the schools we already worked with and the ones we were trying to get," says Campbell. "Of course, when they'd finally have something on the books, there would be another COVID outbreak that shut them down again. But that is one area I concentrated on."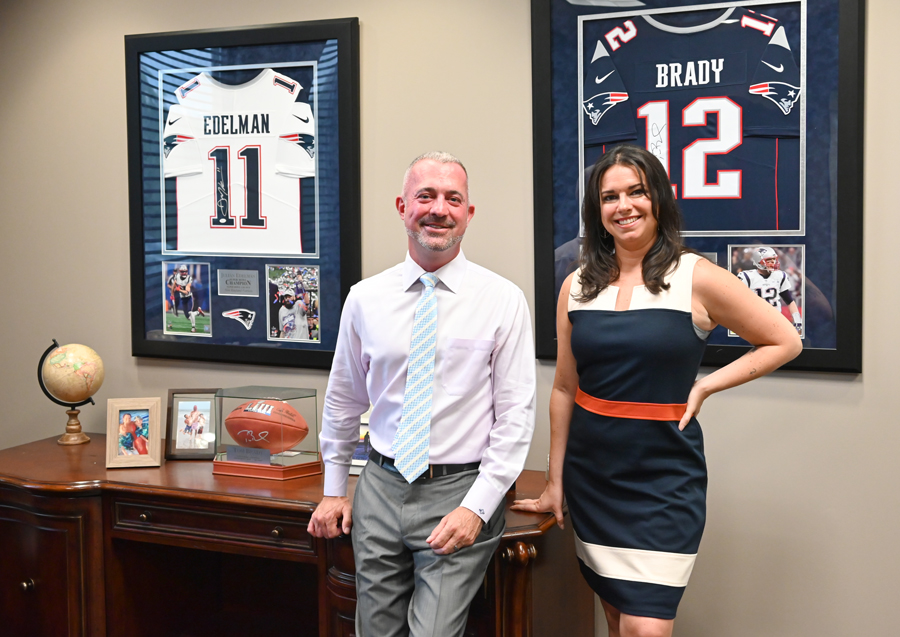 Campbell and Boulerice Rebuilding and expanding their affiliate network has also been important project for Boulerice, who has been working with her affiliate team to maintain healthy relationships with other transportation providers.

"With fuel prices and the airports being a mess and the lack of availability of vehicles, it seems like we are being hit with every possible 'sad' thing. But, because I now feel very comfortable with my core management team, we are finally able to dig in and figure out the changes that we need to make to our long-term strategy," she says.

Beyond using Campbell as an occasional lifeline, as well as a handful of outsourced reservationists and dispatchers, Boulerice has an experienced management team that includes Reservations & Accounting Manager Dawn Tipton, Chauffeur Manager John Sotiriou, and Fleet/Facilities Manager Earl Kneeland. Recruiting for chauffeurs has been a slow-go, but they are about 60 strong at the moment.

"There was a six-week period, between vacations and an employee leaving, where I was doing things I'd never done before. Although I was ready to pull my hair out, it was the best education. I don't think I've learned as much in a role in the past decade and half as I have in the past eight months. It's taught me a lot about resilience, which I don't think I had before. I have no regrets," says Boulerice.
"Jessica [Boulerice] really took this on and has done a great job in restructuring so that it's more manageable for her. I was more of a sales-driven guy, and she's driven by numbers, so she's taking the company to levels I wouldn't have alone." – Michael Campbell, CEO of Grace/Black Tie and JEI Logistics
She also discovered that she especially enjoys dispatching, which is often considered one of the most stressful departments in any transportation company.
"I took on the role out of necessity and found that I really liked it," she says. "I feel like it's the heart of the company. This department makes everything happen, and there's all these pieces that you have to cull together and manage. I love how it works. There's such a sense of accomplishment."
Now that things are stabilizing for both companies, Campbell and Boulerice are satisfied with their progress. Campbell has been able to scale back to six days, and although the hours are still long, his JEI team is now up to speed enough for him to step away every other Saturday and all-day Sunday. He's going to attempt a family vacation this month without being tethered to his phone.
"I feel like having a handful of horrible years has actually opened a door to a better life for both of us than we ever would have had otherwise. Jess is killing it—I know it's a hard role and she's crushing it. The Amazon partnership is profitable, and I'm so grateful for my wife who had to pick up most of those parenting duties to allow me to do this. I'm really happy with where things are," says Campbell.
Boulerice is also sneaking in some time away from the office, and also recently went on vacation with her husband, Michael.
"I've been telling my team during meetings that when something derails, try not to panic because look at all of the things we've made happen in the past. Look at what we deal with every day—nothing has dropped so much to be considered a true failure," says Boulerice. "We do a really great job at dealing with the stress. Right now in my personal and professional life, I have so much more confidence that we can make it through anything."
  [CD0822]