BY JOHN GREENE
For Marina Domenici' a bright-eyed and cheery 14-year-old with Down syndrome' her bucket list grew a little shorter the day she finally got to attend her first Boston Bruins hockey game in rock star-style' pulling up to the front door of the TD Garden in a luxury black Town Car.

"The screech of excitement was deafening when she looked outside to see the limo pulling up to our home'" says Marina's mother' Lynn Domenici. The chauffeured ride was just the beginning: Marina enjoyed great seats at the game' took a spin on the Zamboni' and even got to try on a Stanley Cup Championship ring.

"My husband' Brian' was worried she would be too scared to ride the Zamboni'" says Domenici. "But she smiled and waved to all the fans as she circled the ice. That unstoppable smile and enthusiastic wave will be etched in our memories forever."

It was an ETS International car Marina traveled in that memorable night' and in the interest of full disclosure' Marina's dad is an executive at a company that happens to be one of our biggest clients. But that's irrelevant: If we did this only for that reason' then we'd be missing the big picture' which is that it's always important to give back whenever possible. This is the feeling that' as a business owner' you come to cherish' a thrill you will never get from driving a CEO to the airport or a group of executives to a posh downtown restaurant. Those jobs pay the bills; people like Marina fill the heart. And this is why being tied to the community you both live and work in is paramount to the success of your company.

...[P]eople like Marina fill the heart. And this is why being tied to the community you both live and work in is paramount to the success of your company.
"If you ask Marina about her night in Boston' the top of her list of thrills would be a night out with two great guys' Johnny and his brother' Peter Greene. She has come to love them both' not because of the limos' hockey games' or even Zamboni rides' but because Peter and Johnny treat her like part of their family. For us as parents' we are grateful for the extraordinary opportunities that the Greenes and ETS have provided for Marina'" says Brian Domenici' Marina's father.
Where to Start
If your company is like mine' you're already getting charity requests' often several times per month. Sure' it would be easy to just pop a check in the mail and save our cars for the next big-paying client' but that's not how it works. You need to be a part of whatever community event you are donating your time and services to. And I have found the rewards to be considerable' not only in terms of feeling good but also in a number of ancillary benefits' such as business referrals and new clients. Remember' it's because your company is successful that you are able to donate your vehicles and services to help out when needed. Never feel guilty about it.
Your Clients and Other Area Corporations
Pairing business growth with a donation of your services shouldn't be a contradictory endeavor. Corporations frequently host charity events' and as their transportation provider' they could always use your assistance in many different ways. We recently donated a number of our cars to help with a fundraiser put on by the Triangle Foundation' which aims to enrich the lives of people with disabilities. The event was held on behalf of its client' TJX Corporation' which happens to be one of our largest accounts. Our vehicles helped make the night a success' which put checkmarks in the "win" column for us in the eyes of our client.
Local Sports Teams
Another way to become actively involved in the community is to become intertwined with the threads that make up the fabric of many cities: sports teams. We have found that partnering with professional athletes and their organizations can be beneficial in driving our business' whether it's taking on sponsorships or donating services. We do a lot of work with the Boston Bruins Foundation and The Neely House' an organization started by former Boston Bruins star Cam Neely as a place where parents visiting Boston to get treatment for their children afflicted with cancer can have a comfortable place to stay in lieu of a hotel. It's a community effort that holds special meaning to me' as my younger brother Stephen succumbed to the disease.

From a business standpoint' being involved with sports teams does come with perks in the form of tickets' signage on scoreboards' program ads' and select nights when you can pull out all the stops for your best clients and potential customers' often in private suites. It also lends your company a boost in credibility: People see that a major sports team is trusting you to drive around athletes who are worth millions of dollars to them' which is an endorsement that often trumps any word-of-mouth praise or positive online review.

I understand that for many companies' aligning with the New York Yankees or Los Angeles Lakers is not going to be very cost-effective. But you can bet that if you're based in Ohio' the Toledo Mud Hens would welcome you with open arms when they throw out their first pitch next spring. Don't overlook those smaller teams for the sake of ego; they will appreciate the assistance and are more in need of it than their well-capitalized counterparts.
Community Business Organizations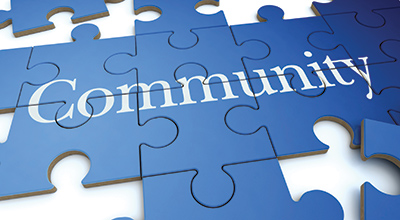 Other means we found to be effective in ramping up our community involvement include joining large regional organizations' as well as remembering not to ignore the smaller business universe that's all around us. It's good business sense to become actively involved with your local chambers of commerce' as well as all the smaller chambers in the cities and towns around you. There will never be a shortage of ways to help.
Other Ideas
You don't have to limit your community engagement to just your vehicles and services. Often what is needed is your time and participation to help with these events. For example' I recently chaired a celebrity fundraiser for a cerebral palsy organization. I agreed to it on the condition that the children who were being treated were part of the event so that those in attendance could understand more fully what their charitable endeavors were supporting. That evening' we had the kids participate in a fashion show and meet the guests personally.
Engage your workforce: Local charity walks and runs could always use more participants' so think about forming a team with your staff. For those staff members who may not be athletically inclined' consider instead manning registration tables or stocking water stations. Get staff members involved in suggesting events and rotate them (if needed) on an annual basis. National causes are great' but focus on those that will directly impact your community.
Engage your clients: It works both ways with philanthropy' and your clients are likely ready to give as well. Try something as simple as a food drive' offering 10 percent off service if a customer donates five cans of food to the community food bank. Make this more attractive by holding the food drive during months that don't have holidays—food banks are constantly looking for donations year-round.

Engage your community: Giving doesn't have to be limited to established charities or other events. Tragedies happen all the time' and oftentimes once the sensationalism dies down' the people affected by a fire' flood' or natural disaster are left to pick up the pieces alone. That's usually when they need the most assistance. Organize a collection of furniture' bedding' blankets' clothing' or other household items that will get them started. Ask them what they need first before inundating them with stuff they can't use. They will be grateful that you're thinking of them.
At the end of the day' it's all about giving back to the community that has helped nurture your business. Because when you do' you will feel the positive effects on your bottom line' as well as knowing that you have made a connection with and difference to the events' causes' and people you believe in.

There is no way to write in a ledger or record in QuickBooks what it felt like watching Marina Domenici flash a smile as she exited my Town Car' wearing the jersey of her beloved Boston Bruins. Over the past 25 years' a lot of noteworthy people have traveled in our vehicles: rock stars' sports icons' visiting dignitaries' movers and shakers of the corporate world. But in my mind' to this day' Marina tops that list. [CD1114]