EmpireCLS Worldwide Chauffeured Services Chairman & CEO David Seelinger still remembers the sage, if not fortuitous advice his father offered to him as a younger man: Surround yourself with people who are smarter than you, be open to their advice, and you'll be successful.

"I believe I have done that, and that's why we are where we are," says Seelinger about his team, many of whom have been with the company for more than a decade—some upwards of 25 years.

That includes company President Ed Martinez, COO Joey Phelps, CFO Nat Buonfiglio, Executive Vice President of Sales Marissa Criaris, National Director of Fleet Operations Rich Doherty, and Director of IT Services Jaime Major, all of whom have been with EmpireCLS for a dozen years or more.

"The success of the company is largely due to the people who work here, not me. The tenure among all departments is amazing—the chauffeurs, the call center team, management, everyone—and my team is the most important thing to me. I love my customers, and I'm very service-focused, but at the end of the day I'm not the one delivering the service, they are. As simple as it sounds, if I don't treat staff like I want to be treated, then it won't work," he adds.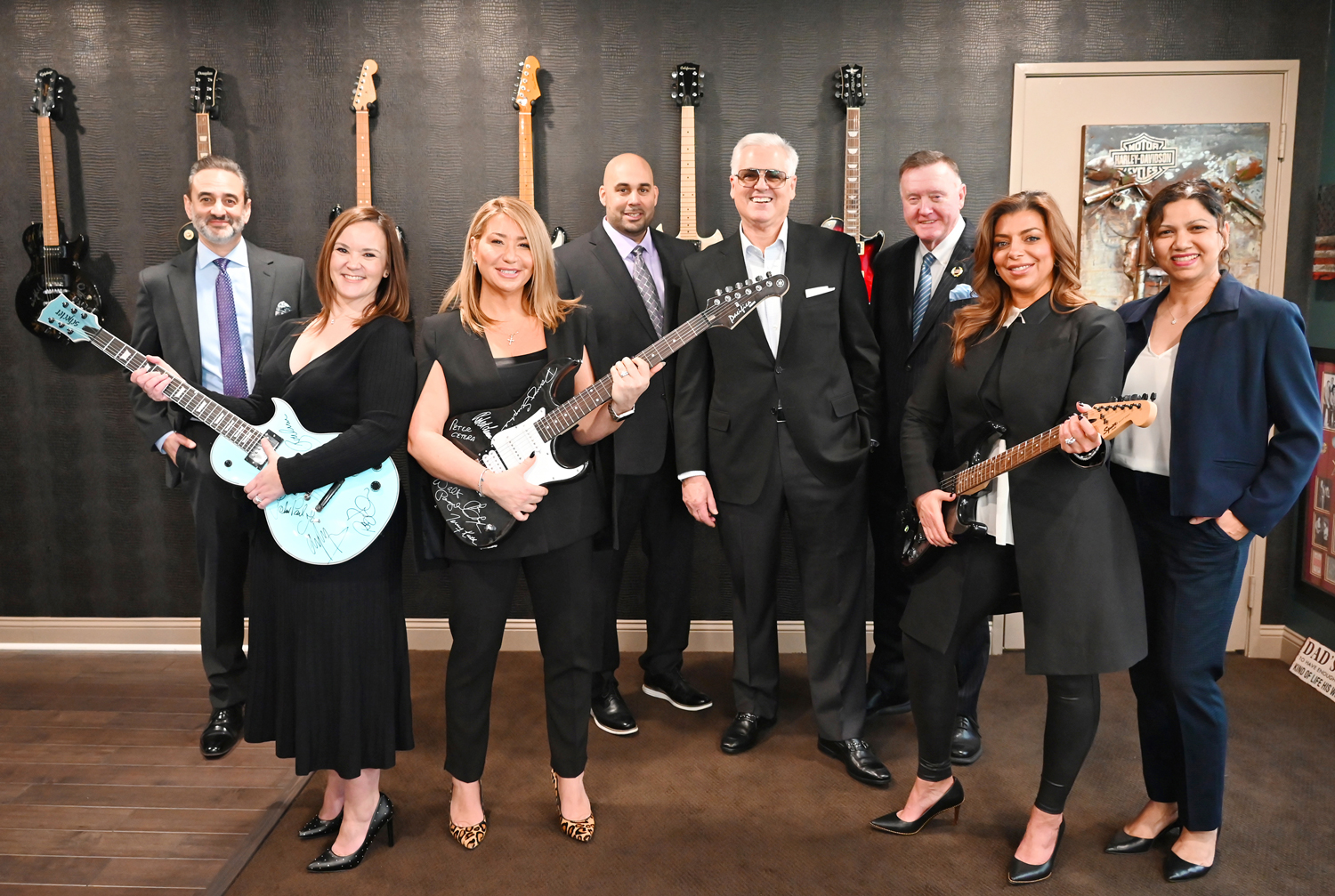 At the N.J. headquarters (L to R): SVP/GM Steve Horowitz, Director of IT Jaime Major, EVP of Sales Marissa Criaris, N.J. Operations Manager John Criaris, Chairman & CEO David Seelinger, Director of National Fleet Services Rich Doherty, VP of Sales Dina Perazzo, and VP of Human Resources Sherryann Permaul Steering one of the largest chauffeured transportation operations, with many hundreds of employees and vehicles, certainly requires a common goal throughout the organization, and Seelinger and his team have faced many headwinds—and tailwinds—over the course of its four-decade history. However, it was during the unprecedented challenges of 2020 where Seelinger's father's advice was most prophetic. By trusting his staff and culling the best ideas that came from all corners of the company, he says that EmpireCLS has been booming in the past 18-plus months due in part to the changes and service enhancements they've made.

"We had two choices: sitting around feeling sorry for ourselves or trying to make the company better during the downtime, and we chose the latter," he says. "So, we found that all the sales and marketing we did during the pandemic paid off because we had many new clients once travel started again. Our revenues are up dramatically over 2019. I always wondered if we could get to that next level, and it turns out that the efforts we made during that time put us in a much better place than we've ever been."

Among those changes was a major sales effort toward the entertainment industry as well as an emphasis on partnerships with exclusive travel agencies like Virtuoso and Signature Travel Network. While the corporate travel sector is not quite back to previous levels, Seelinger says they are continuing to run lean and make thoughtful long-term decisions.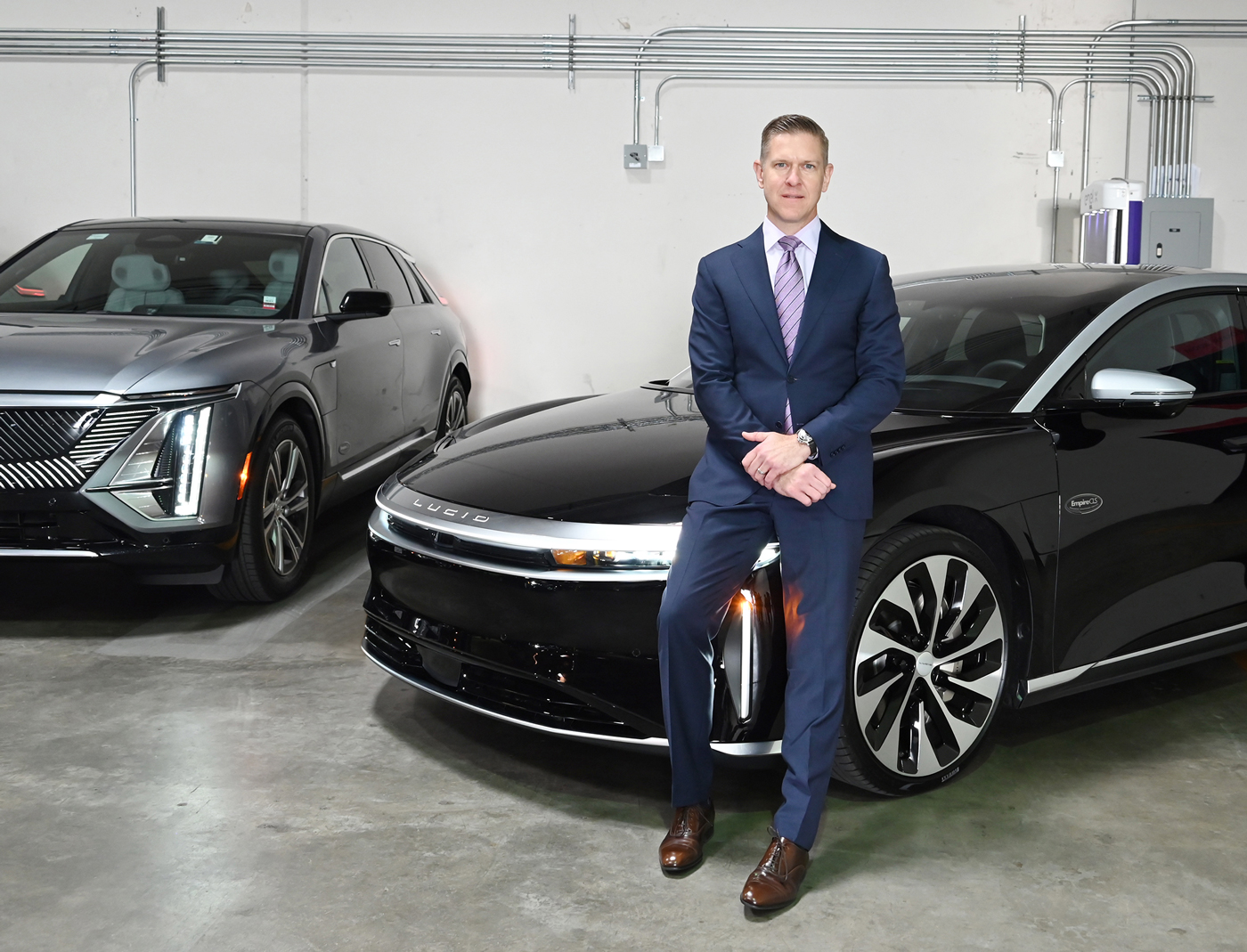 COO Joey Phelps displays the company's new EVs, the Cadillac LYRIQ (left) and Lucid Air, and in-garage charging infrastructure at the LA office "We did some great work internally during the pandemic like adopting new technology and doing a lot of hiring. To me, running EmpireCLS was akin to a flying 747 where there's never enough time to land so we can service it and make the necessary upgrades we want. This downtime gave us an opportunity to step back and look at the pieces that didn't work as well in 2019 and troubleshoot how to improve them moving forward. I felt the work we put into making ourselves better was abundantly clear to our clients when they started traveling again, both operationally and by our commitment to protecting their health and safety," he says.

In late 2022, 30 brand-new, hot-off-the-line Cadillac LYRIQs landed in the fleet of EmpireCLS, destined for both its North Jersey headquarters and office in Southern California. The sleek car barely needed the glossy marketing video campaign and announcements that accompanied the rollout because the vehicle immediately attracted attention for its high-quality amenities and eye-catching looks.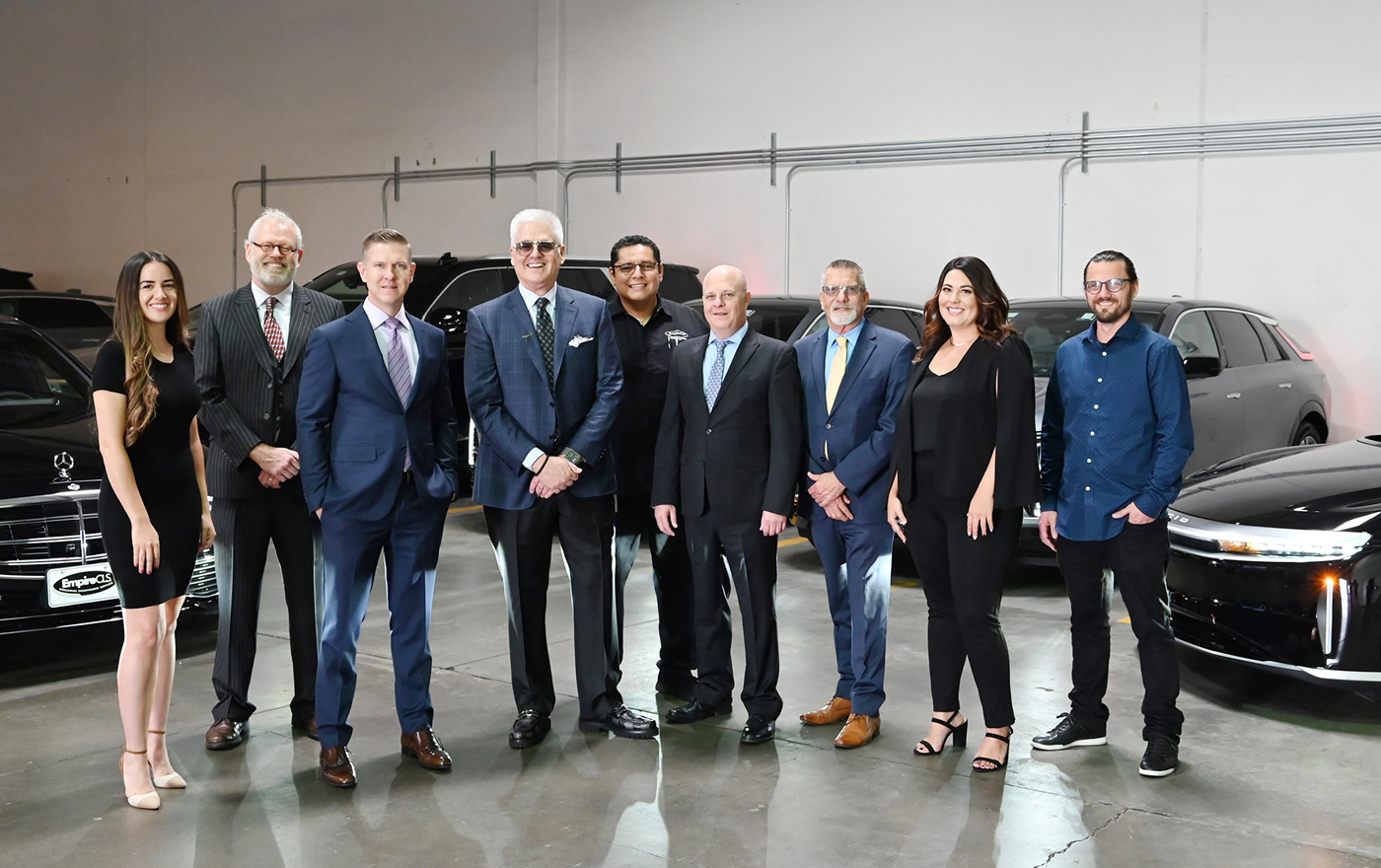 The LA team (L to R): VP of Meetings & Events Andrea Caldas, Chauffeur Relations Manager Bob Schultz, Joey Phelps, David Seelinger, Manager of LA Fleet Services Lino Palencia, LA General Manager Andrea Bulletti, Manager of Hotel Operations Rick Hendrix, VP of Sales Brianna Balty, and LA Dispatch Manager Kris Stein EmpireCLS wasn't the first to debut an electric vehicle—Teslas and hybrids have been kicking around the fleets of companies along the coasts for years—but it was the first large organization and major network to debut EVs on such a grand scale, not to mention the first in the country to secure the highly anticipated LYRIQ. Earlier in the year, the addition of two Lucid Air sedans to their high-end LA fleet was met with similar adulation.

"Our customers absolutely love the LYRIQ. They are raving about it. It's an electric car, but it doesn't feel like one and it doesn't drive like one. It's all Cadillac: It's very comfortable, is luxurious with all of the creature comforts that our customers desire, and is just a fabulous car," says Seelinger. "We're very grateful to Cadillac that we got some of the first off the line. Right now, It's a bright spot in the EV world for our industry, and I certainly hope that operators moving forward will consider adopting it."

Ambitiously, he hopes that the LYRIQ will replace his entire sedan fleet in LA by the end of the year, noting that California is the right place to start this transition due to the state's large-scale commitment to installing publicly available charging stations. EmpireCLS invested heavily (nearly $250,000) in its charging infrastructure that includes both regular chargers for overnight top-offs and superchargers that juice up to 80 percent in about an hour. In between runs, many of the hotel properties they work with have them as well and allow EmpireCLS to use them. The New York/New Jersey area has been a bit slower to build that charging network, but their East Coast clients are equally impressed with the LYRIQ.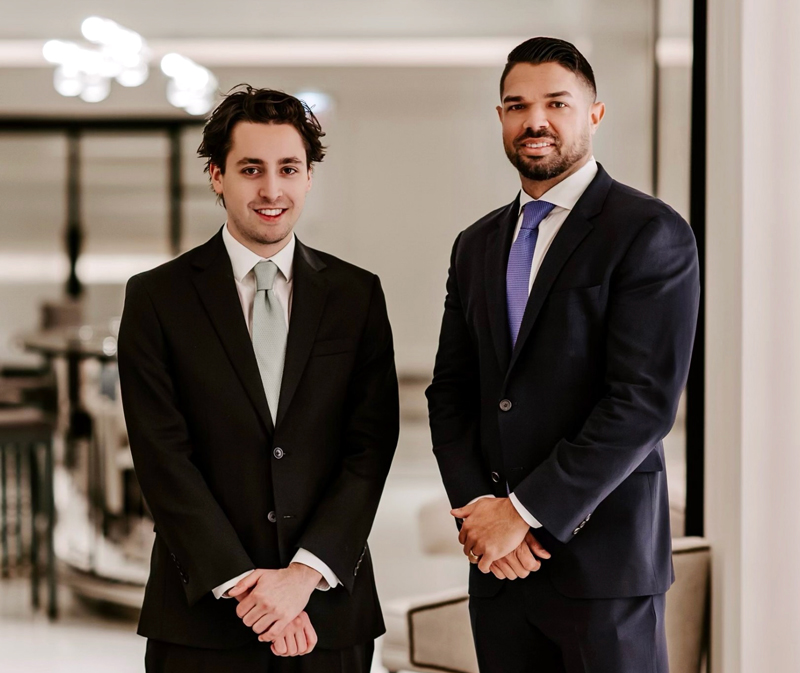 The Chicago team: Chicago Operations Coordinator Jacob Kloes (left) and VP of Midwest Operations Vince Saisi Beyond EVs and the 75 2022 Cadillac Escalades they bought to upgrade their older models—with 60 more coming in 2023—the company also purchased 100 new Volvo S90 sedans. Seelinger says that a big selling point of the S90 was the accident avoidance system and Volvo's track record of producing safe vehicles, coupled with an attractive price point in terms of value.

The Empire is growing, but their fleet was just one of many recent changes they made. The company opened a third office in Chicago about a year ago—which is already surpassing expectations. It's gone from a handful of cars and chauffeurs, guided by Vice President of Midwest Operations Vince Saisi, to 30 vehicles, two Sprinters, and an office staff of six. "Opening offices in other cities isn't our goal. We have great partnerships in all these cities across the globe as 50 percent of our revenue is affiliate work, so it's a big part of what we do," says Seelinger. "Chicago was an opportunity and we grabbed it, and as far as I'm concerned, we struck gold because we're doing really well there. Hotels are generating a lot of revenue, and we're in the process of leasing a new building."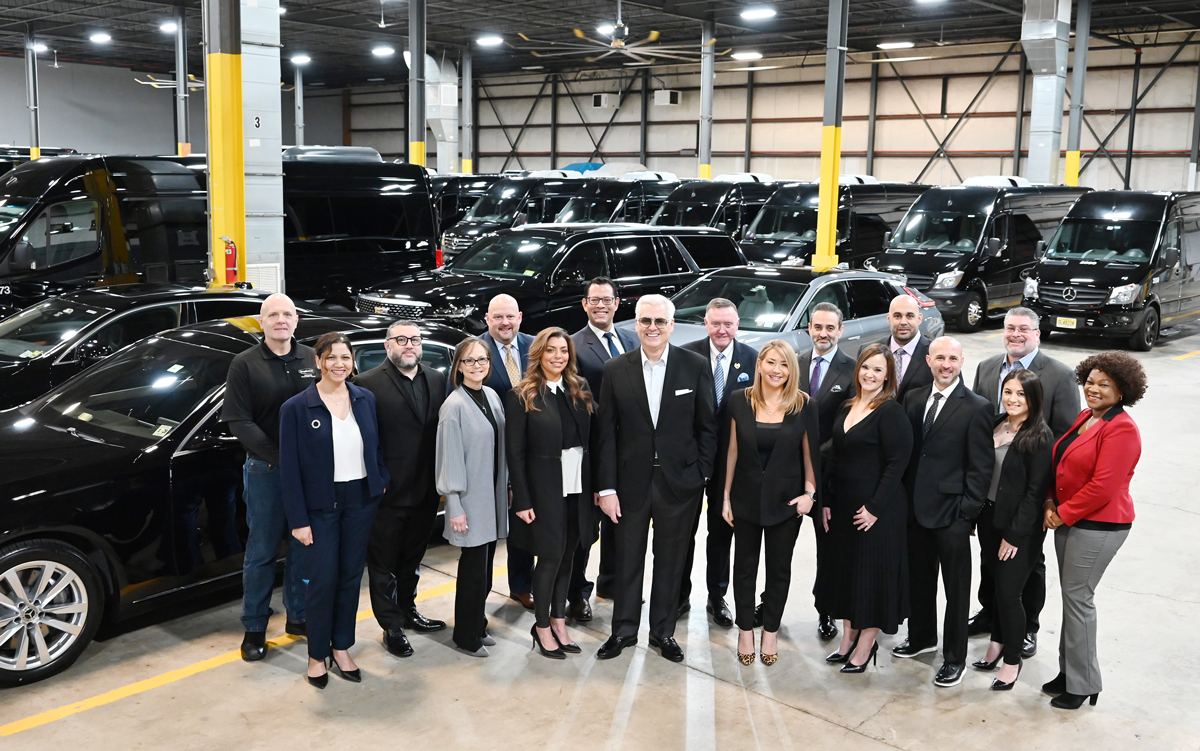 L to R: Fleet Maintenance Manager Scott Loeffler, Sherryann Permaul, Evening Operations Manager Lou Gardini, Operations Controller Tracy Loeffler, Director of Call Center Operations Tom Dalton, Dina Perazzo, Director of Regulatory & Compliance Kendrick Guzman, David Seelinger, Rich Doherty, Marissa Criaris, Steve Horowitz, Jaime Major, John Criaris, Chauffeur Relations Manager Steve Barrera, Director of Chauffeur Relations & Facility Operations Steve Sciaino, Customer Care Manager Serene Sanchez, and Director of Accounting Karren Muir Seelinger also has another passion project: technology. He has always been a vocal proponent of bigger, bolder, and more ambitious thinking when it comes to technology, not only as a tool to unite companies within our industry by reducing human error and achieving greater efficiency for everyone, but also to connect us to the larger travel and hospitality ecosphere. It's certainly worked well for competitive airlines, hotel chains, and other app-based services. He patiently understands the resistance, but he also wonders: if not now, when?

To stay on the cutting edge of technology within his own organization, he employs in-house software developers who have built innovative dispatch software to meet the unique needs of his company that can't be satisfied by an off-the-shelf product alone. "Technological advances continue to make businesses in every sector stronger, faster, and more profitable while meeting the evolving and ever-changing needs of clients. It allows companies to be competitive and client-driven, as well as intuit what customers will need tomorrow and next year. In our industry, both global operators and software providers have done an amazing job connecting affiliates to each other, especially through reservations, so we're ready to take that next step and fully integrate—from booking to real-time dispatch to final trip closeout—so that the client experience is seamless, accurate, and instant," he says.

Despite his insistence at stepping away from the spotlight, Seelinger is among the most recognized pioneers in chauffeured transportation. This year, he celebrates 40 years in the industry, working his way from chauffeur to CEO, from a regional transportation service to global transportation juggernaut with hundreds of millions in revenue. He's offered his advice as a mentor at industry shows and even has his own cred on movie and entertainment site IMDB.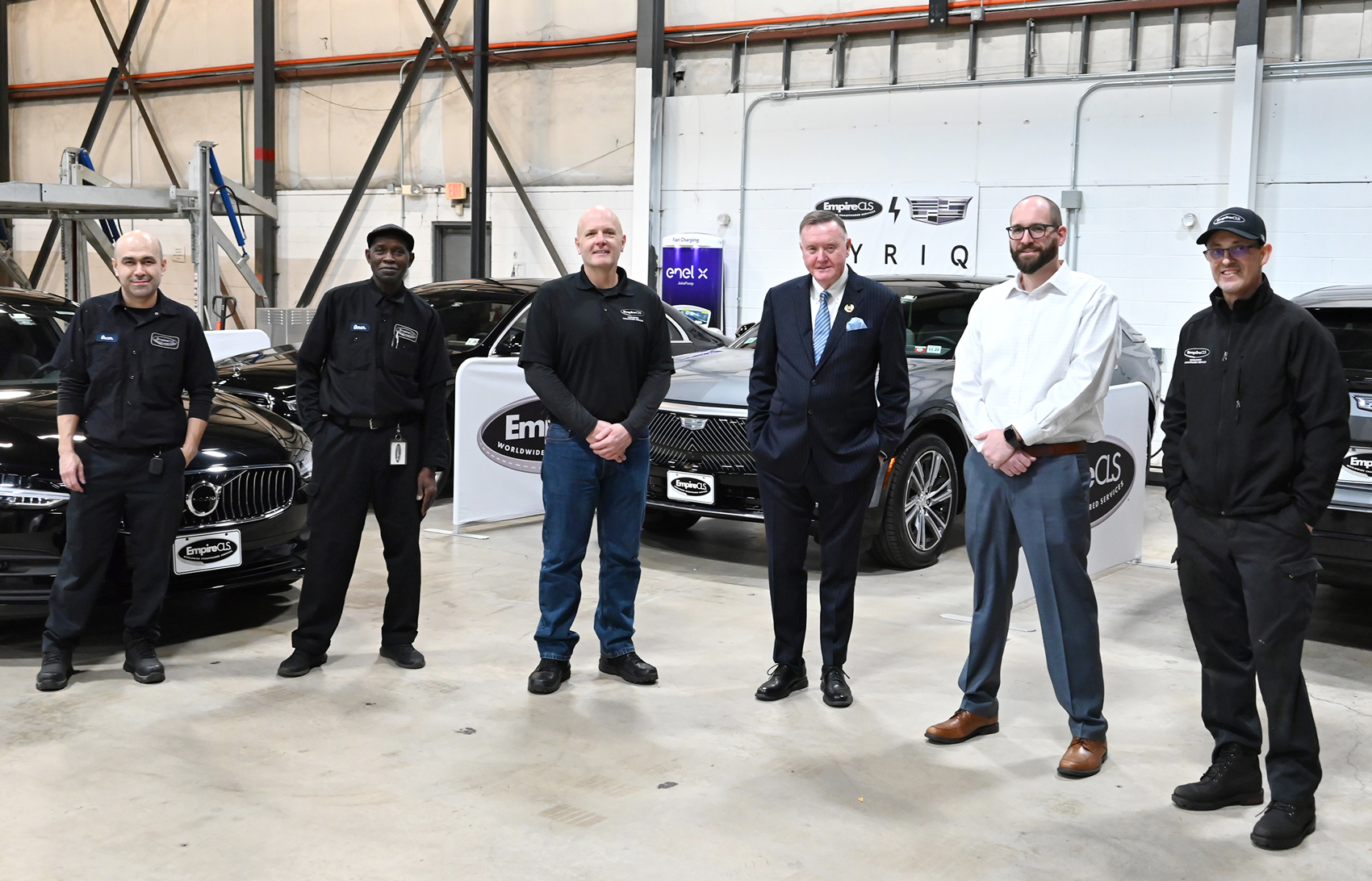 L to R: Fleet Maintenance Coordinator Oscar Trivino, Fleet Attendant Omar Penneh, Scott Loeffler, Rich Doherty, Fleet Administrative Supervisor Anthony Pesce, and Fleet Mechanic Gilberto Sierra "Because of my team, I have the freedom to do the thing that I love the most, which is spending time with employees and clients. I don't have to worry about being caught up in the daily operations because I know they do it well," he says about his busy travel schedule rotating between the three office locations. "I've always thought that if you can't fully embrace each employee as a person, then you don't belong in management. The things happening to them in their personal lives is so much more important than just work. You have to focus on both. Maybe that's not the way companies run today, but that's the way I am."

But the self-professed control freak didn't always heed his father's advice, and he had to learn the hard way how to trust the people around him.

"If you're a business that wants to grow, you can't unless you empower your team. One person can only do so much. I was a control freak like that until I realized that not only was I nearly destroying my life, but I was missing out on learning new things from other people. I find the majority of the time that people are so creative and figure things out long before I have to tell them. With that level of empowerment, people treat the business as if it's their own. I love watching that," Seelinger says.   [CD0223]