After close to a decade, Chauffeur Driven brought the Executive Retreat back to Music City, this time with our esteemed partners from the National Limousine Association (NLA). And, in short, the event rocked! More than 180 of the industry's best and brightest were on hand at the Hilton Downtown Nashville, eager to learn and network with their peers and potential new business partners. Special thanks to all our generous exhibitors and sponsors, including Platinum Sponsors EmpireCLS Worldwide and Lancer Insurance, for their part in making our return to Music City an unforgettable event (you can see a full list of sponsors at cdnlaexecutiveretreat.com).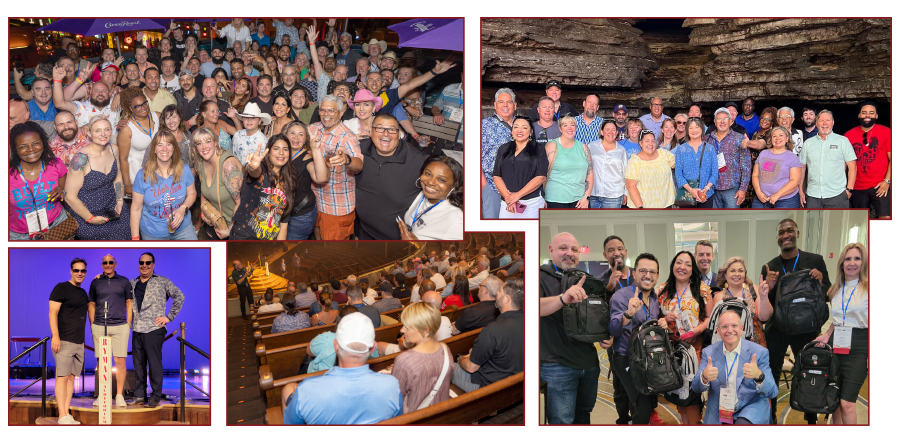 "If you experienced FOMO about this Retreat, there was good reason for it ... you missed out!" says Lore Swartzendruber of Xquisite Limo.

"This is always the best event of the year because of its size and the group that typically attends," says Jeff Nyikos of Leros Transportation Group.

From our opening night dinner party on Sunday evening to the last roundtable on Tuesday afternoon (not to mention the optional Jack Daniel's tour on Wednesday), it was evident that our attendees were engaged and excited to be part of the event. We got things cooking with a dinner reception and open bar in the heart of Nashville's bustling Broadway district at Kid Rock's Big Ass Honky Tonk. While a live band supplied many favorite rock n' roll and country tunes, Southern-inspired cuisine was served to our guests, who were clearly enthusiastic about being among their industry friends once again. Even Matt Daus of Windels Marx—a seasoned musician in his own right—jumped on stage to play a few with the band.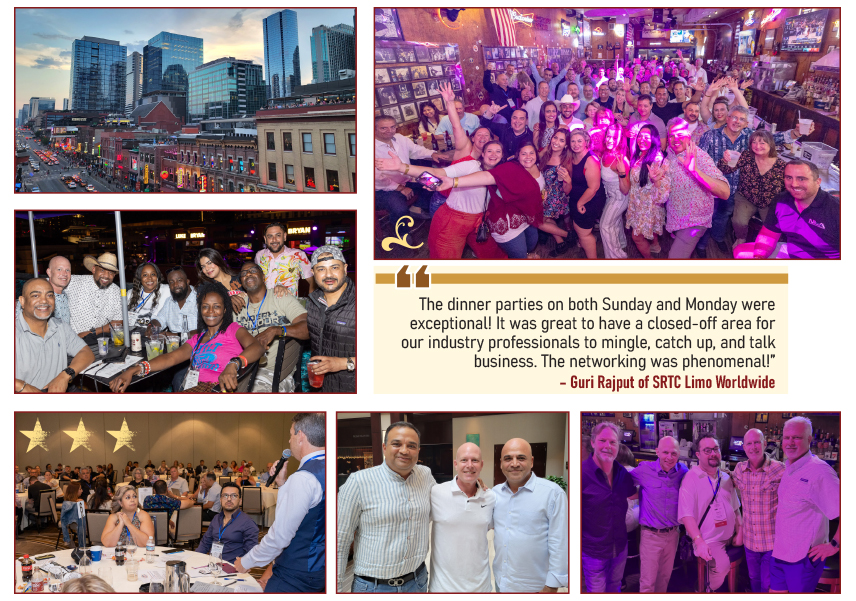 "The evening events allowed the time to let your hair down and really mingle with others. The choice of venues was excellent. I can't say enough about the food selection at Kid Rock's!" raves Tracey Phillips of Stay Classy Transportation.

That high level of energy continued into the classroom on Monday morning as we kicked off our educational programming from Entrepreneurial Operating System® (EOS) Certified Implementer, Justin Cook. With a pair of interactive game-changing, multi-part sessions entitled Get a Grip on Your Business, Cook introduced operators to EOS and its Six Key Components of a successful business: Vision, People, Data, Issues, Process, and Traction. In part one, he presented tools and disciplines EOS uses with clients to help them get more of what they want from their business. Then, following our popular Vendor Meet-and-Greet, operators got a deep dive into the means that clients say make the most immediate impacts on their business: The Accountability Chart and The Level 10 Meeting. By the end of the day, our attendees walked away with a set of simple, practical tools that they can use to focus on priorities, get clear on issues, and gain traction together as a healthier team. "The EOS presentation was phenomenal! I expected a sales pitch, but it was incredibly generous and informative. A+++," says Lauren Elam of Molly's Trolleys & Palm Beach Tours & Transportation.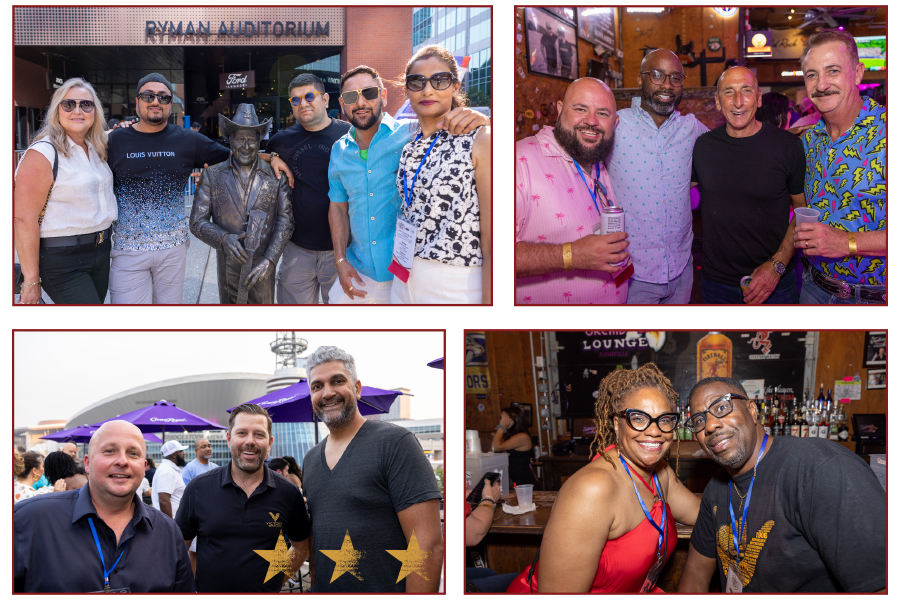 Our Monday night dinner party at the legendary Tootsie's was one for the books. Our guests were treated to an exclusive party on the venue's rooftop bar, which until our Retreat had never been rented out for a private event. In true VIP fashion, attendees chowed down on BBQ and sliders, while a band played favorite rock, pop, country, and R&B favorites from the '50s to today. No song request could stump this sextet!

"The dinner parties on both Sunday and Monday were exceptional! It was great to have a closed-off area for our industry professionals to mingle, catch up, and talk business. The networking was phenomenal! Definitely made it worth it to go to the Retreat," says Guri Rajput of SRTC Limo Worldwide.

The education continued on Tuesday with a look into the future of business development. Speaker Robyn Goldenberg of Strategy Leaders and FindStaff offered a timely (and useful) session that explored the benefits of using AI and ChatGPT by luxury ground operators. Attendees were impressed with the live, real-time demonstration that created a job description for an attendee in seconds. Specific use cases for AI in a variety of important functions were also discussed, providing insight into best practices for implementation, and along with real-life success stories from industry leaders.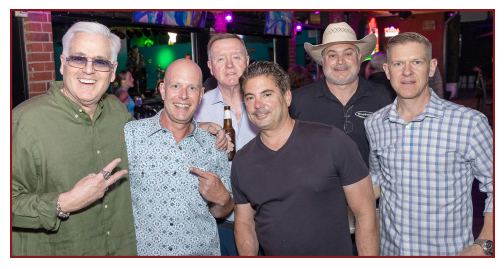 "The EOS and AI/ChatGPT sessions were exactly what I needed for our business. I'll be sending staff to Orlando to represent ATS in October. They are very excited, and I know they will take in a ton of great info for our business. Nashville certainly provided that for me," says Chip Thompson of Atlantic Transportation Services.

"The one-on-one time is great and gives me an opportunity to really connect with the strategic partners we do business with, but the workshop on AI was eye opening and I feel this is something our team can begin to utilize more," says Andrew Tighe of RMA Worldwide.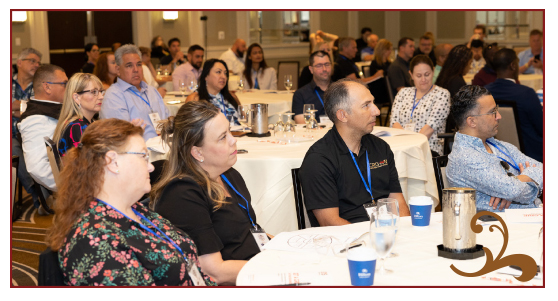 The educational portion of the show came to a close on Tuesday afternoon with Interactive Roundtables: Are You Exposed?, a session moderated by CD/NLA Education Committee Co-Chair Jason Sharenow of Broadway Elite Worldwide and Committee Members Athena Grimm of BAC Transportation and Douglas Schwartz of Executive Limousine. Teams of operators flexed their creative problem-solving muscles to brainstorm solutions to unforeseen crises situations. Experts Matt Daus and Jay Pearson of EBizCharge then weighed in to supply their insight on the theoretical catastrophe. There's no doubt that the groups definitely brought their A game as the competition was fierce, furious, and fun! Team 6 was declared the winner, with each participant taking home a CD backpack, NLA-branded goodies, and a certificate worth $200 toward any CD/NLA event.

"The CD/NLA Executive Retreat was a great learning experience, both culturally and about our own industry. I enjoyed the educational sessions, learning about organization and business structure to the new technologies available to advance the business—but the most enjoyable of all it was the Interactive Roundtables," says Jaime Gonzalez-Valdes of American Transportation.



Following the Roundtables, attendees gathered for a one-of-a-kind tour of the Ryman Auditorium, the city's historic live music venue. Called the Mother Church of Country Music, the Ryman has hosted legendary performers of all musical genres ranging from Minnie Pearl and Johnny Cash to Neil Young and the Foo Fighters. On a semi-guided tour, our guests got to learn about the captivating history of the Ryman and get a glimpse of some incredible memorabilia of the artists that have played their. Best of all, everyone got to set foot on the venerable stage for a complimentary photograph.

The next morning, a handful of attendees extended their Tennessee visit an extra day with a trip to Lynchburg for a tour of the Jack Daniel's distillery, where they sampled five world-renowned spirits and enjoyed a peek behind the curtain of how it's made.

We're already hard at work on the next event, the CD/NLA Show, which will return this fall to the Gaylord Palms in Orlando on October 22-25. And start planning for 2024, as we bring the CD/NLA Executive Retreat to the fabulous and iconic Fontainebleau in Miami Beach on June 2-5!   [CD0723]