BY MADELEINE MACCAR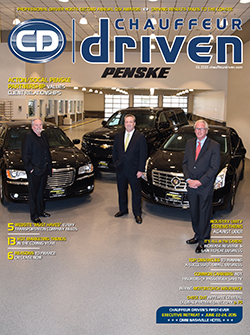 Cover Art: L to R: Acton/SoCal Penske Professional Vehicles' General Manager of Fleet Operations Greg Maddock, Vice President/General Manager Bill Cunningham, and Co-CEO Phil Hartz stand with a few of the vehicles the partnered dealerships sell. Photography by Chris Weiss.Ask anyone from the bicoastal Acton/SoCal Penske Professional Vehicles team what it takes to build the biggest Cadillac dealership west of the Mississippi River and become the largest seller of professional for-hire vehicles in the country, and their answer is simple: Commitment.

"We don't want to hear from people only when they want to buy a car," says Bill Cunningham, vice president and general manager of Acton Fleet Sales in Acton, Mass. "We truly believe that if we're committed to the customer, if we're committed to the cars we sell, we'll be available to the customer through the good and the bad."

According to Cunningham, that commitment ranges from assisting a client who has a flat tire on a Sunday evening or simply listening to a potential buyer to help them decide what new vehicle would best suit their needs without rushing them through the buying process. And it's been the hallmark of the Acton and Penske partnership since its beginnings in 2011.

The companies' collaboration was born of a longtime friendship between Coleman Hoyt and Phil Hartz—Acton Fleet Sales' president and Co-CEO of California's SoCal Penske, respectively—and their interest in applying cumulative decades of vehicle-sales knowledge to the livery industry. Hartz, however, wouldn't make the leap until he found a Cadillac salesman he knew he could count on, who turned out to be Greg Maddock, now the West Coast general manager of fleet operations.

More than three years later, the partnership's business philosophy still embraces the original intent of offering clients a transparent, hassle-free sales experience that has resulted in the companies' business comprising roughly 70 percent repeat clients and quite a number of referrals.

"If someone asks why they should trust me, my answer is that you shouldn't until I've earned your trust—don't just trust me, let me prove that you can," says Hartz.

The two companies share not only the same approach to nurturing customer relationships but also their available inventory, which is predominantly Chryslers, Lincolns, Chevrolets, and Cadillacs. Having representation on either side of the country allows Acton/SoCal Penske to distribute and ship its vehicles with an ease and speed benefiting its nationwide customer base.


The Ram ProMaster "We didn't want to ship cars from the West Coast to a client on the East Coast and have the client pay to have the car transported across the country," Cunningham says. "The goal of having mirror inventory was to give buyers the least expensive way of getting the car delivered to them as part of the purchase."

While Hartz notes that it is notoriously difficult to predict demands and trends in livery transportation, each company's willingness to listen to their individual clients has helped the Acton/SoCal Penske teams identify what kind of vehicles the industry is clamoring for. Cunningham says that despite the 2015 redesign of both the Cadillac Escalade and Chevrolet Suburban that left both vehicles with heftier price tags, "people still can't get enough of them." Meanwhile, the sedan demand shifts on a monthly basis: "We'll have one month where practically every sedan we sell is a Chrysler, and the next month, it'll be predominantly Cadillacs."

Both Cunningham and Hartz agree that the industry is still grappling with the 2011 demise of the Lincoln Town Car, which Hartz says had become "prohibitively expensive" to manufacture under current EPA, fuel economy, and safety standards. "But I think we've done a good job trying to educate the industry on what their choices going forward are," he says. With the traditional limousine business "dramatically losing favor with corporate clients," zeroing in on larger sedans is crucial, and Hartz believes that the Cadillac XTS as well as the upcoming introduction of Cadillac's CT6 and Lincoln's new rumored Continental will fill the void left by the late Town Car.


Without the customer, there is no us. Our job is to educate customers and be there for them. – Bill Cunningham, Vice President and General Manager of Acton Fleet Sales

Hartz believes that it's imperative for Acton/SoCal Penske Professional Vehicles to remain active within the industry to best understand its clients. Participating in state and national associations—like the Greater California Livery Association (GCLA), New England Livery Association, and National Limousine Association—is one way for the bicoastal team to accomplish just that. In fact, Hartz was just elected to the GCLA's board of directors as vendor director, and has even hosted the association's annual fundraising poker tournament at Penske's Torrance, Calif., dealership for the past two years.

"We need to participate in the industry and show our support for everything its members are trying to accomplish," he says. "It's important for us to be visible to everyone without always selling to them."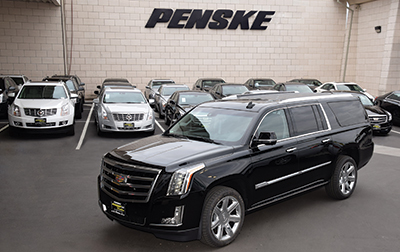 A 2015 Cadillac Escalade at the SoCal Penske dealership in Torrance, Calif.
Making themselves both visible and available to their client base and the industry at large is the embodiment of what the team is all about: "Without the customer, there is no us," Cunningham says. "Our job is to educate customers and be there for them."

Continuing to strengthen and broaden their service to the livery industry is one of Acton/SoCal Penske's aims for the new year, as is developing new products to achieve that goal. With the success of both the Mercedes-Benz Sprinter and Ford Transit heralding a bright future for passenger vans, the partnered companies are looking to get more involved in that facet of the industry with a van that has already proved to be a hit at industry trade shows.

"We have a product that's just coming along, called the Ram ProMaster, which we've shown as a nine-passenger van," Hartz says. "Now that we're seeing a change in the industry, we're responding by offering that product, which has the same utilities and functionality as the Sprinter but at a lower price point." Whatever the future holds, Hartz knows he has a winning team to meet the industry's needs head-on.

"My partner out here is Roger Penske so there's a lot of racing heritage in our blood, and we tend to look at this in racing metaphors: A long race means you need to have a system and process in place that will allow you to get to the finish line," he says. "We look for reasons to say yes rather than no. It's a little more costly to operate that way, but it's a long race and we've got some innovative guys who are always looking to make things work for our customers." [CD0115]