BY LIZ HUNTER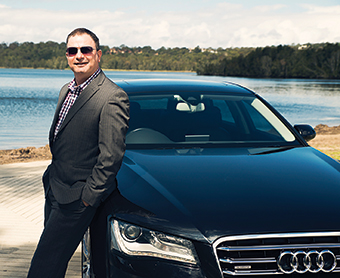 Penguin Cars & Limousines CEO & Founder Kris Korkian Sydney's Penguin Cars & Limousines Celebrates 10 Years of Top-Notch Luxury Service

It's safe to say that the chauffeured ground transportation industry is well-established in North America and Europe. In other parts of the world, however, the industry is in its infancy as the technology, standards, and even vehicles are just catching up.

In Sydney, Australia's most populous city, the industry is still small but one operator in particular is ahead of the times and making big strides to grow his company.

Kris Korkian was a chauffeur in Toronto 20 years ago, but a visit to Australia turned into a permanent move after meeting his future wife there. Despite his experience as a chauffeur, his career wound up heading in a different direction: Domino's Pizza franchises. Korkian says that he worked part-time in college for Domino's and owning a franchise was the perfect business opportunity.

A decade later and with his first child on the way, Korkian had grown tired of the late-night pizza business. After an evening out at a local community club, he had some time to consider his next move during a nearly hour-long wait for a taxi. "I waited that long for a drive that took 10 minutes," says Korkian. "All because the taxi service here was unreliable. It motivated me to do some research and think about doing what I used to do in Canada."

In April 2005, Korkian launched Penguin Cars & Limousines. "I knew that I could apply the basics of treating clients well and do things differently than other companies," he says. He started with two vehicles, which he and his operations manager would drive. "We grew to a third vehicle, at which point I had to step back, get out of the car, and work on the business. They say the toughest times come at three cars: You either stop and scale back, or grow—and I wanted to grow."

And his company certainly has grown. Today, Penguin boasts a fleet of 14 vehicles, five office staff, and 20 full- and part-time chauffeurs.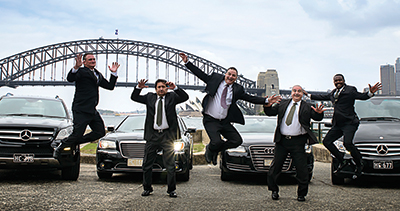 As the Sydney Harbour Bridge overlooks their antics, Korkian (middle) and chauffeurs (from left) John Clark, Juan Saldana, Jack Jerijian, and Aloys Rubasha ham it up with some of Penguin's fleet: a Mercedes GL350 SUV, Chrysler 300C, Audi A8L, and Mercedes Viano MPV
With a population of nearly 5 million people, Sydney has advanced itself as a major hub for financial institutions, tech companies, and tourism. Google, Pfizer, Morgan Stanley, IBM, and Boeing are among the international corporations that have established headquarters there, contributing to the city's more than $300 billion gross regional product in 2013, making it a larger economy than Denmark, Singapore, and Hong Kong. But it is tourism, both international and domestic, that is one of the biggest draws to the area. Approximately 2.8 million people from other countries visited Sydney in 2013, amounting to $5.9 billion in spending, plus another 8.3 million domestic visitors who spent $6 billion. >

The city has no shortage of must-see spots. In terms of the man-made, there is the Sydney Opera House, which opened in 1973 and hosts more than 1,500 performances annually, and the Sydney Harbour Bridge, which connects the central business district to the North Shore, is the tallest steel arch bridge in the world, and the sixth longest-spanning. Other attractions include Olympic Park (the site of 2000's Summer Olympics), the Australian Museum, and the major shopping destination that is the Queen Victoria Building.

Being a coastal metropolis, Sydney is surrounded by beaches, most notably Bondi and Manly—although Korkian is quick to point out that these are touristy destinations that locals tend to avoid. Sydney also is a major cruise port with two dedicated terminals expected to see more than 280 ships come to call in 2014-2015.

Australia itself is the world's fourth largest wine exporter. There are 60 designated wine-producing regions, with Hunter Valley being among one of the most notable in New South Wales near Sydney.

All of this amounts to a robust book of business for Penguin, especially when it comes to affiliate work. "International affiliate work was something we got involved with about six years ago," says Korkian. "The business world was dealing with the economic crisis and some of our biggest clients were sending memos about not using limousine services. At that time we went from six cars to four, and dropped about 50 percent in business."


The people at Tristar suggested going to the shows, and there was this immediate 'wow' factor. I learned so much and couldn't wait to apply the things I had learned about to my own business. – Kris Korkian, Penguin Cars & Limousines CEO and Founder

It cast doubts in Korkian's mind about the future of his company. "I was having second thoughts and wondered if it might be time to get out," he says. That was about the time when he connected with Tristar Worldwide in the United Kingdom. "They were looking for an alternative to their affiliate in Sydney, and I went and met them at their office in London. That's where our affiliate network started. Before that, I never really considered international business."

This newfound relationship opened Korkian's eyes to another side of the industry: trade shows. "The people at Tristar suggested going to the shows, and there was just this immediate 'wow' factor," he says. "I learned so much and couldn't wait to apply the things I had learned about to my own business."

Among them was GPS tracking—a novel idea to Korkian that seems like a standard for North American operators. "Six years ago, GPS tracking didn't exist in Australia. We're a very laid-back country, so the idea of needing to check on cars' locations other than taking drivers' word for it was like, 'Are you serious?'" says Korkian. "Now, knowing where all of my cars are is so important to my business."

As his affiliate network started to expand, Korkian had to make sure that his company was up to snuff for the high standards of inbound international clientele. One of the biggest—and most expensive—changes he had to make was in his fleet.

"In Australia, the industry standard vehicle is a brand called the Holden Caprice, which is the same shape as a Chevy Caprice, with a longer wheelbase. It's a good car, and comfortable, but affiliates didn't want their clients riding in a Chevy," he says. "It was a challenge because the industry is really built on that, and vehicles are more expensive here." As an example, Korkian says that a Mercedes-Benz S-Class costs approximately $250,000, thanks to luxury and import taxes.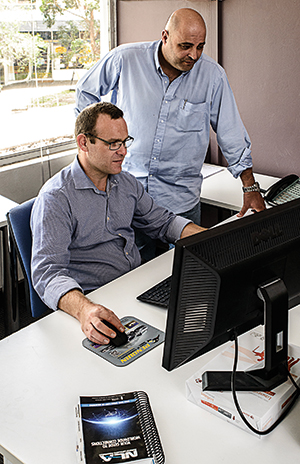 Reservations Manager Michael O'Hagan (left) and Dispatch Manager Wes Nahle
But Korkian knew that he would have to adapt in order to satisfy his affiliates, so he has moved away from the Caprice in the past five years. Sixty percent of his fleet comprises European sedans and SUVs, and he was one of the first companies in the market to include the latter in his fleet. "SUVs didn't exist here either, but after speaking to my affiliates, I knew an SUV was a must," he says.

Penguin's fleet includes Audi A8L sedans, Mercedes S-Class, Mercedes GL 350, Mercedes Viano, and an 11-passenger Ford Transit bus. "Our fleet has everything that clients would expect," Korkian says.

Korkian says his willingness to do things differently has favorably impacted his success. "I've never followed the rest of the industry here," he says. "Just because everyone is using it doesn't mean we have to use it. If it doesn't make sense, I don't use it. It's about listening to the client. If the client doesn't like the policy, it shouldn't exist."

There are three things that Korkian highlights as core principles or policies he believes in. The first is his policy of waiving credit card surcharge fees. He says surcharges can go as high as 11 percent depending on the merchant service used, and he was not satisfied with passing that fee onto clients—so he doesn't charge them. "It does cost us money, but in the end, it keeps the client happy," he says.

He also has the utmost confidence in his company's reliability, and has advertised in radio ads that Penguin is always on time or the ride is free. "People ask me how I can prove I'll always be on time, so I offer the ride for free. It's a policy on our website," he says. "We don't hide it. We don't run late."

The third is offering free Wi-Fi in Penguin's vehicles, inspired by his own trip abroad. "I traveled to London and after a nearly 24-hour trip, I wanted Internet," he says. "I found a single-car operator with Wi-Fi on board and it was amazing. I came back and invested in it. It costs me $1 a day per car and I'll be implementing it in the affiliates I use in Australia."

Korkian doesn't agonize over the decisions to pay for services that benefit Penguin's clients. "Our rates are fair. We're not the most expensive, but we're not the cheapest. We provide limousine service, which means you're going to get a clean car, an intelligent chauffeur, cold water, an on-time guarantee, and no extra cost for paying by credit card. Clients can see the difference."

Penguin also recently began incorporating iPads into its operations. Korkian says chauffeurs use them as signs in the airport, and also to operate an app that notifies the office when a client is in the vehicle, eliminating calls to dispatch with just one click. Korkian says he has secured clients because of the technology available in his vehicles. While these decisions have contributed to Penguin's growth, Korkian says that assembling the right staff also makes a positive impact. "Growth comes from hiring the right people. I'm no longer driving cars, which allows me to work on the business. Putting the right people in the right places and investing in training makes us a better company every day, and I owe a lot to them," he says.

"I'm also really proud of the staff retention we have. It means we must be doing something right," he continues. "We make sure they are happy. We don't treat them like idiots. Chauffeurs talk among each other, and I look for chauffeurs who have been mistreated by other companies and I bring them over."

To recognize the achievements of Penguin's employees, Korkian gives out his own "Oscars" of sorts. The chauffeur of the year and best employee are each presented with a golden statue that resembles the famed Academy Award figure, in addition to a $1,000 check. "It's all about the people, and this is how I show my appreciation to them," Korkian says.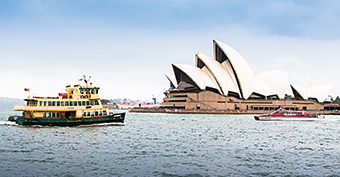 A commuter ferry passes the Sydney Opera House as it makes its way toward Circular Quay, the hub of the Sydney Harbour
With this solid foundation under him, Korkian has his plans for the future. "When I speak to people at the shows, I hear them say 'I only have 35 cars,' and that shocks me. At 14 cars, Penguin is considered big here, but that would be a small operator in the U.S.," he says. "I do think in the next five years, we could get to 50 cars with the right structure and a few more accounts." Penguin has acquired some small operations in the area, but Korkian chose not to buy their vehicles. He says this was one of the best decisions he has made in his 10 years of owning the business.

Korkian also services New Zealand with affiliates but he sees the potential for adding a brick-and-mortar office there this year. "We've known our affiliates there for some time and we're familiar with the market. The business is much smaller there but there are clear benefits," he says.

When he's not laser-focused on the business, Korkian's time is devoted to his family, which includes his wife Taleen and two daughters, Bianca, 10, and Aurelia, 6. "I am truly blessed to have such a wonderful family," he says. "I do feel guilty for not being able to spend as much time with them since this industry is 24/7, but whenever I have the time, I love taking them to a rugby match or cricket game."

They also travel as a family around Australia, but recently took a vacation to Canada and the U.S. "My daughters wanted to build a snowman," Korkian says, referencing the popular Disney movie Frozen. "Their dream was to build one and see snow."

Korkian's ambition and passion run high, and he is eager to share them with clients across the globe as both Penguin and its affiliate network continue to grow. He says that his experience with global clients has helped him to identify their particular needs, adding that "once you understand how passionate I am, I won't let you down." [CD0315]