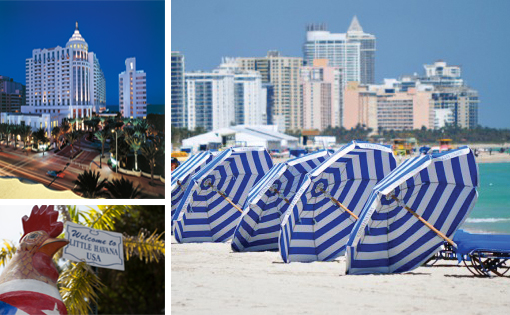 As the temperatures soar and local beaches come to life' it's not hard to close your eyes and pretend that these nearby weekend escapes are really those of more year-round flavor—say' like the kind that you'll find when you join us for Chauffeur Driven's first-ever show at Loews Miami Beach Hotel this October 11-14.

Miami' widely regarded as the southeastern gateway to America' offers an unmistakably international-influenced flair that we'll be sure to embrace with this year's offerings' both during the show and after hours. With inherently worldwide-reaching events such as our expanded Global Affiliate Forum and International Meet & Greet' as well as an expected significant spike in attendance overall' you'll have no problem making new connections with established operators representing a range of companies worldwide.

The Global Affiliate Forum and International Meet & Greet both emerged as two of the most well-attended and talked-about events at last year's show. We're expecting to see jam-packed rooms again at these two events' into which we're pumping even more energy and appeal for our 2015 show—with thanks to Meet & Greet sponsors Global Alliance Worldwide' Icona Global' and Modern Car Worldwide' as well as A1A Airport & Limousine Service' which is sponsoring this year's Affiliate Forum.

In 2014' more than 25 percent of the Global Affiliate Forum's table space was dedicated to international operators. Given the expanded nature of this year's forum—we're planning to maximize the meeting space with an increased number of tables—and its more enticing destination' we're expecting the event to boast an even greater worldwide representation this October' which should help you better serve your globe-trotting clients with a wider network of affiliates.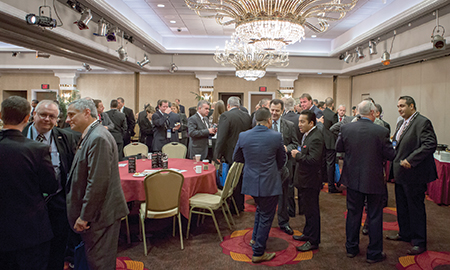 The operator-to-operator nature of the two-plus-hour Global Affiliate Forum will put you directly in touch with the people you've been looking to work with and the markets you've been wanting to break into. Last year's event attracted more than 500 participants so whether you stop by a company's table or strike up a conversation with another operator looking for affiliate partners' you'll benefit from the opportunities that abound. From Australia to India' from London to Los Angeles' the event promises to represent all reaches of the industry with operators who are all looking to start' grow' and foster new relationships to serve their clients—and yours' as well.

"A standout moment for me was [last years Affiliate Forum]'" said Travis Latham of Fellowship Fleet Limousine & Bus Company in Chicago' Ill. "I go to these shows for networking' and it was great getting to meet and connect with other operators who are well-established in the industry."

We moved the Affiliate Forum up a day last year so it could benefit from the show's full attendance' and the overwhelmingly positive response that such a change generated made it clear to us that it's a permanent move.

A standout moment for me was [last year's Affiliate Forum] ... it was great getting to meet and connect with other operators who are well-established in the industry.
— Travis Latham of Fellowship Fleet Limousine & Bus Company in Chicago, Ill.
"It made a huge difference having [the affiliate event] on the second day of the show when everybody was there' rather than on the last day when everybody's leaving'" said Victoria Durbin of Kansas City Transportation Group in Kansas City' Mo. "I had a table—it was awesome and I met a lot of new contacts."
The International Meet & Greet also drew crowds of a few hundred in 2014' and we're in the process of making sure this year's event encourages that same' if not more' energy and enthusiasm—as well as some world-class networking that will broaden your company's global reach.
The International Meet & Greet might feature a casual atmosphere and easy mingling' but its intentions are serious: putting you in touch with operators you may not otherwise meet face to face.
As with previous years' the nights heat up once the sun goes down' and our Miami debut will be no exception. Our legendary parties will give you a chance to not only unwind in the company of an entire property populated by your peers—among this event of firsts' our Miami show will also include the industry's first-ever hotel takeover—but also get acquainted with the Loews and the international flavor surrounding it with two nights of festively themed bashes.
We'll kick off the show's first evening in town with our Havana Nights party' a Latin-infused fiesta that will begin in the Loews' lavishly appointed Americana Ballroom and end with a lobby-bar takeover. Get ready for Cuban-inspired food and drinks' dancing' music' and more when we bring a little taste of Havana directly to you—complete with a cigar-rolling table.
Instead of holding our suite parties on the last night of the show' Monday night's Caribbean Sun Splash will be the perfect lead-in to get you ready for a night of playing just as hard as you work. This outdoor' poolside bash will feature an authentic reggae band banging on the steel drums and an island-evocative vibe. With the evening's musical accompaniment embellished by the nocturnal rustle of Loews' palm trees and the ocean's waves crashing onto a beach so close by that you'll swear you can feel the sea spray' you won't even need to imagine that you've been whisked away to a Caribbean paradise.
So what are you waiting for? Let us bring the world to you when you join us in Miami this October. Registration is now open on our newly updated site' chauffeurdrivenshow.com. In anticipation of the increased draw this world-class destination offers' the Loews has graciously extended our discounted rate of $225 a night to include three days before and three days after our show so everyone has a chance to turn this into a true working vacation. We'll see you in SoBe!
[CD00615]