BY SUSAN ROSE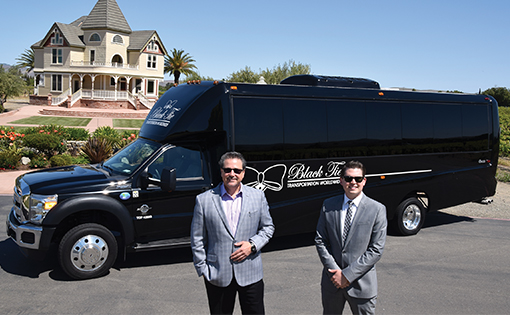 Like father, like son: CEO Bill Wheeler (left) with his son William at Concannon Vineyards in Livermore, Calif. (with one of Black Tie's buses from Grech Motors) Black Tie Transportation CEO Bill Wheeler is an open book. If you ask him how to succeed in chauffeured ground transportation, he'll happily tell you: "The secret to anyone's success is that they care," he says. "If you care enough, then you can teach your people to care and it becomes an easy business: Show up on time with a clean car and a professional chauffeur. That's it."

It's that simple ... and that difficult. Nearly three decades of experience have prepared Wheeler for most anything, including the dot-com bust and the explosion of the tech community in Silicon Valley and the San Francisco Bay Area where the company is located.

The corporate guys said that reliable, ­dependable, and on-time transportation was most important to them"
– Bill Wheeler
The auspicious beginning of Pleasanton-based Black Tie has its roots in a humble (and unlikely) place: the parking lot of the high-end furniture shop where Wheeler used to work in the mid-1980s. Like most young, single guys in his 20s, Wheeler enjoyed having a good time with his friends. He was making great money working for Breuners, one of the Bay Area's oldest and most respected retailers of home furnishings. As Wheeler tells the story, he spotted the used 52" white Cadillac stretch in an auto trader publication and thought it would be cool to purchase it to transport his friends and himself after nights of imbibing—a classy designated driver program of sorts. On Friday nights he would drive it to work and, as he soon learned, it's hard not to be noticed when you're parking a stretch limousine in the employee lot. People began asking him if he accepted bookings, and his transportation company was slowly built one customer at a time.
Wheeler had the advantage of already catering to customers for whom superior service and quality trumped price, so he decided from the very beginning that Black Tie would be an ultra-premium company. The name itself embodies elegance and formality—and it thrived despite being more expensive than its competitors.
Tours to the Wine Country and nights on the town two days a week weren't enough to sustain a business; before long, he diversified into corporate work so that he was able to hire full-time chauffeurs and expand the company.
"The corporate guys said that reliable, dependable, and on-time transportation was most important to them," he says. "This basic premise, which seems so obvious, is something very few companies have proven to be able to provide; that's what makes Black Tie shine." At the time he was only operating stretches. "They wanted a place to work on their way to their next meeting." He initially purchased low-mileage Lincoln Town Cars from rental car companies, and says that Black Tie's reputation skyrocketed as his corporate clients recommended the company to their high-powered colleagues.
According to Wheeler, attracting clients was never a problem, but he knew that in order to interest astute customer service professionals in working for Black Tie that he would have to rightly reward them for it. First, he insisted on hiring full-time chauffeurs as regularly as possible so that it was their primary source of income and not some side gig that they wouldn't take as seriously. Delivering first-class and flawless service required like-minded employees, and he needed chauffeurs who could think on their feet and always maintain composure in the most trying of circumstances.
"When the company was new, I hired part-time chauffeurs because we were only running on weekends, but by the time I called them on Thursday night, they were busy or didn't want to give up their weekend after working all week at their full-time job. I didn't want to have to deal with that again."
He also tightened up the hiring process to ensure that he was capturing the best people possible—which he says is an ongoing effort. Finding the right people to match the great expectations that Black Tie promises was, and is, essential.
"We kiss a lot of frogs," Wheeler jokes about recruitment. "The good ones stay because they want to work with hardworking, ­customer-oriented, and dedicated people. We're not afraid to fire people and deal with the situation head-on—we have an upfront and honest culture. It's the only way that works if we're going to deliver that level of service every time."
All potential candidates go through a two-stage interview process that includes an initial meeting with the position's supervisor and, if they make the cut, a sit-down with Wheeler himself. The time between interviews is critical to whether a candidate moves on or is kicked out of the running.
"We never make an offer in the interview. We want them to go home and think about the opportunity after the first meeting," Wheeler says. "We want them to be excited about it, to talk about it with their family. We want them to consider this a career," even though it comes with an ever-changing schedule. Employees are offered benefits such as a 401(k) with a match and health care, a policy that he says he installed long before it was mandated by the Affordable Care Act (Obamacare).
Because candidates are vying for a customer-centric position at a luxury transportation company, a simple test determines if they move on to a second interview: a thank you note or email. "We make sure to give them our business cards and drop several hints to reach out to us if they have any questions. If they don't get the hint, then they're probably not going to be a good fit for our company and will not make the final cut."
Wheeler makes it a point to meet personally with future hires. "If I'm going to write a check to someone, if they're going to be my employee, I want to know who they are and for them to know me." A silver lining of the most recent recession was the available pool of talent. The trend in Silicon Valley is to recruit hungry and ambitious Millennials—even at 30 you could be considered too old—which leaves many second-life executives looking for work. And because they are used to dealing with Black Tie's level of clientele, Wheeler says they make fantastic employees.
Three years ago, he was taken aback by a familiar face looking to work at Black Tie: his son, William. The younger Wheeler graduated from college and briefly pursued a career in forestry but found that it wasn't necessarily right for him. He approached his father about working for the company, but Wheeler initially declined. Determined, his son took matters into his own hands and found his way in through a training class. There was a bit of tough love, but no one could claim that there was nepotism.
"I let him go through chauffeur training, but I made sure that he got the first runs of the day so he had to get up early," he says. "A few months later, he was one of our most popular chauffeurs, so I told our chauffeur manager to give him the last runs of the night to know what it's like to wait for our clients. He did a great job with that, too, so I made him work in reservations, then dispatch, and group work. He enjoys a challenge." Wheeler says that he regrets telling his son no, but is glad that he was persistent. "We're dialed in and the company doesn't really need me as much as I want to be here. I'm having a blast working with my son. He brings fresh ideas, concepts, and solutions to the business that makes us more efficient."
Wheeler was early to adopt buses for corporate group work, which he did in the early 1990s. It was a snowball effect that led to charter work and company employee shuttles. With Black Tie's buses moving 22 days a month for shuttles—guaranteed monthly income—they were free for lucrative weekend charter work. Today bus work is about half of Black Tie's revenue, with airport transfers and a small amount of retail trips rounding out the other half. Wheeler says that Black Tie farms out more work than it farms in; however, finding affiliates that match its level of service has been tricky. "Black Tie does not solicit inbound affiliate work; we prefer to have a relationship directly with the client. He who owns the customer owns the business," he says.
He says he's seen an uptick in charter business of late, and it's fueled Black Tie's 20 percent growth in the past two years—all that without competing in the RFP process. "We stopped wasting time and energy doing RFPs a few years ago because, while they say they're not basing it all on price, they all flip to the last page for it and generally go with the lowest-priced service," he says. "Well, you often get what you pay for, and a year or so later when they are frustrated and disappointed, they give us a call and contract with us without completing an RFP. They'd rather have reliable service than worry about the cost." Thirty percent of its 112-vehicle fleet is luxury buses, including many from Grech Motors and Temsa.
Black Tie is now 150 employees strong, including 14 full-time detailers who work 24 hours a day, 100 chauffeurs, 12 reservationists, two marketing staff, four accounting personnel, and five mechanics, which is needed for the amount of work that running buses creates. Wheeler says vehicles leave the office in impeccable condition inside and out consistently.
With the Town Car now retired, Black Tie's lineup looks radically different from those early days. Wheeler recently invested significantly in his sedans. Tired of deciding which luxury vehicle would be the successor, he made the choice to go with the BMW 740Li.
"It's the standard of luxury in Europe—luxury without being overstated," he says. "It was the right decision for my clients." He recently purchased 30 BMWs and is in the process of changing over the rest of his sedans.
You would think that a service based in the technology mecca would be driven by online reservations and complete automation; while all of that is important to Wheeler, he finds that the majority of his customers still want a personal touch of a human being. He says that he stays on the forefront of his clients' technology needs with an app for both iPhone and Android users, has a strong social media presence, and equips all of his chauffeurs with state-of-the-art smartphones. About 60 percent of his reservations are from phone calls, with roughly 10 percent coming from the live chat feature on the Black Tie website—which he attempts to turn into a phone call within a minute or so (the rest come from email).
"If I'm just a website, then I have no connection to that client. I want them to fall in love with my reservationist because we are the experts when it comes to their transportation. I want them to feel secure and know that they are being treated well. I want to develop that relationship."
Growth has been so vigorous that Wheeler is controlling it by raising his prices. He says that it's not important to him to be the biggest service in the area, because he doesn't want it to sacrifice consistent quality. The type of business travel that was impacted during the recession was mostly middle management and below, which is not the typical Black Tie client. Senior officers continued to travel, if not stepped up their travel. "It's a bold statement to make, but Black Tie was pretty much recession resilient because of who our customers are."
Surprisingly, Wheeler says that Uber and other TNCs have actually been beneficial for his company because it is introducing new clients to car service. "What Uber has done effectively is to make people think about transportation. Where once they would have driven to their destination in the city, they are now considering using a service like Black Tie. Besides, Uber is doing the taxi-like work that I'm not interested in doing anyway."
One thing that does keep him guessing, however, is what luxury transportation will look like in a decade, especially as many of his clients age and the new crop of younger C-level executives prefer different methods of transportation. His son may just be able to help him figure that out over the next few years. Wheeler is fairly certain that bus work will continue to dominate the transportation landscape in the near future, and the more rigorous barriers to entry will help to limit the competition. "Sprinters are so versatile for us and I think it's going to continue. It's going to be a bus and Sprinter world for us."
[CD0615]