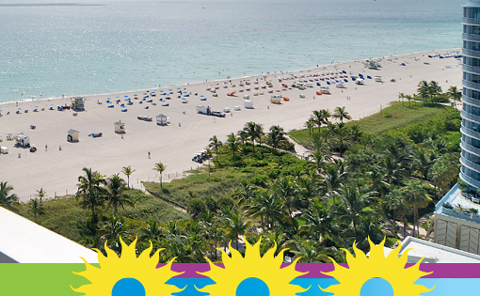 Have you registered for our October 11-14 Miami Show yet? With two months to go until Chauffeur Driven whisks you away to South Beach for four days of nonstop networking, world-class education, and high-energy entertainment—with thanks to Title Sponsors The Lincoln Motor Company and Grech Motors—you won't want to miss it when we launch the industry's first-ever hotel takeover at the beautiful Loews Miami Beach Hotel. Read on to learn more about all the returning favorites and new events we have in store for you!

SUNDAY, OCTOBER 11
We'll hit the ground running on Sunday. With FASTTRAK Cloud Livery Systems sponsoring our education, the show's first day alone will provide a range of workshops and seminars addressing timely topics such as company culture, recruiting chauffeurs, and building an affiliate network. Visit the CD Show site at ­chauffeurdrivenshow.com, peruse our digital brochure at bit.ly/1VXCMHR, or flip to page 25 for more in-depth information about the educational opportunities you'll find at this year's show.
It'll be time for education of a different kind when the industry's only Operator Mentoring Program, sponsored by Limo Anywhere, pairs some of the most successful operators in the industry with a small group for a roundtable discussion. We've revamped and expanded the two-hour program to maximize the benefits of exploring timely topics and invaluable insights with longtime industry operators and your peers alike. With a mix of program veterans and newer faces volunteering as this year's mentors, this is your chance to pick the brains of some of the industry's most recognizable success stories.
"The mentoring program was great," said Renzo Ormsbee of Elite Worldwide Transportation Solutions in Houston, Texas. "It ended up being more of a roundtable discussion where everybody kind of contributed, and I enjoyed it because I took in a lot of information not only from the mentor but also from the other folks who were there—and there were some people I was also able to help, so it was a definite win-win."
It'll be time for education of a different kind when the industry's only Operator Mentoring Program, sponsored by Limo Anywhere, pairs some of the most successful operators in the industry with a small group for a roundtable discussion."
To close out our first night in town, we'll transform our South Beach locale into a Cuban fiesta for our Hot Havana Nights party, sponsored by Worldwide Transportation. Enjoy the sounds and tastes of Old Havana with tropical drinks, authentic music, and a cigar roller who'll be hand-crafting one-of-a-kind stogies on location. If that's not enough, you can keep the good times going at the Lobby Bar Takeover once Sunday night's party comes to a close.
MONDAY, OCTOBER 12
Rise and shine, and then start your day by hitting the sunny shores of South Beach for some early morning yoga, which we'll host Monday and Tuesday—and is just one of the many new offerings we'll debut at our Miami show.
The Florida Limousine Association (FLA), which has been busy fighting TNCs all across the Sunshine State with much success, will be holding a 90-minute breakfast meeting Monday morning. Florida's regional associations, like the Greater Orlando Limousine Association, West Florida Livery Association, and South Florida Limousine Association, are all included under the FLA flag, so there are sure to be a range of perspectives addressed at this meeting.
Then get ready for the State of the Industry Address. With TNCs still putting up a fight, our industry has been going blow-for-blow with them and figuring out ways to not only survive but thrive in a post-disruption world. Our panel of experts will tackle the ongoing TNC issue, as well as discuss trends within both the ground transportation industry and the larger global-travel sector.
Our Keynote Speaker Terry Jones, founder of Travelocity and Kayak, will keep the TNC conversation going. An entrepreneur and accomplished speaker, Jones will bring his decades of experience within the travel industry and disruptive technologies to our show, where he'll discuss what he learned about staying relevant in a rapidly changing industry landscape. Our keynote sponsors are once again Grech Motors and Mosaic Global Transportation.
It's then off to the Miami Beach Convention Center for the Ribbon Cutting and Mimosa Reception that will herald the opening of our show floor and exhibit hours. With the convention center offering us an expanded floor space of 120,000 square feet, we're giving you more opportunities than ever to explore the newest services and latest in technology that the industry's vendors have to offer.
"We had an amazing run on the show floor," said Marco Schneider of BMW of North America. "We made so many new connections and met lots of people who are new to the brand. We had a number of customers who came to the booth to say how happy they are with their cars. It's the perfect platform to showcase our product line and speak to people in the industry."
The convention center will also host our Micro-Sessions, which you can catch on Monday and Tuesday afternoon. Sponsored by Reston Limousine, these 20-minute sessions will be presented by authorities on each topic who will provide insight into starting a company blog, controlling fuel theft, dealing with negative reviews, and more.
As the show floor hours come to a close for the day, another new-for-2015 offering will be taking off: Don't miss the debut of our Women in the Industry Networking Reception Monday evening! We invite you to meet, mingle, and share ideas with some of the industry's most inspirational female business owners and association leaders—sorry, fellas, this is a ladies-only event.
A standout moment for me was the affiliate events," said Travis Latham of Fellowship Fleet Limousine & Bus Company of Chicago, Ill. "I go to these shows more for the networking now, and it was great getting to meet and connect with other operators who are well-established in the industry."
But all are welcome at our island-inspired Caribbean Sun Splash, sponsored by Boston Car Service and Crown Cars & Limousines, where it won't take much of an imaginative stretch to pretend you've been transportation to a tropical retreat. Our first-ever outdoor, poolside party will be chock-full of live reggae music, tasty island cuisine, and more fruity drinks than you can shake a tiny umbrella at. Enjoy the warm ocean breeze and breathtaking views until the spirit moves you to join in our legendary Suite Parties. With American Motor Products, ETS International, Minority Limousine Operators of America (MLOA), RentalLimo, and RRL Insurance all sponsoring the suite parties, there'll be plenty of after-hours networking and good times to be had.
TUESDAY, OCTOBER 13
The MLOA will kick off the day's agenda with a morning meeting. The national association will invite Sheila Bright, a former corporate supplier ­diversity director, to speak at its breakfast session, where she will hold one-on-one sessions with MLOA members on a first-come, first-served basis.
Much of Tuesday's focus will be on broadening your affiliate network both nationally and across the globe, and we have a bevy of offerings to help you achieve just that. We'll begin with one of many returning favorites, the International Meet & Greet, which is sponsored by Global Alliance, Icona Global, and Modern Car. This event's casual atmosphere and many networking opportunities will put you in a high-energy crowd comprising scores of operators you may not have otherwise enjoyed a one-on-one conversation with.
"A standout moment for me was the affiliate events," said Travis Latham of Fellowship Fleet Limousine & Bus Company of Chicago, Ill. "I go to these shows more for the networking now, and it was great getting to meet and connect with other operators who are well-established in the industry."
Another show-goer favorite, the Affiliate Central Global Partner Forum, will also see an assembly of enthusiastic operators. We've expanded one of our most talked-about events to include even more tables than last year, giving you a chance to connect with companies representing all corners of the world who are more than eager to take care of your globe-trotting clients. Florida's own A1A Airport & Limousine Service is sponsoring this internationally reaching event.
Music Express Worldwide and EmpireCLS Worldwide will be holding their affiliate meetings in conjunction with each other later in the afternoon. Don't miss these two industry heavy-hitters discuss their involvement with Advocates for Fairness in Transportation as well as their newly announced partnership with Deem, which will connect operators around the country with the industry's own on-demand app. Afterward, head to our show floor to refuel with a tasty lunch, which is sponsored by Titus Leasing and Turtle Top.
We'll end Tuesday on an altruistic note, with our Charity Dinner & Auction to benefit the Ryan Seacrest Foundation. Last year, we raised $85,000 for the non-profit organization that builds entertainment complexes in children's hospitals to uplift young patients' spirits in a positive, musically empowering environment. The silent and live auctions' proceeds will go directly to this terrific foundation, so please join us for a night of inspiration and charity, which is sponsored by EmpireCLS. And if you want to help us in our efforts to give back to an organization that has put smiles on countless children's faces, we are still gratefully accepting auction donations of all kinds.
WEDNESDAY, OCTOBER 14
Our last day in Miami is guaranteed to make sure we go out with a bang. Our debut Association Summit, sponsored by Chosen Payments, will bring together associations representing nearly every state for a panel discussion of each market's unique solutions to industrywide concerns. You'll walk away from this summit with a more complete national perspective as well as an informational packet that will highlight how associations all over the country are dealing with TNCs.
Andi Gray of Strategy Leaders and Joe Ironi of Global Alliance will be closing out the educational offerings at the Loews; however, don't forget to check out our two bonus bus sessions at the convention center. While you're on the show floor, be sure to grab some brunch before the show winds down.
"I come to the shows to learn, network with others, and look at the new products," said Todd Roberts of JACO Limousines & Transportation in London, Ky. "When I came back home, I told some of my fellow operators all about what I'd learned—I was so impressed that I shared everything with them."
With our awesome rate of $225/night expanded to three days both preceding and following the show, you'll even have a chance to explore all that Miami has to offer, either solo or with your family, to make it a true working vacation. In the meantime, check out chauffeurdrivenshow.com for all the latest updates on everything we'll be offering you in October.
[CD0815]