BY LIZ HUNTER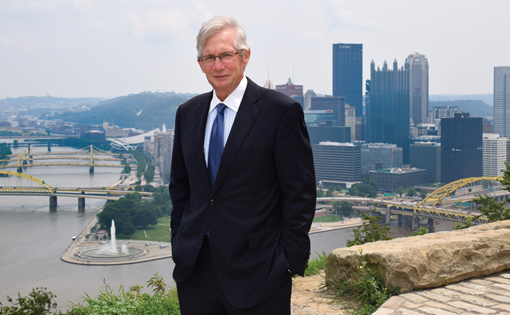 Regency Global President Tom Miller The year was 1991. The day: April 1. Tom Miller handed in his resignation from Pittsburgh National Bank—a job he had held since 1978. It was a shock to all of his colleagues, but this was no April Fools' Day prank. He was going to turn his dream of running his own business into a reality.

However, it wasn't just any type of business Miller wanted to run: He specifically wanted to run a limousine service. As a corporate banker, Miller traveled frequently to New York City during the late '80s and was introduced to the world of black car service, a concept that had not quite come to his hometown of Pittsburgh.

"At that time, the only people who owned limousine companies were either off-shoots of funeral homes or doing weddings, proms, and nights out," says Miller. "When I saw the black cars lined up outside of hotels and banks in New York [City], it sparked an idea in my head wondering if this could work in Pittsburgh."

As many know, the limousine industry at the time was not exactly where you'd find a college graduate with an MBA, like Miller. The entrepreneurs running limousine companies likely started as chauffeurs themselves or were perhaps taking over the family-run business for the next generation. For a person to leave a secure corporate bank job to take a risk in the limousine industry was unusual, a fact that Miller admits.

"I always had the dream of owning my own business," he says. "I'm not smart enough to invent something, I'm not good with technology or manufacturing products, but I understood customer service."

So Miller, who had lost his wife in 1987 and was raising a young daughter, went cold turkey and leaped into the industry by purchasing a local company—Exter Limousine Service—mostly for its PUC license, Yellow Pages ad, and phone number. Because he wanted to run a strictly corporate transportation company, Miller didn't need the company's stretches and immediately purchased two sedans. Working alongside his father, a retired accountant, in a 20-by-20 office, Miller essentially started building his business from scratch.
From day one, my vision was to build a business and not just have a job." — Tom Miller, president of Regency Global Transportation Group

"From day one, my vision was to build a business and not just have a job," Miller says. "With those two cars, my vision was to build a sustainable business [whether] I was there or not. A majority of small businesses die when the owner dies. I wanted to build an asset."

Nearly a quarter of a century has gone by and that asset is now a well-established one. As president of Regency Global Transportation Group, Miller operates a fleet of more than 40 vehicles and has an office staff of 15, two mechanics, and 60 chauffeurs.

Miller found out quickly how labor intensive the limousine industry is and had to pound the pavement—so to speak—to get business.

One of his first clients was the bank from which he resigned—PNC Bank. "In 1991, I went in and talked to some of my friends there about what I was doing," Miller says. "One friend—a mentor of mine—was the general counsel and corporate secretary who managed the affairs for the board of directors, which included arranging transportation for their corporate aircraft division. We got that business, then began doing airport transfers for other executives and saw our ride count increase rapidly."

In late 1994, Miller adopted a new name—Regency Limousine Service—after he purchased the local but more established company, which had been operating since 1981. He made another acquisition in 1997. Business grew steadily, Miller says, but it wasn't until 2000 when the company reached $1 million in sales. "It took 10 years to reach that hurdle, and that's when I felt like I was running a big company," he says.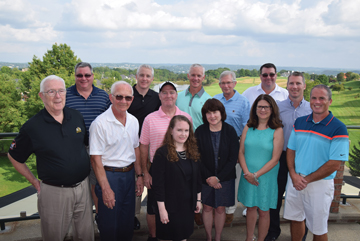 Miller (back row, third from right), daughter Caitlin Rooney Miller (center front), and the Rooney family at the 26th Annual Lupus Challenge, which is held in honor of his late wife, Kathleen, who succumbed to the disease in 1987 Then 9/11 happened. "It was a huge setback for the industry, and we were no exception," says Miller. "Business fell off the table."

But Regency ultimately recovered. Miller says the 2000s were a huge growth period for the company, as the economy boomed alongside Regency, and sales ramped up from $1 million to $4 million. In 2007, Regency handled its largest event ever: the 2007 U.S. Open in Oakmont, Pa. "We did more business in that week than we had ever done in a month," Miller says.

Unfortunately, that high didn't last long. The 2008 financial crisis dealt a blow to the country, the industry, and Regency. "The difference with this recession was that it lasted for several years," says Miller. "For my company, we felt the downturn from November 2008 to May 2010. There was a prolonged period of retraction. We had to figure things out, downsize, cut costs, and find new sources of revenue."

Regency did just enough to stay afloat, and after Pittsburgh hosted the G-20 Summit in the fall of 2009, things took a turn for the better. "That event put Pittsburgh on the international map and helped make it a destination city. People could see how Pittsburgh had evolved into a diversified economy—one of the leading green cities in the U.S.—and that resulted in a lot of international groups coming here for meetings and events," he says.

Familiar monikers for Pittsburgh include Steel City for its roots in the steel industry, and City of Bridges for its more than 400 bridges. It's also where the Monongahela and Allegheny meet to form the Ohio River, with an abundance of natural resources, which contributed to its role as the center of the manufacturing universe.

But since the decline of the steel industry, Pittsburgh has been reborn. Although U.S. Steel still maintains its headquarters there, the region is populated by new industries, including technology, health care, engineering, finance, higher education, and even robotics. Google operates research and technology offices in the former Nabisco factory. Other well-known companies with headquarters there include the old-line industrials such as PPG Industries, H.J. Heinz, and Westinghouse; generic drug manufacturer Mylan Pharmaceutical; major financial institutions such as PNC Bank, BNY Mellon, and mutual fund giant Federated Investors; retailers such as Dick's Sporting Goods and GNC; and international law firms such as Reed Smith and K & L Gates. In addition, the energy sector is an entirely new industry that has developed during the past several years with the Marcellus Shale boom.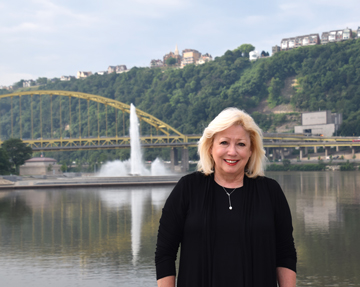 Senior Vice President Linda Gasper by the Fort Pitt Bridge and Point State Park Miller says there has been a population increase for the first time in decades, due in part to new job creation generated by these industries as well as what he calls the "eds and meds" industries. "University of Pittsburgh and Carnegie Mellon are two of the leading tech schools in the country," he says. "Carnegie Mellon, which has the top robotics center, has been in the news recently because Uber lured away several of its researchers to help develop its driverless car technology in competition with Google."

Aside from economics, Pittsburgh has a lot to offer culturally, too. One of Frank Lloyd Wright's most famous designs, Fallingwater, is located outside of Pittsburgh and is a major attraction. There is also a long tradition of jazz and blues in the city; the National Negro Opera Company, founded in Pittsburgh, was the first all African-American opera company in the United States. Major tourist attractions are the Andy Warhol Museum, the Carnegie Museum of Natural History, Phipps Conservatory, National Aviary, and the ToonSeum—one of three museums in the U.S. dedicated to cartoon art.

If you've never been to the city, Miller says that coming into it is truly dramatic. "As you drive through the Fort Pitt Tunnel from the airport you see some amazing hills, but as you emerge from the tunnel, you're suddenly in the city. It's the point where the three rivers meet and the skyline is right in front of you."

He says it's a view that sports fans might recognize from TV, as networks covering games traditionally show aerial footage of the city. One can't talk about Pittsburgh without also mentioning its major teams: the Steelers, Penguins, and Pirates. Miller says Regency is the official transportation provider for the Penguins and is active with the Steelers, although not in an official capacity.

"We do quite a bit for the teams," says Miller. "The Steelers have been a long-time client and football has become a year-round business. We do a lot in the off-season and when they make it to the playoffs, it's good for everyone."

Providing for this wide range of industries has helped Regency achieve so much. Miller says Regency does a large share of corporate work in Pittsburgh, and if there's an event going on, the company is probably involved in some way, shape, or form.

He caters to this diverse clientele that ranges from football players to banking executives with a well-equipped fleet, complete with 20 sedans—Mercedes S550s, E350s, and diesel E250s; Chrysler 300s; and a couple of 2011 Town Cars—as well as SUVs, minibuses, vans, and two stretch limousines. His fleet is housed in 15,000 square feet of garage space, attached to his 5,000-square-foot office. Outside he has a 10,000-square-foot parking lot, and across the street he owns another 27,000-square-foot building in which he operates an automotive shop where two full-time mechanics work on Regency's fleet and regular customers' vehicles. Miller rents out the other half of the building.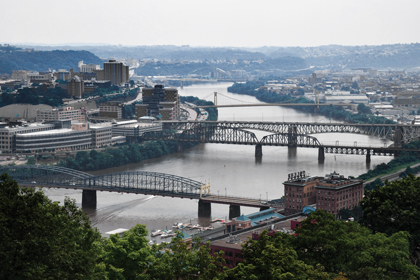 Pittsburgh is famous for its many bridges over its three rivers As any smart entrepreneur does, Miller has surrounded himself with quality people who help Regency run smoothly on a daily basis. Of course, learning to relinquish some control to staff was a hard lesson to learn, as many business owners say, but it reminded him that his goal was to own a sustainable business that wasn't reliant completely upon him.

"Early on in the company, I did all of the functions, including the on-call dispatching," says Miller. "Hiring my first dispatcher was a big transition for me. But the more people I bring on, the more my role has evolved into a strategic one, where I am able to focus on the big picture, involving things like the financial, technological, and legal aspects of the business as well as industry issues."

He still reviews the schedule daily, keeping an eye on ride counts or anything that doesn't look quite right. But for the most part, he is able to work on his business thanks to those he has around him.

Industry veteran and Regency's Senior Vice President Linda Gasper has been with the company since 2002, and Miller is quick to identify her as a key employee. He says that the two enjoy a great partnership—in fact, they spend so much time together at local business or industry events that many people mistake them for a married couple.

But she's especially well-known in Pittsburgh, having previously owned a limousine company. "Everyone knows her. She is great talking to people, but also strong on operations. Day to day, she is a point person dealing with groups, acting as an on-site coordinator," Miller says. "I am more behind the scenes but she is very hands-on. I joke that I own the company but I work for Linda."
I think anytime you can get together and share best practices is worthwhile." — Tom Miller

Stacy Schwartz is the affiliate manager and joined Regency with Gasper in 2002. "She sets up all of the affiliates we work with and makes sure rides are being dispatched properly," Miller says. "She works with groups, as well as reservations and dispatch. She can fill any office role."

Managing the fleet is Sean Connelly, who has been with the company for nearly seven years. "He coordinates everything with the vehicles, including working with the mechanics, the buying and selling, and maintenance details. He makes sure everything gets the attention it needs," says Miller.

Chauffeur Manager Will Dengler has been with Miller for more than eight years. A retired firefighter, Dengler started out as a chauffeur and evolved into the manager. Miller says hiring chauffeurs is a constant struggle for the company—a common theme in chauffeured transportation—and he feels fortunate to have some who have been with him for 20 years.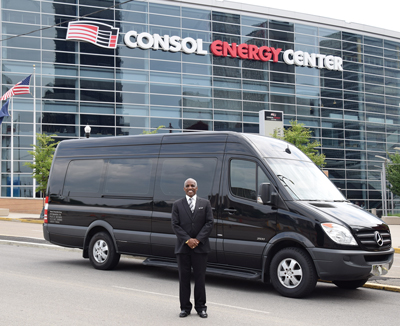 Chauffuer Tyrone Allen at Consol Energy Center, home of the Penguins "One of our chauffeurs who started with me in 1991 just retired last year," he says. "We've been fortunate to have some great ones, and we are always looking for new, quality people."

Controller Jim Nelson joined Regency in 2010. Although Miller says his background in banking helps him understand the numbers, he thinks it's necessary for a company to have someone doing the accounting internally. "As we grow bigger it's important to have timely information and get it on a monthly basis," he says.

Jennifer Mitterder recently became accounting manager after being hired in 2008 as a reservationist. She has since helped to both train others and handle group work.

Miller says senior dispatcher Tim Glackens is extremely conscientious in his job. "He's been with me since 2004. It's important for a dispatcher to understand both chauffeurs and clients, and he's always wanting to get it right. Dispatchers are key to any organization, making sure all the information gets from reservations to the chauffeurs."

Of his employees, Miller says, "I think it's important to treat employees like family. Customers are your bread and butter, but employees are your lifeblood, and as a company owner I have to be responsible to all of them for the sake of the community and the business."

Miller is not above continuing to learn and grow as a business owner. For the past 10 years, he has been a member of the Limousine Entrepreneurs Group (LEG). Originally started by Tom Mazza, the group includes 12 companies. "I think any time you can get together and share best practices is worthwhile," he says. "You need to be open to new ideas, and changes are happening so fast in this industry, this kind of group helps you be prepared for whatever those changes are."

He has developed some strong friendships in the industry—friendships that have helped him through some tough times. In 2012, Miller was diagnosed with throat cancer and underwent two months of radiation. "It was a difficult journey, the hardest thing I ever had to do," he says. "But I had the support of some amazing friends and employees."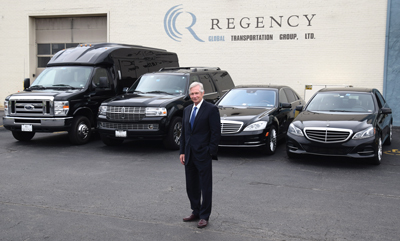 Miller at his facility He says Jon Epstein of Royal Coachman stayed with him after treatment was done, when he was barely strong enough to do anything, and Rick Brown of La Costa Limousine called or texted daily. His employees also stepped up. "I went to the office every day during treatment, and in the final weeks when I was too weak to drive, our chauffeur manager would pick me up and bring me in," he says.

"Recovery was longer than expected. It's a life-changing experience and having done it puts you into a club you don't want to be a member of, but I can't say enough about the support I received along the way."

Two weeks after completing his treatment, Miller was able to return to one of his true passions: golfing. He's a member of Oakmont Country Club, where another U.S. Open will be held in 2016. He is also the founder and chairman of the Lupus Challenge Golf Tournament, an annual charity event in memory of his first wife, Kathleen Rooney Miller, whom he lost to lupus.

Now in its 26th year, the tournament has raised more than $2 million for research, education, and public awareness of lupus. "When you go through a situation like that, losing someone to a disease, it creates passion to do something to create awareness," Miller says. "The Lupus Foundation has a great staff that helps pull it all together, and so many people have helped support this cause."

When he thinks about the future of Regency, Miller says the biggest question for him—and the industry—is figuring out an exit strategy. He has three children: Caitlin, who works in philanthropy and grant writing; Lindsay, who is a senior at Penn State; and Michael, who is finishing high school—but he never intended for his family to be involved in his business.

"I never wanted a generational business," he says. "As I think about the next decade or so, it will be time to determine what is best for me and the business. Is there a viable exit strategy that provides value for the business?"

For the industry as a whole, Miller says he only wishes he knew what it would look like in five to 10 years. "I believe it will be more tech-based, more demand-based to please the instant gratification of Millennials. How that translates into our industry I don't know," he says. "Everything will find equilibrium. Know your niche. Whatever it is you're pursuing, do it better than the competition." [CD0915]