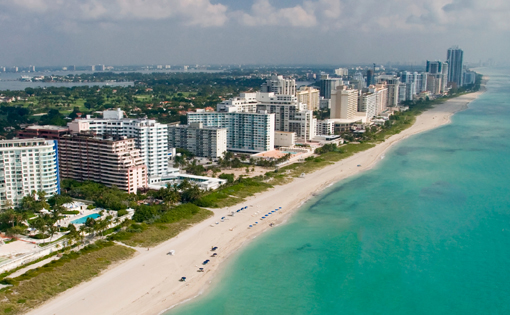 It's mere weeks before we all descend upon beautiful, sunny Miami Beach for the 2015 Chauffeur Driven Show, and you're likely putting the final touches on your travel plans. We've been giving you the awesome details of all of the things we have planned for our attendees for the past few months. But before you go, here's all the information you need to maximize your time and the return on your investment.
#CDShowMiami
• Registration
We can accept pre-show registration online at
chauffeurdrivenshow.com
or via phone
(856.334.1988)
through October 2, after which you will need to register on-site. You will be required to present your badge at all show events, so make sure you have it with you at all times.
• Operator Mentoring Program
Have you registered yet for our Operator Mentoring Program? If you are the owner of your company and have purchased a full show pass (four days), you'll want to take advantage of this event (sponsored by Limo Anywhere) on Sunday, October 11. We match you with one of 18 leading industry powerhouses—all seasoned operators who understand what you are experiencing and have the knowledge to offer sage advice—in groups no larger than 12 (see full list of mentors on page 27). The session is limited to 200 operators, one person per company, and it's on a first-come, first-served basis. Please note that you cannot be matched with a mentor from your own market, and, due to the nature and size of the event, we cannot guarantee that you will be matched with your first choice (however, every effort will be made to accommodate your preference). If you haven't already registered, visit
chauffeurdrivenshow.com/mentors
to pick your first, second, and third choice. Space is very limited.
• Show App
If you haven't already, download our official show app, sponsored by North Point Transportation Group, which has all of the information you need to plan your time before and during the show. The app has a complete breakdown of the specific events, locations, and times. It has a full list of our workshops and micro-sessions, including speaker information, seminar descriptions, and any handouts or slides from the presentation (if applicable). It's also how we can immediately communicate with you, our attendees, in the event of a schedule change or other issue. Use the app after the show to contact all of the exhibitors you met on the show floor for more information. You can even post right to social media from the app and share your profile with others who are also using it. It's available on the App Store and Google Play, or download it by visiting
eventcenter.crowdcompass.com/cdshow
.
Newbie Guide
Never been to a Chauffeur Driven Show or just have ­some questions? We've got you covered.
Attire
We are a professional conference, and most of our attendees wear business casual or suits to the majority of the events, including our Charity Dinner & Auction. For all other parties, jeans, sneakers, and other relaxed attire is fine. Note that our Caribbean Sun Splash party will be held outside, so plan accordingly with lighter, breathable clothing. It is Miami, after all!
Food and Drink
We provide coffee and tea in all of our workshops during the day, as well as adult beverages and light fare at our parties. If you're looking for a midday pick-me-up, we'll have lunch on Tuesday and brunch on Wednesday, both on the show floor at the convention center. Outside of the show, the Loews offers several restaurants on property, including casual and poolside choices so you don't even have to leave your lounge chair. Breakfast options include room service or the SoBe Coffee Bar, serving Starbucks products and continental eats between 6 a.m. and noon daily.
What Is The...?
If you're confused about any of the events that we offer, you can check online at chauffeurdrivenshow.com for more information. Events are open to all attendees for no additional charge, with the exception of the Operator Mentoring Program, which requires advanced registration and has limited capacity. You will need your show badge for entry to all show-related events, so don't forget it!
Show floor
All of the exhibitors' information is listed at chauffeurdrivenshow.com and in the event app.
• Affiliate and Association Meetings
Music Express and EmpireCLS will hold a combined affiliate meeting on Tuesday, October 13. All interested operators are invited. In addition, the Minority Limousine Operators of America and Florida Limousine Association will have their membership meetings at the show. Both events are open to all registered attendees.
Be sure to visit our show floor, where a dozen associations will have representatives on hand to speak with you about membership and how you can help your fellow operators locally and globally. Power in numbers!
New for this year, we'll also host an Association Summit, sponsored by Chosen Payments, which will be a lively forum of association leaders discussing the most pressing issues of the day—which, you know will include TNCs. Be prepared to ask questions and take lots of notes!
Also on Tuesday, our International Meet & Greet is the perfect opener to get you primed to talk about affiliate work. In this casual forum, sponsored by Global Alliance, Icona Global, and Modern Car, meet with operators from all over the world to discuss how you can expand your affiliate business on a truly international scale. For more affiliate action directly following, be sure to check out our Affiliate Central Global Partner Forum, sponsored by A1A Airport & Limousine Service. We'll have representatives from more than 50 worldwide companies on hand to discuss opportunities and partnerships for farm-out work. This is just what you need to build your global affiliate network, whether you're just getting started or consistently adding new markets to your roster.
• Show Floor Hours
The Miami Beach Convention Center is located just minutes away from our host property, and shuttles will be provided regularly between the convention center and the Loews during show floor hours, thanks to shuttle sponsors Aventura Worldwide Transportation, Coastal Car Worldwide, and Worldwide Transportation. Or, if you prefer a little sunshine, the convention center is a short walk away.
Of course, the highlight of our show floor is the impressive list of exhibitors who will display all of the latest products and services that are essential to running a successful transportation company. For a comprehensive list of our exhibitors, their contact information, and position on the show floor, check out our show app or stop by
chauffeurdrivenshow.com/exhibitors
. Be sure to visit all of our exhibitors, including Title Sponsors The Lincoln Motor Company and Grech Motors.
• Women in the Industry Reception
You asked for it, and we listened! Exclusively for the ladies in our industry, we provide the room and you take the conversation where it needs to go. This casual networking reception includes drinks and hors d'oeuvres, as well as a guest speaker. This is a great event for ladies of all stripes within the industry—from owners to reservationists and everyone in between.
• Charity Dinner & Auction
The generosity of our industry knows no bounds, and this event is no exception. We have dozens of fantastic auction items—including live and silent bidding—so you can feel as good about opening your wallet as you do about opening your heart. We will once again donate all of the proceeds of our charity auction to the Ryan Seacrest Foundation. Last year, our auction raised $85,000 for the foundation, all thanks to your generosity. Our dinner and auction are open to all attendees for no additional charge; the event is sponsored by EmpireCLS Worldwide Transportation Services.
• Relaxing and Networking
For all you early birds who prefer to welcome the day with a little activity, join us for our Yoga on the Beach on Monday and Tuesday mornings. Can you think of a better place to enjoy your practice than on the sandy shore at sunrise?
Evenings during the Chauffeur Driven Show are always your reward for putting in the time and effort to improve your business or learn strategies for future success. As you've already read about in previous articles, we have two amazing parties planned for you. Kick off the show on Sunday night with our Havana Nights, sponsored by iCars and Worldwide Transportation, followed by our Loews Lobby Bar Takeover. Keep the party going on Monday with our Caribbean Sun Splash, which will take place under the Miami moon and by the pool for some authentic ocean breezes while sipping on cocktails. Sponsored by Boston Car and Crown Cars & Limousines.
Also on Monday, after the close of our Caribbean fete, party all night long with our infamous After-Hours Suite Parties. Visit all five suites: American Motor Products, ETS International, Mosaic Global Transportation, RentalLimo, and RRL Insurance.
Are you ready to rock the Chauffeur Driven Show? Rest up and pack your comfortable shoes because we have a full show waiting for you! We'll see you in SoBe. [CD0915]