BY SUSAN ROSE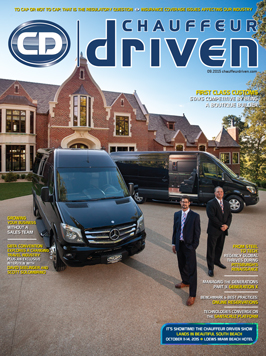 Jay Glick (left) and Sales Manager Jerry Dutcher with two of First Class Customs' signature Sprinters. Photography by Jason Connel of Jason Connel Photography. It's a Monday morning and Jay Glick is traveling to Missouri from his home in New Jersey. He makes the semiweekly commute to his manufacturing facility—First Class Customs—in Springfield. Glick, owner of First Class Customs, also operates First Class Limousine, a mostly retail operation with 25 vehicles based in Englishtown, N.J.

First Class Customs was originally founded in 2012 as First Class Coachworks, which he formed with an industry partner. Glick had long been behind the scenes with his successful online portal of used vehicles—LimosDirect.com—which he still operates, but he became First Class' sole proprietor in mid-2013 when he and his business partner parted ways. He's now a triple threat: operator, dealer, and manufacturer.

First Class is currently just one of three builders left in Springfield, a city that has a strong coachbuilding history from decades past. Changes in vehicle taste and the recession shook up the industry, but Sprinters have become the quintessential vehicle in chauffeured transportation—beyond the sedan, of course.

At first, Glick briefly focused on shuttle- and executive-style Sprinters until he could get a handle on how he wanted to shape the business moving forward. First Class has since ramped up production by increasing staff by 50 percent, taking on new projects like CEO SUV conversions (Cadillac Escalades and Lincoln Navigators), and tapping into the high-end luxury market, which comprises about 30 percent of First Class' business.

Glick says that his chauffeured transportation customers—whom he calls a who's who of the industry, from large to small operators nationwide—aren't driven by price but demand the most elegant and best quality products for their own passengers.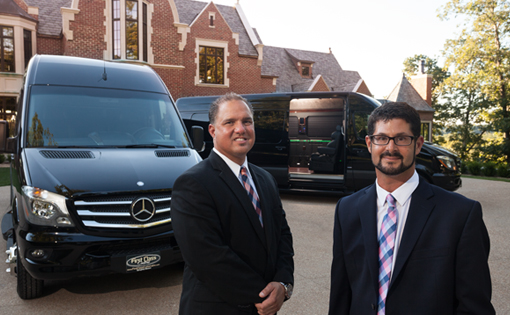 Jay Glick (right), owner of First Class Customs, and Sales Manager Jerry Dutcher with some of their signature Sprinter executive vehicles "I had the opportunity to really build First Class from the ground up on a financially sound foundation. Not many startups have that financial stability right out of the gate. We're not the biggest, but I like to say that we are one of the strongest. You don't have to be the biggest out there to be solid in your footing," he says. "You have to be confident in your product." He says that First Class recently secured a line of credit through Mercedes-Benz, which he feels gives the company room to grow while also giving it a stamp of approval from the OEM.

Bus and van manufacturing, especially Sprinters, has been highly competitive over the past few years, and there's no shortage of builders that have taken on the Mercedes-Benz staple. To distinguish himself from the competition, Glick's strategy was to focus on quality over quantity with an emphasis on innovative styling and direct feedback from his customers—including those who ride in his products through his limousine service. He's not afraid to turn away business if it means cutting corners to satisfy a price-sensitive customer; he never wants to sacrifice quality or the longevity of his vehicles. He says that he serves a very specific niche, and is proud to do so.

As an operator himself, he knows what it's like to be at the mercy of a down vehicle: furious (and sometimes stranded) customers, frustrated staff, and lost revenue. Because of this, he says it's imperative that his clients can reach him—day or night, weekend or holiday. He's also actively involved in design and production efforts.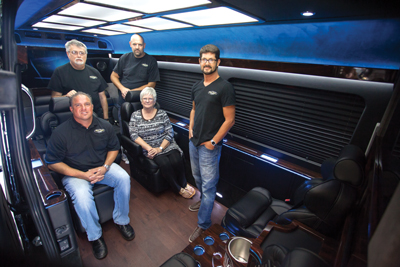 The First Class management team (L to R): Jerry Dutcher, General Manager Rex Williams, Shop Foreman Steve Bumgarner, Office Manager Linda Behling, and Jay Glick "We're proud of the fact that we've established ourselves as a premium brand in the Sprinter market, and that our designs are being emulated by others," he says. "But we're really focused on being a boutique manufacturer with an old-school focus on customer service, which means that clients are accessible to me any time of day. They have my personal cell phone number and call when they have questions. I can give them immediate answers and they can get back to business."

The prime Springfield location, of course, afforded First Class an abundance of talented craftsmen with years of experience with previous coachbuilders. He hired many of them, including General Manager Rex Williams, former plant manager for Springfield Coach Builders with 30 years of experience; Shop Foreman Steve Bumgarner, nephew of the late John Bumgarner, who was the founder of Springfield Coach Builders; Sales Manager Jerry Dutcher, who has a dozen years in livery sales; and Office Manager Linda Behling, whom he affectionately refers to as his "work mom," thanks to her three decades in coachbuilding.

"I have recruited some of the most experienced top talent in the industry. I feel we've put together a team of professionals who are truly the best in the Midwest." He says it's his top-notch management team that allows him to be flexible in his schedule and away from the facility while back home in New Jersey. When in Missouri, his transportation company is managed by his wife.

Glick says his team has developed innovative solutions to some of the common problems with Sprinter modification. Because Sprinters are powered by clean-diesel technology—BlueTEC—that runs cool, they have often had problems with cabin heating.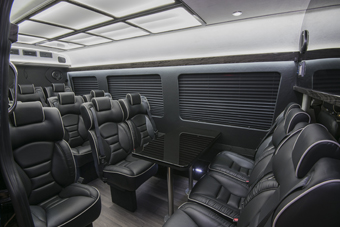 An interior of a Sprinter executive conversion ""We figured out a solution early on," he says. "We are still to this day one of the only builders that uses floor heating with our Sprinters."

Using his own company to "field test" vehicles has offered some invaluable insight into modifications and practical applications that other manufacturers would have to elicit directly from customers. He's received feedback on electronics, entry steps, running boards, and individual components. For example, Glick initially used wood in the vehicles' bars but because of consistent chipping and damage, he has since switched to using a more durable acrylic-based product that is dipped to look like wood and retains its aesthetics through repeated use. He says he only uses premium materials, like leather and electrical components, that will stand the test of time.

Glick is actively looking for a new home for First Class' facility—a larger space to accommodate the growth it has experienced. It currently resides in Springfield Coach's former manufacturing plant, a site where many of his staff began their careers. He hopes that by this time next year they will have a new address.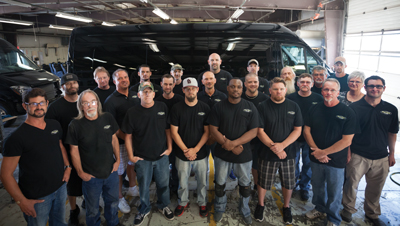 First Class Custom's owner Jay Glick (far left) with his team in Springfield, Mo. Another product that has Glick excited is the debut of the Mercedes-Benz Metris, a seven-passenger van that is a smaller version of the Sprinter. While he sees many versatile options for the vehicle, especially by transforming it into a mobile office that could rival current SUV conversions, he says that its most attractive feature is its projected low base price under $35,000—a much lower base price than many SUVs boast.

LimosDirect.com has also been redesigned and will be relaunched in the coming weeks. While First Class is a factory-­direct manufacturer, the site will allow Glick to sell not only his new vehicles online, but also the used vehicles that he only accepts in trade. The average turnaround time on a new product is about four weeks, although it is selling vehicles faster than they can be manufactured. Glick says that he's sold out about three months ahead of production.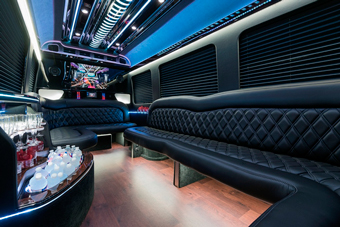 First Class Custom's interior First Class does not work with dealers to stock products, but it does utilize their facilities for warranty service and repair. When local dealers cannot handle the issue, Glick says he's on the ready to dispatch a crew who can tackle the job on-site—always keeping in mind that downtime is lost revenue for his customer.

"I have many, many personal relationships after 15 years of being a part of this industry. For me, there is no better advertising than a happy customer," he says. "In this collaborative industry, that's worth a lot."

Glick, a self-proclaimed workaholic, plans to continue his regular commute between the Missouri facility and his New Jersey home, at least until his daughter has finished high school.

"We produce about 84 to 96 vehicles a year and it's where we want to stay for now," he says. "I'm pretty happy where we are because we can comfortably manage production and provide the level of customer service that we strive to achieve. I'm very fortunate in my career as an operator, dealer, and now manufacturer to be where I am today. I'm very content." [CD0915]