BY SUSAN ROSE AND MADELEINE MACCAR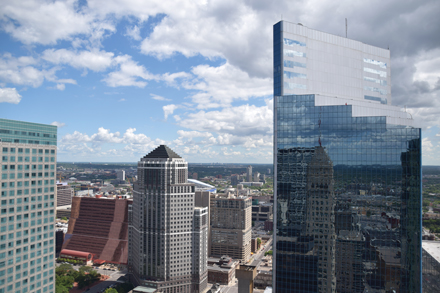 The Minneapolis skyline The cities of Minneapolis and St. Paul, better known as the Twin Cities, have merged into one large metropolitan area but each has its own distinctive charm. Minneapolis is the more modern and cosmopolitan of the two with large, glass skyscrapers mixed with art deco buildings filling out the skyline—and rising from the banks of the mighty Mississippi River, it is the larger city as well. St. Paul, on the other hand, is the state's capital and boasts more classical architecture, including a sector of well-preserved Victorian homes. Peanuts cartoonist Charles Schulz is perhaps one of its most famous sons. There's a bit of rivalry between the cities but it's more of a friendly, good-natured competition among residents of each. For the most part, they've embraced their Twin Cities designation.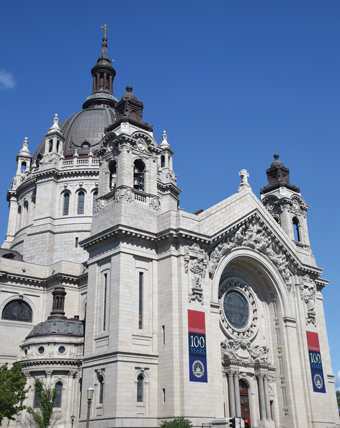 The Catherdral of St. Paul Its cousin to the south, Rochester, is the location of the world-famous Mayo Clinic, which is a major medical and research facility. This has created a thriving market for biomedical and medical equipment companies in the surrounding area.

The metropolitan area is on fire lately, which seemingly started with the 2008 Republican National Convention (it took place in St. Paul, for the record). In the next five years, the Twin Cities will be the host location for several major sporting events: Ryder Cup in 2016, Super Bowl LII in 2018, NCAA Final Four in 2019, and it's bidding for the College Football Championship in 2020. The new home of the Minnesota Vikings, U.S. Bank Stadium, is scheduled to be completed next year just in time for the 2016 season.

It's tempting to equate Minnesota with its snowy winters—and it gets its fair share all right—but the Land of 10,000 Lakes actually has four true and distinct seasons. Outdoor recreation is one of its draws: Both cities have plenty of dedicated land for parks and natural areas. Minneapolis is consistently rated among the top green cities in the U.S. It's a top destination for conventions due to its accessibility, proximity to not only the airport but also nearly 20 of the nation's Fortune 500 companies, and significant number of hotel rooms and lodging. It's also a family-friendly destination. You can always visit the largest shopping center in the U.S.: Mall of America. The 500+ stores generate about $2 billion for the local economy.
The Rising Star: Corporate Car & Coach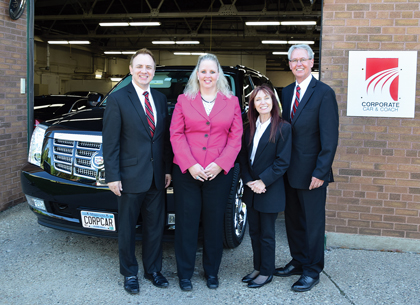 L to R: Chauffeur Michael Buchholz, President and CEO Gina Brennan, Chauffeur Maria Meade, and Lead Chauffeur Marv Farmer at Corporate Car's St. Paul headquarters In September 2006, Gina Brennan was working at a conference as an employee of the world-renowned Mayo Clinic when her father called her up.

It was the phone call that ultimately led the Midwestern native to her true calling.

"He has a keen eye for business prospects, and learned that Corporate Car & Coach was for sale," Brennan says. "He knew that I always wanted to own a business without having to start something from scratch. So after work that day, I reviewed all the facts and figures, and I thought it was a no-brainer: 28 days later, I owned the place."

The St. Paul-based Corporate Car & Coach is just one of many things that company President and CEO Brennan says that her father—who "has worked in a lot of different areas from the minute he graduated from high school"—passed along to her. Growing up, she got an up-close look at everything from agriculture to aviation, from real estate to retail, thanks to her father's wide range of interests and pursuits. When it came time to embark upon her own career, her resume reflects a spectrum of passions that include software, event planning, and HR. So it's fitting that she's applied his lifelong paternal lessons about hard work, determination, and attention to detail to the business.

"My brother, two sisters, and I always worked for our dad growing up, and we're all so thankful for that because it gave us all the work ethic we have today," she says. "We had everything we wanted as kids—but we had to work for all of it."

Brennan and her staff got right to work on growing the company organically through sales calls and broadening its client base before she decided to purchase a second company, River City Limousine, in 2009 after its owner approached her with the offer to combine the two similarly sized companies. A complete acquisition doubled Corporate Car's size, which not only increased its purchasing power but also provided the bonus of merging with BostonCoach's preferred Minnesota affiliate—a partnership that Brennan nurtures to this day, as evidenced by Corporate Car being named the company's 2014 U.S. Affiliate of the Year.

Affiliate work has been a crucial component of the business since the day Brennan took over Corporate Car. She knew it presented an invaluable opportunity to both utilize local resources and increase revenue without incurring additional costs, but building an affiliate network with the likes of Tristar, CTG Worldwide, TBR Global, and Premiere Limousine in Hartford has helped imbue the Minnesota operation with an industry-wide perspective.

"The benefits of farm-in and farm-out work are definitely financial, but it's also been a wonderful opportunity to network with other people in the industry, get to know them better, for everyone to work together and become smarter about our business," Brennan says.

And she certainly knows the value of well-cultivated connections. After all, networking helped Brennan land a contract four years ago with one of Corporate Car's biggest accounts—her former employer, Mayo Clinic. And with a satellite office in Rochester, where the massive medical and research facility is located, Brennan's company can easily transport the nearby medical center's many directors, benefactors, VIPs, and employees who comprise its clientele.

... We're not just order-takers: We are there to make sure that every single ride is flawless. We leave no stone unturned by oranizing manifests, checking the smallest details, and asking lots of questions." - Gina Brennan, President & CEO of Corporate Car & Coach

"We started working with the Mayo Clinic by networking with people I knew and who were able to help me make the right introductions," Brennan said. "I'm a firm believer that often 'It's not what you know but who you know.'"

And Brennan's network of those she knows continues to benefit her company, as she is quick to acknowledge that it takes a team to make things go off without a hitch—especially since that team of 20 chauffeurs and eight office staffers includes Gayla Hall, the office manager whom Brennan not only calls her "queen bee who wears so many hats" but also shares a long personal and professional history with.

"I actually worked for Gayla in her family's hotel and restaurant business when I was in high school and college, so our families go way back," Brennan says. "Her talents for customer service and delivering a top-quality experience have always been a part of her."

Of course, what also keeps Corporate Car moving is its comprehensive fleet that includes industry staples like 18 sedans, five SUVs, four passenger and executive vans, one stretch limousine, and three limocoaches. Appropriately, about 85 percent of Corporate Car's business is comprised of corporate clients, which means that Brennan keeps her fleet focused on catering to that side of the industry—though she plans to start adding motorcoaches in the next few years.

Given her professional background, the diversity of her corporate clients—which include the likes of the Twin Cities' booming financial and medical device industries and companies like Boston Scientific, Deluxe Corporation, EcoLab, General Mills, and Thomson Reuters—has a special appeal to Brennan.

"I really do love the corporate world," she says. "It's where I came from and where I was until 2006. Even when we do a wedding, we figure that we're promoting the corporate side of our company, since everyone works somewhere."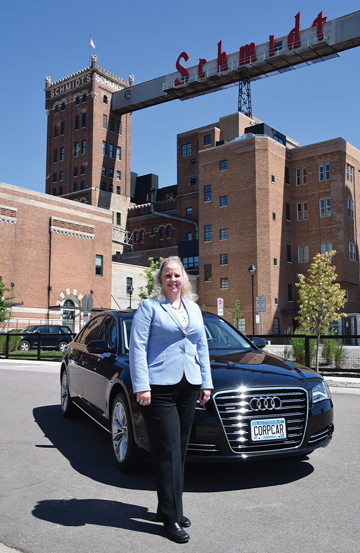 Brennan at Schmidt Artist Lofts, site of the former Schmidt Brewing Company in St. Paul Brennan is determined to make sure that Corporate Car ranks transparency and ethics among its top priorities. Communicating with clients when things go wrong is key, she says, as managing their expectations by making them aware of any snarls along the way is the only way she can imagine leading her business.

"I know how I wanted to be treated, and can't help but put myself in other people's shoes," says Brennan. "So we're not just order-takers: We are there to make sure that every single ride is flawless. We leave no stone unturned by organizing manifests, checking the smallest details, and asking a lot of questions."

Indeed, that healthy respect for honest dealings makes illegally operating TNCs a particular nuisance to Brennan, to say nothing of the dwindling chauffeur pool, diminished revenue, and airport congestion they're causing for traditional transportation companies. As an operator and also as the president of the Minnesota Chauffeured Transportation Association, Brennan knows all too well just how much damage TNCs have done to the industry, and she is eager to do her part to help educate the riding public on the risks it assumes by accepting rides with companies who don't value their passengers as sincerely as Brennan and the rest of the industry does.

"There's a need for education—if you give them the facts, they seem to realize what the risks are in a hurry," she says. "What gets me out of bed every day is following through for a client. They're loyal to us, and I hope to return that loyalty for many years to come. I want to see us through to the other side of the TNC issue, too. I want to see our industry succeed and become better than before."

That commitment to quality has rewarded both Brennan and Corporate Car with their share of accolades and honors over the years: Minneapolis/St. Paul Business Journal named Brennan herself among its "40 Under 40" in 2012 and its "50 Women in Business" earlier this year, and Corporate Car is the only Women's Business Enterprise National Council-certified chauffeured transportation company in Minnesota. But while Brennan is grateful for the recognition, it is the loyalty from her clients that means the most to her and the Corporate Car staff.

"When someone reaches out to us after a service and they write or call—that's huge," Brennan says. "Everyone's so busy, so when they take the time to tell us that the ride was exceptional, the car was clean inside and out, the chauffeur was fantastic, and they had an all-around excellent experience, there is just nothing better than that." –MM
From Hobby to Award-Winning Company: Premier Transportation Worldwide Chauffeured Services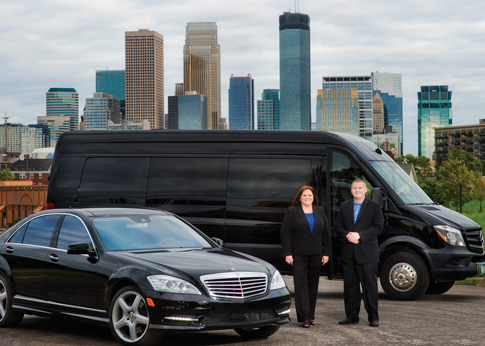 CEO Janet Cherrier with her son, Anthony, Premier's next generation leaderIn the 1970s, the eponymous star of The Mary ­Tyler Moore Show moved to Minneapolis to start a new life after a breakup with her boyfriend. The character of Mary was revolutionary at the time because she was a single, career-minded female who defied the cultural stereotypes for women as housewives or part-time secretaries.

It's perhaps a fitting parallel that Janet Cherrier, CEO of Premier Transportation Worldwide Chauffeured Services, also busted some stereotypes when she joined the largely male-dominated industry in the late 1980s. Cherrier's path into chauffeured transportation wasn't the traditional one that many of her contemporaries followed—she never chauffeured or worked for another company, and her goal wasn't necessarily to grow it into the award-winning, 40-car operation that it has become.

It all started when her boyfriend at the time rented a limousine for her birthday. This was the heyday of the stretch and well before cell phones were in everyone's pocket. She found the idea kind of cool and soon after bought her own eight-passenger stretch. At most, it was a hobby—in the beginning.

"I purchased it for our own use on weekends, but I also hoped that my friends and family would rent it as well. They really wanted to ride with us—for free," she says, laughing.

What she did instead was pound the pavement and introduce herself and her company around town. That led to phone calls, especially when customers were in a pinch or jilted by other companies (what she calls "rescue work"). Word-of-mouth marketing and a cell phone, which gave her the advantage over local competitors to answer calls even when not at her home office—this was the late '80s, after all—sparked a steady growth that included additional vehicles and staff.


Stats
City pop: 412,000 (Minneapolis) 300,000 (St. Paul)

Metropolitan pop: 3.5 million

Major attractions: Minneapolis ­Sculpture Garden, Guthrie Theatre, Cathedral of St. Paul, Science Museum of ­Minnesota, ­Nicollet Mall, Como Park Zoo & ­Conservatory, lots of local theaters (its live theater is said to rival that of New York's Broadway), and much more

Largest industries: Health care, retail, farm products, medical supplies, food ­processing, financial

Major companies: 3M, Target, United­Health Group, U.S. Bancorp, Best Buy, ­General Mills, Land O'Lakes, Medtronic

Airport: Minneapolis-St. Paul International Airport

Closest first-tier market: Chicago

When she added a second vehicle to the roster, she chose a light pink stretch that she affectionately nicknamed the "Pink Panther." It turned out to be a great choice because, despite the non-traditional color, it was a bit of a chameleon—appearing to be white during the evening hours and the soft lights. That made the vehicle practical for daytime use without sacrificing nights-on-the-town customers who would have been reluctant to book a pink stretch. Breast cancer awareness campaigns were just in their infancy at the time, but it was definitely used for some charity work, as well, over the course of its life.

It wasn't until she was ready to acquire her third car that she knew it was time to transition her part-time hobby into a full-time career. Besides the limousine, she ended up purchasing and adopting the name of the established Premier Limo and its prosperous, dedicated book of corporate business in 1990. Most of her customers at the time were calling for weddings, proms, and evening trips, but this was her segue into what would become Premier's bread and butter.

"My mindset completely changed. I said that I was going to take this seriously and just jumped in feet first. I would get calls from brides after we drove for their wedding who would tell us that we made their day and it was a great experience. That's when it became my passion because I liked hearing that. It made me feel so good that they were happy and we were a part of that. You build loyal customers as long as you take care of them."

I would get calls from brides after we drove for their wedding who would tell us that we made their day and it was a great experience. That's when it became my passion... – Janet Cherrier, CEO of Premier Transportation Worldwide Chauffeured Services

Aside from the switch to corporate work, Cherrier also got some much-needed assistance running the company. Although she owned the original stretch with her boyfriend, she was essentially doing it all: handling the phone calls, washing and prepping the vehicles, finding chauffeurs. The acquisition of Premier came with additional vehicles and her first real office staff. (She become sole owner of the company in 2001 when she bought out her partner's share).

There have been a few boosts in the past three decades that helped Premier flourish, including the 1991 Super Bowl in Minneapolis, and the robust insurance and health care industries that have thrived in the Twin Cities. Premier also acquired the shuttle service Peach Tree Transportation in 1992, which gave the company a location at the Minneapolis-St. Paul International Airport. This was steady work that helped to balance Premier's evening retail work; the location also increased company visibility.

The imminent opening of the new Vikings stadium has been a feather in the city's cap, and Cherrier says that she's excited about the upcoming large-scale sporting events that will descend upon the area between 2016 and 2020. Cherrier says that she is already preparing for the additional work by hiring more chauffeurs and potentially adding to the fleet. She recently purchased two new Escalades to accommodate the demand.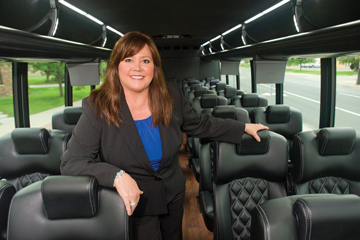 Cherrier inside her 40-passenger bus "It's great that we're finally being recognized as a world-class city," she says. "The Ryder Cup coming here in 2016 is huge."

The company that Cherrier has built over the past 25+ years has adapted with the times. The stretches that put the company on the map no longer dominate the fleet. They've been replaced by a wide variety of options including BMW 740Lis, Mercedes-Benz S550s, Sprinters, minicoaches, Cadillac Escalades, and a few vans. She's been steadily phasing out her Town Cars in favor of the all-wheel drive BMWs that can handle any type of weather the Minnesota seasons can throw at them.

Premier's team has grown considerably as well to just under 50 office staff, mechanics, and chauffeurs. Cherrier was also able to hire a full-time salesperson, VP of Sales and Marketing (and newlywed!) Nicole French, who along with Cherrier has fueled Premier's upward trajectory in the past few years. French has been honored for her hard work by local associations and business journals, including the Minnesota Hospitality Journal.

There's a family component to Premier as well: Her son, Anthony, also joined the company full time and is working his way through different roles within the organization. He was just a kid when Cherrier purchased Premier, but he also had the advantage of growing up in the business that provided a living for him and his mother. Like typical family businesses, Cherrier had him helping around the location wherever and whenever necessary, which usually involved washing cars when he was a teenager. He worked as one of the company's mechanics before he became part of the office team. He currently handles all of the chauffeur hiring and education, and conducts safety training, which he is supplementing through courses with Smith Training.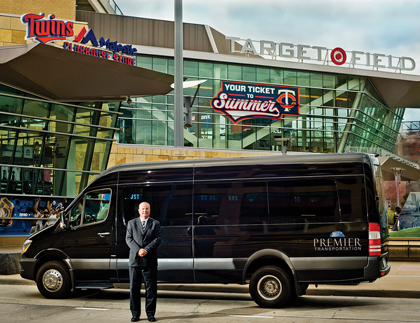 Chauffeur David Christopher at Target Field, home of the Minnesota Twins "I've definitely seen him grow into his new role, and he's become such a good addition to the company," she says. While nothing is definite, she hopes that one day he might consider taking over Premier.

About two years ago, Premier outgrew its home and got its own larger facility in Bloomington. Not only was it closer to the airport—only about a five-mile trip—but it offered plenty of space to spread out and grow. Did we mention the additional bathrooms? These things are important when you have a sizable number of people under one roof.

"We shared a large, older building with several other tenants, and parking was becoming limited," she says. "This was a great move for us because now we're on the main road in a newer, cleaner building, with 10,000 square feet of garage space and an additional 20,000 square feet in our yard. It's been a real morale booster for the entire company." –SR
A Family Legacy: Total Luxury Limousine
Total Luxury Limousine's 1957 Chevy stretch is a show-stopper. The fully restored black stretch "Heavy Chevy" just dares you to break your gaze from the gorgeous custom-painted flames that seem to consume the hood and side panels. It's for that reason that it has been extremely popular amongst Total Luxury's clientele—for everything from weddings to trips to the former Metrodome (and soon, the U.S. Bank Stadium) to see the Minnesota Vikings play.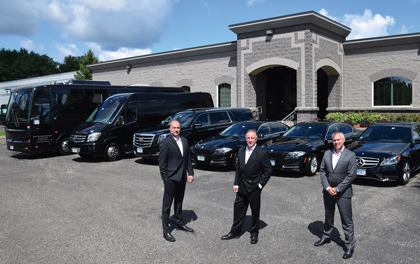 Founder and President Dave Murray (center) with sons and vice presidents Nick (left) and Charlie This car is special because it was completely restored by Dave Murray, founder and president of Total Luxury—first in 1995 and again in 2010. It was his love of cars, as well as his skill for building and restoring them that led Murray to chauffeured transportation back in the late 1980s. It was an opportunity to try something new but still within the realm of his passion.

Total Luxury started out in 1987 as any typical retail service, transporting brides and grooms on their wedding day or high-schoolers to their proms. The six-passenger stretch that was the company's first vehicle was quickly joined by a second and third as its list of clients grew. It wasn't until this headline-making Chevy was added to the fleet in 1995, however, that Total Luxury became a serious contender in the Twin Cities.

Since the beginning, Total Luxury has been a family business at its core. Murray's two sons, Nick and Charlie, were teens when the company was founded, but they pitched in whenever needed by working on fleet vehicles in the family's driveway of the then home-based company or washing and detailing before a run. Later, they emerged from under the hood and into the driver's seat to chauffeur clients, in addition to other functions within the office. After they finished their education, however, both went on to pursue careers outside the industry. (Murray's wife, Julie, maintained a full-time job with the IRS before she retired after 38 years of service, but never worked officially for Total Luxury.)

"The company then was nothing like it is today," says Charlie. In the late '90s, the fleet was around 12 vehicles and service was 100 percent retail, so it seemed like a logical step to forge their own career paths.

Nick was first to return full time in 2000; Charlie, who had gone on to own several movie theaters in the Detroit area, followed a decade later in 2010. Both are now vice presidents and co-owners. Charlie focuses on the financials while Nick's strengths gravitate toward affiliate relations and managing dispatch. Together, they lead a team of more than 70 employees.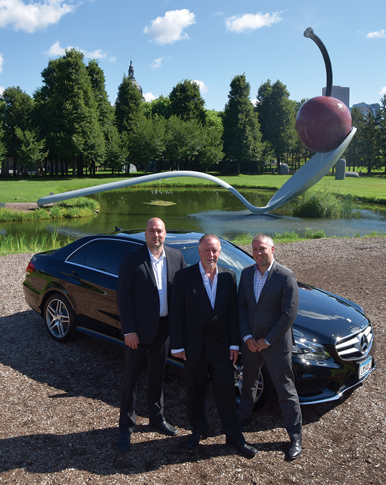 The Murrays at the Minneapolis Sculpture Garden One of the biggest benefits of having three owners and two generations working under one roof is that no single person is burdened with daily operations, which allows each to pursue their own interests outside of work. Murray, an avid hunter and motorcycle enthusiast, is able to leave the company under the trusted management of his sons for the occasional extended vacation. Charlie has obligations of a family, including wife, Michelle; daughter Jordan, 10; and son CJ, 13. Nick recently got married to his wife, Jennifer, at the end of August, and they spent a week in Tahiti on their honeymoon.

"Everyone always tells me that it must be really hard working in a family business but that hasn't been our experience," says Charlie. "We all have the same work ethic, the same drive, and the same desire to succeed. Obviously we lean on each for things that we happen to be better at but we don't often argue or disagree. In general, we all have the same philosophy about customer service and what it takes to make the business successful."

And successful it has been. Within 15 years, Total Luxury has gone from 12 cars to more than 70. Its rapid growth was partially fueled by acquisitions of local competitors—four since 2000. It has also become a hybrid company of retail—still 40 percent of its business—but has a healthy roster of corporate clients in addition to convention and events work. The picturesque city of Minneapolis is among the top convention cities in the country, thanks to its ample number of hotels, ease of accessibility, and its natural beauty.

Affiliate business, local and nationwide, has been another bright spot for Total Luxury. Maria McDowell, lead dispatcher and affiliate manager, has been tasked with expanding the network. She's also a member of Driving Results' Going Global, a group exclusively for affiliate managers. In addition, VP of Sales and Marketing Tom Athmann has been somewhat of a local celebrity for Total Luxury. He's been with the company for just over six years and previously worked in high-end sports marketing for golf and winter activities.

Minnesotans do love their sports, and the Twin Cities has four professional teams for any season: Twins baseball, Vikings football, Wild ice hockey, and Timberwolves basketball. Total Luxury is a preferred vendor for all of them, and it handles the transportation of players and VIP as well as fans.

Of course, much of their attention is on the upcoming sporting events that will take place in the Twin Cities in the next five years—from the Ryder Cup in 2016 to the College Football Championship they hope to host in 2020. Charlie says that the completion of the brand-new U.S. Bank Stadium (scheduled to open next summer) has attracted a lot of positive attention to the Twin Cities.

"I recently toured it and it was amazing," he says. "It has definitely put us on the map." It will be the host venue of the Super Bowl in 2018.

To handle such a variety of clients, the Murrays have carefully built their fleet around those needs. The result is a lineup that is one of the most wide-ranging in the city. Sedans are either a BMW 528i or a Mercedes E350; the rest of the fleet runs the gamut from Escalades and limocoaches to stretch Hummers. Having a strong retail component lends itself to a wilder fleet.


Total Luxury's fully restored 1957 Chevy stretch "I think what really sets us apart is the true diversity of our vehicles," says Charlie. "We're the only company in the area that actually owns a motorcoach, which we added about five years ago. Now we have three and are looking to purchase more soon."

Fleet vehicles—especially sedans and SUVs—was at the heart of a decade-long battle in the Minnesota transportation industry. Outdated laws limited the definition of a limousine, which meant that SUVs had to operate under USDOT regulations and could not be plated with the Minnesota limousine tag. The types of vehicles that could operate as a sedan excluded all of the industry's popular and evolving choices, including crossovers like the Lincoln MKT. Through collective efforts of the Minnesota Chauffeured Transportation Association, of which Charlie is vice president, Governor Mark Dayton finally passed a bill in 2014 that expanded a "limousine" to include those that are 15 passenger (with driver) or less. The association was also instrumental in increasing the per-person insurance minimum from $300,000 to $1.5 million.

A year ago, Total Luxury completed its biggest move to date: It purchased a 50,000-square-foot facility in Mahtomedi, a northern suburb of St. Paul. The new facility has tons of office space, an on-site fuel tank, automated car wash and waxing polisher, two hoists that can accommodate its largest vehicles (including coaches), a paint booth, and a body shop with a full-time body man. The expanded space allows its entire fleet to be protected from the elements, whether it's hard rain, wind, hail, or snow. However, Charlie says that not having to shovel out vehicles is a pretty sweet perk. (Unfortunately, there is still a three-acre parking lot). Dave Murray is perhaps the luckiest of all because his commute is now less than a mile to the facility.

Being the owner of a successful transportation company hasn't stopped Murray from building and restoring cars. In fact, the '57 Chevy that has become a local conversation piece will soon be joined by another of Murray's creations: a '33 Buick. The stretched vehicle, once completed, will accommodate eight passengers and is certain to become another hit for one of the largest companies in the Midwest. –SR [CD1015]