BY SUSAN ROSE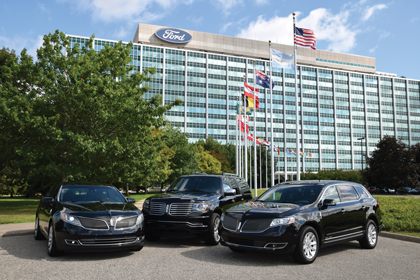 Ford's Limo/Livery lineup (L to R): MKS, Navigator, and MKT Town Car Today's chauffeured transportation services have various and very different ­demands that were not placed on them just a decade ago, and modern-day fleets reflect that with a multitude of vehicle types and sizes.

The Ford & Lincoln Motor Company's long history as a partner to our industry spans decades. The OEM has continued to adapt as fleet essentials have changed, offering a crossover, midsize sedan, large SUV, truck and bus chassis, and a stretch limousine through its QVM coachbuilders nationwide. Last year's addition of the Ford Transit, which can be modified for a variety of purposes from lavish executive shuttles to seat-maximizing commuter vans, has completed Ford & Lincoln's Limo/Livery lineup available for one-stop shopping.

Ford & Lincoln's Limo/Livery team, which includes Limo/Livery Fleet Manager Craig Hall, Limo/Livery Marketing Manager Kimberly Johnston, QVM Program Coordinator Jeff Metz, Modified Vehicle Specialist Chris Keady, and Versacom's Andrew Shoushanian, consistently attends many of the industry's major shows, events, and association meetings.

In addition to once again being the Title Sponsor for the 2015 Chauffeur Driven Show, Hall says that Ford has pledged its support to the industry as a whole through programs like its partnership with the NLA. For each vehicle purchased by an NLA member between October 12 and December 2, Ford will donate $250 to both the NLA and its signature charity, the Harold Berkman Memorial Fund, which is named in honor of the Music Express founder and NLA founding member. For non-members, Ford will pay for a one-year NLA membership (up to $500). Earlier in 2015, Ford presented a $39,000 check to the NLA and an additional $39,000 check to the charity fund. Later this year, Ford will auction a Transit, the proceeds of which will also benefit the Harold Berkman Memorial Fund.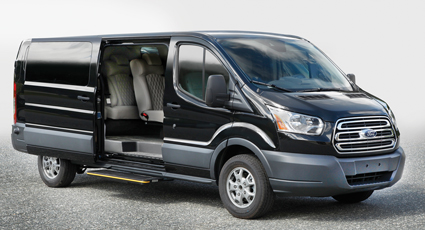 Low-roof Ford Transit The Transit is new to North American markets—marking its debut last summer in the United States and Canada—but it was a best-selling van in Europe for virtually five decades. The need for a smaller and more fuel-efficient version of the equally best-selling Ford E-Series van, which was also branded as Econoline over its 35-year run, drove the Transit's release. According to the OEM, the Transit with its 3.5-liter EcoBoost engine is up to 46 percent more fuel efficient than its predecessor. Other Transit power options include a 3.2-liter diesel or a 3.7-liter V6 engine.

The Ford & Lincoln Limo/Livery team decided to make the Transit a highlight of its presentation at the Chauffeur Driven Show because of its versatile offerings and functionality. Vans and small buses (limobuses and minibuses) have really opened up the market for operators who need to move more than a couple of customers at a time, with a passenger count larger than an SUV but smaller than a more expensive minicoach. Ford-sanctioned upfitters work their magic in a nearly limitless array of Transit configurations and modifications.

The Transit comes in three roof-height options: low (83.6), medium (100.8), and high (110.1), the tallest of which allows a 6-foot-5 person to stand comfortably. Additionally, it comes in three lengths and two wheelbases for a variety of configurations. Most Transit vehicles can seat between 8 and 15 passengers, depending upon interior modifications. The 15-passenger Jumbo version includes up to 100 cubic feet of cargo space.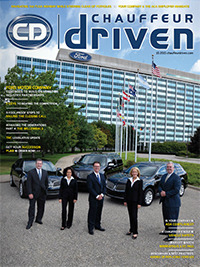 Ford & Lincoln's Limo/Livery team
(L to r): QVM Program Coordinator Jeff Metz, Lincoln Brand Specialist Crucita Santiago, Limo/Livery Fleet Manager Craig Hall, Limo/Livery Marketing Manager Kimberly Johnston, and Modified Specialist Chris Keady. Photography by Chris Weiss Included on the show floor at Ford's booth is a low-roof version modified by Royale in Haverhill, Mass. The luxury executive shuttle was designed specifically with corporate travelers in mind: with seating for 9 passengers (including the driver) and room for luggage. The low-roof version offers the flexibility of fitting in any garage, which could appeal to operators who have limited space.
The Transit is new to North American markets, driven by the need for a smaller, more fuel-efficient multi-passenger vehicle."

Complementing the lineup is the Lincoln MKT Town Car, which remains one of the only OEM packages that was designed specifically for and with assistance from the industry. It has become one of chauffeured transportation's most popular fleet staples, whether it's a stretch limousine, hearse, or simply a sedan.

In 2015, Lincoln unveiled its redesigned, popular Navigator L, a full-size SUV that seats up to eight and is powered by a 3.5-liter twin-turbocharged EcoBoost V6 engine. The MKS Livery Sedan—announced as part of the Limo/Livery roster in 2013 for those who desired more traditional sedan styling with available all-wheel drive, ample head and leg room, and a large trunk—rounds out the list.

Lincoln's commitment to this industry is also evident in its available Extended Service Plan of up to four years/150,000 miles, as well as its nearly 100 LimoCare locations that understand that vehicle downtime is lost revenue and offer longer hours and priority service. In addition, the Ford Transit—which is built in Kansas City, Mo.—can be serviced at any of Ford's 3,000 dealership service centers nationwide. [CD1015]