BY SUSAN ROSE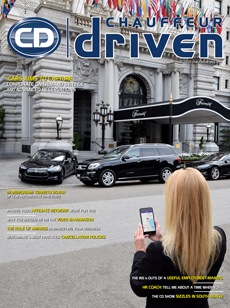 Cover Art: Real-time tracking through the iCARS app allows a passenger to view the exact location of their vehicle, seen here arriving at the Fairmont Hotel in San Francisco. Photography by Chris Weiss. A New York minute used to be the ultimate paradigm of speed, but thanks to next-generation technology, the world has widely adopted the notion that "instantly" is the new expectation. Gary Bauer has been observing our industry's evolution over the past three decades since founding Bauer's Transportation in San Francisco, which according to Bauer, transports more than 6 million passengers per year. Building his company deep in the heart of the country's most important technology corridor and home of the revolutionizing Uber app, Bauer has watched as clients' tastes steadily shifted from retail to corporate, from limousines to shuttles, and from pre-arranged to need-it-right-now.

TNCs didn't create on-demand transportation, but they sure made it easier to access and—more importantly—cashless for passengers. That has been the challenge for this industry.

"About six years ago, Uber started up in our backyard, going after drivers and clients in the industry. I thought 'These guys are going to put the nails in the coffin of what we've been working toward for so many years,' so four years ago, we started working on technology that would basically raise the bar of what Uber and eventually Lyft are doing to our industry," says Bauer. "A growing percentage of corporate transportation spend is with TNCs, so if companies think they aren't losing customers or drivers to Uber, they are just wrong."

He's right. In an October 2015 study commissioned by American Express, data showed that Uber accounted for nearly 31 percent of ground transportation spending by business travelers. Although the effects have been mostly at the expense of taxis and rental car companies, the impact has been felt in our own industry—especially due to Uber's lower cost and on-demand capability.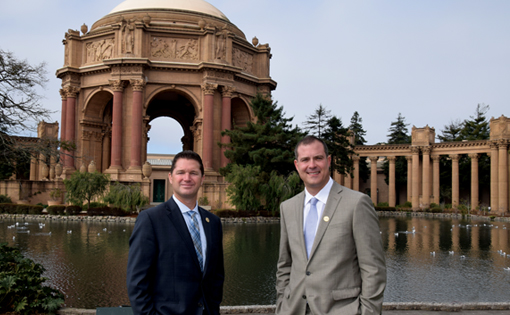 (L to R): Executive Administrator Carmen Hayes, Founder Gary Bauer, and President Dan Shifrin at San Francisco's Palace of Fine Arts Bauer says he invested $3.5 million into the project that would become the iCARS app—and where better to develop it than Northern California, with its unfettered access to talented software engineers. He says that his goal was to target corporate travelers by pairing them with licensed transportation companies that already hold the proper credentials needed to operate legally. TNCs have also expanded into the valuable business travel sector, but with a different approach: According to Bauer, the iCARS team developed its app to meet the unique requirements of organizations and their travelers.

"Uber is a one-to-one booking experience, but we took it a step further and, in addition to a traveler booking for themselves, we also offer a one-to-many solution." Bauer explains that iCARS allows a third party, like an executive administrator, to book service for many different corporate travelers under one account and subsequently track the status of the ride and the location of their passengers. "Not only does this increase the productivity for admins, it reduces call volume for operators and it also addresses the organization's duty of care responsibilities."

It also works for other hospitality providers like hotels, where a concierge, sales manager, doorman, and front-desk agent can all book service for travelers under one account. Bauer says that the hotel earns a commission on the trip so it motivates them to book through the system. More demand means more work for operators.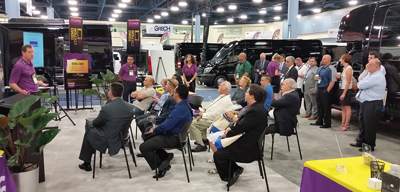 President of iCARS Dan Shifrin demos the app at Chauffeur Driven's 2015 Show Branding was also considered. Bauer explains: "Operators are branded within the app, which is seen when their customers launch the app. However, in order to solve the issue of fragmentation and provide continuity for travelers, the iCARS icon is always persistent on their home screen, so no matter if they book a ride in Boston or Bangkok, they only have to tap one familiar button to get service."

"Being in the industry for 26 years, and during my time on the board of the NLA, it was always a goal to figure out how small, one-car operators up to the largest companies could work together on an equal playing field," he adds. "That's how we grew affiliate business. It's really an exciting time that we can come together as an industry," he says.

The app is designed to act as both a closed and open network, one that operators can toggle as necessary. As Bauer describes: "A closed network empowers operators to utilize the iCARS technology with their own clients where their rides are only routed to the operator and any affiliates that they have invited to help service the account." A $1.50 fee is charged for fulfilled rides.
"It's not going to work if it's just one or two companies using the app. If we can't progress and move other companies forward, then we're not doing our job." – Gary Bauer, founder of iCARS

On the other hand, an open network is launched when a city has enough operators to execute a high volume of on-demand requests. When this is the case, iCARS executes what Bauer calls an aggressive marketing and advertising campaign that targets the general public and corporations. The rides that are produced as a result of these efforts are available to claim by any operator who has made their vehicle "open" to receive trip requests, and they are paid 85 percent of the fare as soon as the ride is fulfilled. The closed network produces open network rides when an operator's client travels to a market where they do not have an affiliate associated with their account. There, an iCARS affiliate can claim and fulfill the ride, and the referring operator receives an affiliate referral fee. Bauer says that this network effect produces a high volume of rides, and every operator benefits from other operators' activities on the platform.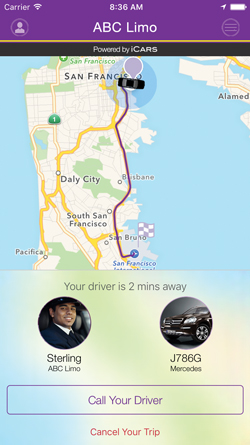 Corporations and hotels also have a robust platform to manage their account, including booking rides via the web, managing their travel policies, and determining the requirements an operator must meet—such as age of vehicle and insurance requirements—in order to service their account. Operators may set up net terms for their clients and/or they can be billed via the passenger's credit card on file. Operators also have a management tool to determine when their vehicles are available to receive open and private rides as well as determine the types of rides that their drivers are allowed to claim. This enables operators to increase their revenue on vehicles when they are not busy while maintaining control of their fleet.

If you've been to the recent trade shows, you've likely seen a live demonstration of iCARS by President Dan Shifrin. Shifrin, who has worked with car-sharing service Zipcar and founded Autowraps, was brought on about a year ago to run the project's launch and next phases of its development.

"The iCARS app and all of the unique features it offers is a result of combining advanced technology and the experience of ground transportation professionals like Gary who understand the specific needs of all parties involved in the complex business of fulfilling rides," Shifrin explains. "Without this recipe, it is difficult to build an app that works for operators, corporations, hotels, and their employees."

Bauer used his own company as the testing ground for iCARS before he released it to the public this fall. He purchased several black cars that he specifically earmarked for on-demand service through the app so that it didn't impact his regular service or customers while they worked out the kinks and glitches. The app is live in San Francisco and will be launching in LA soon, then Chicago, New York City, Boston, and Washington, D.C. in early 2016. He reports that iCARS is currently booking about 1,000 trips per day and that more than 2,000 vehicles (and climbing) are available in the system.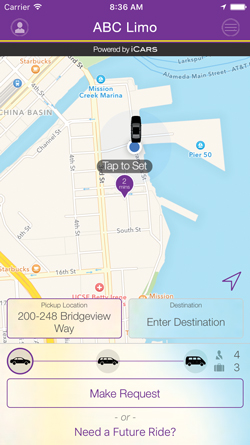 "This is strictly a standalone technology company for me—it's not an extension of Bauer's Transportation," Bauer says. "I don't want operators to think that we are giving preferential treatment to our own vehicles. We're Switzerland. My goal is to move my fleet out of the system completely and let the app stand on its own. It's not going to work if it's just one or two companies using the app. If we can't progress and move other companies forward, then we're not doing our job."

Bauer goes on to say: "It's a no-brainer for a travel manager to choose iCARS over TNCs as part of their travel policy because with TNCs you don't know who you're getting. Sure, that driver may have been approved, but then he breaks his leg and his cousin, a convicted felon, hops in the car and uses his cousin's phone. You just don't know. It was important to us that corporations know exactly who is driving the vehicle—all of it is very clean and tracked. Basically everything and anything that is concerning to the riding public about Uber has been covered so there's no question of safety."

Bauer says that he wanted to remove any of the barriers that existed between getting payment to the operators and drivers.

"We always hear that it's a challenge to get paid in a timely manner by affiliates," he says. "We never touch the money: It goes through a payment system and companies are paid within 24-48 hours—and the gratuity goes directly to the driver, if that's what the company chooses," Bauer says.

Bauer and Shifrin are also busy building interest on the client side, and Bauer says they are currently in talks with Concur, Sabre, and the other large GDSs, as well as corporate travel management companies like Amex Travel and Carson Wagonlit. They've also been working with two marketing firms to increase awareness and attract corporate travelers and managers to the platform.

"We're not trying to put anyone out of business," Bauer says. "It's simply another platform to take reservations, and it's not just on-demand. It's like the airlines—they never choose just one method to connect with their customers. They use Kayak, CheapAir, or Expedia, as well as their own website and over the phone. Our goal is to tie into everything—Livery Coach, which I'm on myself, Trip Tracker, GroundWidgets, all of them. We're talking to everyone. We want this to be just another way that corporate travelers can book service and operators of all sizes can expand their business." [CD12115]