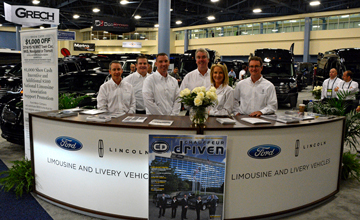 We knew that the South Florida city was going to be a major destination for our first show outside of Atlantic City, but even we were shocked by the incredible energy that was created this past October 11-14 at the Loews Miami Beach Hotel.

Nearly 1,900 industry professionals flocked to South Beach for what was an electrifying four days of education, networking, and a whole lot of fun. We welcomed many new faces, including plenty of first-timers from around the world. A major thank you to our attendees, exhibitors, and sponsors—especially Title Sponsors Ford-Lincoln Limousine and Livery Vehicles and Grech Motors—for making this our best show to date.

We staged a hotel takeover at the Loews, and thanks to the close-knit vibe of the property, it was impossible not to run into industry folks in the lobby, in the elevator, and in the hallways—and our app, sponsored by North Point Transportation Group, even allowed for networking on the go.

I thought the show was very well-attended and the venue was great. The affiliate network session was in the perfect room—large and open—and was filled. We were able to get a lot of business done. This was a well-run and very effective event for our industry. Miami was perfect and the parties were lots of fun. Thank you for doing an excellent job." – Scott Solombrino of Dav El/BostonCoach in Chelsea, Mass.
"It was my first show ever and definitely not my last," said Ralph Van Deldan of Van Deldan Corporate Limousine Services in Amsterdam, Netherlands. "It was wonderful to meet people in the same business and share each other's expertise. It brings back the personal aspect of the industry, which I think is most important. I am looking forward to the next event!"
Affiliate networking was on everyone's minds with two events specifically geared toward that purpose. The casual International Meet & Greet brought together operators from all over the world and was sponsored by Global Alliance, Icona Global, and Modern Car. Hundreds of operators converged at the event to exchange ideas and grow their international presence together. Friendly conversation over light breakfast fare really set the mood for networking. Our wildly popular Affiliate Central Global Partner Forum, sponsored by A1A Airport & Limousine Service, immediately followed and was packed with more than 50 tables (a dozen of which were international companies) and 800 operators making their best efforts to share business. If you left the show without a handful of new contacts, then you weren't trying!
"Best show in years!" said Cliff Wright of Royal Coach & Limousine in Orlando, Fla. "Great venues, great educational sessions, and the best Affiliate Forum ever."
The show's seminars and workshops provided a fresh approach to industry education. Sessions held at the hotel with bonus education on the show floor allowed operators and their staff the opportunity to share business tips, discuss industry trends, and network with mentors and companies from around the world. Some of the best received sessions included "Defining, Driving & Leveraging Your Company Culture," "Building an Affiliate Network from the Ground Up," and "Are You Ready for a DOT Audit?" Eric Shulman of Sandler Training shared "13.5 Things You Won't Do to Grow Your Business," which was a candid look at where companies are missing out on sales opportunities. We also held two full-length workshops on the show floor for the first time ever on the final day. Education was sponsored by FASTTRAK Cloud Technologies, and a special thank you goes out to our Show Education Committee members Tony Simon of Reston Limousine, Mike Zappone of All Transportation Network, and co-chairs Kristen Carroll of The LMC Group and Jason Sharenow of Broadway Elite Chauffeured Services Worldwide for helping to coordinate such an incredible lineup of topics and speakers.
This was my first time attending a Chauffeur Driven Show, and I was absolutely blown away by the great ­quality and variety of educational ­seminars, speakers, vendors, and networking events! The mobility of the app was also great: It was so easy to find my way around and make sure I didn't miss any events thanks to the app's schedule and maps." – Stephanie Dunn of BEST Transportation in St. Louis, Mo.
"I wanted to enjoy Miami but did not want to skip any seminars during the day, as they were all so informative," said Nikki Ngolvorarath of Sentinel Limousine in East Providence, R.I. "I have attended all three CD trade shows, and they get better and better each time."
During show floor hours, we brought back our much-enjoyed Micro-Sessions, which featured six different speakers talking about everything from website blogs to controlling fuel theft. The smaller group sizes and short sessions made for a more intimate gathering with lots of opportunities for questions. The Micro-Sessions were sponsored by Reston Limousine. Of course, many enjoyed the savory lunch on Tuesday (sponsored by Titus Leasing and Turtle Top) and delicious brunch on Wednesday (sponsored by Karhoo) on the show floor. Thanks also to our shuttle sponsors—Aventura Worldwide, Coastal Car, and Worldwide Transportation—for getting our attendees to and from the Miami Beach Convention Center, the location of our 120,000-square-foot show floor that showcased the products and services of more than 100 industry vendors, suppliers, manufacturers, and dealers.
The Chauffeur Driven team has done it again: They put on an amazing show that exceeded our expectations! There is something tailored to each operator. If you want to network, there is no better opportunity than the Affiliate Forum. If you are looking for education, the sessions guarantee that you will learn something new. And the Mentoring Program was another success: You can't put a price on spending two hours with industry giants." – Selim Aslan of Men In Black Transportation in San Diego, Calif.
"As a first-time exhibitor at the CD Show, I was overwhelmed with the number of attendees who visited our booth. The numbers exceeded my best estimates by 10 times the typical interactions we receive. I will have two of us at the next show to help keep up with the demand. Thank you, CD, for an excellent show," said Jack Jackson of Awash Systems in Stoney Creek, Ontario.
The State of the Industry Address was a roundtable moderated by CD President Chris Weiss and featured an awesome trifecta of knowledge. Mike Fogarty of Tristar Worldwide, David Seelinger of EmpireCLS Worldwide, and Scott Solombrino of Dav El/BostonCoach candidly discussed the present state of and their predictions for chauffeured transportation. The three industry giants also engaged and entertained a capacity-filled room with industry insight and experience, including TNCs. The show's keynote, delivered by Terry Jones, the founder of Travelocity and Kayak, was the salve for those ride-sharing wounds as he provided a true insider's perspective of the effect technology has had on the travel industry. The Grech Motors and Mosaic Global Transportation sponsored event was enthusiastically received by attendees—and it's still sparking industry conversations.
"All-around fantastic show! Great location, seminars, and networking. The highlights for me were the keynote speaker—Terry Jones was sensational and motivating. We had a table at Affiliate Central and were able to touch base with so many companies. And the show floor: What a great lineup of vehicles and products. We even bought two Mercedes-Benz Sprinters from McSweeney Designs to add to our fleet. The final banquet was awesome, as so much was raised for charity. It's always great to give back and help support great causes," said Barbara White of VIP Transportation Group in Orlando, Fla.
Our exclusive Operator Mentoring Program, now in its third year and sponsored by Limo Anywhere, is always a hit—and this year was no exception. Seventeen of the industry's most recognized operators from around the country were paired with up to a dozen company owners where they all shared their experience, time, and advice.
"New location and new ­attendees equaled new ­business for Create-A-Card. The show floor traffic was steady and our team members kept busy for three days as they tended to the marketing and printing needs for many who visited with us." – Arthur Messina of Create-A-Card in St. James, N.Y.
"The show was great for me. Very informative speakers covering great topics. My favorite was the Mentor Program. I attended it last year and again this year in Miami, and I really enjoyed the insight and encouragement. As a small business owner, it really helps to receive ideas from the big guys and gals," said Jerry Vickery of Classic Limousine of Rockford in Machesney Park, Ill.
"The Chauffeur Driven Show was a five-star event, and my favorite part was the Mentor Program," added Jennifer Paris of Paris Limousine in Oklahoma City, Okla. "My mentor did a terrific job of communicating with our small group and encouraging us to ask questions, as well."
Associations were also well represented at the show, from our Association Pavilion booths in the exhibit hall to the meetings held on-site by the Minority Limousine Operators of America and Florida Limousine Association (FLA). We also debuted our Association Summit, which featured moderators Rick Versace of FLA, Mike Fogarty of Taxicab, Limousine & Paratransit Association, and Jeff Shanker of Limousine Association of New Jersey. In a true meeting of the minds, the moderators and other association leaders from around the country shared their various battle scars and victories, exchanged ideas on how to tackle issues in other cities, and generously answered questions from other interested operators. The event was sponsored by Chosen Payments.
And what would a Chauffeur Driven Show be without its world-class nightlife? CD hosted two extravagant parties, each designed to capture the pulse of the South Beach area. Sunday's Havana Nights, sponsored by iCARS and Worldwide Transportation, kicked things off with a Latin-infused fiesta, complete with salsa dancers, cigar rolling stations, and tropical-inspired libations and food before heading over to the Hemisphere Lounge for our Loews Lobby Bar Takeover. On Monday evening, attendees headed poolside for the Caribbean Sun Splash, CD's first outdoor party. Island cuisine and drinks were the perfect complements to the beautiful beach-front view and ocean breezes. The party was sponsored by Crown Cars & Limousines and Boston Car. No one wanted the nights to end!
The show was fantastic and I ­especially enjoyed the seminar by keynote speaker Terry Jones. It really opened my eyes to understanding the future of technology and how it will affect our industry. The dinner and auction for the Ryan Seacrest Foundation was a blast, too!" – Wade Randolph of Riverside Limousines in ­Baton Rouge, La.
"The Monday night party couldn't have been any better: The space, the weather, and the staff were all perfect," said Gary Day of American Limousines in Baltimore, Md.
The debut of our Women in the Industry Networking Reception was also a force to be reckoned with as nearly 125 women joined us for the evening festivities. Kristen Carroll of The LMC Group, also the event's sponsor, shared her ideas on empowering women in business without losing focus of their strengths. We listened to your feedback, and it will be even bigger and better next year when we land in Washington, D.C.
The highlight was undoubtedly the Charity Dinner and Auction, which was held to benefit the Ryan Seacrest Foundation, a non-profit organization that builds entertainment complexes in children's hospitals—with many thanks to our awesome Charity Committee for helping it become such a resounding success. A personal video from Ryan Seacrest was presented by his sister Meredith Seacrest, the Foundation's Executive Director and COO, who was on hand to personally experience the generosity displayed by the luxury chauffeured ground transportation industry. The magical evening, which included a bidding war over a cover and profile in Chauffeur Driven, produced a staggering $152,000 for the Foundation, almost doubling the amount raised in the previous year ($85,000).
"The Ryan Seacrest Foundation charity dinner and auction was an evening to remember," said Charity Committee member Renee Ferraro of ZBest Worldwide Chauffeured Transportation Services in Baltimore, Md. "I was so proud of all the donations and the amazing support and generosity of the bidders, and the CD team was amazing. I was so glad to be a part of such a great event!"
Let me tell you how impressed we were with the 2015 Chauffeur Driven Show in Miami. The venue was outstanding and the networking was phenomenal. The plenary sessions were right on point and the after-hours entertainment was a blast. I walked away with new relationships, solidified existing partnerships, and broke bread with good friends. – Maurice Brewster of Mosaic Global Transportation in Redwood City, Calif.
"It's so easy to say great things about CD events—the team effort really shows," added Edison Kahakauwila of L.A. Limousines & Transportation Services in Victoria, B.C. "Starting with a riveting keynote speaker, Terry Jones was amazing and invigorating—exactly what a keynote needs to be. The International Meet & Greet was packed with global operators, making it the best-attended meet-and-greet that I have attended. The Affiliate Forum was an amazing idea and allowed for good conversation and lasting connections. All in all, great value in an awesome location, and I am definitely looking forward to Washington, D.C. next year just before the election—what timing!"
Next year we take the show to our nation's capital just weeks before the 2016 presidential election—we can feel the energy already. Mark your calendars for October 9-12, 2016, and we'll see you in D.C.!
[CD1215]