BY MADELEINE MACCAR
To say that Ralph-Martin Trümmel grew up with Astro Limousine Service would be an understatement: He was just a year old when his parents Gerhard and Monika founded the company, which started in a small office within the family's Swiss home in 1985.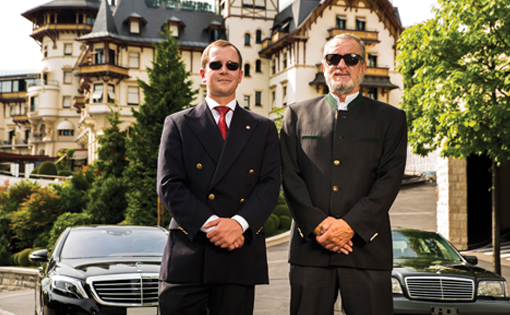 Astro Limousine Service's Managing Director Ralph-Martin Trümmel (left) and founder Gerhard Trümmel outside The Dolder Grand Hotel in Zurich Trümmel distinctly recalls that working for his parents' business was what he "always wanted to do," a childhood dream that happily came to fruition more than a decade ago. He has spent the past five years as managing director for the Zurich-based company (which has a secondary office in Geneva), making sure that Astro marries the best of modern convenience with the mainstays of classic luxury service.

As he describes the typical Astro client as "a first-class traveler who values quality more than a low rate," Trümmel has three decades of lofty standards to maintain—those not only of his longtime clients but also his parents. Fortunately, he has both a lifetime of firsthand experience and an innate desire to ensure his clients' utmost satisfaction guiding him through the everyday challenges of ­catering to those business travelers visiting the banking capital of the world and the other global heavy-hitters that Astro frequently transports.

"Our clients expect the most modern vehicles, the most versatile fleet, and whenever possible, the same chauffeur for all of their rides," Trümmel says.

Handling the transportation needs of clientele in banking, insurance, oil, and globally leading food companies, in addition to heads of state and celebrities, adds a layer of necessary security to a number of Astro's rides, so the company works with trained bodyguards and even an internal security specialist. According to Trümmel, Astro is one of very few companies with access to Zurich Airport's security area, allowing them to provide their "standard" VIP service, in which a client is picked up directly at immigration and escorted through the baggage and customs areas.

Astro offers another premium service for highly visible clients who want to travel as incognito as possible, which Trümmel describes as "pricier but the best service on the market."

"We have a very special treatment we offer only on request, where clients can have a separate car take them directly from the commercial aircraft to their terminal or security and customs," he says. "It's mostly for people who either don't want to be recognized or are what I call 'economical celebrities,' who might not be recognizable to the public but have high security requirements."

While Trümmel cites "safety first" as the company credo, he says that going above and beyond is its hallmark: All chauffeurs receive pickup and drop-off information for every job as well as a passenger's client profile, which contains everything from their newspaper preferences to a favorite drink to "anything extra they require."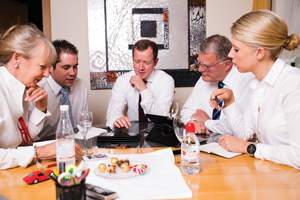 Astro offers a concierge service, helping clients get reservations at the best Swiss restaurants Modern technology helps the back offices keep track of those personal flourishes and provides chauffeurs with a reliable alternative to old-fashioned navigation by maps, though Trümmel is careful to not get caught up in flashy gadgets that distract from Astro's primary objective of offering superior service—which often begins with the chauffeurs themselves.

"With some companies, it seems like the newest cars, the newest innovations are the most important things for them: We wanted to keep our focus on the personal touch," he says. "Our clients love being treated like individuals and not like a parcel. We hire chauffeurs who know how to deliver quality service and dress the part. The perfect lady or gentleman is our perfect chauffeur."

Additionally, each chauffeur has to be fluent in German, English, and at least one additional language such as French, Russian, Arabic, or Spanish. Trümmel also gravitates toward hiring chauffeurs who come with a little bit of life and driving experience—and he considers the company lucky in that chauffeurs tend to seek out Astro for employment well before the company has to advertise any open positions.

Just as a certain combination of both learned and inherent skills makes for an exemplary chauffeur, Trümmel believes that it takes a special personality to thrive as an operator in the luxury ground transportation industry.

"You have to be ready 365 days and all around the clock," he says. "You have to treat the smallest jobs and the simplest things like the most important. You have to be discreet and work very exactly: There's no room for mistakes. And, of course, you have to make sure the quality of service must always be perfect."

To satisfy each client's needs and preferences, Astro maintains a modern fleet of 13 "daily-use" vehicles—a number that Trümmel says is "quite big for Zurich." E-Class Mercedes serve as their standard sedans while the S-Class Mercedes are their executive sedans. The S-Class Mercedes is by far Astro's most requested car and, as the go-to SUVs so common stateside are not as relied upon in Europe, executive minivans are the vehicles of choice for high-occupancy jobs.

"We have the brand-new Mercedes V-Class, which is the follow-up to the Mercedes Viano," Trümmel says of the newly offered van. "It's a beautiful vehicle that's like a Mercedes S-Class for five passengers."
I've made so many friends at the shows, especially in the U.S., and it's one of the main reasons why I travel to them. The industry has become like a big family to me." — Ralph-Martin Trümmel

While retail work comprises only a small portion of ­Astro's business, they also have a 10-car vintage fleet for special occasions and will network with other purveyors of classic cars as needed to accommodate those rides. But regardless of the vehicle, Astro holds clients' safety and comfort as a primary concern, ensuring that their entirely all-wheel-drive fleet always comes fully loaded with the options that are standard fare for an Astro passenger. And by late October, all vehicles are refitted with winter tires to guarantee they can safely navigate Switzerland's stunningly iconic but logistically disruptive winters.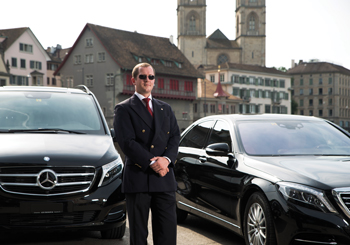 Ralph-Martin Trümmel with Astro's Mercedes-Benz V-250 extra-long executive minivan and Mercedes-Benz S-350L sedan on the Rathausbrücke bridge over the Limmat River, with Zurich in the background "Winter in Switzerland can be quite tricky," says Trümmel. "Of course, the streets are cleaned every morning so snow never lasts for long, but two of the most important things are snow tires and offering modern cars that are equipped with four-wheel drive."

With two distinct climates—the mountainous Alps and the milder Swiss Plateau—weather is often a variable that has to be monitored consistently as Astro sends cars all over Switzerland's 16,000 square miles. On a whole, the tiny landlocked country is an economic powerhouse, with its population of more than 8 million people and various financial, banking, and economic mainstays (such as the non-profit World Economic Forum, which attracts thousands of worldwide leaders to its annual January meeting in the hopes of tackling the most immediate international problems) mostly nestled on the Plateau's hospitable swath that runs horizontally north of The Alps.

The country and its cities—especially Geneva and Zurich—consistently receive top rankings on lists maintained by The Human Development Index, international human resources consulting firm Mercer, and financial services company Credit Suisse (which, like Astro, calls Zurich its home) for offering a high quality of life, nominal wealth, economic competitiveness, ease of doing business, and per-capita gross domestic product. Influenced by the diversity that comes with bordering Austria, France, Germany, Italy, and Lichtenstein, Switzerland boasts four official languages (German, French, Italian, and the Romansh dialect) that readily demonstrate the country's multicultural richness.

Indeed, serving a native population of widespread heterogeneity helps Astro cater to the many foreign tourists, dignitaries, and businesspeople who all call upon the company in an array of languages. Concierge services are available to those who might need some help tapping into the country's best-kept secrets and exclusive services.

"Our chauffeurs are trained in managing everything the clients require: We do hotel and resort bookings, secure seemingly impossible restaurant reservations, arrange for spa and wellness treatments, or can schedule for private shopping at a jewelry store," says Trümmel. "It's part of our service. We have the contacts and reputation to make these things happen, and we always ask our clients if they need anything in particular just to make traveling easier and more comfortable for them."

This time of year sees a boost in Astro's clients—from "first-class tourists with high, high expectations" to the elite of the business world—who are looking to enjoy the major wintertime draw of Switzerland's ever-popular ski resorts. While Astro doesn't offer a flat-rate tourism package, Trümmel says that the company will take on those who come to them with a specially tailored itinerary in mind.

"We do tours in Switzerland, but everything's individual," he explains. "Our drivers know Zurich, Geneva, and Lucerne very well and will take tourists sightseeing there. We also will have clients who want to go up to one of the mountains, and we always give them the option to have the driver with them so he can show them some secret or hidden places. Those secrets are what our tourists love."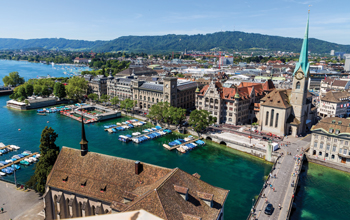 Zurich, the largest city in Switzerland, is situated at the northwestern tip of the lake that shares its name While Astro's chauffeurs—all 30 who comprise both the full-time driving staff and a seasonally increased winter one—are willing to tackle a mountain for their clients, Trümmel cites Senior Driver Richard Asman as one of the company's finest employees. Asman has been with the company for two decades, and Trümmel describes him as "an outstanding chauffeur" whose sophistication and quiet nature has made him a favorite among clientele.

The office staff is consistently smaller, comprising a carefully selected group of up to five people. Trümmel says that while his father has largely stepped away from his long-held role as Astro's CEO, it is his mother Monika who "has been the angel of the company for 30 years" by providing both professional and moral support behind the scenes.

"She founded the company with my dad, and she's also the one who keeps everything together," he says. "She's not working eight hours a day but she's always around, not only for business purposes but also when the drivers have anything they need, even if it's advice either for their job or personal lives. She has an open ear for everybody."

Trümmel admits that it can be difficult to sidestep work-related discussions when his family is together, especially since he and his father don't always see eye to eye when it comes to ways the industry has changed since Astro's early days. But he is quick to add that he values his father's input and experience: "Even though we may have different points of view, I still appreciate learning from one of the most influential figures in the Swiss chauffeured transportation industry."

One thing that has remained a constant at Astro is affiliate work, though the company does things a little differently than its American counterparts. While most of their international clients are traveling either to or from the U.S. and Asia, Astro doesn't farm out work to international affiliates. This philosophy, as Trümmel says, allows them to do what they do best: provide exemplary service to the Swiss market.

"I always try to explain that we focus on what we do best, and the value that we give our partners is a happy client," he says.

Since assuming his current role of managing director, Trümmel says that he hasn't had much time for hobbies, though he moved two years ago to force some physical distance between himself and the company that is now next door to his childhood home, ensuring that there is a definitive line separating his professional life from his personal one. Still, he says that as soon as he's home at night and awake in the morning, he's checking his work email—and is grateful to his partner for understanding why he treats his job like a spouse.


The peak of the iconic Swiss Alps "It's like I'm married to the company—and I love it," Trümmel says with a laugh.

One of the benefits of Astro's small team is that he also gets to jump into the driver's seat from time to time—which will one day hopefully take him on a long-distance ride from Zurich to either China or South Africa but, for now, means that he's personally chauffeuring for Astro.

"As I'm often driving clients myself, the people you get to meet and the things you get to see are very interesting: Through my clients, I get invited to experience things that many people won't be able to in their lifetime," he says.

The industry has also introduced him to operators from all over the world, and Trümmel satisfies his need to travel by attending the trade shows that allow him to reconnect with European and international peers alike. As president of the Swiss Limousine Association, he appreciates that monthly opportunity to both network and work together with nearby operators.

"It is an interesting industry," he says. "I've made so many friends at the shows, especially in the U.S., and it's one of the main reasons why I travel to them. The industry has become like a big family to me."

As both Trümmel and Astro have industry longevity on their side, the former has his share of plans for the latter, many of which include building upon Astro's reputation and a goal of delivering high-end service while exceeding expectations—which is exactly the advice he'd give to someone just starting out.

"Don't feel like you have to settle with low rates," Trümmel says. "Always provide the very best service, the very best quality to your client." [CD0116]