The energy that was created at this May's Chauffeur Driven Executive Retreat at the JW Marriott on Canal in New Orleans was unstoppable. More than 200 attendees and their spouses joined us in the Big Easy for some on-point education, tons of networking, and locally inspired activities that took us all over the city. Special thanks go out to our Platinum Sponsors Turtle Top and Tenney Group—not to mention our Gold, Silver, and Affiliate Sponsors—for helping to make the retreat a massive success.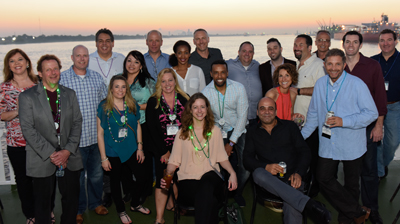 It was a heck of a follow-up to our incredibly well-received inaugural Executive Retreat, which debuted last June in Nashville. The hallmark of the event is blending the authentic local flavor a city that our attendees don't often have a chance to visit with top-notch seminars, networking opportunities galore, a healthy dose of relaxation, and most of all—fun! Some music-loving attendees flew in early to take in the final weekend of Jazz Fest, one of the country's preeminent and longest-running music festivals dedicated to blues, soul, rock, folk, and, of course, jazz.

We kicked off the festivities on Sunday with a welcoming reception at Mardi Gras World, the warehouse home to some of the weirdest, wildest, and most whimsical floats from past Mardi Gras parades. Guests enjoyed a self-guided tour of the facility while sipping a hurricane, the signature cocktail of New Orleans. The evening culminated with a dinner at Grand Oaks Mansion, an indoor antebellum plantation that must be seen to be believed. Attendees dined "under the stars" on savory creole fare and basked in the sweet sounds of the Gumbo Trio. For those who wanted to keep the night young, a stroll along the famous rue Bourbon Street was just what the doctor ordered.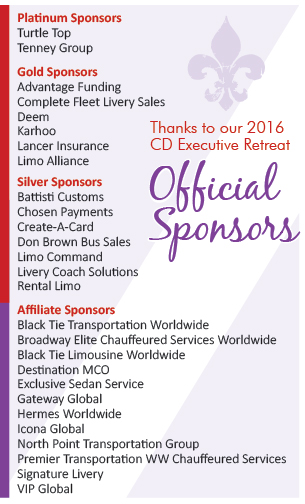 The retreat also gave attendees a sneak peek at two buzzworthy vehicles: Platinum Sponsor Turtle Top offered a preview of their new VT3 shuttle bus, while Gold Sponsor Complete Fleet Livery Sales of Union, N.J., were on hand to showcase the much-anticipated 2017 Lincoln Continental.

"This was my first Executive Retreat with Chauffeur Driven, and I cannot say enough about the experience," said Rhonda Woolfson Oksman of Treasure Coast Charter in Fort Pierce, Fla. "The education was top notch and the investment in personal growth couldn't have been in a better set of hands. NOLA offered so much to see and do and the togetherness of this small group attending allowed for in-depth conversation and true relationship building! It was invaluable for the growth of my business. The CD team really raised the bar for executive training, and I can't wait to see where we land in 2017!"

As with any of our events, months of planning went into our educational component of the retreat. Thanks to our Education Committee—Co-chairs Kristen Carroll of The LMC Group and Jason Sharenow of Broadway Elite Chauffeured Services Worldwide, Tony Simon of Reston Limousine, Kim Garner of BEST Transportation, and Sami Elotmani of Destination MCO—our sessions were not only timely, but also engaging and interactive.

Things got cooking on Monday with our educational sessions, all of which were moderated by Sharenow. After a filling group breakfast to fuel our tanks for the day's events ahead, marketing expert Steve Yastrow of Yastrow and Company delivered his interactive workshop, entitled "Brand Harmony: Communicate a Story That Drives Business Results." He offered the packed room insight on how to better communicate your company's mission to its target audience. After lunch, Matt Weber of ROAR! Internet Marketing gave a presentation called "10 Minutes to a More Profitable Website/5 Things Your Website Is Trying to Tell You," which provided an easy, jargon-free look at simple ways that operators can re-shape their digital presence for maximum effectiveness. Destination MCO and Reston Limousine were gracious enough to allow Weber to run live analytics on their website for attendees.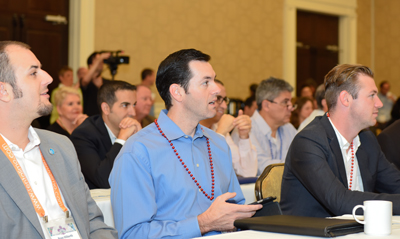 "The speakers were well-chosen and it seems no matter how much you think you know about this industry, you can still learn more," said Barbara White of VIP Transportation Group in Orlando, Fla. "We took away some valuable information!"

After a relaxing break between education and evening events, the group hopped on shuttles—thanks to Signature Livery for adroitly assisting us with the crowd—to the Mississippi where the Steamboat Natchez was waiting. The oldest steamboat still operating on the river afforded breathtaking sunset views of the French Quarter and the N'awlins skyline while attendees enjoyed drinks, unbelievably delicious creole dishes, gaming tables, and more live jazz. We closed out the evening at a local favorite, Maison on Frenchman, where the best live funk, blues, and jazz music lives.

"This was by far the best Chauffeur Driven Retreat ever," raved Renee Ferraro of ZBest Worldwide Chauffeured Transportation in Baltimore, Md. "You did an outstanding job! It was my first time in New Orleans and, boy, was it an above-and-beyond NOLA experience."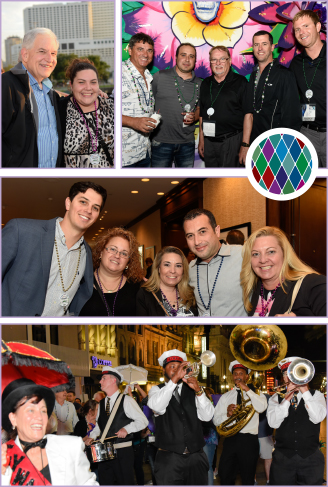 On Tuesday, "Priced for Profit: How to Calculate and Determine if a Vehicle, Run or Even Client is Making You Money," presented by Michael Campbell of Grace Limousine and Ron Sorci of Professional Consulting Resources, began the day's educational component. This well-received session provided attendees with methods to focus on specific services and clients to assess whether they're making, or costing, you money. Closing out the retreat's educational component was "The Termination Process: How to Protect Your Ass-ets," a workshop presented by Kristen Carroll and Christina Davis of The LMC Group. Carroll and Davis offered ways that companies can prepare and protect themselves when dealing with the always-sticky situation of firing an employee. The discussion was informative and engaging, with plenty of audience interaction.

Shuttles dropped attendees in picturesque Jackson Square in the afternoon where they boarded mule-drawn carriages for one-of-a-kind tours of the famous New Orleans sites. Every tour was unique, but all attendees got to see the more intimate parts of the Crescent City and learn a bit of its colorful history. After the tour, attendees were on their own to enjoy the best restaurants that the city has to offer—many social media posts from the retreat included such famous establishments like Antoine's, Galatoire's, K-Paul's, and, of course, Café du Monde for fresh beignets and café au lait. Kudos to Signature Livery's kick-ass team—Abbey, Frank, and Jackie—for herding attendees onto shuttles and getting us to our destinations in style.

There was no way that CD was going to bid New Orleans adieu without a party. After the dinner break, the retreat's attendees took the party to the streets—literally. Starting at the JW Marriott, event attendees were joined by The Jaywalkers Second Line Band for our very own parade through the neighborhood around Bourbon Street. Horns blared, drums beat, and retreat-goers danced through the streets with masks and parasols bouncing in time while onlookers snapped pictures and videos of the festivities. In true NOLA tradition, we picked up some partygoers along the way who danced and marched right alongside us. Where else can you get a police escort and close streets as you dance your way to a jazz club but in NOLA? "I loved the riverboat cruise, but I think my highlight of the trip was, by far, the Second Line. That was amazing!" said Mary Beall of The Driver Provider in Phoenix, Ariz.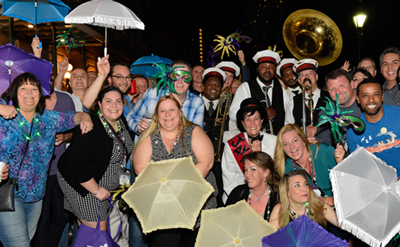 The parade ended at Maison Bourbon, where CD's Crazy in the Quarter party offered guests a private room with a balcony high above the endless party on the street below. The balcony not only provided prime people-watching real estate, but also gave attendees the opportunity to toss beads to the revelers below.

"From beginning to end, you put on an absolutely amazing event in New Orleans," said Michael Callahan of Able Limousine in Hopkinton, Mass. "The seminars were great, very entertaining, and certainly kept my attention throughout. The entertainment factor was awesome and the camaraderie of the people in attendance was like nothing I have seen at any of the other events. Can't wait to see what you have up your sleeve going forward, but I am hooked."

To view photos of the 2016 CD Executive Retreat New Orleans click here.

We're still in the process of finalizing our destination for 2017, but rest assured, it will be magical. Be sure to join us this October 9-12 in Washington, D.C., for our annual Chauffeur Driven Show. Registration is now open at chauffeurdrivenshow.com. We'll see you in D.C.! [CD0616]