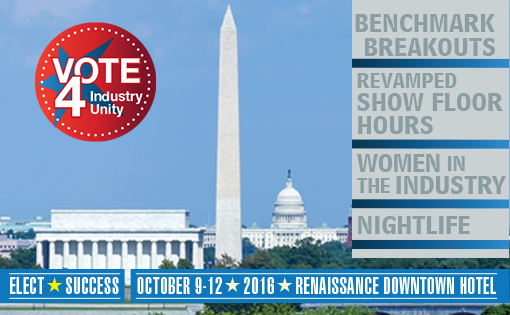 The 2015 Chauffeur Driven Show in Miami was one for the books. The reception we received regarding our education, networking, and nightlife exceeded our wildest expectations. But like George Washington, we cannot tell a lie: For our show in Washington, D.C., which will be held October 9-12, we've taken everything that made our first "road trip" show special and made it even better in 2016. Thanks to the input of our Show and Education committees and the generosity our sponsors, which include Title Sponsors Ford-Lincoln Limousine and Livery Vehicles and Grech Motors, we've been able to up the ante and add new workshops and events, revamp old favorites, and make our nightlife even more exciting.

We're thrilled to return to the Northeast, and what better city than Washington, D.C.? The metro area attracts more than 20 million visitors from around the world each year, making it one of the country's truly must-visit destinations. And with one of the most unusual presidential elections in recent times taking place in November—mere weeks after our show—you can bet that the air in our nation's capital will be electric.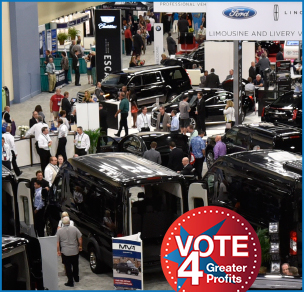 This year, our host property is the newly renovated Renaissance Washington, DC Downtown Hotel, which is located just across the street from the Walter E. Washington Convention Center. With such close proximity between the hotel and the convention center, the only shuttles you'll see are in the Smithsonian's National Air and Space Museum. And with roughly 90 percent of the hotel's rooms reserved for our attendees, we're poised for another hotel takeover.

To get you geared up for the show, we're offering a couple of star-spangled deals: We've secured a stellar room rate at $210 per night for our guests that's good from October 5-15. The Renaissance is in the heart of D.C., which is conveniently located near all of the monuments, museums, and historical sites that you care to visit. This gives you the opportunity to expand your trip and take part in some post-show landmark tours (we'll have more details on this in a future issue of Chauffeur Driven). Not only that, but we're offering an early-bird rate that will have you whistling Yankee Doodle: Until August 15, you can get a full show pass for $245, $50 off our regular rate of $295. Registration is now open; all of the details on how to register are available online at chauffeurdrivenshow.com.

Last month, we offered a sneak peek of the four-day show; this time, we delve into the newest events that you'll be sorry you missed if you don't add to your schedule. These will be a few October surprises that you'll enjoy—Trump and Clinton not included!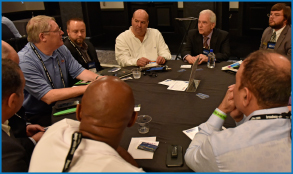 ☆ Benchmark Breakouts
For our 2016 show, we're introducing our Benchmark Breakouts, which are sessions that will allow operators of all sizes to experience what it's like to be a part of an industry peer and education group. These small collectives—which are based on the 20-group concept and generally have no more than 20 members (hence, the name)—offer a peer-to-peer environment to compare and contrast operations and learn from each other. But this idea is hardly new: Founding father Benjamin Franklin used the peer-group model when he created the Junto Society in 1727 (!) as a club dedicated to mutual improvement. Meanwhile, flash-forward 200+ years, and benchmarking groups have become vital components for education in the chauffeured ground transportation industry.

Our Benchmark Breakouts will offer operators the opportunity to interact with a small group of colleagues from non-competing markets to share ideas and solutions to business challenges. Each of the dozen groups will be broken down by revenue or type of staff, and have a moderator present for a structured, but open, exchange in a private meeting room. Whether you have a two-car operation or a global network, you are sure to get value from this rare opportunity. Note: Pre-registration will be required as these groups are certain to fill up quickly.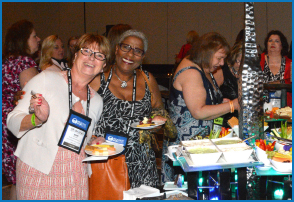 ☆ Women in the Industry Networking Reception
In 2015, we introduced our Women in the Industry Networking Reception, which provided a ladies-only environment for women to share ideas and strategies. We listened to your feedback and have rebooted this event for added value. Following some open networking, Mary Abbajay, president and founder of Careerstone Group, will facilitate an hour of accelerated networking to give attendees one-on-one facetime with more than 30 female operators, which practically guarantees new connections. Then, Abbajay will moderate a panel featuring three industry and professional experts, including Kristina Bouweiri, president and CEO of Reston Limousine; Sandra Eberhard, executive director of Women Presidents' Educational Organization; and Dawn Repoli, director of program management and mentor program facilitator of Women in Travel (WINiT). Sponsored by Key Transportation, you won't want to miss this opportunity to learn the ins and outs of running a woman-owned enterprise, as well as the benefits for companies certified by the Women's Business Enterprise National Council.

☆ Revamped Show Floor Hours
This year's show floor—just across the street from the Renaissance at the Walter E. Washington Convention Center—will offer an immense 115,000 square feet of space with more than 120 vendors and exhibitors. For the first time ever, you can preview the show floor on the opening day during our reception from 5-8 p.m on Sunday evening. Hors d'oeuvres and cocktails will be served, giving you the chance to casually stroll the floor, and maybe even beat the rush on a great deal. Once again, we'll be offering a series of valuable Micro-sessions on the floor, as well as some bus-related and DOT-themed workshops. Special note: We will conclude our show floor hours on Tuesday instead of Wednesday this year.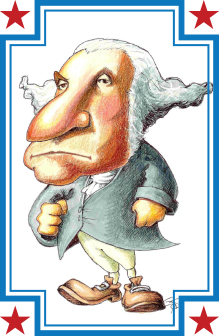 ☆ Entertainment When people talk about parties and D.C., they're generally referring to the two often-opposing political factions that argue across the aisle in Congress. But when folks talk about parties and CD—well, let's just say we're known for raising the roof. This year, our Sunday night kick-off party, which is sponsored by Deem, might just have you seeing stars ... and stripes, as we're starting things off with a Red, White & Blue bash. You can expect to see this country's most revered historical figures making the most of our photo ops and shaking it on the dance floor, where our DJ will make sure the tunes don't stop.

On Tuesday night, we're turning back the clock to the days of New Wave, breakdancing, and big hair! You guessed it: We'll be hosting our first-ever '80s party. Get your parachute pants and neon legwarmers out of storage as we prepare a trip back in time to the age of excess, with thanks to sponsors Boston Car Service and Rental Limo. We'll be awarding a prize to the best dressed at the party!

And you may just need to keep wearing those sunglasses at night as we continue the evening's festivities in the beautiful Renaissance lobby bar for an open-bar, after-hours party that will let you hang out with friends or settle in for quiet networking in one of the sponsored "lounges." You'll think the open-concept bar was literally made for our group, with plenty of space to claim a couch, belly up to the bar, or join in the number of animated conversations that always punctuate our nightlife. Karhoo, Minority Limousine Operators of America, and ZBest Worldwide Chauffeured Transportation Services are graciously sponsoring this event.

A few sponsorship opportunities are still available, and you can find both sponsor and exhibitor prospectuses on our newly updated show site (chauffeurdrivenshow.com); check them out before the booth or sponsorship you want gets snatched up. You'll also find the attendee registration form there—don't forget to take part in our early-registration discounts. Reserve your spot now so you can be sure to join CD in D.C.! Registration is now open at chauffeurdrivenshow.com. We'll see you in D.C.! [CD0616]