BY SUSAN ROSE AND MADELEINE MACCAR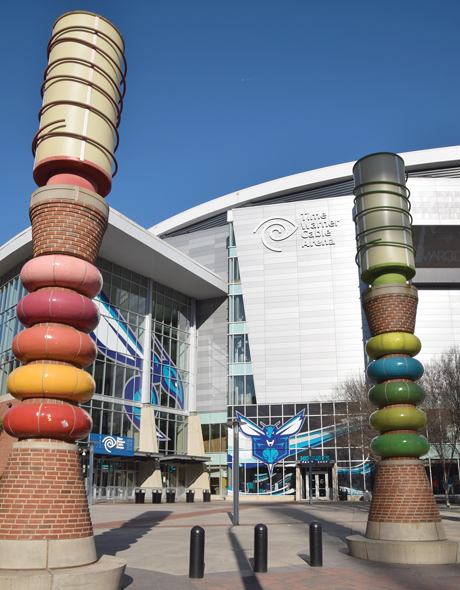 Time Warner Cable Arena After 16 days of encountering sharp-shooting Patriots at the Battle of Charlotte during the American Revolution, British General Charles Cornwallis was said to have called Charlotte "a hornet's nest of rebellion." He was defeated soon after by General George Washington, which effectively ended the war. While the veracity of the quote is in question, the moniker has been proudly embraced by residents of Charlotte, affectionately called Charlotteans. The nickname has been adopted by its NBA's team, the Charlotte Hornets, and references to the quote are prominently displayed at local museums and in city history tomes.

Charlotte is North Carolina's largest city and is actually older than the country itself, as it was chartered in 1768. Located on the state's southern border with South Carolina, the city is at the intersection of interstates 77 and 85, which takes southbound travelers toward Greeneville, S.C., and later to Atlanta, Ga. Its modest cost of living and rolling landscape has attracted many former Mid-Atlantic and Northeast residents to retire to her city limits and the surrounding area.

Of late, Charlotte is not only outpacing its closest cousins in population, but has been a burgeoning center of corporate growth, including the financial sector: The Charlotte Chamber of Commerce reports that it is the nation's second largest financial center outside of New York. Bank of America has its headquarters in the city and is one of the area's biggest employers. It's also home to Lowe's, Duke Energy, and Family Dollar Stores, all of which are Fortune 500 companies. Wells Fargo, which bought Wachovia, also has a presence in the city, as does Citi, JPMorgan, and MetLife.

Its skyline is dotted with soaring metal and glass skyscrapers as it has seen a resurgence in its downtown area. A combination of corporate dollars and the influx of a younger population has yielded a vibrant cityscape with lively nightlife that includes everything from local clubs to family activities and sporting events.

States:
City pop: 827,000
Metropolitan pop: 1.034 million
Major attractions: NASCAR Hall of Fame, Levine Museum of the New South (Civil War), Discovery Place, Bank of America Stadium (home of the Carolina Panthers), Time Warner Cable Arena (home of the Charlotte Hornets), PNC Music Pavilion, AvidXchange Music Factory, and much more
Largest industries: Financial, education, health care, retail
Major companies: Bank of America, MetLife, Lowe's, Duke Energy, Sonic Automotive, Nucor
Airport: Charlotte Douglas International Airport Closest first-tier market: Atlanta


The Tenacious Underdogs: CLT Express Livery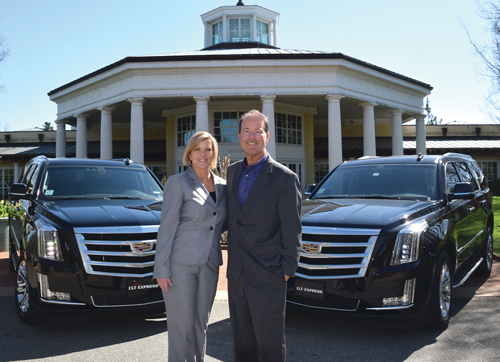 CLT Express Livery owners Jeff and Laura Canady in front of Stowe Botanical Gardens with two of their Cadillac Escalades Sixteen years ago, Jeff and Laura Canady didn't have their bachelor's of science degrees. They didn't have their daughters, Bailey and Morgan. And they certainly hadn't yet turned the one-car operation Jeff founded in 2000 into the blossoming, three-pronged Southern domain it is today.

What they did have, however, was the singular determination that drives a man to juggle a UNC Charlotte education, work full-time at National Car Rental, and pour the remainder of his energy into the nascent but promising CLT Express—all at once.

"I was doing those three things about 18 hours a day for about four or five years straight," Jeff says. "And then one car led to one limo, which led to another car, so then I had to make the decision to either stay with National Car Rental or go full-time in my own business."

Jeff, of course, chose his business, which now boasts one office in North Carolina for CLT, or what he calls "The Mothership," and two in South Carolina: SC Express Transportation in Aiken and SC Coach Charters & Tour in Columbia—plus an assortment of vehicles and employees strategically dispersed among all three.

As CLT became a full-throttle endeavor, those early days saw Jeff rallying his family—not only Laura but also his father and brother Jimmy—to help out while also benefiting from the still-applicable insights of industry icon Tom Mazza, who Laura says was her mentor from her first peer group. Chief among that assistance: advising the Canadys to both always pay themselves and put calculated investments back into the company, to say nothing of his help as a consultant and negotiator during the couple's introductory experience to buying another luxury ground transportation company, Aiken Limo.

As any business owner knows though, the path to success is anything but a smooth upward trajectory. And while Jeff and Laura do believe their hard work has paid off, they've also overcome hurdles like difficult property transactions, a chaotic first Masters Tournament, and the daunting task of growing a business during The Great Recession—all of which uniquely prepared them to fight for not only their company but also their industry.

Whether it was landing a contract with the Charlotte Marriott City Center (and later The Ritz-Carlton), an early alliance and partnership with Carey International, taking on more group work, or continually adding new fleet vehicles, CLT's milestones have been bolstered by the fruits of its owners' diligent networking. And that gradually acquired affiliate base helped CLT successfully ascend the ranks of a small, midsize, and large company—all while breaking into the Charlotte market.

"The Marriott contract took us to one level and then we reached another with Carey International—and that's when we really started reaching out to affiliates and going to the shows on a regular basis," Jeff says. "But we really didn't know anything about affiliate work back then, or that there was really only one known commodity in Charlotte. So we handed out our cards, we collected everyone else's, and we'd shoot out an email blast to all those people as soon as we got home. If we didn't get any new clients one year, then they started getting back to us the next year. So the shows started our networking and affiliation process."

"The goal back then was to put our faces and name out there," Laura adds.

CLT Express has certainly made itself known since then, especially having purchased four companies—most recently South Carolina's Busy Bee Coach and Bus Tours, which was rebranded as SC Coach after The LMC Group's Kristen Carroll consulted them on and helped negotiate the sale—as part of Jeff's intent to capitalize on a well-assorted fleet. With vehicles that include 14 sedans, seven SUVs, five Mercedes-Benz Sprinter executive vans, two minibuses, six motorcoaches, Turtle Top executive vans, a limobus, and six stretch limousines, the Canadys' three offices offer the North Carolina, South Carolina, and Georgia markets a variety of transportation options with a combined fleet of about 60 vehicles.

"Buying up companies has diversified us—and it's helped us, especially now with the TNCs," Jeff says. "Our eggs are not in one basket. I love the sedan work—it's our bread and butter, and we do it very well. But when you have coaches and minibuses and group vehicles, it leads to more work."

Keeping Mazza's long-ago advice in mind, the Canadys do continually reinvest their profits into the CLT collective in other ways, too. Their philosophy of putting revenue back into the company includes owning much of their metal and moving their older model or higher mileage vehicles to SC Express, where everything is bought and paid for.

"This business model works so well for SC Express because we have not one note on any of those cars," he says. "I use our cars in Charlotte for about three years and then send them down to South Carolina. It's a zero-debt facility now—we own it."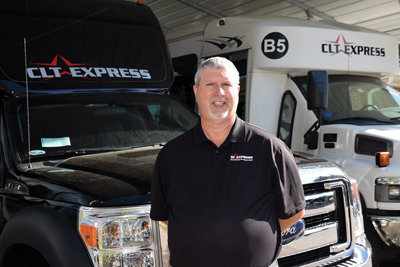 SC Express and SC Coach General Manager Jimmy Canady with two of the company's buses CLT's business model also relies on a hard-working staff, which Jeff and Laura have found in their roughly 30 part- and full-time employees in Charlotte and 12 in South Carolina—including a full-time mechanic they inherited with SC Coach, and all of whom are employees rather than ICs—so there's always someone to man the phones that ring 24/7, as Jeff emphatically prefers paying employees over relying on a phone tree. They credit Jeff's brother (who's also the general manager for both SC Coach and SC Express), and their very first hire Lauren Carter, as being crucial members of CLT's bistate family.

With all of the ground CLT covers, it retains a roughly 70 percent corporate/30 percent retail breakdown, owing much of that to Charlotte's role as a business and convention city, though recent tourism trends have been filling its coffers, too. The usual local landmarks are all still popular destinations when sightseers come to town—the NASCAR Hall of Fame, the Whitewater Center, the Speedway, and even nearby Asheville's Biltmore Estate—while new offerings are becoming part of the tourism circuit, too.

"A lot of our retail work is the usual—weddings, proms, city tours," Laura says. "But North Carolina has had wineries popping up all over the place, and the newest thing is the brewery tours." CLT's devotion to its market is evidenced by Jeff's role as a founding member of the Charlotte Regional Limousine Association (CRLA)—of which Laura is presently secretary—as well as the North Carolina Limousine Association (NCLA) some years prior. While the NCLA provided its support to CLT and other nearby companies, Charlotte's unique set of transportation regulations demanded more localized action.

"We knew we needed a local association: We were getting pounded by the city's and airport's fees," Jeff recalls. "Most North Carolina operators didn't have the same permitting and legal issues that we have in Charlotte."

Of course, Laura is also familiar to many as NLA's First Vice President, a position she took on to both learn more about and better serve the industry, and has since given her the opportunity to both visit with her peers around the country and play a pivotal role in initiatives like Day on the Hill.

"I just love this industry—we both do," Laura says. "I was in health care for 15 years and, little by little, Jeff suckered me in, and now I don't know how I could do anything else."

And with 2015 being CLT's best year ever, the Canadys are certainly in it for the long haul. They're planning to break ground on an 8,000-square-foot Charlotte facility later this year—taking much inspiration from a visit to RMA Worldwide Chauffeured Services' open-air office, complete with a mechanics' bay—in an effort to ensure that CLT has room to grow while staying with the family that loves the world of luxury ground transportation.

"CLT is a family business and it's going to stay a family business," Jeff says. "I want our daughters to know that money doesn't grow on trees and that good things happen when you work hard, so they're already out there cleaning our cars. The most rewarding thing is owning this business, where we are now, and how we got here by hard work. I enjoy what I do, but we have worked awfully hard to get here." –MM


A Decade of the Dynamic Duo: Peak Chauffeured Transportation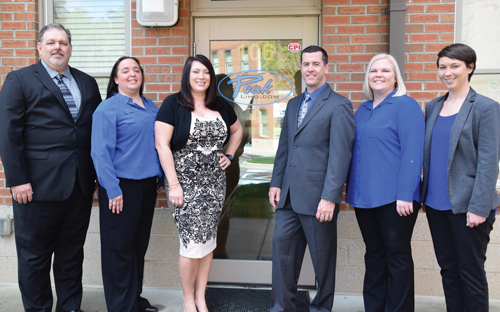 Members of the Peak team (L to R): Operations Manager Mike McCrary, Reservation Manager and Affiliate Relations Charo Siciliano, Vice President Faith Glasgow, President Shawn Glasgow, and Reservationists Heather Phelan and Jenn Dorobkowski When legacy operations talk of the business being a ­family affair with sons and daughters who've grown up in the industry, that involvement often begins with washing cars and other comparatively simple tasks well-suited to school-aged children. But for Piper Glasgow, the now 12-year-old daughter of Peak Chauffeured Transportation's owners Shawn and Faith, her industry entrée came at the prodigious age of 2—and with the flourish of a toddler's crayon.

"About 10 years ago, when I had finally figured out what to name the business, I knew I also needed a logo," Shawn says. "Piper was learning how to write her name at the time, and had drawn a big 'P' with her crayon. That's when the lightbulb went off: We took her drawing to a graphic artist, who filled in that 'P' but left the rough edges around the outside. So since she helped design our logo at 2 years old, our daughter's played a significant role in our advertising and marketing since the beginning."

It is perhaps fitting that Piper has already claimed a visible place for herself in her parents' company, as Peak was born of a milestone moment: when Shawn's own father retired from his career as an airline pilot. As is tradition, his family flew on that last flight in October 2005, a route from New York City to Puerto Rico.

"My father hired a car service to get us around New York," Shawn says. "I didn't like what I saw during that experience: The cars were of poor quality and ours had one of those smelly Christmas trees still hanging in it. A lightbulb went off in my head, and when we got home to Charlotte, I did a little homework; by December, I had incorporated Peak Limousine."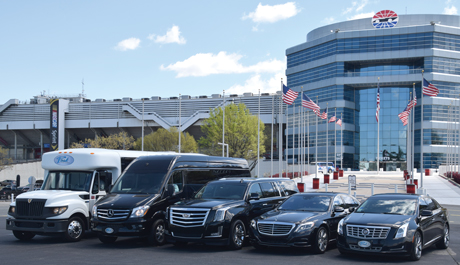 In addition to its sedans, Peak's fleet includes minibuses, Mercedes-Benz Sprinters, and Cadillac Escalades, shown here at Charlotte Motor Speedway In the decade since Peak first flung open its doors, the husband-and-wife team has taken what began as a small company with a single Lincoln Town Car and successfully graduated to the ranks of a midsize operation with a 17-car fleet, 21 employees, and the determination to remain a boutique business with a family-run feel. Whether it's Shawn occasionally jumping behind the driver's wheel to check in with long-time customers, or Faith diligently reaching out to every new client, the Peak team prides itself on delivering a personal touch that has won over loyal client after loyal client.

But that doesn't mean Peak hasn't been changing with the times, too. One of its business hallmarks is the educated risks that Shawn and Faith are willing to take, like their approach to fleet additions. "We're the only company in Charlotte with a Mercedes-Benz S550," says Shawn. "The S550 shows that we're a luxury service above all else, which is why we have it. It's worth taking these kind of calculated risks when you can see the reward in front of you."

As they both hail from separate backgrounds that fostered different talents—Shawn had owned a new-home construction cleaning service after relocating from his hometown of Miami, which he fortuitously sold right before the recession hit; Charlotte native Faith worked in corporate America for 11 years, honing her skills in sales, financials, HR, and managing not only a team but also a $15M property until joining Shawn at Peak in 2008—they bring their own unique talents to Peak, complementing each as partners just as well professionally as they do personally.

But even though they may tackle the same problem through different approaches, they both agree it takes a certain kind of personality to excel in the ground transportation industry.

"You have to be a person who's not afraid to take risks and to go after what you think is right, what you know you can do," Faith says. "I think you have to be that competitive, ambitious Type A personality."

To maintain the high standards they have set for their business, the Glasgows are meticulous in who they add to Peak's roster of employees, which includes 15 chauffeurs and six office staff. They take a divide-and-conquer approach here, too, with Shawn often vetting potential chauffeurs (all of whom are W-2 employees) and Faith hiring behind-the-scenes staff. And in order to handle the savvy business travelers who comprise Peak's mostly corporate clientele—apropos of a city rife with business and banking appeal—they empower their team by cross-training them so they can offer immediate solutions to almost any question.

"If you call us with a question about your billing, your chauffeur, or booking something for a wedding, I don't want you transferred around departments," Faith says. "Anyone on our staff should be able to answer your questions. I look for someone who excels at customer service and also has that ability to multitask. They have to know how to dispatch and problem-solve and do all of it all at once."

Faith adds that Reservation Manager Charo Siciliano, who also manages Peak's affiliate relations, is her "right hand" with a knack for intuiting where help is most needed, while Shawn emphatically credits Operations Manager Mike McCrary—who held the same position at Tampa's Paradise Limousine—for being why Peak has been able to bridge the gap between being a small company and a midsize one since he joined the team in June 2014.

"Mike is what's enabled us to grow as a company and get to that next level," he says. "Hiring him has not only operationally helped support Peak 100 percent but also allowed Faith and me to get out, go do the marketing, go talk to the people we need to talk to, and actually be business owners instead of letting the business run us. We've grown tremendously in the past two years because of him."

That growth includes an ever-widening area of service—including Greensboro, N.C., and destinations as far-flung as South Carolina, Tennessee, Virginia, and even Georgia—as well as a fleet that reflects corporate clients' demands. As the company has grown, so has its fleet: The flagship Mercedes S550 is joined by two minibuses, two Mercedes-Benz Sprinters (one executive and one limousine), SUVs, and a number of sedans. Having sold the company's last "traditional" stretch limousine, special-occasion jobs are now handily covered by the Sprinter limo.

Peak's affiliate network, a mainstay for almost the entirety of its existence, has also benefited from that growth. Much like their approach to the hiring process, Shawn and Faith are fastidious in ensuring that they only work with companies who share their business ethics and philosophies, nurturing a truly personal connection with those who depend on them.

"We attend almost every industry show, so we enjoy those personal connections, but sometimes you have people who just find you and send you a trip—and we make sure to have a connection with them because in the affiliate world, you have to have companies who know each other really well," Faith says.

While the Peak team carefully cultivates its relationships with affiliates and clients alike, disruptive times have called for neighboring companies to band together against the industrywide invasion of TNCs, too. As Shawn is a founding member of the small but active Charlotte Regional Limousine Association (CRLA), of which he's also the vice president, the Glasgows are well aware that strengthening ties among friendly competitors is especially crucial these days.

Since Charlotte is something of an anomaly in North Carolina—it's the state's only city that has to operate within a strict set of regulatory guidelines—that shared frustration has only unified its operators in their fight to have access to the same relaxed, less costly guidelines that TNCs enjoy—all without sacrificing the quality of the services they offer, vehicles they run, and chauffeurs they employ. In the past, CRLA has been able to effect changes in both operational and airport rules, but has been stymied more recently by laws that are sacrificing safety in order to discriminatorily favor the tech-savvy newcomers.

"The biggest challenge we face is watching TNCs enter the market without being vetted and fingerprinted in the same standard we're held to as a livery service in Charlotte," Shawn says. Until the playing field's level, both Shawn and Faith will continue to fight for their industry while ensuring that Peak maintains a track record that, in more than a decade of operation, has only seen "a number of failures on our part that I can count on a hand and a half," according to Shawn.

"Logistical challenges do pop up, but Faith and I have been able to address and correct them quickly because our fingers are on the pulse," Shawn says. "That's why we have a 99.99 percent non-failure rate."

And as Peak looks toward its second decade of operation, both Shawn and Faith remain committed to delivering the kind of service they wished for in that fateful NYC limousine ride—all while continuing to grow their own company, offering the help and guidance they remember needing in Peak's early days, and focusing on what makes luxury ground transportation a truly rewarding endeavor. "My advice is to have a mentor in this industry—we didn't have one but we did learn a lot from our affiliates—and to make sure you have a good support system because the life of an entrepreneur is 24 hours a day," says Faith. "But even though we're working all the time, it's given us the ability to spend time with our family and to live out the dreams we have—all while offering a great service." –MM


Seizing the Motorcoach Market: Rose Chauffeured Transportation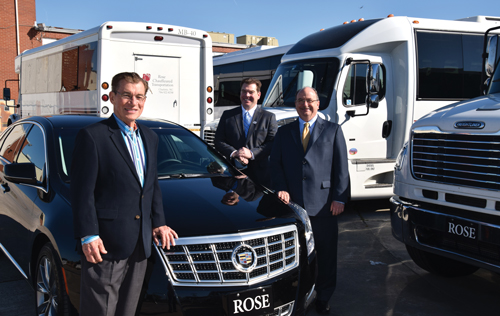 L to R: President and Founder H.A. Thompson, Vice President Andy Thompson, and General Manager Tom Holden at Rose headquarters On March 23, 1985, Jerry and Debi Keck began their marriage atop the Carowinds' premier roller coaster attraction, Thunder Road, at the same North Carolina theme park where he had proposed the previous fall. The couple was transported by a 1971 Rolls-Royce Shadow provided by Rolls Limousine Ltd.—the very first ride for the company that would be later be renamed Rose Chauffeured Transportation.

Jerry Keck was golfing buddies with H.A. Thompson, the founder and president of Rose. H.A., a radio personality and local celebrity, operated the weekend-hobby company with his two teen sons, Jeff and Andy. The business was run of out of their home for the first decade and was a family affair—much to the chagrin of matriarch Lucille who had to endure chauffeurs coming in and out of the house at all hours, not to mention the neighbors who were often awakened by the sounds of vacuums at dawn. (They moved to an office in 1996.) The young men would spend their free time cleaning the cars—Rolls-Royces, of course—and later driving them on weekends, until it became a full-time job for both of them. H.A. continued to work in radio until 1991, and was able to capitalize on his own reputation as well as the company's to grow the business beyond just a part-time gig.

"I always joke that I went to my senior prom by working it," says Andy, who is now the company's vice president and co-owner with his father. He joined Rose full time in 1990 while attending college. Jeff worked for Rose until 1998 when he pursued a career in finance, although he does still drive for the company. Their sister Lori also worked in the accounting department from 1998 to 2011.

In the early '90s, they phased out the Rolls-Royces that was the impetus for the company name to include stretches and sedans. They chose the name Rose after a prickly interaction with Rolls-Royce corporate, which threatened copyright infringement over the use of their name and logo. The company had been running a promotion to give roses to its passengers, and the moniker seemed to fit.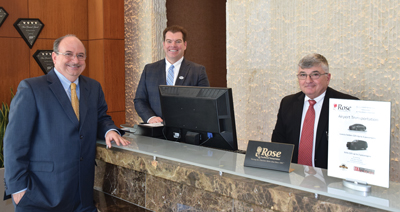 L to R: Tom Holden, Andy Thompson, and Art Carosella, satellite office manager at The Westin Hotel – Charlotte During that time, Charlotte was a rising star city, and it was growing—rapidly. Many different corporate sectors were attracted to the city, especially financial firms, and Rose met those demands. Retail work was slowly edged out by corporate accounts, including partnerships with several sports teams like the Carolina Panthers, Hounds (lacrosse), Knights (minor-league baseball), and Checkers (minor-league hockey). With 90 percent of NASCAR teams located within an hour of Charlotte, the company thrived on this work in its first decade. The company grew steadily but conservatively, just how the Thompsons liked it.

In 2001, Rose had just celebrated its 16th anniversary and hired General Manager Tom Holden, an accomplished businessman who was new to luxury ground transportation. Although he was pursuing a part-time job with Rose, company consultants saw his potential and suggested a role in management. After finally agreeing to the position, Holden effectively shook things up.

"He probably pushed us a little harder than we would have done on our own," says Andy. "Our growth has been a little faster. He has a really great vision for how to grow the business and suggestions for new things. He's a true innovator and is very good at managing people and technology. We did a great job during our first 15 years, and we've been on a major growth curve for the second 15."

One of the largest shifts for Rose was adopting full-size motorcoaches in 2008. The timing was precarious because it happened to coincide with the start of what would be an ugly economic crisis, but there was a silver lining: The company now owns and operates 60 vehicles, including 19 motorcoaches and 15 minicoaches. "We were farming out coach work to other companies and just not seeing the level of service that we wanted for our customers," says Andy. "It was out of necessity, but it gave us an excuse to go in that direction."

The decision opened many doors for Rose and essentially made it a hybrid company unlike anything else in the Charlotte market. After being approved by the Transportation Safety Exchange, an agency that inspects and approves buses to be used for school transportation, Rose was suddenly transporting students and sports teams on field trips across the state and as far away as Washington, D.C., and Orlando. That led to additional work with many of the area's leading colleges' athletic teams, including UNC Charlotte, Queens University of Charlotte, Johnson & Wales University, and Johnson C. Smith University.

Overall, embracing buses has been a painless and profitable move. It's hard to miss the deep red rose that adorns its largest fleet vehicles like a rolling billboard. Buses are almost entirely serviced in-house—at the urging of Holden—and keeping track of driver hours has been smooth. In fact, Andy says it's easier to hire a driver with a CDL than it is to hire a chauffeur.

"It takes about 45-60 days to hire a chauffeur because of the Passenger For Hire Vehicle ordinance, or PVH," he says. "It only applies to sedans, SUVs, and vans, so it's often faster to get a CDL. Chauffeurs undergo a background check, fingerprinting, and a drug screening, but because TNCs are not under this same umbrella, it creates a playing field that isn't level."

Andy is part of a PVH review board, a seat appointed by the Charlotte City Council, to help educate the legislature on the nuances and efforts of this ordinance on the industry. He hopes that black cars will be removed from the burden in the near future. Andy also serves on the NLA Board of Directors while Holden is the president of the Charlotte Regional Limousine Association (CRLA).

We take care of our employees first, and we do that because then they do a better job of taking care of our customers," he says. "That's our culture, and our soul is providing good transportation. We give staff the tools they need to do their jobs, and so they believe in the product. That's a lot of my father's influence. We hire on attitude first because it's not something you can necessarily change. You can tell when an employee is generally not getting along with a manager—and it's usually at the expense of the customer. We're thankful for our customers. We're thankful for our team."

Under Andy and Holden's leadership—H.A. remains an active president but often travels—Rose has transitioned from a family-owned company to one with defined structure and organization. As they grew, Andy no longer had to be a jack of all trades and took on a sales role while Holden naturally gravitated toward operations. Departments were created and staff were added: They now have 30 office team members and over 75 drivers and chauffeurs. Last year, Rose reported $10 million in revenue. While they continue to do some retail work, it's been eclipsed by corporate and motorcoach work in recent years. Rose also recently made the move to Dashride, mobile dispatching software, because they see that the business is moving toward on-demand service.

"We had seven stretches at one point but now we have none," says Andy about his changing fleet. "We've been so fortunate because Charlotte is a growing market, and it's allowed us to try new ideas. Our work with the sports teams, the local chamber, and the convention and visitors bureau has helped our marketing—30 years in business and a pretty good name didn't hurt, either." –SR
Building a Brand with Consistent Customer Service: SilverFox Chauffeured Transportation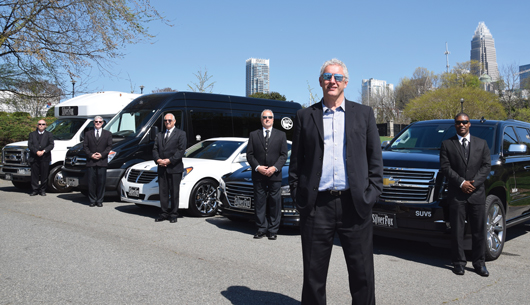 President James Weymann, seen here with some of his chauffeurs, shows the diversity of the SilverFox fleet It was love at first sight for James Weymann when he saw a stretch limousine with fiber optic lighting, a mirrored ceiling, and a supped-up sound system during a trip to Atlanta with friends in 2004. The part-time chauffeur, full-time sales rep was used to driving more modest vehicles that were better suited for corporate clients, but he knew that this flashy party car would be a hit in his hometown of Charlotte. Back home, he found an investor and SilverFox Limos (aka SilverFox Chauffeured Transportation) was born.

"I hadn't seen anything quite like it in Charlotte and I knew that there would be a market for it," he says.

Weymann had been a chauffeur for nearly 15 years: In 1989, he got a part-time job for some extra income following the birth of his second child. He drove nights and weekends for a local company for about a decade before becoming full time after a round of layoffs at his day job.

One stretch limousine became two, then he added a sedan and later a stretch Hummer. At the time, SilverFox was driven by retail work; Weymann would often partner with the local hotspot nightclubs and provide transportation for the club-goers. Even as the company matured and the fleet expanded, Weymann still continued to serve prom and wedding clients, and it was retail work that helped to attract that corporate work that now makes up about 70 percent of the company's business. v

"When you're picking up kids in a party bus, it represents 10 or 12 families whose parents are also corporate executives for major companies. Many times they come back to us and say 'You all did such a great job that it made me wonder if you also do corporate work, so I had my assistant call you.' If you do your job right, and you're very particular about who you hire, then people just love to talk about the good service they received. That's how we started doing corporate work."

Today, Weymann is sole owner and president. His fleet is now a bit more diverse, and includes a variety of sedans like Lincoln Town Cars and MKTs, Hyundai Genesis and Equus, and Chrysler 300s; Cadillac Escalade and Chevy Suburban SUVs; minibuses; party vehicles like a tailgater Sprinter with a rollout awning; and the latest additions, two co-branded SilverFox motorcoaches. He owns 13 company cars and has access to about 20 SilverFox branded franchise vehicles.

While the fleet evolves to represent a number of retail and corporate services that he offers, consistency has been the cornerstone of the growing business. "Presentation is everything," he says. "With my marketing background, I had to be very meticulous because if you overlooked one misspelling, then a thousand brochures were going in the trash."

It's no surprise that he puts of a lot of stock in the company's image. "Every single car is easily recognizable as a SilverFox vehicle. Logos are placed in the same location on each vehicle. Our drivers have a dress code of a three-piece suit with a vest. We answer the phones with a warm and friendly greeting every time. All of our phones have caller ID, so it's often personalized with 'Hey, Mr. Smith, how can we help you this morning?' Clients just love that; they love that we know who they are. I can't tell you how many emails I get from clients telling us how much they enjoy our service before they've even gotten in one of our vehicles."

He says that it's those high touchpoints that he feels have kept TNCs like Uber at bay—and that service still trumps the lower price that ride-sharing apps use to entice customers. Case in point: He says that his customers largely call in or email their reservations, and that online reservations only represent about 5 percent of all runs.

"TNCs affect our business some for sure, but I think that the corporate world is still happy using black car service that is prearranged, where you have confirmations and a live person who you can talk to on the phone 24 hours a day. We do the things that Uber can't do with that personal touch and personal service."

As a former chauffeur, he's keenly aware of what he wants his customers to experience when using SilverFox, and it starts with how the chauffeur is dressed. The standard uniform is a well-tailored black suit, complete with a vest, tie, and shined shoes.

"Because we have grown the business to be so high profile, and because we deal with some of the wealthiest people in Charlotte as well as some of the largest companies in the area, we have to be very particular about who we hire," he says. "Customers expect the car to be clean and nice, but they get surprised when they see the driver. I can't make the wheel any rounder, but I sure can shine it up a lot for our clients. One customer said 'I always know who my driver is because he's the best-dressed guy down there with the three-piece suit and vest on. The only time I have trouble is when you're busy and there are four of your guys down there—I don't know which one is mine!' That tells me the importance of branding."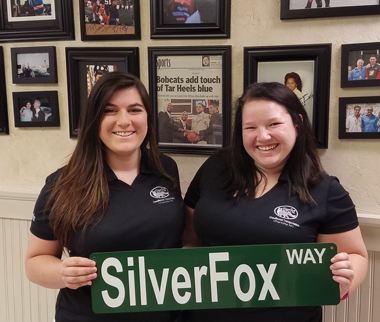 Dispatch Manager Brooke Smith (left) and Director of Operations Brandi Greenwald doing it "the SilverFox Way" in their new branded polo shirts Charlotte is like any other Southern city with sweltering summers, so Weymann will soon debut a new black SilverFox logo polo shirt for his drivers who handle tailgating parties for the Hornets—SilverFox is the NBA team's Official Transportation Provider—bus drivers, transfers, and some hotel work, like it does for the Hilton Charlotte Center City. VIP chauffeurs, however, will still be fully dressed in three-piece suits.

A potential chauffeur, he says, has to be sharp, has lived a minimum of 10 years in Charlotte, and has worked for another transportation company for at least two years. "It takes time to live in a city to know it, and while GPS is great, it can't duplicate a chauffeur who is familiar with the area and can navigate around traffic without stopping to punch in an address." He also has a hand in training chauffeurs and completes test runs with them prior to handling client work.

Text alerts was another touchpoint that Weymann felt was imperative for customer satisfaction, a standard operating procedure that he put in place years ago. "When I travel myself, I start getting nervous about my driver picking me up on time about two to three hours before, and we've noticed that customers would often do the same about the same time before a ride," he says. "We send a text to all customers two hours prior and another when we're on location and now we don't get those panicked phone calls anymore. If they are on the plane, it's the first thing they see when they turn on their phone, so customers can relax. We've gotten more compliments about that than I can count."

Weymann rarely has to drive these days—although he does keep a suit in his office so he can jump in if in a pinch or if a VIP customer requests him—but he knew it was time to focus on hiring personnel and additional chauffeurs when it started affecting his family life. Like all small, growing business owners, he was putting in 60+ hours a week and doing everything himself, but knew he had to bite the bullet and staff his office.

"It may be more expensive upfront, but then one day you realize, gosh, I'm not as tired as I used to be, I'm getting more done, and I'm more productive. I also hire people who are smarter than me and know how to do something that I can't."

Brandi Greenwald, director of operations, started working for SilverFox a little over a year ago and replaced a longtime employee who left after getting married. As Weymann's right-hand person, she's involved in a little bit of everything, including group reservations and affiliate work. Together with Brooke Smith, dispatch manager, the two manage the office when Weymann is out. Smith also handles the company's social media presence. Joe Cude, a former chauffeur for company, stepped into the compliance manager position a few years ago to handle the company's burgeoning number of large, commercial vehicles.

"I warned them that this is not a 9 to 5 job, and that things will happen afterhours that they will need to deal with—and they do beautifully," he says. "I'm at the point now where the business is running really well that I don't necessarily need to be here every day, all day. I'm accessible, but I don't have to be here."

Weymann includes his staff and asks for their input when making any bigger decisions that affect the direction of the company, but there's one person he always bounces ideas off of first: his wife, Marta. She isn't directly involved in the day to day—she has a full plate with their 7-year-old son—but she does help to keep him grounded, he says. He also has three older sons, all in their 20s, who are not involved in the business.

So, what's with the name SilverFox? "A lot of people think it's because of my hair, but it's really from part of my family's name—de Silva, which means silver. People love the name and always want to shout it out at the airport, 'Hey, SilverFox!' when they see one of our cars. Talk about branding." –SR


[CD0716]