BY SUSAN ROSE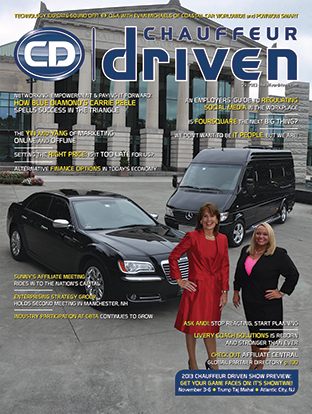 Cover art: Carrie Peele (left) and Celeste Reeder of Blue Diamond Worldwide Transportation in front of the Progress Energy Center for the Performing Arts in Raleigh, N.C. Photography by Chris Weiss.
Networking, Empowerment, and Paying It Forward
Three years ago, Blue Diamond Worldwide Transportation CEO Carrie Peele stood before nearly 150 women to pledge her support in helping to fight breast cancer. Addressing the Triangle Ladies Power Lunch, a monthly networking lunch of women entrepreneurs that she founded and facilitates, she detailed her plan. Her dear friend, Brenda Kenny, whom she had known since her eldest daughter, Courtney, was in Kindergarten in the 1980s, had died from the disease just days before. Peele had intended her friend to be the lunch's guest of honor, and to arrive at the prestigious North Ridge Country Club in the newly painted pink limousine that was adorned for the cause. Instead a candle was lit in her place.
Always the one to find strength in a tragedy, Peele turned that pink limousine into Blue Diamond's most popular vehicle. With 10 percent of the proceeds of the vehicle going to the Pretty in Pink Foundation—an organization that helps those with low or no insurance fight breast cancer—many thousands of dollars have been donated over its time in operation. The checks are presented each month at the Triangle Ladies Power Lunch. Blue Diamond is known locally as the home of the pink limo.
"Basically if you're fighting for your life, these ladies will give you hope," says Peele about the Pretty in Pink Foundation. "I can't think of anything better than that."
If you're picturing a room full of dainty, soft-spoken Southern belles, think again. Peele invites and has become friends with some of the most powerful women in the fields of politics, finance and banking, real estate, and just about any other profession you could imagine. Elaine Marshall, North Carolina's Secretary of State; Beth Wood, North Carolina State Auditor; and Congresswoman Renee Ellmers are among the frequent guest speakers whom Peele calls friends.
"The amount of business and pay it forward that is happening in that room is astounding," says Peele. "Women are driven by social connections and just network a little differently, but we're all there to empower and learn from each other." Having strong women business leaders also benefits the community at large.
Carrie Peele is a consummate networker, but if you had to sum up her outlook in one word it would likely be grit. While you would never guess, Peele was a tomboy growing up with her two sisters, most of the time under the hood of a truck with their father. Her mother, a smart and savvy businesswoman, was breaking glass ceilings in the 1970s. She says that she got her father's brawn and her mother's brain.
Her passion for her business, fellow women entrepreneurs, and community at large coupled with a resilient, no-nonsense spirit has made her one of the most recognizable businesspeople in North Carolina, and not just within the industry. She's as zealous about Blue Diamond as she is about Triangle Ladies—or any of the other numerous networking endeavors she has either spearheaded or helped to facilitate. Being well connected with like-minded people has been part of her recipe for success.
"I select the most successful people I know and emulate them. Kristina Bouweiri [of Reston Limousine] was the inspiration for the Triangle Ladies Power Lunch," she says. "I thought that we needed something like that here." Bouweiri invited Peele to her own women's networking lunch a few years ago and the idea quickly became a reality for the Triangle area. While the event does include vendors and guest speakers, the goal of the event is to empower its participants, not sell to them. "If you surround yourself with good people with good moral characters and you always pay it forward, that's the way to success."
For many years, Peele was the solo driving force behind Blue Diamond. She founded the company in 1990 on the day her divorce from her husband was finalized. Some quick thinking and a few cash advances on her credit cards later, she was the owner of a navy blue 70" Lincoln Town Car, which she calls "a tank of a limo."
At first it was a weekend endeavor, one that would allow her to sock away some extra money to ensure that her two daughters' future college educations were taken care of. And while she was working full time during the week in advertising sales, on weekends she was driving, answering the phones, booking reservations, handling the accounting, prepping the vehicles, and even changing the oil herself from her home-based business. (Education mission accomplished, as both of her daughters—Courtney, 31, and Meredith, 27, have graduated college and moved on to successful careers.)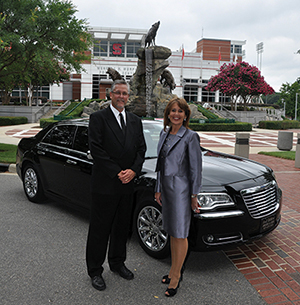 Chauffeur and Training Program Developer Bob Chamra with Carrie Peele in front of Carter Finley Stadium at NC State University
"I had the wonderful support of their father, Wayne Peele, whom we all adore. When I was working, he was attending their games and their school activities. He is just an awesome man, and I couldn't have picked a better father for my children." It's not unusual that Peele, 23 years later, still answers the phones at the Blue Diamond office on occasion, although she has considerable more assistance. Now with an office staff of 7 and around 30 chauffeurs, Peele focuses the majority of her attention on getting new customers.
Turning a sale into a long-term customer, however, is the job of her operations manager, Celeste Reeder. Peele was instantly attracted to Reeder's similar personality when she met her at a limo show in 2011, and the two became fast friends. Reeder joined the company in June 2012 as affiliate manager, but was just recently promoted to operations manager.
They had a lot in common, including single parenthood (both of Reeder's children are graduating from college next year), a can-do attitude, and a willingness to roll up their sleeves and dive right in if it meant fixing a problem. Peele never feared anything mechanical while Reeder often rides to work on her Harley, which is frequently parked inside the office's storage area if there is even a hint of rain in the forecast. Reeder was formerly in inside sales and office management before she joined the industry. She started out at a large Florida operation, steadily working her way up from dispatch and reservations to affiliate manager until she reached as far as she could go with the company. She always wanted more, however, because she fell in love with the industry, and the timing was right when the opportunity presented itself.
"I was in that 'awe' moment when I first met Carrie. Her energy is contagious, and everything just fell into line," says Reeder. "After I started in this industry, I was just hooked. I can't image doing anything else."
About 7 years ago, Peele also hired Controller Linda Sellers, whom she describes as "a sweet Southern lady who never raises her voice, but controls all the money and keeps the operations running smoothly." She's also a nice counter-balance to Peele's and Reeder's larger-than-life and self-described "control freak" personalities. Peele makes the sale, Reeder closes and executes it, and Sellers makes sure the accounting is in order. Between the three of them, they are the Blue Diamond management team.
"We have a wonderful team that we don't expect to work the hours like we do—although they clearly work very hard. We just do what needs to be done. We're like three sisters," says Peele. "You will never hear me use the word 'problem' in this office. There are no problems, there are situations, and they can be fixed. Celeste, Linda, and I are fixers." The three live and breathe the company and love it like their own.
Reeder agrees. "I love this business. As they say, if you love your job, you'll never work a day in your life."
Reeder, through her years in the industry, had developed some great relationships with operators all over the country, and since joining Blue Diamond, inbound and outbound affiliate work has increased tenfold. Peele says that it's a true growth area for the company.
Blue Diamond's portfolio has changed drastically in just a few years. Once a retail company based in the tiny market of Laurinburg, N.C., about an hour south of Fayetteville and Fort Bragg, Blue Diamond outgrew the area and Peele relocated to her current home in Raleigh, about 100 miles northeast.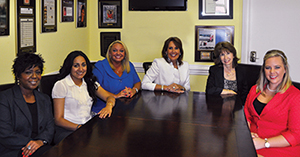 L to R: Reservationist Tracy Wilson, Reservationist Laura Alvarez, Operations Manager Celeste Reeder, Carrie Peele, Controller Linda Sellers, and Reservationist Erica Starnes
"I went to all the operators in the area and told them that I'd handle their most difficult clients," she says. "I wanted to prove to my competitors that I was willing to do what was necessary and to earn the trust of my customers."
It was there that she also met Steve Gillooly, who owned one of the largest operations in the Triangle at the time. Gillooly was one of her most influential mentors, and although he sold his business, Capital Style Luxury Transportation, in 2005 in order to pursue commercial real estate, Peele says that they are still great friends and, he often refers his clients to her.
Blue Diamond has also had a radical shift in its clientele; what once was a 100 percent retail business is now only about 25 percent retail with the overwhelming majority corporate work. Peele says that it was a transition that happened less than four years ago, but it makes sense as the industry has also changed. The limousines that once dominated the fleet have mostly been replaced by sedans, SUVs, and Mercedes-Benz Sprinters with limo interiors, which Peele foresees as the stretch limousine of the future.
The Raleigh-Durham-Cary-Chapel Hill area is known for its abundant health care, medical research and technology, and pharmaceutical companies. With a cluster of important universities within a small radius—including Duke, UNC, and North Carolina State University—education is also one of the area's top employers. It's close enough to the heavily traveled Interstate 95 corridor to be convenient, but far enough away so that it's not just a stop on the way to Florida.
It's been a good market for Blue Diamond. The Triangle's economy bounced back faster, thanks to the nearly recession-proof industries of education and health care, which has sparked a growth in roadshows and large-group events. Peele credits Reeder with the increase in this type of business.
"I love the challenge of a large-group move," says Reeder. "Our roadshows are growing bigger and bigger, and ASAP jobs, especially farm-outs, have become one of our specialties." Currently, Peele says that they are working on some contracts with area hotels, possibly staging vehicles there.
Not only do many of the region's smaller communities consistently make "best of" lists in places to live, but Raleigh was named the eighth best city in the country for women entrepreneurs by the magazine, Entrepreneur. Being a certified woman-owned business has helped open some doors for Blue Diamond when bidding on RFPs, but Peele says that nothing is a substitute for great service.
Like other cities, Uber and similar apps have cut into market share for transportation. In fact, Reeder says it's one of the largest issues that the industry is tackling—and it's enough to keep her up at night. Making matters worse, the apps are not regulated like chauffeured ground transportation companies are.
"When the legislature ended its session this past July, Representative Tim Moffitt (R, District 116) sneaked in a provision to a jobs bill that allowed Uber to stay unregulated. They are now able to operate without any kind of regulation, and it's the law. They come in, throw a lot of money around at politicians, and then they're here. If we have to raise money and spend time to do that in our state, I am sure N.C. operators will band together to do just that."
But she adds that there may be a silver lining with all of the competition. "Our industry is moving in a better direction with improved technology, but it's up to us to make sure that our clients are stuck to us like glue and don't go anywhere. That's where customer service becomes the difference between an app and luxury ground transportation. One monkey won't stop this show!"
Peele is part of Driving Results' education and networking group, Women on the Move. Now in its second year, the group has taken her all over the country to visit the operations of some of the members.
"I absolutely adore the ladies in this group," she says. "There's not a meeting that goes by where I don't learn something new from them. There's an energy to the meetings that is just incredible. I look forward to it every time."
Reeder joined another of Driving Results' more recent startups, Going Global. The mission of the group is to help those involved in affiliation management to expand their services around the world—which is right in Reeder's wheelhouse. Going Global most recently held its second meeting in Los Angeles with host and group member Alex Darbahani of KLS Worldwide Transportation, with another meeting scheduled for December. Although Reeder jokes that she has the better of the two groups, they both bring that knowledge directly back to Blue Diamond.
When not focused on the industry and her own business, Peele is working on new ideas for her networking groups. For the last three years, the Triangle Ladies Power Lunch has met each month on the third Wednesday. The lunch is run by Sellers and facilitated and hosted by Peele. They still honor a breast cancer survivor, who is picked up in the pink limo with seven of her closest friends to join the "Sheroes table" set up in Brenda Kenny's name. The pink limo has been so successful that Peele is considering adding a second to the fleet. In the first eight months of 2013 alone, the limo has generated nearly $10,000 for the Pretty in Pink Foundation—and that's before the limo's most popular month, National Breast Cancer Awareness month, in October.
Together, the Blue Diamond team is involved in campaigns like Go Red, which is dedicated to helping fight heart disease, and charities like the March of Dimes. She and Reeder also became grandmothers in the last year, and in January 2013, Peele married David Franks, keyboardist for one of the East Coast's largest and longest established groups playing beach music, The Band of Oz. Between their full and varied schedules that frequently takes the band on the road up to 300 days a year, she says they still sneak in some quality time to see each other—even if it's 3 in the morning.
Peele's latest project is called the ATHENA PowerLink, which is an international mentor program that is designed to increase the growth and profitability of women-owned businesses. She got the idea from a friend from Erie, Pa., and within two days, they had raised $20,000 to purchase the license.
"It's something I've wanted to do for a long time, so when my friend, Linda Stevenson, told me about the program she was responsible for, I knew I had to get the ball rolling in the Triangle," she says. "We already have the governing and advisory panel in place, which basically includes about $80,000 worth of free advice from bankers, CPAs, HR administrators, and other professionals. On average, women see an increase of about 80 percent in their business the first year. We want to help one woman this year, and hopefully we'll take her to the million-dollar level." The decision on the woman entrepreneur selected was expected to be announced at the end of the month.
For all the empowerment and mentoring opportunities that Peele has created for others in her community, she knows that she, too, has benefitted from the time and generosity of businesspeople who have helped her along the way. She gives credit where credit is due.
But her inspiration has come in many different ways, including from her youngest daughter. "I remember when my daughter, Meredith, was talking about applying to college and she said she's only applying to East Carolina University. Well, being a mom, I asked if she thought that was a good idea and told her that she really should consider applying elsewhere in case she wasn't accepted. She said, 'I don't have a backup plan because I don't expect to fail!' She did get in and she graduated. Her confidence made me proud. That has become one of my favorite sayings: I don't expect to fail."    [CD0913]